Tellin' Tales
We chat with Telltale boss Dan Connors about its debut title, Bone.
Every cloud has a silver lining. When LucasArts inexplicably canned Sam & Max: Freelance Police at the start of last year, what we didn't perhaps appreciate at the time was that much of the talent behind some of its best-ever game would stick together and form its own start-up outfit. In effect, the withering of LucasArts' adventure ambitions gave birth to Telltale, and in turn its debut project Bone.
Based on the comic series of the same name, it may be an unfamiliar name to those of us not versed in Jeff Smith's off-the-wall creations, but for adventure fans it lends itself perfectly to a narrative rich, humour-driven experience. Created by some of the key talent that worked on such classics as Monkey Island, Day of the Tentacle, Full Throttle, Grim Fandango and Sam & Max Hit the Road, the list of names behind the project reads like a veritable wish list of personnel.
And better still, Telltale Games has decided to go its own way, releasing the game over the Internet via digital distribution. This not only means that European gamers will be able to get the game on day one (unlike, say, Psychonauts, which Europeans can only play right now if they buy the PC version direct from the developer's website), but that Telltale will reap most of the revenue and be able to plough it back into making more sharp-witted, story-rich titles in the future.
Incredibly, we won't even have to endure a long wait for Bone to appear. The game is already almost complete, and Telltale is planning to release it in just a couple of weeks' time. In the meantime you can have a peep at the game's website, and sit back and enjoy our interview with Telltale Games' main man, Dan Connors...
Eurogamer First of all, can you introduce yourselves to our readers?
Dan Connors
My name is Dan Connors, CEO of Telltale Inc. I have been in the game industry since 1993; my career prior to Telltale was spent at LucasArts, where I was a tester, a supervisor, a producer and a director. I have worked on adventure game titles such as Day of the Tentacle and Sam and Max Hit the Road, as well as the ill-fated Freelance Police, and Star Wars titles Rogue Squadron and X-Wing Alliance, and many others.
Eurogamer What's the background of the Telltale Games? How many of you worked on Sam & Max Freelance Police? What other games have the team worked on in the past?
Dan Connors
Kevin Bruner, our CTO, was one of two system programmers on Grim Fandango, our COO Troy Molander worked with Kevin on Grim before he left LucasArts for the world of start-ups.
His experience in the start-up world has been priceless for us during the early phase of our company. Jon Sgro, our director of production technologies, was a critical behind-the-scenes contributor in keeping the art department at LucasArts running in a very real and "on the screen" sense.
The Bone production staff is lead by Graham Annable, our creative director. Graham was an animator on Full Throttle, The Dig and Curse of Monkey Island and lead animator most recently on the new Episode III game. Kim Lyons, the lead environment modeller on Bone, has modelled on every adventure game at LucasArts since the original Throttle. Randy Tudor, another old-schooler, is responsible for building the gameplay elements and Heather Logas from the Georgia Tech Experimental Gaming Lab is keeping track of the design and pumping out ideas left and right. Graham McDermott, a veteran of Escape from Monkey Island, rounds out our programming staff.
Eurogamer Before we get onto your new project, what was the story with Sam & Max FP? How close to the finishing line were you, and what was the reason for LucasArts' decision to can it? Did you agree?
Dan Connors
We all really enjoyed working on Sam & Max and were really happy with the work on the project. A variety of changes at LucasArts led to the termination of the project, and we were, of course, disappointed. The end of this project was a key motivation for us to break out and form Telltale, so we can return to these kinds of games, which we know fans enjoy!
Eurogamer On LucasArts' overall strategy to move out of the adventure genre to fully focus on Star Wars games: what's your take on that?
Dan Connors
From what we understand, LucasArts is interested in further diversifying beyond Star Wars in the future. It's unfortunate that to this point, the amazing body of content created during the "golden years" hasn't been built upon.
Eurogamer How long did it take you to put together a new team? What was your remit from there on?
Dan Connors
We've been ramping up pretty quickly since last summer. We've got a great group of people on board! We have found many people are attracted to working at a story telling game company.
Eurogamer Who came up with the idea for basing your first new project on Bone, and what was the overall aim?
Dan Connors
Jon Sgro is a huge fan and he introduced the books to Kevin, Troy and I. We were very attracted to the art style, the imaginative worlds, the characters, and of course, the story. As a product to launch our company, what attracted us was the dedication of the fanbase, and the fact that the Bone world has an appeal across generations. These are the types of things you can develop something great around and they are rare. Many popular licenses are pretty disposable and their appeal is dependent on their marketing budget. Bone's success has come from the integrity of the work.
Eurogamer For those of us unfamiliar with the Bone comics, tell us what they are about and fill us in on some of the key characters.
Dan Connors
Over the course of the story, Bone becomes a truly epic saga. It begins with three cousins, who have just needed to flee from their home town of Boneville (due to one of the cousin's schemes that went awry). They got lost in the desert, and ultimately find themselves in a strange and mysterious valley.
Fone Bone is the main protagonist in the story. He's basically the go-to guy, and usually helps the cousins get out of a bind. Phoney Bone is the entrepreneur, whose money making plans usually lead to problems and gets the cousins into the binds that Fone gets them out of! Smiley Bone is the well-intentioned but less intelligent cousin. He often gets entangled in Phoney's schemes. He's very good natured - and musical!
The three cousins get involved with a rich cast of characters in the valley, including the brave and lovely Thorn, Thorn's cow-racing Gran'Ma Ben, dangerous rat creatures and a mysterious dragon.
Eurogamer Will the Bone game be like a good old fashioned adventure, or do you think it has more in common with the Psychonauts approach?
Dan Connors
Fans of class adventure games will find a familiar point-and-click interface and interactive dialogs in Bone. We've also added some fresh and interesting twists, which we think players will enjoy. We throw some fun mini-games and other surprises into the mix as well.
Eurogamer How important is humour in the game, and what sort of writing talent have you got to make this happen?
Dan Connors
Humour plays a big role in Bone, and much of it comes right from Jeff Smith's excellent scripts. We also have Dave Grossman on board, who contributed to many of the classic LucasArts adventure games (including Monkey Island games, Full Throttle, Day of the Tentacle). Heather Logas, who we introduced above, is also playing a huge role in adding to the humour, fun and wit. One of the most enjoyable parts of the process has been bring the characters to life, because they all have so much personality and the writing is great. This really inspires the creativity in the animator or the voice actor.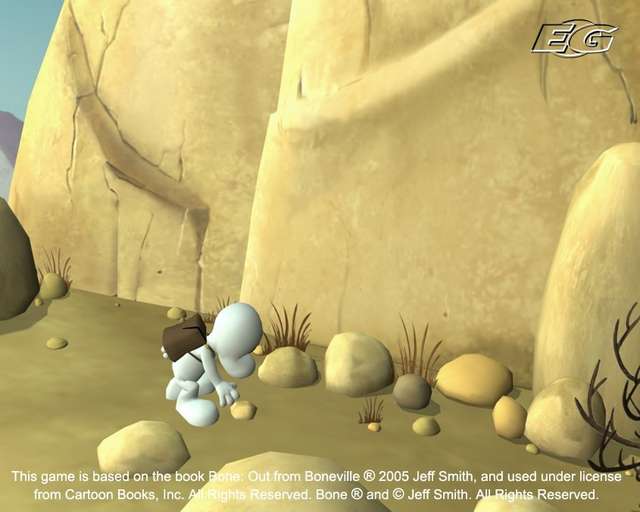 Eurogamer Have any of the comic's original writers been intimately involved? How do they feel about the game at this point?
Dan Connors
The team has been working very closely with Jeff. In fact, Jeff chose Telltale due to its unique ability to bring his vision to life. He reviews our scripts, has been closely involved with voice casting, and signs off on game materials at key stages of the project. He's very happy with how the project is coming along.
Eurogamer Who's in the game, and who do you control? Give us a rough overview of the setting and plot.
Dan Connors
Players will control Fone Bone, the central character in the story, as well as Phoney Bone, his less friendly cousin. The player has a very different experience - and different challenges - when controlling Fone and Phoney. For example, there's a point early on when the control switches from Fone to Phoney and the player has to find a way to the town. This is much more difficult for Phoney, since he's such a prickly personality. Later in Bone, players will also get a chance to play as Ted the Bug.
Eurogamer Talking of Psychonauts, what did you make of it? Did it sell well from what you know?
Dan Connors
We've been very impressed with Psychonauts. Talented creators like Tim [Schafer] are taking elements that make adventure games great, and are combining them in interesting ways with other gameplay styles. Tim's unique characters, sensibilities and humor really shine through in Psychonauts. We haven't heard the latest sales figures for Psychonauts.
Eurogamer Do you agree that making these games more action-focused is a necessary evil these days, or is there a means of retaining the old way of doing things and generating enough of an audience at the same time?
Dan Connors
Not necessarily action, but the games need to focus on immersing the player in the world, and focusing on what is great about adventure games, which is interaction with the characters and being part of a story. It's funny, I think the adventure game genre is the only genre where people cling to the old ways of doing things, its not like 3D action ... players are saying, "wow I would have bought Spiderman if it was a side scroller".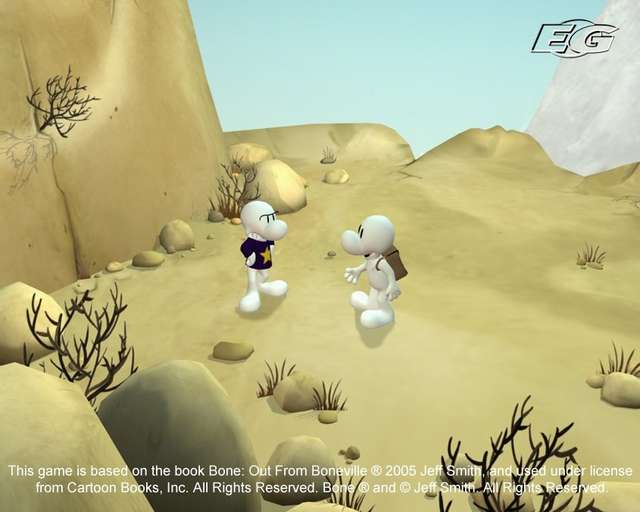 Eurogamer Have any other games in the adventure category inspired or excited you of late? What's your take on Fahrenheit, for example?
Dan Connors
Fahrenheit looks great, I think it is a major evolution in gaming in general and I think it will be recognised as such. I definitely get excited by the experimental so I thought Façade was very cool.
Eurogamer Have you got a publishing deal for Bone as yet?
Dan Connors
We're self-publishing Bone through our Telltale Now digital distribution system.
Eurogamer Do you think Bone is a strong enough brand to give Telltale the kick-start it needs for a debut 'solo' project?
Dan Connors
Bone is a fantastic series and will work really well for the style of game we want to make. People are hungry for games that feature great characters, interesting stories and rich worlds and Bone fits the bill on each of these points. It's a very deep story which plays out on an epic scale over the course of Jeff's books and people who aren't familiar with Bone will really enjoy it. It's got a broad appeal to all ages. Also there is a lot of activity around the license now so we could be catching it on the cusp of a big breakout.
Eurogamer How do you educate the audience into getting excited about it?
Dan Connors
Well, sites like Eurogamer play a big role in this [smiles]. The Internet community continues to get bigger and bigger, and we're working actively to spread the word throughout the fan, gaming, and comic book communities. We're working with Scholastic to field programs that promote the game alongside of their Bone book series. We've also taken inspiration from initiatives like Firefox, which does excellent grassroots marketing. Visitors to the Telltale site can play a digital collectible card game while they're waiting for the game to come out, and we'll have more online initiatives coming soon.
Eurogamer What are you doing that's new, gameplay wise?
Dan Connors
We have done a ton of work around character presentation and acting. So, on the gameplay side we are trying new ways to interact with the characters. With dialogues we have added multiple character dialogues, the result has been dialogues that are actually conversational.
Eurogamer Tell us a funny line from the game
Dan Connors
There are so many. There will be no shortage of humor; some blatant and some very subtle. My personal favourite line comes from the dragon when he is explaining to Fone why he didn't breathe fire on the rat creatures, "Never play an ace when a two will do."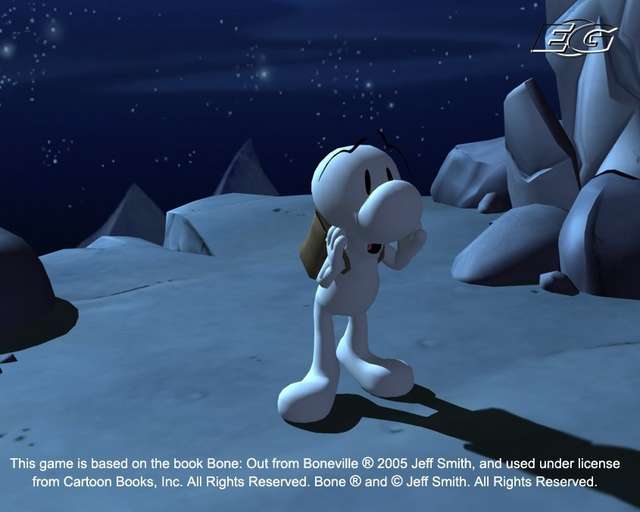 Eurogamer What sort of control system are you going for?
Dan Connors
Point and click, tried and true.
Eurogamer Did you create the technology from scratch, or are you using tools left over from other games/middleware?
Dan Connors
Telltale has built all the tools and technology from scratch. We are very excited about what the engine and tools will allow us to do in the next game
Eurogamer Audio is all-important in a game like Bone: who have you got lined up to do the voiceovers?
Dan Connors
The good thing about being in San Francisco is there's no shortage of talented actors. We are using local talents who aren't big names, but have acted in many videogames in the past. We are really happy with the voices, and Jeff has been as well.
Eurogamer When are you hoping to be able to show the game off to the gaming press?
Dan Connors
Within the next few weeks.
Eurogamer What are the plans, release wise? When can we expect it in Europe?
Dan Connors
Another great benefit of digital distribution is that it will be available to all regions at the same time when it launches next month!
Eurogamer Roughly how long is the game? How long would it take you to play through from start to finish first play through?
Dan Connors
We're estimating approximately four to six hours.
Eurogamer If someone were to ask us why they should be interested in Bone, what should we tell them?
Dan Connors
Anyone interested in a great experience with fun characters, an engrossing story and amazing worlds will like Bone! The art is great, and it's very easy to get into. Download the free demo when it's available and you'll be hooked!
Bone is being released via Telltale Games' Telltale Now digital distribution system. Check out the game's website, and check back soon for our in-depth review when the game is released in September.