Hyrule Warriors Twilight Princess DLC release date announced
Twili Midna revealed as a new playable character.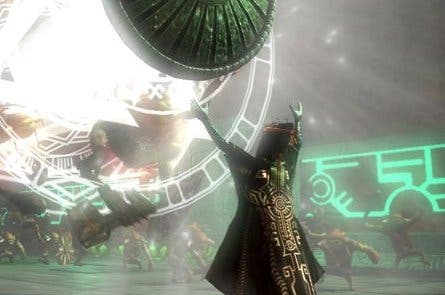 Hyrule Warriors' second add-on, themed around Twilight Princess, launches worldwide on 27th November.
Nintendo's new pack adds Twili Midna as a playable character - the true form of Midna who only appeared during The Legend of Zelda: Twilight Princess' closing moments.
The fan-favourite character is the star of the pack, but you also get a new adventure map plus a smattering of new weapons and costumes.
"When I was developing Twilight Princess, I thought it was such a waste to let a beautiful princess like her only appear in the ending," Zelda series director Eiji Aounuma explained in a new Miiverse post.
"Now Koei Tecmo Games has made my wish to see more of her come true."
Twili Midna's main attack uses the Mirror of Twilight, the magic portal that can transport you into the Twilight Realm.
Aounuma also teased a new costume for Link that dresses him up "as a certain familiar character from the Zelda series" that would "make you say 'wow!'". Here's hoping it's Tingle.
Four DLCs are planned in total (the first, which added Link's horse Epona, launched last month). Each costs £6.29, but if you plan to buy more than one it's better value to just pick up the Season Pass, which covers all four packs and includes an exclusive Dark Link skin for £13.49.