How Gran Turismo plans to save motorsport from itself
With a little help from Jean Todt, can Polyphony's series become motorsport's own FIFA?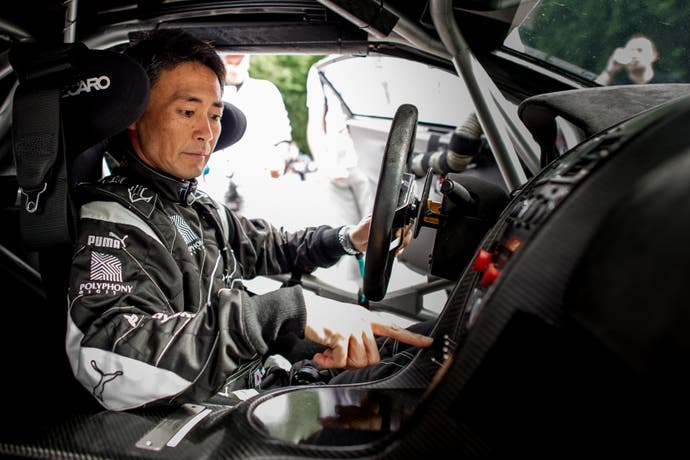 If you want to know just how embedded Gran Turismo has become in the automotive world, take a walk through the grounds of Goodwood during the annual Festival of Speed. To the left of the hillclimb that winds its way up through Lord March's grounds are the vintage cars and the well-aged thoroughbreds, so many of which have starred in Polyphony's series; pristine machines, plucked straight from childhood daydreams and presented for all to pore over.
There sits the very Jaguar XJR-9 that in 1988 famously put an end to a long era of Porsche supremacy at Le Mans, while next to it is the glorious Sauber C9 that won the following year's event, glowing in its gunmetal glory. And there's the Minolta Toyota 88C-V, Gran Turismo's infamous cheat car that's perfect for grinding out credits or, here in Sussex on a hot Friday afternoon, simply fawning over.
To the right of the climb, where car manufacturers erect mini-showrooms on the fields, PlayStation 3 pods are set up that send this year's models up Gran Turismo 6's own take on the hill, while Aston Martin and Nissan have new concept cars created in collaboration with developer Polyphony featured on their stands. Ever since the first wave of Gran Turismo games helped popularise the Nissan Skyline in the west, turning it from an import curio to an everyday object of desire, car companies have cottoned on in increasing number the power of the game as a marketing tool. Now it seems to be a part of every manufacturer's strategy, from Ford to Aston Martin to Mercedes.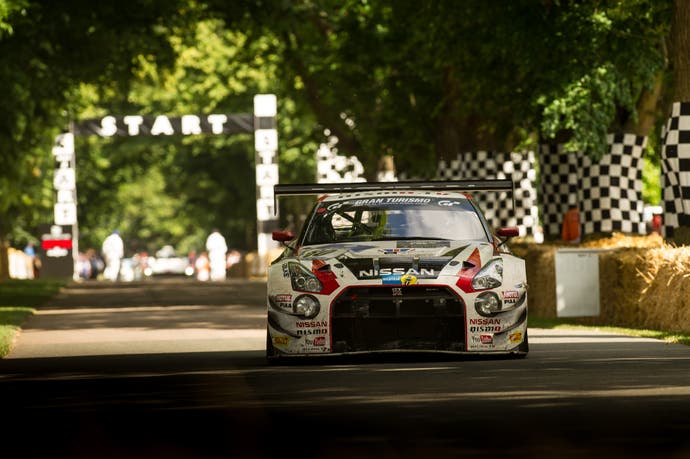 Even on the climb itself, Gran Turismo makes its presence felt. This year's festival was supposed to draw a line under the rivalry between Ferrari, Porsche and McLaren in the battle of the hypercars. Given the ambiguity surrounding how fast the 918, LaFerrari and P1 have lapped the Nürburgring - the traditional barometer of speed for performance-minded machines - last weekend's Goodwood Festival of Speed was set up as the first time the three would all go against the clock as they climbed up the hill in the Supercar Shootout.
Except it wasn't to be. The LaFerrari backed out, while both McLaren and Porsche elected to run their hybrid cars on electric power only, making for a soundless, bloodless and sadly meaningless contest. One driver was happy to provide some sparks, though. Taking big, hungry bites out of the run-off area at the first corner and grabbing a fistful of opposite lock on the way out of Molecomb, Jann Mardenborough's run in the Nissan GT-R Nismo certainly looked fast. When the clock stopped at the top of the hill it was confirmed to be quick, too - the 49.27 seconds it took helped Mardenborough make the GT-R the fastest supercar ever to climb the hill.
You might have heard of Mardenborough before, and his story is certainly a popular one. Winner in 2011 of the GT Academy - a programme created by Polyphony and Nissan that uses Gran Turismo to identify and develop new racing drivers - his ascendancy has been staggering. When we first met in 2012, Mardenborough was a wide-eyed gamer who was living his dream, and still revelling in his first ever victory in the Brands Hatch round of the British GT championship.
Two years on and he's a seasoned racing driver, still feeling the disappointment of a class win that slipped away late into the running of this year's Le Mans 24 Hours, a spark plug on the all new LMP2 Ligier faltering on the Sunday morning and destroying the advantage Mardenborough had helped earn in some electric stints in the dead of night. It was a performance that saw him and his team-mates at OAK Racing credited by many as the stars of the race.
Mardenborough still uses Gran Turismo as a training tool - the accuracy of Polyphony's circuit models allows him to memorise track-side details such as fluorescent bollards and road-signs, essential markers when nailing a braking point at the Circuit de la Sarthe in the dark - though he's moved on to bigger, more fully-featured simulators now. As of the beginning of this season, Mardenborough's become part of the Red Bull family, being signed up to their own development programme while he takes part in GP3 with Arden International. Does he still have to remind himself of where it all began?
"I should do more often, but I don't," he says. "When I do, I do realise how far GT Academy and Nissan have come, and how far I've come in three years. It's great, but you're quickly back on the ball of how you're going to go faster, how you're going to improve the car. You're quickly back in the mindset of being a racing driver of how to keep improving yourself and your car and to get as fast as you can. To think about what I'd be doing now - I'd be finishing my degree now, not with first class honours, that's for sure."
Jann Mardenborough, alongside fellow GT Academy winner Lucas Ordóñez, is the most successful graduate of Nissan and Polyphony's driver training programme, and he's primed for more success too. A switch to single-seaters marks a change in his career plans as he sets his sights on F1, though he's not turned his back on sportscars either, and with Nissan entering the top flight in next year's World Endurance Championship and targeting overall honours in the 2015 Le Mans 24 Hours, Mardenborough is well placed to join them.
Getting one of its drivers in an F1 seat or to victory in sportscar racing's greatest race would only underline the success of a programme that's already proven itself. But Gran Turismo's creator wants to go further.
Kazunori Yamauchi races himself, and at Goodwood still bears the bruises of a savage weekend at the 24 Hours Nürburgring, where he campaigned a Nissan GT-R alongside Academy winner Jordan Tresson and brothers Tobias and Michael Schulze. "We had the car set up fairly well," says Yamauchi. "It was feeling really good, and it was set up by the staff at Polyphony. I'd been training for over 18 months in preparation for the race, and I was in the groove and driving well. But in qualifying there was a slow car in front of me I was trying to overtake. I couldn't lift off when I should have, and we crashed - I was taken to hospital, and it destroyed the car. When you think everything is going well, something is bound to happen - and it did."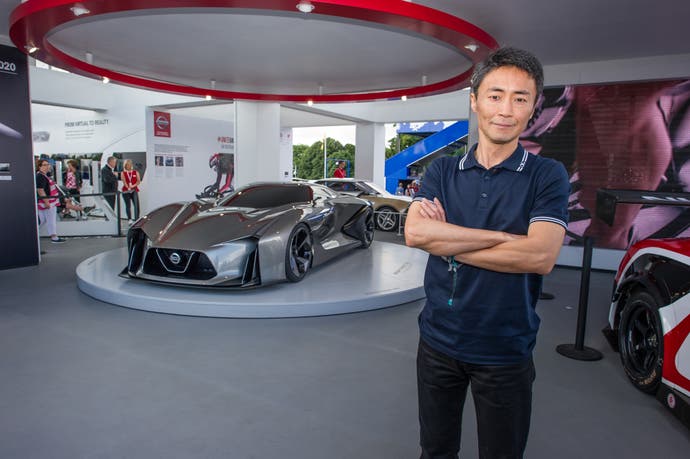 A 20-hour stint in the garage pieced the GT-R back together before the event's start, and it was a commendable achievement just making it to the end of a 24-hour race where 175 entrants across multiple classes battle it out across the 16.1 mile circuit. (Ss to whether we'll ever see such vast numbers of cars in multi-class racing in a Gran Turismo game, Yamauchi says, "It's one of our milestones, and it's on our list of things to do.") The race itself was just part of a gruelling tour Yamauchi is taking himself, spending a month away from Polyphony's offices as he prepared for Nürburgring, visited Goodwood and stopped off by motorsport's governing body the FIA to make a landmark announcement.
A partnership between Polyphony and the FIA commenced with a handful of Gran Turismo 6's real-life tracks receiving official approval, and with the introduction of an official FIA Online Championship next year it's set to go further still. Details, as is so often the case with Yamauchi, are hazy - "I'm not sure how we'll do it right now," he says, "I think on Gran Turismo 6 it'll be something like a pre-season series, and it's more realistic to say we'll have the complete series in Gran Turismo 7" - but it's a partnership being taken seriously by both sides, with the winner each season to be recognised at the FIA's glitzy annual prize-giving ceremony.
The partnership puts Gran Turismo in a position where licences such as the World Endurance Championship should be more readily available - "It'll be easier," says Yamauchi - though the possibilities don't end there. "One of the important things for us, it's beyond our expectation how much people in the FIA like Jean Todt don't differentiate between the virtual and the real. They're treating it on the same level."
Ask whether, with the partnership in place, Polyphony can make Gran Turismo to the world of cars and motorsport what FIFA is to football, and Yamauchi immediately wants to go bigger. "That's a good question," he says. "Football has a lot of fans. The population of motorsport fans is much, much smaller than that of football fans. And it's declining over the years. We have a sense of urgency regarding the fact that it's declining - both myself and Jean Todt."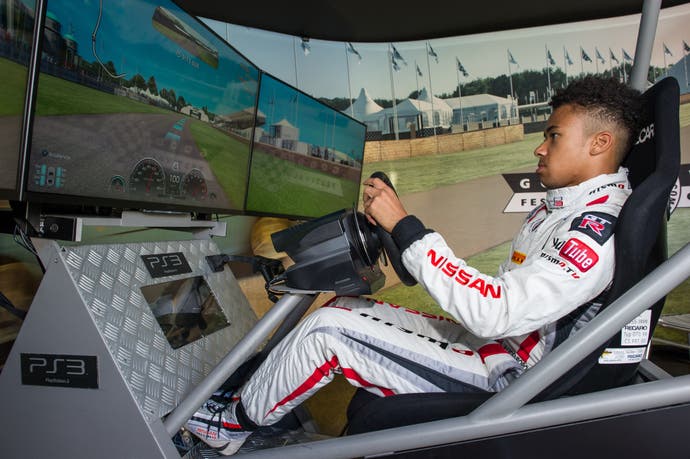 The point is pertinent, especially at a time when, in the face of declining viewing figures, Formula 1 seems to be imploding, introducing double points and standing restarts, while the FIA's own Formula E is making its own curious attempts to engage a broader audience. In the midst of the sport's attempts to revive itself, the partnership with Gran Turismo and introduction of an official online championship are some of the more sensible ideas.
"This collaboration is really something that's necessary for the industry," says Yamauchi. "Without it, our car culture is really going to become much, much smaller than it is now. Of course, if we could reach the level of FIFA that'd be wonderful. But before we can see that dreamlike state, we need to be realistic and really work at what we have."
Yamauchi being Yamauchi, it doesn't stop there. "The FIA's a huge challenge, obviously," he says. "Below the FIA there are over 100 automobile clubs all over the world, and it's more than just car manufacturers. So we'll be communicating with all of them, to think about what's necessary for the next 100 years of motorsport."
And does he see Gran Turismo as playing a part in motorsport's reinvention over the next century? Kazunori Yamauchi smiles and nods in affirmation, before he returns to the Festival of Speed and the other countless dreams being played out across the grounds of Goodwood.