From the writer behind FTL comes The Swapper, a philosophical platformer
Channelling the spirit of '70s sci-fi, Facepalm Games explore the ethics of cloning.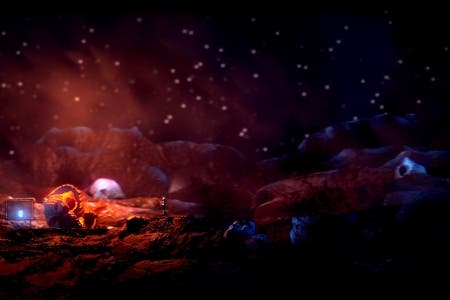 The Swapper's a cold, strange game. As it starts, low key lighting sets the mood in a series of deliberately-paced rotational shots: a small planet orbits an incandescent star; a space station orbits overhead, bathed in a melancholy blue; an escape pod launches, fleeing dangers unknown. The whole scene only lasts a minute and a half from fade-in to lunar landing, but the languid pace hearkens to the internalized mode of sci-fi films like Moon or Solaris, brooding and mesmerisingly obscure.
The ambient tone reflects The Swapper's atmosphere, cobbled together from a textured mash of real-life assets (the two-man team have created a uniquely constructional aesthetic using photographs of real world objects to get around the hassle of creating original art) and the game's primary mechanic, or rather its ethical implications.
The eponymous swapper is a cloning gun that lets you transfer your consciousness from one body to another. Rather than treating this as simply a means to a gameplay end, the narrative of this puzzle platformer delves into the ramifications that might arise from using such a device.
The idea here gives writer Tom Jubert - the mind behind FTL as well as a contributor to the Penumbra series and Driver: San Francisco - a lot of room to explore existential debates regarding the mind and soul. "I'm very interested in philosophy, philosophy of mind - I kind of moved [the story] a bit more towards questions of what's really happening to you, your identity, to your mind, when you transfer between bodies," he tells me.
"Do we believe that we're moving our souls around between different vessels, or are we doing something rather scarier and more materialist? Are we still the same person at the end as we were at the start?"
Much like the source material it draws from, The Swapper is as much about solving a mystery - in this case what could have happened on the abandoned research space station Theseus ¬- as it is an expedition into its heady subject matter. The facility's littered with offline teleporters, ciphered stone markers and cryptic message logs as environmental storytelling takes the place of any signs of life.
The effect creates a moody, almost meditative isolation; your copies only heighten that loneliness, an appropriate move for a Metroidvania design. Disquietingly, those clones are necessarily expendable.
"That's always been at the core of the project - it's about establishing a feel and a place through the art, through the writing, through the central mechanic," Jubert says. "Every single puzzle basically requires that you kill off clones. And the sound effect and the animation when they die - we're trying to find that balance - [it's] something that feels quite atmospheric but also something on the cusp of unsettling. Every day we get a little bit closer."
Unlike most puzzle platformers, The Swapper intensifies the abstraction in its puzzle solving rather than complicating its palette with new mechanics or even enemies. This may even make the game harder, at least initially; with only mind transferring abilities and your clones (limited to four, and who follow your movements in exact unison), it's not uncommon to run across a scenario that seems unsolveable until you try bending your mind in a new direction.
One of the simplest examples in the demo is tellingly morbid: about ten minutes into the depths of the Theseus, there's a room whose only exit is a seemingly bottomless pit. You're sent cascading downwards, firing out a clone to a ledge that rushes into view. You can survive the fall, though the first clone's body keeps falling, hitting the floor with a perturbing smack. (Even the spare sound design - the soft crunch of your boots moving across rough terrain and the remote echo of groaning metal or garbled audio transmission - is effective at conveying a sense of psychological distance.)
The difficulty is augmented by ethereal red and blue lights scattered throughout the station, which block mind transfer and cloning respectively. While the game's initial obstacles are reminiscent of Limbo's weighted switch puzzles (e.g. pushing blocks to weigh down switches that control barriers while using the swapper to get a clone behind them to in turn activate another switch, deactivating a blue light), it's easy to ponder how complex and taxing journeying deeper into the Theseus may become; the developers also promise that as you progress in the game, its non-linear nature will become increasingly prominent, making exploration that much more crucial.
The kind of mindset The Swapper requires is exciting to Jubert, who is just as interested in practical gameplay applications as he is in the "why" of narrative philosophy. "I'm excited about this idea of asking people to engage their brains a little bit more to use gameplay not just for entertainment, but to bring the story and the philosophy and the gameplay together," he says.
Although Jubert says The Swapper's script isn't quite finished yet, he's confident its conversation starting approach will help The Swapper resonate with a cerebral audience.
"I think at heart I'm a frustrated philosopher," he says. "We're all out there, we all create art to try to understand the world a little bit better and maybe to express some of that to other people and to connect to people in that way. Philosophy is kind of the same thing, except thorough and starting from scratch. It's just all of the most important things - if you're going to believe something you need to know why you believe it."