For Honor outmuscles Sniper Elite 4 to top UK chart
Ubisoft backs the right Norse.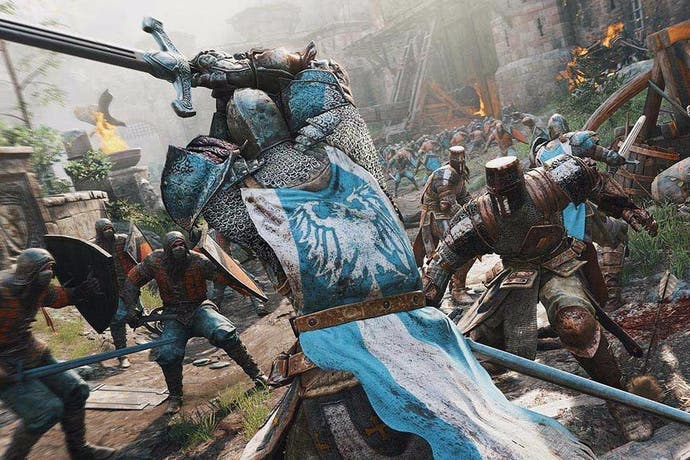 Two good games burst into the UK chart this week, For Honor top, Sniper Elite 4 second.
There aren't any boasts about record sales performances beyond For Honor being Ubisoft's first number-one since Tom Clancy's The Division roughly a year ago - Watch Dogs 2, which launched in the madness of November, missed out.
For Honor is also the biggest new IP to launch since No Man's Sky last summer - but were there many others? I can only think of The Last Guardian as a possible contender.
Nevertheless, the news bodes well for both games, particularly as For Honor presumably has months, maybe years, of support ahead of it as a multiplayer game. Look what Ubisoft has done with Rainbow Six Siege as an example.
Worth also remembering that Sniper Elite 4 is self-published by developer Rebellion, which doesn't have the marketing muscle of Ubisoft.
"For Honor is a terrific, brutal mix of Ubisoft-brand third-person game design and proven fighting game principles," wrote Edwin in his For Honor review, which awarded a Recommended badge. Wes also tackled For Honor from a fighting game perspective, he coming from a community the game has particularly impressed. We compare all three For Honor platforms in our Face-Off article, too.
Sniper Elite 4 was awarded a Recommended badge in our review as well. "Schlocky, supple and slicker than what's gone before, Sniper Elite 4 is a riotously entertaining WW2 stealth adventure," wrote Martin underneath a picture of a Nazi being literally face-palmed.
There's little else of note in the UK chart this week. The top 10 is as follows:
For Honor
Sniper Elite 4
Grand Theft Auto 5
FIFA 17
Battlefield 1
Resident Evil 7
Call of Duty: Infinite Warfare
Rocket League
Forza Horizon 3
Watch Dogs 2