Pinball Dreams
First Look - one of the first European games for the GP32 handheld...
In a modern world, where kids can barely conceive of the brick-phones of the early Nineties, let alone a time where mobile phones did not exist at all, the humble pinball machine must seem somewhat of a curiosity. Packing out arcades around the world during the Seventies and competing with the Space Invaders generation in the Eighties, the pinball craze was over before today's games-playing youth were even born.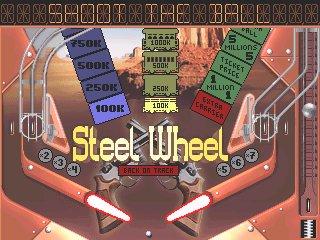 Porta-ball
Happily, your favourite pinball machines of yesteryear live on, albeit in digital form, for the misty-eyed enjoyment of many a twenty, thirty or even forty-something gamer. A pixel-perfect conversion of the original Pinball Dreams released for the Amiga in 1992, the original Motorola 68000 code had already been ported to C for the GBA version (titled Pinball Challenge Deluxe), so the move to GP32 was fairly straightforward. In fact, the decision was only made after meetings with Gamepark at ECTS less than 4 weeks ago.
As is the signature of this series, the animation is slick, the ball physics spot-on and the soundtrack as involving as the original. Paul Carter, MD of UK developers Logik State, cited how important the music can be to the lasting appeal of certain titles (the SNES version of F-Zero was fondly recalled), and it was clearly of personal importance to him that this latest GP32 version of Pinball Dreams rouse similar memories in those who enjoyed the original. Rest assured that the GP32 is more than capable - the near finished version I played had audio mixed at 44.1kHz!
Logik State have signed with Gamepark to distribute Pinball Dreams via their online distribution hub, MegaGP. Registered users can log in and purchase titles for secure download to their GP32, with the obvious saving of expensive packing and media. Downloadable games are likely to be less than half their $30 RRP, though final pricing is still to be confirmed. The site is currently only available in Korean, though an English version is under development.
Conclusion
You'd be hard pressed to find someone who doesn't enjoy a good thrash on a pinball game every now and then. Having said that, it's unknown how Pinball Dreams will be received in the GP32's Korean home market. For Western gamers who bought a console on import, a free single-table demo will be made available shortly for download, with the full four-table game available as soon as the English version of MegaGP goes live. And it was hinted that the sequel, Pinball Fantasies, is in the pipeline and could be produced in a similarly short period.