Need For Speed: Underground
Dig that wet road.
One game that slipped through the net at E3 was the latest Need For Speed title, but it certainly snagged our attention in the relatively serene environment of Camp EA. Up to now, EA's big emphasis has been on the kind of cars none of us are feasibly ever going to own, and if you find this kind of gratuitous phallic extension fest one big turn off then you might have missed out on one of the most consistently fun driving series around.
Thankfully the ego quotient has been toned down for Underground, and instead of Porsches and Lamborghinis, we now get the chance to burn up the streets in 20 more attainable cars from Ford, Mitsubishi, and Toyota and customise them in a huge variety of ways.
Custom my eyes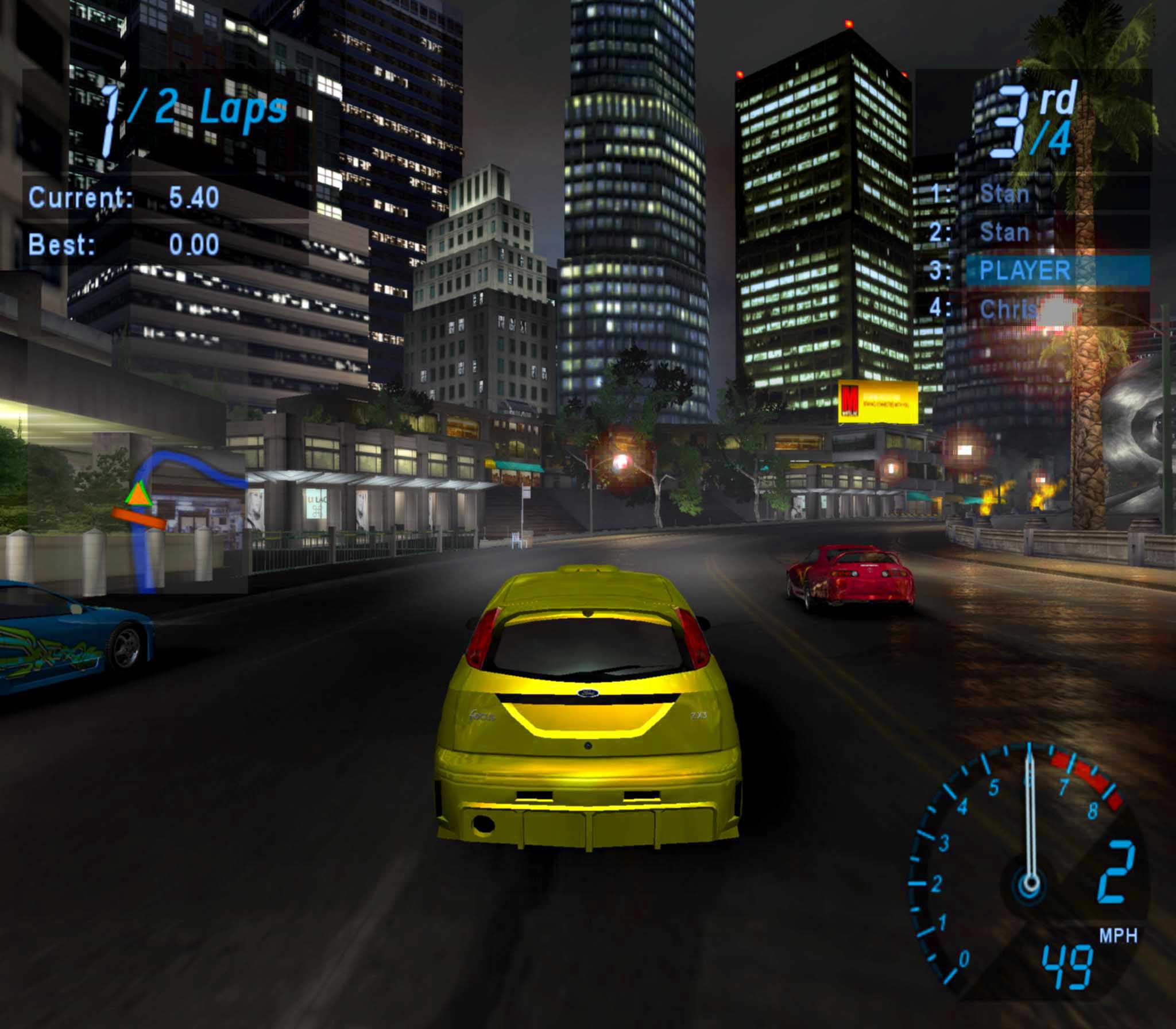 In fact, customisation nuts will be catered for to an almost insane degree with players able to really create their own look, encompassing just about every conceivable area of your car including the bumpers, spoiler, decal, skirts and so on, with tons of fully licensed parts from all the major real-life manufacturers. The licence department has been busy. In addition, performance tweaks can be made to hone your exact tires, nitrous, engine and probably the bleedin' sub woofer too. In fact the EA Trax guys have made damned sure there are a number of banging tunes to rattle the neighbourhood to. As long as they annoy Rob, I don't mind.
There are currently two types of racing in the game; Drag and Street racing. The former takes a more straightforward approach of driving stupendously fast down a straight, avoiding obstacles and vaulting off ramps, while the latter felt a lot more like a traditional Gotham-style game against three opponents.
In the brief hands-on we got with both versions, the handling felt assured and responsive, and in the bumper cam view the sense of speed was excellent. Typically EA likes to show off how great the game looks with regular trademark cuts of your car flying headlong off a ramp - a feature introduced to good effect in last year's NFS and the underrated Shox [bang that drum, baby -Tom]. Even the most hardened anti-graphics bore would find it hard not to be seduced by the some of the visuals on display, though.
Xbox or PS2? Or GameCube. Or PC. Or GBA?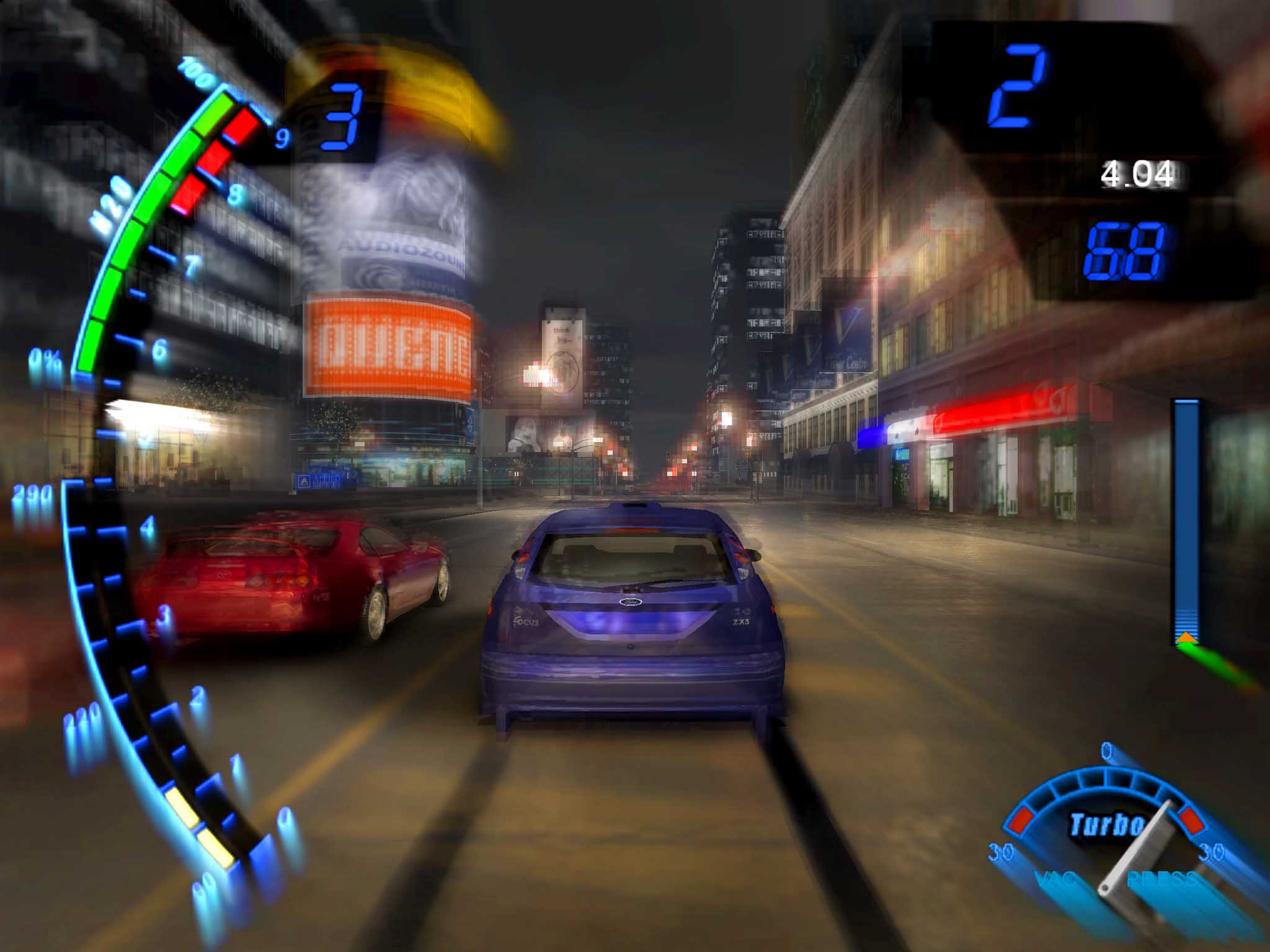 Although the PS2 undoubtedly holds the bragging rights thanks to its four-player online mode, the Xbox version really kicked it into touch for graphical splendour. Both are great examples of EA's supremely slick technical capabilities, with a huge degree of detail and variety in the street-based locations, along with superbly reflective roads that seems to render an insane amount of detail, you can barely believe your eyes. But out of the two versions on display the Xbox rendered the action far smoother at this stage than the PS2, and at a noticeably sharper resolution.
Some areas, such as damage modelling, had yet to make it into this early version, but are said to show off dents and scratches, which we'll look forward to seeing. As things stand, it's shaping up to be one of the better driving titles to keep an eye out for, and we'll report back when we get hold of some playable code later this year. The good news for fans of the series is that this will hopefully be sooner rather than later, with the game now being released this year, rather than early in 2004.