E3 2003: FIFA Football 2004
If it's in the game, it's online. On the PS2.
Although Winning Eleven and its many sons and daughters are by far and away Eurogamer's football games of choice, EA did manage to regain some credibility last year with its revamped FIFA 2003, combining elements of both sim and arcade titles and delivering a fairly laudable ball game. But even at that, the Vancouver-based team behind the series knew that they still had some way to go, and they now claim that this year's version - shooting for an October release date - is making serious strides in the right direction. But don't they always say that? With a 20 per cent complete build of the game at E3 last week, we had a look for ourselves.
A precocious talent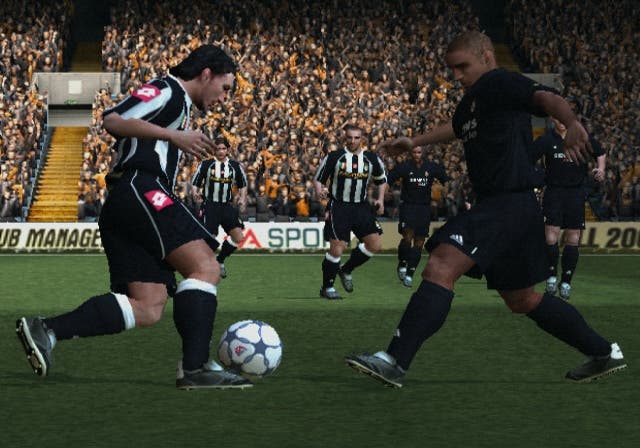 Every year we look at FIFA, and our first impression is that not much has changed - this year far more so than ever. Controls remain the same, John Motson and company seem to be out in force as usual, and even the free kick and corner system - often the victim of EA's rusty scalpel - has survived the indignity of changing for a third successive season. And although the graphics engine has been brought slightly up to date, with a smoother frame rate, spectator's-view action replays and a smartened up face/body system that looks eerily realistic, it isn't until the end of your third or fourth match that EA's claims of an improved game really start to ring true.
For a start, you'll have heard the commentary crew follow an entire match, and realised that it sounds better than ever. In the past, EA recorded lines from different commentators on different days and then meshed them together, but on this occasion they sat them down and had them analyse hour upon hour of real European and international football, adding fluency to their interchanges. And also on the audio side of things, the authentic crowd chants have really hit their peak, convincing me that EA must have been crouched around various stadiums up and down the land with microphones, instead of having some gormless yobs hurl slander into a studio booth.
Further to the audio and visual improvements, EA has even expanded the game's statistical scope, striking up a deal to include all the Nationwide teams, allowing Eurogamer to pretend that Brighton never went down and that Bobby Zamora remains. Hopefully. In any event, an extensive Career mode should give us the chance to test the mettle of various clubs over a protracted period of time, competing in multiple competitions instead of just surfing the top tiers of European and domestic events. With so many more clubs and things to do, EA has even recognised that teams like Brighton and particularly Norwich won't be comfortable in top-flight accommodation [slap! -Ed], and has incorporated various lower league stadiums like Adams Park and sites of that nature. Although this hasn't stopped them throwing in Stamford Bridge and others for Premiership fans.
Good old-fashioned centre-forward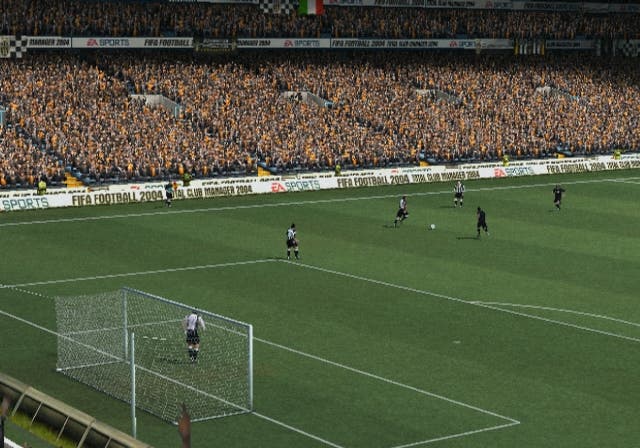 However all this glitz and fluff wasn't about to fool us. After all, we panned 2002 FIFA World Cup for its faulty gameplay engine and that had production values that made Sky Sports look like QVC. It was only when we got our hands on a controller and took on one of EA's imported British helpers that we started to notice important changes. Sliding comfortably back into the old FIFA control scheme, we started to see the effect of those 20 new player attributes - which give players like Zinadine Zidane the close ball control they truly deserve, and the vision to craft expert through balls. Other players were constantly racing around to create space, whilst their opponents marked them closely, and often ganged up on ball-hoggers to drive them into a cul-de-sac. On the whole it feels like EA are finally trying to compete with Konami's footballing intricacy, instead of making arcade footy where two players duel and the rest stand still.
On the ball, the feel remains much the same, with chargeable shots, passes and through balls, and quick tap options for one-twos and other tricks, although players seem quicker to control the ball, easing it down with their thighs and passing it around neatly. It's also seemingly harder to score a goal, and this could to be down to the newfound awareness of the quality players around you - no doubt a good thing, because if FIFA needs one thing then it needs the player to feel like goals have been earned.
There are still plenty of issues to resolve, particularly in the AI department, but with the game allegedly at 20 per cent it's difficult to imagine them enduring once we hit October. And we were suitably impressed with the Xbox and PS2 versions on the floor, even noting that you can now create custom set-pieces in training mode and deploy them on the field.
Over the line?
But before we sped off to our next engagement, we were given the chance to take on one of the game's designers - in Vancouver - via the PS2 version's online mode. Like Tiger Woods 2004, the other game we tried, this proved consistently smooth, with voice comms working nicely and the prospect of online tournaments and so on keeping us interested. And unless KCET gets its arse in online gear with Winning Eleven 7, FIFA 2004's jewel of an online mode could find itself nestling comfortably in Konami's former crown.