Fallout 76 Power Armor Edition and Rage 2 Collector's Edition live for pre-order now
Both exclusive to GAME in the UK.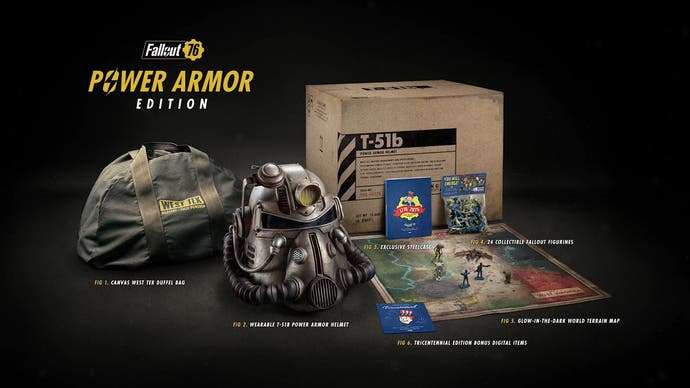 Fresh from Bethesda's E3 2018 press conference last night (or absurdly early this morning, if you're one of us UK folk) and the company's showcases of Fallout 76 and Rage 2 along with Collector's Editions of each title, retailers have been quick off the mark to offer pre-orders of both titles today.
As the stock is reportedly limited, if you did happen to want to drop a significant amount of cash on either of these games or editions, you may want to strike while the iron is hot and get a pre-order in before they all go away for good. We all saw the mess that happened with the Fallout 4 Pip-Boy Edition a few years ag,o and I know of a number of former GAME employees that still have traumatic flashbacks to that event.
First, the Fallout 76 Power Armor Edition, which boasts a life-size, wearable Power Armour helmet which features a functional headlamp and voice modulator for added nerd points. Also included in the giant box of stuff that is this edition - a glow-in-the-dark map of the game world and 24 plastic figurines you can dot around said map, an exclusive steel book for the game case and a West-Tek branded duffel bag to store the whole lot in, if you feel like it.
In the UK, this edition is exclusive to GAME just as the Pip-Boy Edition was for Fallout 4 and will cost you a whopping £174.99 on Xbox One, PC and PS4.
In the US, pre-orders don't appear to be live just yet, though Amazon US has pages up for the PS4, Xbox One and PC editions ready to go the minute the prices get announced.
The Power Armor Edition releases alongside the game on November 14th and you'll find Bethesda's own CGI trailer for the game's physical collector's edition below.
Bethesda isn't wasting any time getting Rage 2's Collector's Edition out on the market either, with pre-orders of the slightly baffling big-box edition of the game up for grabs in both the UK and US.
Most notably, the Rage 2 Collector's Edition comes with a moving, talking, singing head of in-game character Ruckus The Crusher, voiced by the one and only Andrew W.K., of all people. The head can be wall-mounted and is motion-sensitive, so it'll presumably talk, yell or sing at anyone in your home as they approach, which is mildly terrifying. You can see said head in action via Bethesda's tweet below.
In addition to poor Ruckus' decapitated head, you'll also get a poster, a litany of in-game DLC, and an exclusive, 'one of a kind' steelbook to keep the game in. Pre-orders of this edition are live right now in the UK and US.
For the UK, this is another GAME exclusive, where it'll cost you £119.99 on Xbox One, PS4 or PC, while over in the US, Amazon US has it listed for $119.99 on PC, PS4 and Xbox One with a temporary release date of the end of this year.
Quite how Bethesda's announced price of $119.99 amounts to £119.99 for the UK version sold by GAME is beyond me, but it certainly doesn't surprise me. There's no official release date for Rage 2 just yet, but with seemingly every other big game being released in February 2019, my money's on somewhere around then.
If you aren't tuckered out by all that excitement, feel free to check out Jelly Deals, where you'll find a roundup of today's best deals, which include God of War for £33.99, 10% off everything at Currys PC World, Resident Evil 7 for £5 and more. There's also a guide to the best Father's Day gifts for this year, if you still need to pick something up.