Eurogamer.net Podcast #77
Diablo III special! Plus, 3DS catch-up.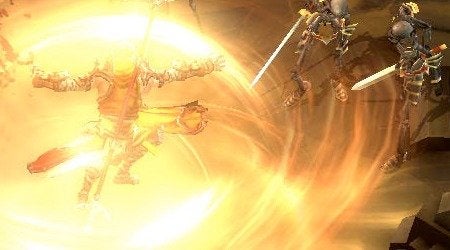 Hello and welcome to another vital instalment of the Eurogamer.net Podcast! This week Tom Bramwell (ayoo!) is joined by Robert Purchese and Oli Welsh, the latter of whom is fresh from a trip to Blizzard last week to play the Diablo III beta.
While he was there, Oli also got to talk to the likes of Jay Wilson and Chris Metzen about everything from the controversial new real-money auction house to the new Diablo universe's rich narrative potential.
We spend quite a bit of time on the 'cast going over the fine details of the real-money auction house and considering the implications. Is this good for players? How will it affect other Blizzard games, like Titan? And is it really, as Bertie suggests, as though Blizzard is legalising drugs?
Plus of course we talk about the gorgeous Diablo III beta itself and the sort of content we're going to experience when it's finished in the next few months.
Diablo III's latest revelations were hardly the only thing going on in the games industry this week, of course - just ask Nintendo, who had to cut the price of the 3DS after admitting that its poor sales were becoming a huge issue.
We talk about whether Nintendo can ever recover the dominance it enjoyed with DS and Wii, and if not what there is left for the platform holder.
Stirring stuff and, of course, amazing scenes.
Background reading!
The Eurogamer.net Podcast goes out every Tuesday at 5pm UK time. Join us next week to hear our thoughts on QuakeCon, where we should get to catch up on the likes of Rage, Skyrim and more.