PES's free Euro 2016 update is a bit of a disappointment
Euro sceptic.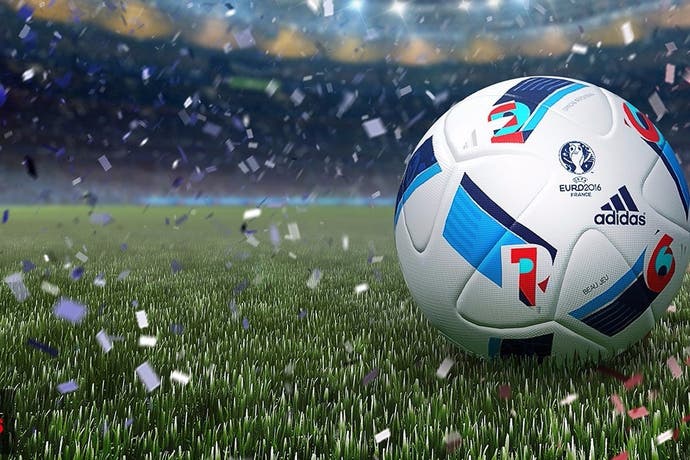 A keen-eyed observer might have noticed a few new icons pop up in their PES 2016 menu a few weeks back. The game's latest patch, weighing in at a hefty 3.9GB, brought with it a raft of Euro 2016 content - but Konami's been pretty quiet about the release. It's hard to imagine a more underwhelming launch for the official licensed game of an international football tournament.
It wasn't always this way. World Cup and European Championship tie-ins have typically been major events for publishers and gamers alike. Sitting as they do slightly outside the major franchises' Christmas-focused release calendar, they've offered both the chance for developers to indulge in a little non-iterative experimentation, and for gamers to soak up a simulation of unique contemporaneity - an experience specifically designed to be played for one month, and one month only.
EA's 2010 FIFA World Cup South Africa, for example, managed both to capture the atmosphere of the tournament and represent a FIFA 2010.5 in the improvements it made to the match engine. Many critics even preferred it to its full sequel, FIFA 2011. A decade earlier, the same publisher made the most of post-Euro '96 football fever with two complementary World Cup '98 releases. The first, FIFA: Road to the World Cup 98, is one of the most fondly remembered football games of all time, featuring as it does that famous Blur 'Song 2' intro, the bizarre option of indoor football, and a World Cup qualification mode of unprecedented depth.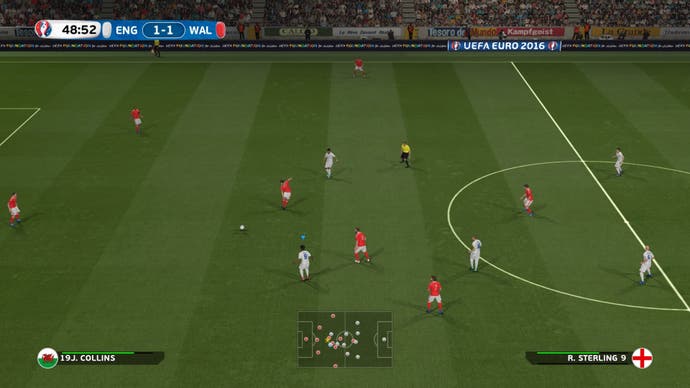 As such the PES DLC pack, albeit being offered free as an apology for the game's bizarrely out-of-date release roster, is a pretty major disappointment. While the largely cosmetic nature of the update will satisfy most fans looking for a quick half-time match once June rolls around, it feels like a missed opportunity for PES Productions to correct a few flaws in the match engine and iron out the kinks in the game's menu system.
The rosters are currently still problematic. Although every squad has a full set of correct player names and spot-on likenesses, the default starting elevens are in many cases just plain wrong. While I can, at a stretch, envisage Fabian Delph lining up for England against Russia, JonJo Shelvey, given his recent form, is about as likely to receive a call-up as I am. We may now take EA's tireless diligence in this regard for granted, but that's the landscape PES finds itself in and it's clearly a feature it still struggles with. Konami says it will be updating line-ups and tweaking stats once squads are announced. That's still weeks away, though, and until then everything seems a little off.
PES is also still in FIFA's shadow when it comes to presentation, and while it makes a decent fist of capturing the Euro 2016 feel through its liberal use of licensed imagery and music, it doesn't come close to matching 2014 FIFA World Cup Brazil, with its in-game radio stations, bespoke match-day challenges and CGI samba dancers. There's some new commentary, but not enough to prevent it quickly becoming irritatingly repetitive. And there's been little indication that any more will arrive over the next month.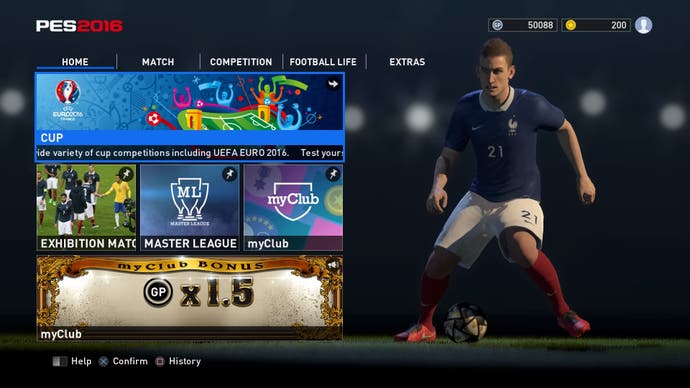 Comparing PES's Euro 2016 download to a fully fledged World Cup release might seem a little unfair. But with a boxed retail product hitting shelves on Thursday that bundles together PES 2016 with its new update as well as a handful of small bonuses, I can't help but think that punters are going to feel short-changed. Although the fact that only 15 of the tournament's 24 teams is fully licensed has been a little overplayed - nine teams having slightly wrong kits shouldn't spoil anyone's party too much - we've come to expect more from such releases than a reskinned cup competition and a few new player faces.
Of course, there's always going to be a smaller budget for a competition that focuses solely on one continent. A more expansive Euro 2016 release would be unlikely to shift PES units in Latin America. And even EA has been guilty of treating the smaller tournament poorly - few of us will have fond memories of Gareth Belth striding down the left wing for Wales in Uefa Euro 2012, which was also DLC.
Nevertheless, for those of us who find filling the gaps between matches with a licensed game as much a part of the big tournament experience as houses bedecked with England flags, the Lightning Seeds, broken metatarsals and soul-crushing penalty shoot-out misses, the lack of a decent Euro 2016 game is bit of a shame. With it now being eight years since EA's UEFA Euro 2008, the last release to do the competition justice, it's probably a state of affairs we're all going to have to get used to.