Editor's blog: Pardon our dust this weekend
Slow news day? Comments will be offline from 11pm on Friday until late tomorrow.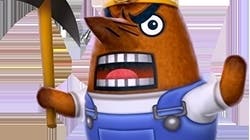 Hello, hi and how do you do! Just a quick note before we head into the weekend - tonight we're migrating our CMS from its old platform to a shiny new one. Which I'm sure you don't really care too much about, but it does mean that from 11pm tonight some functionality will go down while we carry out the migration - chiefly on-site comments as well as new account registrations and access to our subscriber-only content.
We'll also be unable to post any news stories during that time, so if Microsoft does buy Nintendo tomorrow morning we're kind of screwed. Here's hoping nothing like that happens, though, and the process should be complete tomorrow evening, at which point all those features will be restored. It'll be like nothing ever happened!
If you'd still like to carry on the chat, we do have a Discord where you can say 'slow news day' to your heart's content, as well as talk nonsense with a few other community members and even, if you're unlucky, some of us. We'll see you when normal service resumes tomorrow!