Editor's blog: Introducing Eurogamer's new video team
Johnny Chiodini and Chris Bratt join Ian and Aoife.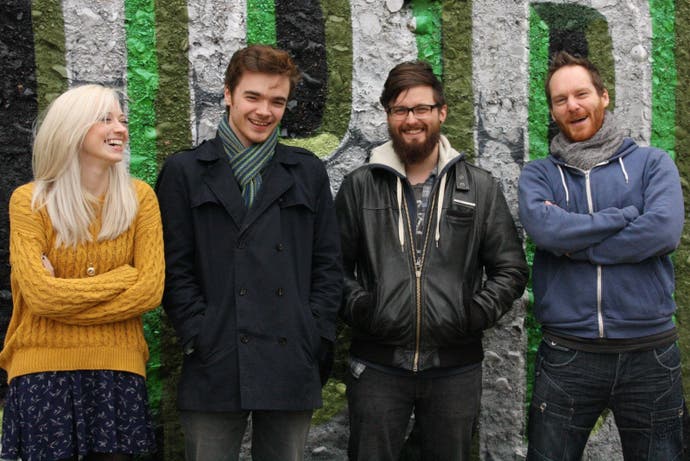 I'm delighted to announce two new additions to the Eurogamer team today: Johnny Chiodini and Chris Bratt, both joining us as video producers as part of an exciting new chapter in Eurogamer's adventures in video.
With Johnny and Chris on board alongside recent addition Aoife Wilson and of course Ian Higton, who's been looking after our YouTube channel for the past two years, we now feel like we're at full strength in video and can set about redefining what Eurogamer can do in this medium.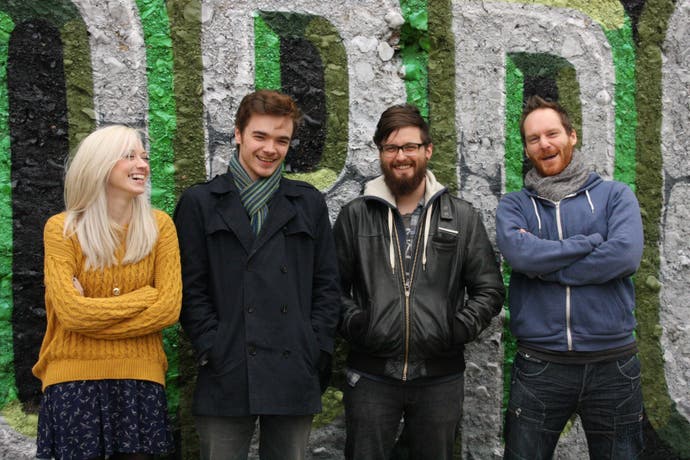 Chris will be a familiar face to some of you from his work at VideoGamer TV. He's from Stoke-on-Trent, loves strategy games, and ends poor Tom Phillips' four-and-a-half-year run as the youngest member of the Eurogamer team. Bless his little socks. Follow him on Twitter at @TheBratterz. (Stop press! Here's Chris' first video, in which he chats about a quirk of Woah Dave's game design with Donlan.)
Johnny, meanwhile, brings a wealth of production experience from work at ITN and GameSpot. He's been with us a couple of weeks already and has posted a few videos - perhaps you caught him arguing that Elite: Dangerous doesn't care about you (and that's why it's great). Johnny lives in East London with his beard, his Wii U, his hand-cranked coffee grinder and his collection of obscure tabletop games. He tweets under the moniker @johnneh.
They're both talented and lovely men and I know you'll make them feel very welcome.
It's fair to say that Eurogamer has had a bit of an on-and-off relationship with video over the years. We couldn't help it; we're men and women of the printed word. (Well alright, the, um, pixellated word.) In fact, we got involved quite early on with Johnny Minkley and James Hills' Eurogamer TV Show. Perhaps because we were pursuing our own video playback technology at the time, we missed the YouTube boat and almost let it sail by as it became a dominant force in games media. We on the editorial team tried to adapt, but we're all writers first and foremost, and we didn't really know what we were doing. Finally, we hired Ian, a seasoned YouTuber, to mind the channel, but there's only so much one enthusiastic ginger cat lover, rock fan and survival game enthusiast can achieve on his own. Meanwhile, we watched our stablemates at Outside Xbox climb their way to 660,000 subscribers and learned a lot from them about how to build a successful YouTube channel in the process.
Two things were obvious: first, video is such a natural fit for video games (the clue's in the name) that it had to be an important component of what we do in the future. Second, if we were going to make video of the quality and professionalism you expect from Eurogamer, we would need more resources and, most importantly, more people: people who are as at home in the medium as the rest of us are in text. I feel very lucky to have found Aoife, Johnny and Chris to fill that role alongside Ian.
Now that we have a full team, we're planning a relaunch for our YouTube channel in the coming weeks. It's a work in progress, but right now I can tell you this: there'll be a regular weekly show, and other recurring formats and series; videos will complement the articles on the site, not just regurgitate them; Ian, Aoife, Johnny and Chris will be the faces of Eurogamer video, but writers from the website - people like Christian Donlan, Bertie Purchese, Martin Robinson - will appear as regular guests; and our videos will present a mix of entertainment, information, opinion and critique that will hopefully be familiar to anyone who's been reading (or watching) Eurogamer over the past 15 years.
Building a bridge between what works on YouTube and the values Eurogamer holds dear won't always be easy. It will involve some experimentation - it already has - and the nature of experiments is that not all of them work. Bear with us. We're more than up for the challenge, and hope you'll come along for the ride.
Before I go, there's one thing I want to stress. The fact that we're investing a lot in video doesn't mean we're taking anything away from our written work on this website. We still have a big writing staff and our belief in the power of the written word is as great as it ever was. That's not blind faith in the face of change, it's backed up by the numbers: more people read more articles on Eurogamer now than ever before. Videos are an addition to our writing, not a replacement for it. Sure, we will post more videos on the site from now on, because we're proud of them and believe in standing by what we publish. But if you can't or don't like to watch video as readily as read, don't worry. We've still got your backs with all the news reporting, reviews, interviews and in-depth features you can handle.
Do subscribe to Eurogamer on YouTube, though, and check in every once in a while. You never know, you might like it!
I'll be back with more on video when we relaunch the channel. But in the meantime, as always, if you have any feedback on the site or our videos, do let me know in the comments, via private message here on Eurogamer - my username is Oli - or by emailing me at: oli at eurogamer dot net.