ECTS 2002 - Rage Preview
ECTS Preview - highlights of Rage's ECTS 2002 line-up
Liverpool based developer and publisher Rage has had its share of problems in the last year, but after a strong showing at last year's ECTS (including walking away with the official Game Of The Show gong for fiendish puzzler Denki Blocks) they're hoping for a repeat performance this year.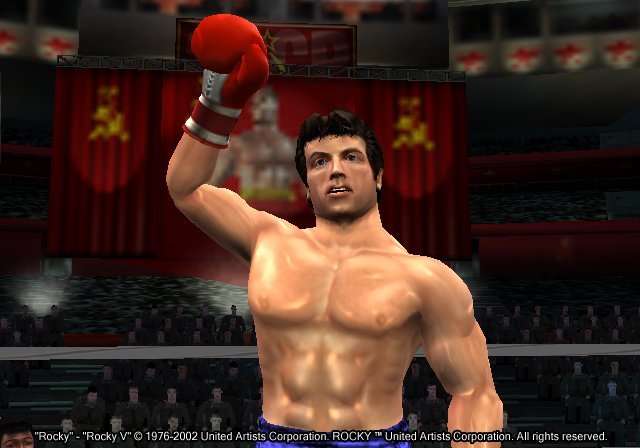 Rocky
Leading the charge is Rocky, based on the Sylvester Stallone movies of the same name. As you might expect, the result is a boxing game [no, really? - Ed] featuring characters from all five films in the series, including the likes of Apollo Creed, Clubber Lang, Ivan Drago and Tommy Gunn.
As well as clashing with various rivals in the ring, players will also get to take part in training exercises to enhance Rocky's stamina and boxing skills, with early screenshots showing a re-enaction of the famous meat locker scene as well as more mundane sit-ups and sparring. Rage are promising a wide selection of punches and motion-captured moves to master, as well as a facial deformation system that will make Sly look even uglier than he does normally by the end of a fight. Quite an achievement, I'm sure you'll agree.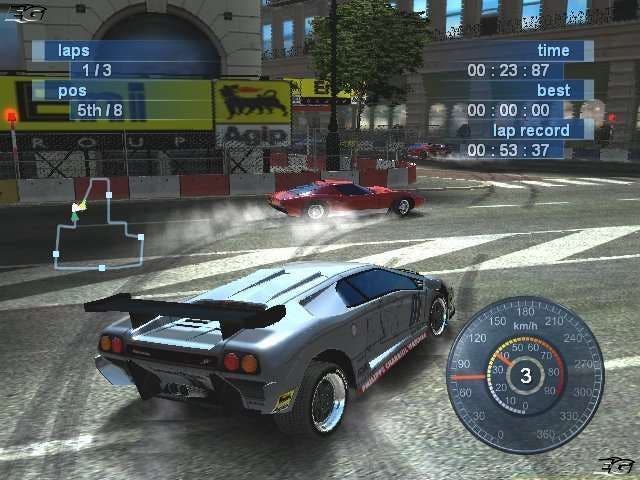 Lamborghini
Another big name license which Rage have secured in recent months is a three year deal with Automobili Lamborghini to publish games starring the Italian company's gorgeous range of super cars. The imaginatively titled Lamborghini is the first game to emerge from this deal, and it's due out on Xbox and PlayStation 2 next spring, with a GameCube version to follow by the end of 2003.
Lamborghini will see you racing the likes of the Diablo and 350GT around a series of sumptuous street circuits, as well as getting your hands on the brand new Murciélago, which has been breaking FIA speed records left right and center. As we've come to expect from Rage the game appears to have graphics to match the sleek lines of the cars, with highly detailed vehicles and circuits and some really nifty looking rain effects. Lamborghini will also be one of the first motor racing games to take advantage of the Xbox Live network, allowing players to take their collection of cars from the single player career mode online. Hopefully we'll have some idea soon of whether it plays as good as it looks.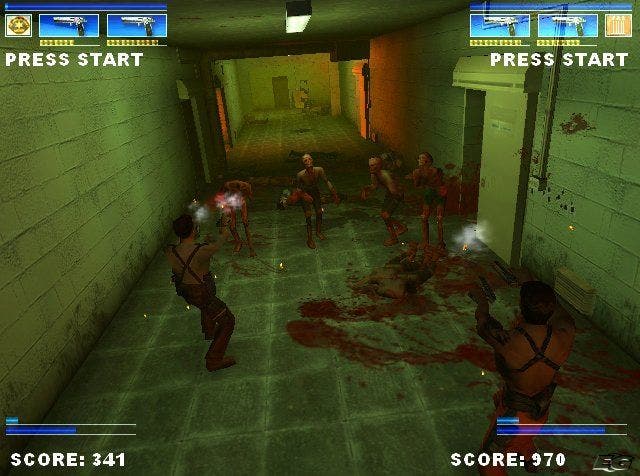 Twin Caliber
Moving away from the big expensive licenses we find Twin Caliber, an unusual action game which allows one or two players to blast their way through hordes of zombies. What's so unusual about this? Well, you can go all John Woo on the bad guys, using your analogue sticks to aim and fire two guns independently. It will be interesting to see how this all works in practice, as it sounds like it could be a bit like the old "rub your stomach while patting your head" routine.
As well as dual pistols, players will also get to wield shotguns, mini-guns and explosives as they battle their way through mutants, demons and evil cultists. The action is spread across a dozen levels, including rooftops and a moving train as well as the jail which has featured prominently in the screenshots we've seen to date. Of course, the big question we'll be wanting to ask the developers at ECTS is why did they make the leading characters look like a pair of rejects from the Village People. Hopefully we'll have the answer this time next week... Related Feature - Twin Caliber screenshots (Xbox)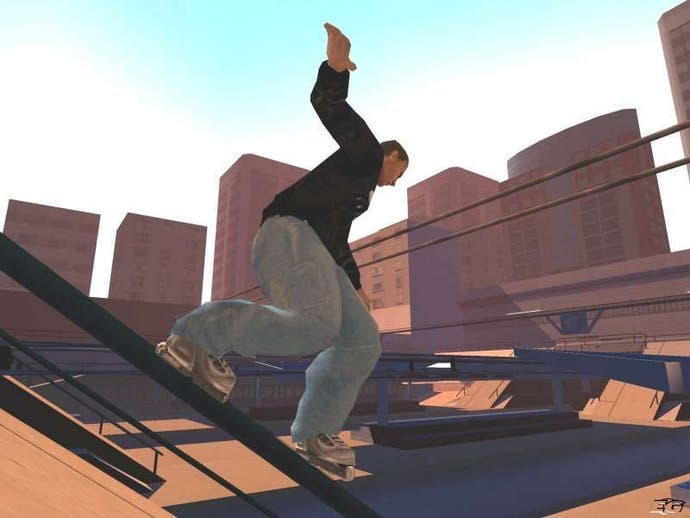 Rolling
Acclaim's recently released Aggressive Inline has finally proven that inline rollerskating can actually be rather cool, and Rage are hoping to achieve the same impressive feat with their own take on the extreme sports genre - Rolling.
The game features an expansive cast of "famous" skaters you'll probably never have heard of before, as well as recreations of some of the top skate parks around the world, from Liverpool's own Rampworx to G-Skates in Japan and Eisenbergs in Texas. Rage are working with skaters, skate parks, skate magazines and TV shows to make sure that the game is as authentic as possible, and naturally this means that there will be plenty of grinds and tricks on offer, with mind boggling names such as cess slides, Fishbrains, Royales and Topsouls. You'll even be able to edit your character's face and kit him out with your choice of fully licensed real world clothing and equipment. Whether all of this can out-do the sheer entertainment value of Aggressive Inline remains to be seen, and by the end of ECTS next week we should have a better idea of how it's shaping up.