EA announces Battlefield 4 with Medal of Honor pre-order bonus
UPDATE: beta to run autumn 2013.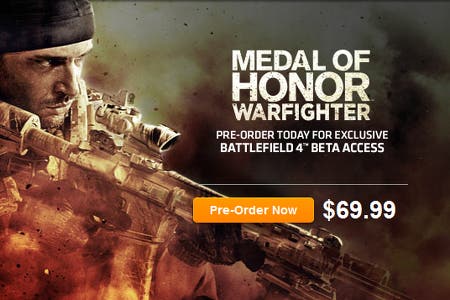 UPDATE: EA has confirmed that the Battlefield 4 beta will run in the autumn of 2013, suggesting a launch October/November 2013 time.
"The exclusive Battlefield 4 beta will be available in Fall 2013," EA said. "Additional details regarding Battlefield 4 will be revealed at a later date."
EA Labels president Frank Gibeau added: "Though Battlefield and Medal of Honor Warfighter each offer players a completely unique experience, they are united by their underlying technology base - Frostbite. These are two of the hottest shooters, coming together to deliver a one-two punch of action, intensity and shooter entertainment."
Next-generation consoles from Microsoft and Sony are expected to launch late 2013. Will Battlefield 4 be a cross-generation title?
ORIGINAL STORY: EA has announced Battlefield 4 with a Medal of Honor pre-order bonus.
"News just in," tweeted EA UK marketing's Dan Sheridan this afternoon. "Pre-order Warfighter and get access to #BF4Beta :)."
In the tweet is a link to the official Medal of Honor website and a blog post, by Sheridan, which contains a video of Medal of Honor multiplayer in action.
Underneath the video is the line: "Plus, pre-order Medal of Honor Warfighter to access the exclusive Battlefield 4 Beta!"
Clicking through at that point takes us to the pre-order page for Medal of Honor.
The video also mentions Battlefield 4 - again repeating the line that if you pre-order Medal of Honor you get exclusive access to the beta.