Man Bites Dog
Review - "Natural Born Killers" meets "The Blair Witch Project" in the subject of EuroGamer's first DVD review
- Remy Belvaux, Andre Bonzel, Benoit Poelvoorde Producer - Remy Belvaux Starring - Remy Belvaux Andre Bonzel Benoit Poelvoorde Rating - 18 Filmed - Belgium, 1992 DVD - Tartan Video, 2000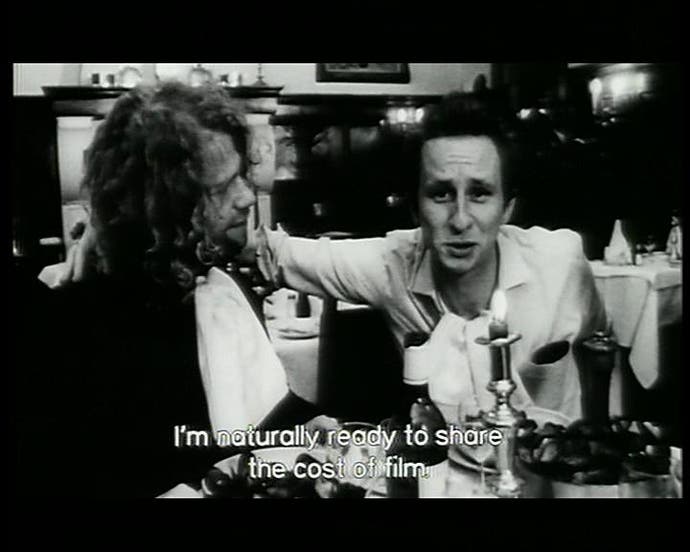 Ballast
Before "The Blair Witch Project" was even a twinkle in the milkman's eye, a trio of Belgian film students produced "Man Bites Dog". Made on a budget of just $15,000, using the team's friends and families as its stars, it went on to become the most successful Belgian film ever made. And with good reason...
Man Bites Dog is a dark comedy following a group of Belgian film students (strangely enough) who are making a documentary about a local serial killer, played by co-director Benoit Poelvoorde. The three man film crew follows the amiable one man crime wave around everywhere, and the entire movie is seen through their camera. But their role isn't just to passively record events, and although at first they are merely disembodied voices, as the movie goes on they emerge from behind the camera to become more and more a part of the action themselves.
Gradually they are sucked into Benoit's savage acts of violence, helping to dispose of bodies in the local reservoir, chasing a child through the woods, and sharing the loot after robbing an old lady's apartment. "There's plenty for all", Benoit says, handing a wad of cash to producer Remy. "I know you're filming on a shoestring budget."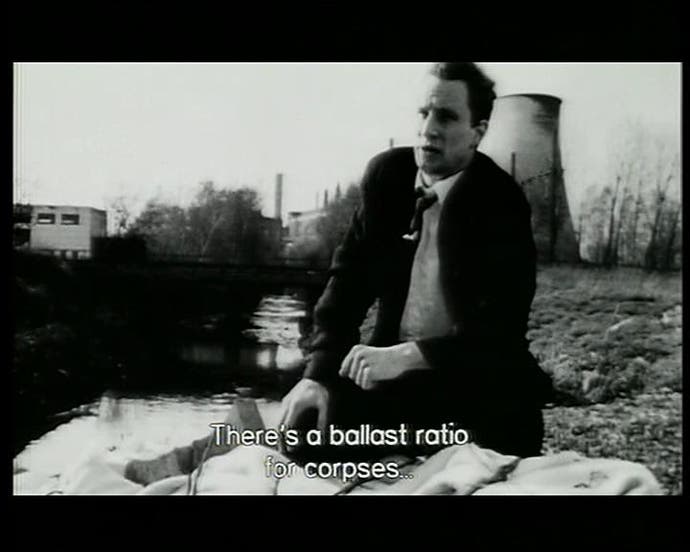 Comfortably Numb
At times things get downright disturbing, and the brutal and uncompromising violence is sure to offend many. And yet between the gruesome murders it's a strangely charming and at times hilarious movie, which parodies our growing obsession with "fly on the wall" documentaries and real life drama.
When he's not busy explaining the finer points of how to ballast corpses so that they don't float to the surface when they decompose, Benoit gives his opinions on urban renewal projects, spouts poetry, plays classical music on the piano, and introduces the camera crew to his family and friends. For him killing and robbing is just another career, one which he takes great pride in, and he is perfectly at ease describing his methods and explaining his actions to the camera as if he were talking about a regular nine-to-five job. On the surface he seems almost normal, and it is easy to forget that he's a homicidal maniac.
And that's the movie's genius. Like the camera crew you get sucked into Ben's strange world, and come to accept the muggings, robberies and murders as part of it. The mundane way in which the crimes are presented can be both surreal and funny, and the interludes of normality only serve to heighten this sense of unreality. Although it is shocking at first, you soon become numbed to the almost constant violence, and it's only as the camera crew become involved in Benoit's crimes and the violence gets ever more brutal that you are shaken out of the trance and the tension starts to mount.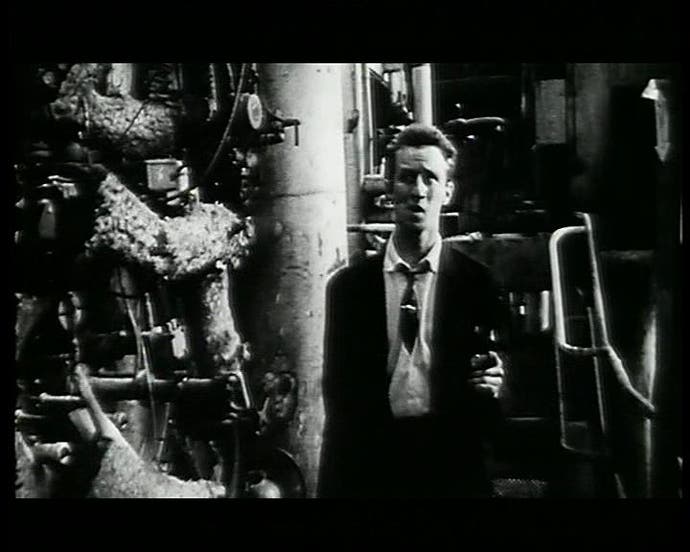 Monochrome
Like any self-respecting European art-house flick, Man Bites Dog is shot entirely in grainy black and white. It's certainly a very stylish movie, and manages to capture the documentary feel perfectly, from the long moody shots, muffled voices and shaky camera work to the deadpan manner in which Benoit talks about his crimes.
The use of the camera crew as characters in their own right is used to great effect in many of the scenes as well. At one point they become seperated in an abandoned factory, and Benoit's voice echoes in the distance as he stands right in front of the camera, shouting at the top of his voice to the sound man, who is holding the boom on the stairs far below. Pure genius. In another scene Benoit replays footage of a failed attempt to mug a postman ("I usually start the month with a postman"), jogging the film backward and forward in slow motion as he analyses what went wrong.
Man Bites Dog is not for everyone, and certainly if you're easily offended you should avoid this one like the plague. The violence is both frequent and graphic, although the overall tone of the movie is somewhat tongue in cheek. But like "Natural Born Killers", focusing on the killer is missing the point - the film is really about the camera crew and their growing involvement in his crimes. Man Bites Dog manages to be thought provoking, disturbing and incredibly funny all at once, and is highly recommended for those with a strong stomach.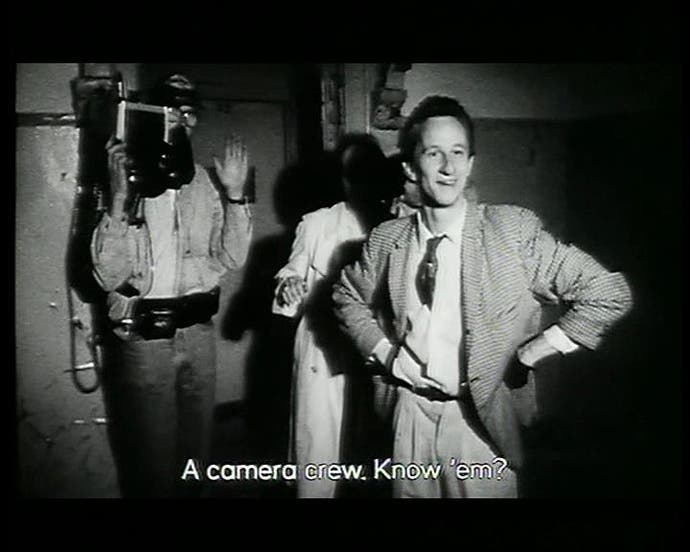 The Disc
First impressions of the DVD itself weren't good. For some reason it wouldn't play correctly in my Pioneer DVD-Rom drive, grinding to a halt after playing the copyright warning and Tartan Video animation without managing to load the menu. In the end I managed to get to the menu by using the keypad to skip to the appropriate part of the disc.
Otherwise the disc was faultless though, and the picture and sound quality were as good as could be expected from a low budget black and white movie. The movie is presented in the original 1 : 1.66 aspect ratio, and the dialog is French, with English subtitles for the rest of us. Although it's the uncut European version, this is a Region 0 disc which should work on any DVD player regardless of where you live.
A stills gallery and scene selection menu are included as extras, as well as a scrolling text "film review", which gives some background on the movie and its creation, as well as its reception at the Cannes Film Festival (where it won three awards). There's even a short film by the same team called "Pas de C4 Pour Daniel Daniel", which is an amusing and utterly surreal piece done in the style of an extended movie trailer.
All in all a solid if unremarkable DVD. Well worth getting, especially if you don't have the film on video already. Film - 8/10Disc - 6/10Availability -
Amazon UK - £18.99 + P&P
DVD Street - £18.99
DVD World - £17.99
Note - All information is correct at time of writing, but prices and availability may change. If you find any broken links or other problems, please let us know.