Dishonored on EU PlayStation Store this week for £49.99
But no sign of Borderlands 2's Mechromancer DLC. Or CS:GO.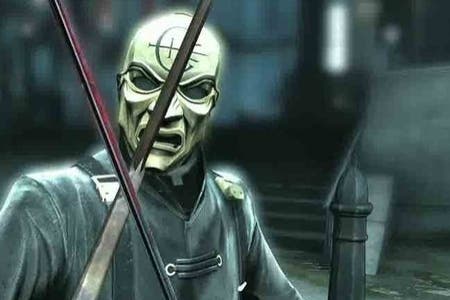 UPDATE: Top-down Retro City Rampage is in certification for PS3 and PlayStation Vita and will be out this month, PlayStation blog staff member Jawad Ashraf has stated. The Walking Dead: Episode 4, released this week in the US, is "not too far behind" he added.
ORIGINAL STORY: Steampunk stealth adventure Dishonored will be available to download from the EU PlayStation Store this Friday for a penny less than £50.
But Borderlands 2's Mechromancer DLC - which launched yesterday on PC, Xbox 360 and on PlayStation 3 in the US - is not listed within today's update. Nor is Counter-Strike: Global Offensive, which Valve told Eurogamer will definitely come out on these shores at some point. We've contacted Sony to find out what's going on.
Meanwhile, arcade racer Joe Danger 2: The Movie is available to download today. The PS3 version includes 10 hours of exclusive content and is yours for £9.99.
Ubisoft is showering fans with a golden array of Assassin's Creed bundles, including a 38GB whopper - The Assassin's Creed Complete Pack. For £47.99 you get AC1, AC2, Brotherhood and Revelations to play through ahead of Assassin's Creed 3 later this month.
Separate bundles include the Brotherhood Complete Pack and Revelations Complete Pack (£15.99 each), which include the game and all of its DLC.
The impressive-looking (and free) Mass Effect 3: Retaliation multiplayer DLC pack also arrives today (fight the Collectors!), as does papercraft platformer Derrick the Dolphin (£5.49) and a demo for XCOM: Enemy Unknown.
PlayStation Plus subscribers now get Bulletstorm and Resident Evil 5 absolutely free, 30 per cent off Derrick the Deathfin and a Joe Danger 2 Bundle (including Joe Danger 1) for just £7.99. Neat!
The full list of new content is available over on the EU PlayStation blog. There's still no sign of Counter Strike: GO.