Sony details final PlayStation 4 tech spec
Xbox One specifics remain unconfirmed.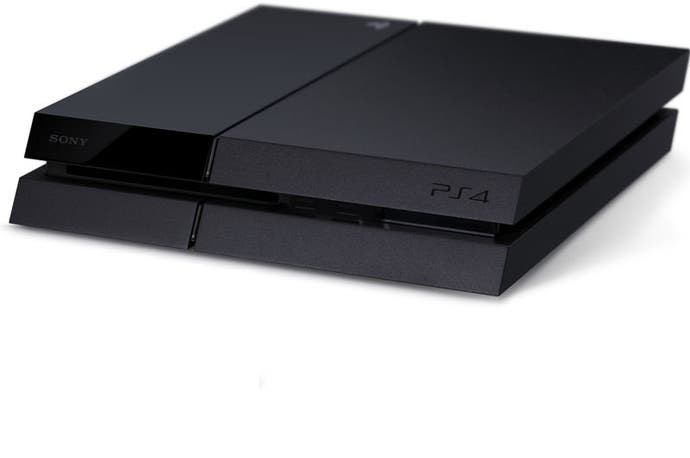 Sony has revealed the full spec for the PlayStation 4 after its crowd-pleasing showing at E3, giving us additional details that bring us a step closer to understanding the full capabilities of the new hardware.
The key data remains unchanged from previous coverage - the PlayStation 4 features eight low-power AMD cores based on its upcoming Jaguar architecture (set to arrive in PC form at the end of the year), working in combination with Radeon GPU architecture capable of 1.84 TFLOPS of compute workload. This stat confirms that the GPU features 18 compute units running at 800MHz. While 12 compute units are basically confirmed for Xbox One, clock speed has not yet been confirmed by Microsoft, and despite rumours that the core may be downclocked, our current information suggests that it runs at the same speed as the Sony console (we're currently chasing down a final, definitive source on that one).
Similar to the Xbox One, a 500GB hard drive has been chosen for internal storage - not exactly surprising bearing in mind that these units currently offer the best value in terms of gigs per £/$. However, the difference is that as with the PlayStation 3 the unit can be replaced with any hard drive of your choosing (and presumably that includes SSDs too). There's a point of deviation with Xbox One here, as the hard drive in the Microsoft console is not user-replaceable. Here, the additional USB ports are used for external devices that boost overall system storage capacity. Bearing in mind that the Blu-ray drive on both systems gives up to 50GB of potential storage for games and that installation is mandatory on both consoles, that hard drive could fill up very, very quickly.
We also have final confirmation on the optical drive utilised - a 6x CAV Blu-ray unit. CAV stands for Constant Angular Velocity, meaning that the disc spins at the same rate no matter where the reading head is. This means that data contained on the outer edge of the disc is read in much faster than that contained on the inner portion. This was much more of a big deal for current-gen games (which mostly run from disc) as opposed to next-gen where hard drive install is mandatory. In order to make the experience as friction-free as possible, games will load the absolute minimum and then "stealth install" the remainder onto the hard drive in the background as you play.
The spec also re-affirms a key, defining element of the PS4 hardware: its unprecedented 8GB of GDDR5 RAM. Bearing in mind that even the most expensive consumer-level PC graphics cards can't match this allocation, it's safe to say that Sony must be taking a substantial financial hit on this investment, but over the long term, it should pay off - on a general level, the more RAM that is available, the more future-proof the system is.
Product name: PlayStation 4 Jet Black
Product code: CUH-1000A series
Recommended retail price: US $399, Canada $399, Europe €399, and UK £349
Main processor: Single-chip custom processor
CPU: x86/64 AMD "Jaguar", eight cores
GPU: 1.84 TFLOPS, AMD next-generation Radeon based graphics engine
Memory: GDDR5 8GB
Storage: 500GB hard disk drive
External dimensions: Approx 275x53x305mm (width x height x length -tentative, excludes largest projection)
Mass: Approx 2.8kg
Optical Drive: BD x6 CAV, DVD x8 CAV (read only)
Input/Output: Super-Speed USB (USB 3.0) port x2, AUX port x1
Networking: Ethernet (10BASE-T, 100BASE-TX, 1000BASE-T) x1, IEEE 802.11 b/g/n, Bluetooth 2.1 (EDR)
AV Output: HDMI out port, Toslink SPDIF
Included: PlayStation 4 system, wireless controller (Dual Shock) x1, mono headset x1, AC power cord x1, HDMI cable x1, USB cable x1
Sony has also revealed full specs for the PlayStation 4 Eye camera and the Dual Shock 4, including the somewhat expense price-points of $59/£54 and $59/£44 respectively (nice to see some consistency on its currency exchange rates). There are no real surprises here, but it is with some regret we note that the PS4 Eye camera features a bespoke "AUX" connection to the main console - if only because it would be great to have a 60/120/240FPS camera available that could directly connect to our PCs! Also of note is that while the PS4 ships with a mono headset, the audio output of the Dual Shock 4 itself supports full stereo.
That's the only form of analogue audio support you'll find on the PS4. In common with Xbox One, all major AV outputs on the console are digital only - both have jettisoned support for SD resolutions and analogue component HD, with HDCP-encrypted HDMI the only option. At least there's some joy for those with legacy surround sound amplifiers as both of the new machines features Toslink SPDIF optical output for stereo and surround, though specific 5.1 formats (Dolby Digital, DTS) don't appear to have been confirmed.
"With the PS4 hardware specs mostly done and dusted, the only real questions remaining concern the CPU and RAM resources swallowed up by the OS."
So with the PS4 hardware specs mostly done and dusted, the only real questions remaining concern the CPU and RAM resources swallowed up by the operating system. Guerrilla Games' recent post mortem of its Killzone: Shadow Fall PS4 reveal demo suggests that two CPU cores are reserved for the OS (something we're told could change but remains the current working allocation), but the amount of GDDR5 required by background processes remains unknown. What we do know is that 512MB was the target during the time that PS4 was slated to ship with just 4GB of system RAM, with current murmurings suggesting that has doubled to 1GB. At the same time, the Guerrilla post mortem contains a memory map with around 3GB of "spare" memory which could be occupied by the OS. One theory - yet to be confirmed - suggests that the game DVR - which records footage as you play - may be writing to a RAM disk, saving on hard drive bandwidth. 15 minutes of 1080p h.264 video could swallow up anything up to 1GB of RAM, but some might say that it would be something of a waste to utilise high performance memory on an application like this that would require at most around 2MB/s of bandwidth (PS4 GDDR5 tops out at 176GB/s)
Elsewhere, the only major next-gen mysteries remaining mostly surround a fully confirmed hardware spec for the Xbox One - an aspect of the console that Microsoft has not been especially forthcoming about. We pieced together many of the details from the reveal, but firm details on what's inside the black box would be welcome. We suspect that Sony's transparency on this topic may well come down to the distinct hardware advantage it knows it possesses over the Xbox One - a situation that is somewhat ironic bearing in mind that it was the Xbox 360's superior graphics tech and memory bandwidth that helped to give it an advantage over PS3 in so many multi-platform projects.