Google Nexus 5 review
The biggest Android event of the year? Digital Foundry investigates.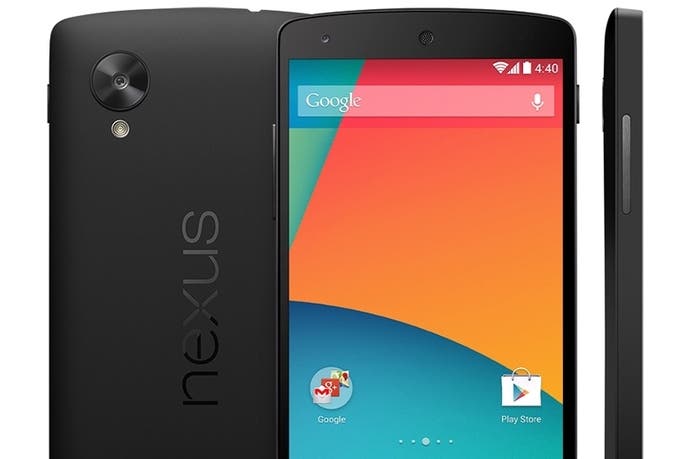 When Google and LG joined forces to create last year's Nexus 4, it marked a significant shift in the Android market. Google's previous attempts at creating a "first-party" handset had been critically well-received, but the commercial reaction was relatively lukewarm when compared to Samsung and HTC's offerings. However, by selling the Nexus 4 on the cheap - a tactic which worked equally well with the Asus-made Nexus 7 tablet - Google was able to carve out a significant portion of the Android handset market.
As if to illustrate that Google knows a good thing when it sees it, the Nexus 5 essentially pulls the same trick. This device offers cutting-edge technology for a mid-range price; the phone starts at just £299, which is half the price of Apple's iPhone 5S and almost £200 cheaper than the iPhone 5C - a handset that is essentially using last year's internals in a cheaper chassis. The Nexus 5 also undercuts other similarly-specced Android phones by a large margin, making it one of the best-value blowers on the face of the planet right now.
That's not to say that LG's handset impresses from the moment you pick it up, however. In fact, when compared to the surprisingly well-made Nexus 4, this sequel gives off a slightly cheap vibe. Gone is the glass-covered back panel - with its polarising disco-ball glitter effect - and the faux-metallic trim has also been expunged. What you're left with is a fairly bland slab of plastic which, at 130g, is actually lighter than its predecessor. The entire phone is coated with a soft-touch matte finish to improve grip - similar to the one seen on the 2013 Nexus 7 - which picks up greasy finger marks with ease. The power and volume buttons are fashioned from metal, making them feel a lot more robust than the plastic equivalents seen on the Nexus 4.
Next to the power button - which is positioned a little too high on the right-hand side of the phone for our liking - you'll find the Micro SIM tray. Rumours circulated prior to release that the Nexus 5 would utilize Nano SIMs like the iPhone 5 range, but these have proven false. The tray doesn't sit flush with the casing and sticks out slightly - not enough to catch your finger when you're handling the phone, but enough to be visually awkward. There's little else worthy of note; twin grilles are found on the base of the device - one for the rather weedy speaker, one for the microphone - and the 3.5mm headphone jack is located on the top edge. Although the Nexus 5 is a sealed unit, the phone is comprised of two sections, with a rather obvious seam separating the main body from the back panel.
The Nexus 5's 4.95-inch screen may have taken a jump from the 4.7-inch panel seen on the Nexus 4, but that mercifully hasn't resulted in a much larger device. The bezel which surrounds the IPS Plus panel is quite small, something which is made possible by Google's insistence that the three main Android commands - back, home and multitasking - are actually located within the confines of the screen, rather than appearing as physical or capacitive buttons underneath. The display itself has a full HD resolution of 1920x1080 pixels and a pixel density of 445ppi - in other words, it's absolutely pin-sharp. In fact, you could argue that it's sharp almost to the point of being irrelevant - it was almost impossible to discern individual pixels on the 1280x768 screen of the Nexus 4, and by pushing the pixel density to new levels all that is achieved is additional strain on the phone's internals.
Thankfully, the heart beating inside the Nexus 5 is more than equal to the task of pushing all of those dots of light. Armed with a Qualcomm MSM8974 Snapdragon 800 chipset - which is made up of a 2.3GHz quad-core Krait 400 CPU and a Adreno 330 graphics processor - the phone is packing enough raw power to cope with virtually any challenge you decide to throw in its path. With this being Android, there are naturally still moments when the user interface stutters, but these relatively rare occasions usually go hand-in-hand with intense background activity. In every other regard the Nexus 5 positively blasts along, with apps loading extremely quickly and processes being carried out with minimal waiting time. The quad-core phones we've seen in 2013 have finally made Google's OS as smooth as Apple's iOS, but the Nexus 5 takes this to another level entirely.
| | Nexus 5 | Galaxy S4 | HTC One | Nexus 4 | iPhone 5C | iPhone 5S |
| --- | --- | --- | --- | --- | --- | --- |
| AnTuTu Benchmark | 28347 | 23578 | 24374 | 10580 | NA | NA |
| GLBenchmark Egypt On-Screen/ Off-Screen | 50fps 57fps | 41fps 41fps | 31fps 34fps | 39fps 31fps | 37fps 30fps | 53fps 57fps |
| GLBenchmark T-Rex On-Screen/ Off-Screen | 24fps 23fps | 15fps 15fps | 13fps 15fps | 19fps 12fps | 13fps 7fps | 36fps 24fps |
| 3D Mark Ice Storm Unlimited | 12346 | 10380 | 10095 | 11122 | 5655 | 13923 |
It's often been said that a Nexus phone is merely a vehicle for the software, and to a certain extent that is true of the Nexus 5. While the internal specifications are fearsome, the rather unassuming exterior feels almost as if it is stepping aside to allow Android 4.4 to take center-stage. The latest version of Google's OS - which also goes by the name KitKat thanks to a slightly cringe-worthy marketing agreement between the search giant and confectionary maker Nestlé - isn't as ground-breaking as Apple's iOS 7, but then it could be argued that Android was already ahead in the terms of features and functionality and therefore had little reason to change drastically.
Indeed, the key changes here are relatively minor, with the biggest alterations happening under the bonnet. Google Now is accessed by a left-to-right swipe when you're on your home screen, and the notifications bar is doesn't sit within its own blacked-out banner - instead, it has a rather fetching shadow effect which gives the impression of a larger screen. The same visual trick is pulled with the command area at the bottom of the screen, while directly above this you'll find the shortcut dock, which has the app drawer icon in the middle and four other shortcuts that can be customised.
Hangouts now replaces the standard SMS messaging application, which means you can see all of your chats in one place - however, text and instant messaging chats are kept entirely separate from one another, which means you can have two different conversations with the same person at the same time. When you consider that Apple has managed to get "merged messages" right with iMessage for quite some time, it seems odd that Google still can't make it work - especially when it has taken the bolder approach by folding text messaging into the Hangouts application.
"The impression we get is that the Nexus 5 has much in common with the LG G2 - perhaps not surprising when they're made by the same manufacturer."
Much has been made of the Motorola Moto X's "always listening" functionality, which essentially allows you to control your phone with your voice even when it's sitting idle on the table in front of you. Google Now has been bolstered with similar capabilities in Android 4.4, allowing you to power up the search and voice command screen just by uttering "OK Google" - but with some notable caveats. It won't respond if the phone is asleep or if you're on the lock screen, and at the time of writing the UK English option doesn't support this "Hot Word" feature. Instead, you have to switch to US English, which means your phone talks back to you with an American accent and is generally hopeless at pronouncing the names of English towns (Loughborough becomes "Lowe-burrow"). Hardly a deal-breaker, but odd all the same.
Elsewhere, there's cloud printing baked directly into the operating system and the app drawer has had a bit of makeover - the widget panel has been removed and placed behind a long-press on the home screen. In some respects, such changes feel like a conscious effort by Google to simplify Android slightly, and when compared to the custom user interfaces that ship on phones like the LG G2 and Samsung Galaxy S4, vanilla Android 4.4 certainly feels more streamlined. This is a double-edged sword, however; pure Kitkat is also lacking much of the additional functionality that comes with these devices, like Samsung's "smart" features, which include using the phone's front-facing camera to detect when you're looking at the phone's screen, and so on.
The Nvidia Shield recently set a new benchmark for gaming on Android devices thanks to its physical controls and powerful Tegra 4 chipset. The Nexus 5 may not be festooned with analogue sticks and buttons, but it more than matches the Shield when it comes to raw 3D performance. Granted, Dead Trigger 2 benefits from improved visuals on the Tegra-based system - it's built with the chipset in mind, after all - but it still runs incredibly smoothly and looks fantastic on the Nexus 5. Other graphically demanding games - such as perennial test favourites Real Racing 3 and Asphalt 8: Airborne - perform as well as we've seen on any previous Android device. Asphalt 8 in particular has a habit of stuttering on other phones - even the iPhone 5S - but here it's as silky-smooth as we've seen it so far.
"Snapdragon 800's fast CPU cores and cutting-edge GPU combine to create one of the smoothest Android gaming experiences around, comparing favourably with Nvidia's Shield handheld."
While the Nexus 5 impresses from a gaming perspective, its camera is something of a disappointment. It's an 8-megapixel snapper - like the one seen in the Nexus 4 - and is capable of recording 1080p HD video. Shots are detailed and colour replication is generally good, although the phone does have a tendency to over-saturate images taken in bright sunlight, thereby compromising detail. However, the focus issues that plagued its predecessor remain; taking a quick shot is often a case of trial and error, with moving objects blurring and the autofocus taking far too long to sort itself out. Word is that the software is to blame, which would make sense, seeing as some of these issues were present in the Nexus 4. If this is case, then Google should be able to bring the Nexus 5's photographic capabilities up to the standard of those seen on Samsung and Apple's phones with a future update.
Because this is a Nexus device, the amount of internal storage space is fixed in stone - with no MicroSD card slot available, you need to be especially mindful of which model you purchase. The 16GB edition offers around 12.5GB of storage to the end user, which might be a little too tight for enthusiastic downloaders - especially when you take into account the ballooning file sizes of many modern Android games. Making full use of Google's suite of cloud-based storage options - such as the newly-christened Google Photos and Google Play Music - alleviates this issue to a degree, but when you consider the roomier 32GB model is just £40 more, it's worth going large on memory.
Any phone with a screen which is almost 5-inches big is going to be pretty power-hungry, and the Nexus 5 is no exception. The 2300mAh battery grants enough stamina to make it through a typical day, but can't match the performance seen on the iPhone 5C or the 5S. This is largely down to the aforementioned bigger display and the fact that Android has a lot more going on behind the scenes; apps can run even when you're not using them, and this inevitably takes it toll on the amount of juice left in the tank. During our review period we tested various elements of the Nexus 5's functionality - such as email, social networking, video playback, video recording and gaming - and the battery level dropped from a full charge in the morning to around 20 per cent by the evening. Moderate use should yield better longevity, but the Nexus 5 isn't going to winning any battery stamina contests.
"Build quality and camera issues aside, the Nexus 5 is a keenly priced handset with the current state-of-the-art in Android phone specifications."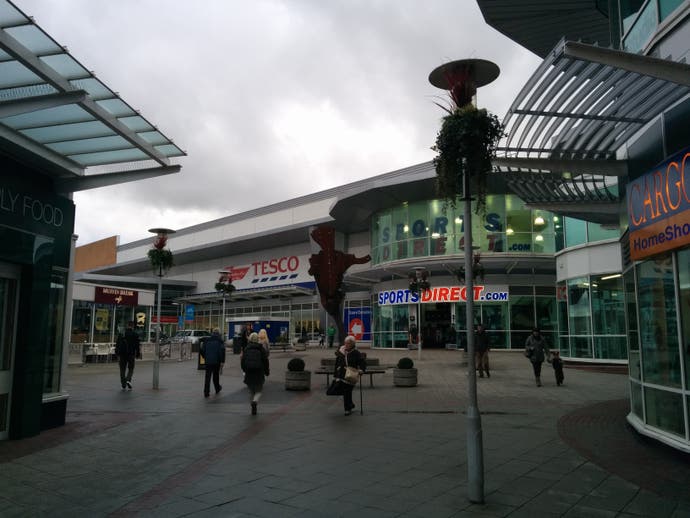 Google Nexus 5: the Digital Foundry verdict
Like its ancestor, the Nexus 5 represents incredible value for money. Packed with cutting-edge tech, sporting a pin-sharp IPS Plus display and loaded with the very latest version of Android, the handset's £299 price tag is almost too good to be true. It's not a perfect device by any means; the build quality isn't as accomplished as it possibly could be, the speaker is timid and hard to hear in a busy environment and the camera struggles to focus in low-light conditions, but such issues are easy to push aside when you take into account the low cost and the intense level of power offered elsewhere.
Is it worth upgrading if you already have the Nexus 4, though? That's a hard question to answer - especially with the knowledge that last year's phone will get Android 4.4 in the next few weeks. The Nexus 4 is a more attractive handset and is still highly capable, and unless you're really serious about 3D gaming then you may not even notice the step up in power. However, for those of you that haven't joined the Nexus club as yet and are looking to purchase an Android phone, there really is no better option right now - especially not for under £300.