Vita ripped off for Android-powered retro handheld
Microsoft, Nintendo and Motorola won't be happy either...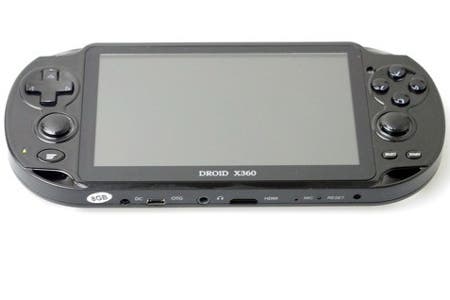 A full Android 4.0 tablet contained in a PlayStation Vita-style enclosure? That's the promise of the hilariously named Droid X360, which replicates the basic look and control features of Sony's latest handheld, but features standard Chinese budget tablet parts inside the familiar looking shell.
The Droid X360 seemingly has much in common with the tablet Digital Foundry Hardware recently reviewed for the £50 Android experiment, based primarily on the ubiquitous A10 "Allwinner" chipset. This features an ARM Cortex A8 CPU running at around 1GHz, paired with a single Mali-400 graphics core. There's 512MB of system RAM for running the Android 4.0 OS, with total storage of 8GB.
The main display is a 5-inch multi-touch capable capactive screen with an 800x480 resolution, and the spec is boosted with the addition of a VGA front-facing camera and a 2-megapixel rear snapper, along with TF card and microUSB expansion plus HDMI output - something even the Vita doesn't have. The 2800mAh cell is rated for around three hours of battery life.
So what can you do with it? To all intents and purposes it is nothing more than a low-end Android tablet in a ripped-off shell (even Nintendo's patented d-pad appears to have been 'borrowed') with all the functionality Google's OS offers - it connects to Google Play, and should be able to run Chrome. If our experience with the £50 tablet is indicative, it should be absolutely fine for general browsing and YouTube video. However, the Droid X360 comes pre-loaded with an array of emulators - covering NES, Master System, N64 and more - the idea being that the device merges basic tablet functions with retro gameplay action.
Confronted with pictures of the device via Twitter, the response from Sony's President of Worldwide Studios, Shuhei Yoshida, was simply: "WoW".
Available right now from Far Eastern cheapo tech suppliers, the Droid X360 costs around $115 delivered - so around £75 in UK money.