Best Android Gaming Smartphones
Know your Xperia Play from your Galaxy Nexus.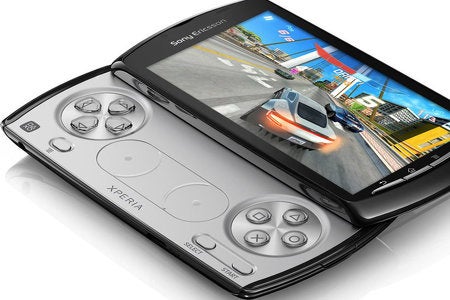 Betamax vs. VHS. Mega Drive vs. SNES. CD vs. Minidisc. Everybody loves a good hardware contest, and in modern terms, few rivalries attract the same level of interest and passion as Android vs. iOS. The two smartphone formats have grown in tandem, with Apple's approach favouring a tightly-controlled 'walled garden' in terms of both hardware and software, while Google offers more freedom and a diverse selection of handsets to choose from. If you're the sort of person mystified and annoyed by the omission of key features such as expandable storage and USB support from the iOS products, maybe it's time to take a look at what Android has to offer: it's swiftly evolving into an incredible games platform.
Although Apple lovers and 'Fandroids' fight tooth and nail to assert the dominance of their respective brand, in terms of consumer awareness and cachet the iPhone is arguably way ahead right now. The iPhone has become as instantly recognisable a trademark as Walkman or iPod, and there's a very good chance that even your most elderly relative has a vague idea of what it is and what it does.
Android doesn't have that level of penetration yet, despite holding a numerical advantage over Apple's format. 200 million Android phones have been sold worldwide, with daily activations now totalling 700,000. That's nearly a million brand new phones (Google only counts a device's initial activation) being purchased every 24 hours.
"After a shaky start, Android is evolving into a vibrant, exciting games platform with a range of inexpensive handsets that can offer a lot more value than competing Apple smartphones."
The reason that Android remains such an unknown quantity with the mass market - despite these impressive sales figures - is fragmentation. Many manufacturers have flocked to the Android banner in hope of improved handset sales, and each one is trying to produce devices that are as unique as possible from those of their rivals. Therefore, your average punter will identify almost instantly with the name Samsung Galaxy S2 or HTC Desire HD, but mention Ice Cream Sandwich to them and they'll most likely think you've a hankering for some dessert rather than the latest iteration of Android.
It's worth the effort, though. Android is slowly becoming a very solid challenger to iOS when it comes to gaming, with many iPhone favourites - including Tiny Tower, World of Goo and Game Dev Story - now being ported to Google's platform. What's possibly more important is that Android allows mobile gamers to enjoy these titles without having to break the bank; there's a good selection of phones in the £100-£150 price range, which consequently lowers the barrier to entry for many consumers while offering much more power and higher specs than the second-hand iPhone 3G or 3GS you might hope to acquire at the same price.
In short, Android can be a minefield if you don't know your quad-core CPU from your DLNA connection. Bearing this in mind, we've compiled a handy guide for Android newcomers, assessing the best phones and of course evaluating their gaming credentials. Whether you're looking to ditch that grubby Nokia for an affordable, decently specced smartphone or you're simply disenchanted with Apple and seek a less restrictive alternative, there's an excellent chance that at least one of the phones we've picked out below fits the bill.
The Best All-Rounder: Samsung Galaxy S2
To the typical man on the street, the Galaxy S2 is arguably the most prominent Android handset available. It has shifted over 10million units globally and remains a solid best-seller, even after eight months on sale. The large, 4.3-inch Super AMOLED Plus screen offers the brightest and boldest visuals, but the resolution of the display lags behind that of the recently-released Galaxy Nexus.
With 16GB of on-board storage and a microSD card slot for additional expansion, the Galaxy S2 is ideal for media lovers. The ability to hook it up to your TV via a HDMI connection adds additional appeal, and when used in conjunction with Bluetooth controllers like the PhoneJoy and iControlPad, it essentially becomes a portable games console.
The Galaxy S2 is a highly recommended purchase if you're looking to enter the world of Android. The only drawback - aside from over-use of plastic in the phone's construction - is that Samsung is expected to announce the Galaxy S3 early this year, so if you're keen to be at the bleeding edge of tech, you may want to hold onto your cash for a little while longer. For now, this handset provides the best combination of looks, power and compatibility.
Price: Approx £400-£450 (SIM free and unlocked)
Pros: Amazing screen, large internal storage, fast dual-core processor
Cons: Soon to be outpaced by the impending Galaxy S3, case feels cheap when compared to the iPhone
Great for gaming? Yes. The large and responsive touch-screen means that games look stunning
Also consider: The HTC Sensation XE, which has a metal body and comes with Beats Audio headphones
The New Kid on the Block: Samsung Galaxy Nexus
Launched at the tail end of 2011, the Galaxy Nexus is the closest thing Google currently has to a 'first party' Android device. It comes pre-loaded with Android 4.0 - also known as Ice Cream Sandwich - which is the most up-to-date version of Google's mobile OS.
While the disappointingly ordinary case design doesn't generate the same feelings of desire as the Galaxy S2's, the 4.65-inch screen boasts an impressive resolution of 720x1280, making it ideal for watching HD movies and surfing the web. It also provides the perfect platform for gaming, thanks to its nippy 1.2 GHz dual-core processor. The only fly in the ointment as far as interactive entertainment is concerned is that there have been reports of multi-touch issues during landscape gaming, but this should hopefully be fixed in a forthcoming software update.
On paper at least, the Galaxy Nexus is the best Android phone money can buy - it's just a shame that some applications still haven't been optimised to run properly on Ice Cream Sandwich. The Galaxy Nexus is almost certain to be surpassed early in 2012, but for now, it's a stunning device that combines the flexibility of Android with excellent multimedia properties.
Price: Approx £515 (SIM free and unlocked)
Pros: Runs the latest version of Android, fast dual-core processor, NFC chip included for wireless communication
Cons: 5-megapixel camera, no expandable storage, some apps currently incompatible with Android 4.0
Great for gaming? Yes - that gigantic screen makes games look amazing. It's just a shame that an unfortunate multi-touch bug sullies the experience slightly
Also consider: The Samsung Nexus S [Corrected: not the Galaxy S!] which has also been updated to Android 4.0 and available for as little as £200 SIM-free and unlocked
The Mid-Range Maestro: Sony Ericsson Xperia Ray
Sony Ericsson made a big push for Android supremacy in 2011, with the Xperia Arc S, Xperia Active and Xperia Neo all vying for the attention of the phone-buying public. The Xperia Ray represents the company's mid-range challenger, and although it lacks some of the cutting-edge features seen in top-of-the-range Android handsets, it still provides excellent value for money.
The Ray's 3.3-inch LED-backlit touch screen is a bit on the small side, but it boasts excellent levels of brightness and a sharp resolution of 480x854 pixels. Everything looks sharp and colourful, but touch screen gaming can be a little awkward if you possess exceptionally large fingers.
The phone's eight-megapixel camera is capable of 720p video recording - something of a rarity in the mid-range class - and is backed by Sony's Exmor R for Mobile technology. There's a very good chance the Ray could completely supplant your trusty 'point and shoot' digital camera.
Thanks to its diminutive size, excellent imaging capabilities and reasonable price point, the Ray is a fantastic way to become acquainted with Android without selling a kidney to cover the cost. The only negatives are the small screen and entry-level single-core 1GHz processor. The Ray comes with Android 2.3 on-board, but Sony has confirmed that all Xperia handsets will be getting 4.0 this year.
Price: Approx £200-£250 (SIM free and unlocked)
Pros: Amazing camera, bright screen, truly pocket-sized
Cons: Entry-level processor, screen is a bit small for people with large hands
Great for gaming? You'll be able to play the vast majority of Android titles, but that 3.3-inch screen isn't ideal for intense gaming
Also consider: Samsung's Galaxy Ace offers the typically polished Galaxy feel but at a mid-range price. You can get it cheaper than the Xperia Ray, but it's lacking in some key areas
The Gaming Expert: Sony Ericsson Xperia Play
The much-hyped PlayStation Phone has endured a tough time at retail since it was released at the start of 2011. Some stores claimed that phone users were embarrassed to be seen with such a blatant gaming device in their pockets, and it wasn't until the price dipped below £200 that the Xperia Play, (reviewed in-depth by Eurogamer, started to shift in considerable numbers.
Despite the misgivings of the general public, this phone is arguably the best option for serious gamers right now. Its combination of physical controls and a four-inch touch-screen means that it's equipped to cater for a wide range of entertainment possibilities. It can happily run all of the best Android games, as well as titles that have been especially coded to make use of its physical buttons - such as FIFA 12, Dead Space and Sonic CD.
Given Android's penchant for hosting excellent retro emulators, the Xperia Play also doubles as the perfect way to experience classic games on the move. With the right emulators, you can essentially carry around a Mega Drive, SNES, Game Boy, PlayStation and Neo Geo (amongst others) in your pocket wherever you go.
If you're looking for a solid mid-range device which doubles as a fantastic gaming platform (OnLive works brilliantly with the physical controls, by the way), this is your ticket.
Price: Approx £150-£200 SIM-free
Pros: Dedicated gaming controls, access to 32-bit PlayStation games, relatively cheap
Cons: Single-core processor is outdated, design is a little ugly
Great for gaming? You bet. The slide-out gaming interface offers the perfect way to play on the move, but the Xperia Play is still perfectly capable of running touch-screen Android titles, too
Also consider: There isn't really any other phone on the market like the Xperia Play. It's the only handset that offers dedicated physical controls out of the box, without the need for additional controllers or bolt-on accessories
Cheap and Cheerful: Orange Monte Carlo/ZTE Skate
One of the great things about Android is that it offers viable options for those shopping on a low budget. Devices like the Samsung Galaxy Europa can be purchased for around £50, yet they offer a pretty decent smartphone experience.
2011 saw the arrival of a new breed of low-cost Android handsets. The Monte Carlo retails for around £100, yet it boasts a massive 4.3-inch display which positively dwarfs the one seen on the expensive iPhone 4S. Consequently, the device offers a large viewing area for games, putting it above rival budget blowers.
Naturally, corners have been cut elsewhere. The processor is a single-core variant running at 800MHz, which puts it way behind the curve. Pushing around all that pixel data on that massive screen predictably takes its toll, and the Monte Carlo isn't anywhere near as sprightly as the other phones we've covered here. The plastic casing is another negative, and Orange's custom UI 'skin' is ugly and clogged with pre-loaded applications which cannot be uninstalled by the user.
"Android's burgeoning popularity is due in no small part to its rapid expansion in the mid-to-low end sectors, and it's now possible to march out of your local phone dealer with an Android device in your pocket and still have change from £50."
Still, this is a phone that retails for a sixth of the cost of an iPhone 4S. When you take that into account, what is being offered here is pretty astonishing.
Price: £100 or less (pay as you go, exclusive to Orange)
Pros: Massive 4.3-inch screen, low cost
Cons: Orange's user interface is an acquired taste, case is cheap and nasty
Great for gaming? You'll still be able to enjoy games of Angry Birds using this phone, but the relatively sluggish processor delivers less-than-ideal performance, and also means that the very latest games may be out of reach
Also consider: The Huawei Blaze has a much smaller display than the Monte Carlo, but it's just as cheap and boasts superior build quality, too. The ZTE Skate is the exact same phone as the Monte Carlo, but minus the Orange branding and with a higher price tag
Honourable Mentions
With so many Android handsets on the market, it would take a feature many times the size of this one to cover all of the noteworthy examples. The sheer variety on offer is exemplified by the HTC EVO 3D and LG Optimus 3D; both handsets feature auto-stereoscopic screens, just like the one used on the Nintendo 3DS. Sadly, software support has been a bit thin on the ground, but these technological oddities do at least offer a unique selling point which other devices - the iPhone included - cannot match.
Android's burgeoning popularity is due in no small part to its rapid expansion in the mid-to-low end sectors, and it's now possible to march out of your local phone dealer with an Android device in your pocket and still have change from £50. If the Orange Monte Carlo's screen is too large for your liking, you could try its sibling, the San Francisco 2, a more pocket-friendly alternative with similar specification and price. There's also the Samsung Galaxy Fit and Samsung Galaxy Mini to consider.
If your budget literally has no limits and you crave the very best the world of Android has to offer, you could play the waiting game. CES 2012 has sired a flood of fresh Android handsets, with the Sony Xperia S currently sitting at the top of many a Fandroid's wish list. It packs a dual-core 1.5GHz CPU, 12-megapixel camera and 4.3-inch 720p HD screen. Due to hit the UK market in March, it's likely to be one of the year's best-selling Android devices - at least until the much-hyped (but as yet unconfirmed) Samsung Galaxy S3 is released, of course.
Will you support the Digital Foundry team?
Digital Foundry specialises in technical analysis of gaming hardware and software, using state-of-the-art capture systems and bespoke software to show you how well games and hardware run, visualising precisely what they're capable of. In order to show you what 4K gaming actually looks like we needed to build our own platform to supply high quality 4K video for offline viewing. So we did.
Our videos are multi-gigabyte files and we've chosen a high quality provider to ensure fast downloads. However, that bandwidth isn't free and so we charge a small monthly subscription fee of £4.50. We think it's a small price to pay for unlimited access to top-tier quality encodes of our content. Thank you.
Support Digital Foundry