DF Direct Weekly on the Unreal Engine 5 revolution
Fortnite takes on Roblox - while UE5 itself becomes even more impressive.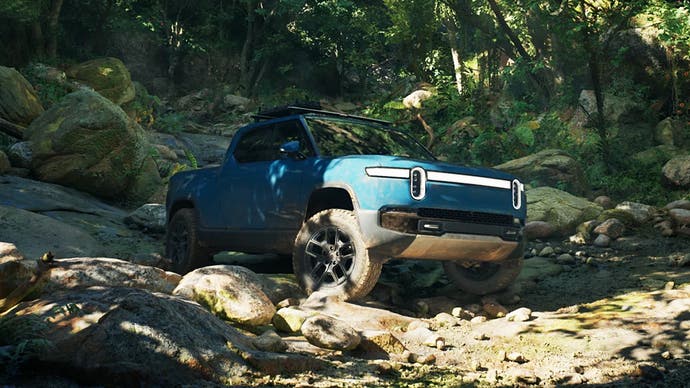 The latest DF Direct Weekly has arrived, with the Digital Foundry team discussing the big news from GDC - and not much is going to top Epic's various announcements in its latest State of Unreal. Kicking off with a beautiful UE5.2 tech demo showcasing the latest features of the engine, Epic delivered a range of impressive announcements, from sophisticated facial motion capture delivered via nothing more than a smartphone to a creator-led revolution for Fortnite. In the Direct we also spend some time talking about Nvidia's latest announcements via its own GTC event - with a path-traced version of Cyberpunk 2077 just weeks away from release.
Looking at Epic's starter - a demo showing the Rivian R1T electric truck travelling through a rich jungle - what we were essentially seeing was a major upgrade to Unreal Engine 5 that seemingly addresses comprehensively our main concerns about the engine. Put simply, while its prior tech demos did a fantastic job in showcasing the generational leap in fidelity delivered via its Nanite micro-geometry system, there were always concerns about how limited the nature of that geometry could be. Good for city blocks and imposing mountain terrain - yes - but what about more naturalistic environments and especially foliage?
Fortnite's transition to Unreal Engine 5 put some of those fears to rest with Nanite foliage in clear effect, but this tech demo was something else. Also impressive were the upgrades to procedural generation, likely one of the big asks from game developers. The creation of massively detailed open worlds has leant on proceduralism for quite some time now - the Horizon games from Guerrilla have some remarkable systems in place - and this seems to work on similar principles, intelligently creating worlds that react to 'hand-drawn' elements and can be customised by the developer.
The more complex gaming hardware becomes, the more of a time - and money - investment it is to get the most out of the latest systems. In common with other engines, Unreal Engine 5 is aiming to make life easier in creating these dense, rich worlds - but at the same time, the firm realises that not every developer had access to seven figure budgets. UE5 is as much about democratising high-end technology as it is about delivering the latest and greatest features. A similar philosophy is clearly in place with its MetaHuman technology, where we got to see a new look at how it's being deployed in Senua's Sacrifice: Hellblade 2.
Perhaps most impactful to the gamer in the short term is the arrival of UEFN - which essentially sees creator-based features added to Fortnite, a clear attempt by Epic to take on Roblox. It's a fascinating new take on Unreal Engine's accessibility and the demo put together by the same Epic team that delivered The Matrix Awakens looked brilliant: it's quite obvious Fortnite but with a completely different visual take with more than a few comparison points to Warzone 2.0. As we discuss on the Direct, we're reminded of the old seventh-gen console demos for CryEngine, showing all content playing out in real-time on multiple platforms: UEFN allows your creations to be tested on all platforms. I really want to find the time to check this out, but over and above the Roblox comparisons, what we may actually be looking at here is foundational work for a plausible, viable Metaverse.
There's much more discussed in this week's Direct too - the vandalism that is the delisting of key Battlefield titles, the acquisition of Nightdive Studios by Atari (and the various anxieties associated with the deal) while DF Supporter Program Q+A continues to deliver with a range of topics including more ruminations on a potential PS5 Pro and the next generation Switch, along with a catch-up on some other PSVR2 titles we've played. There's also a question about the two-year anniversary of DF Direct Weekly we had a lot of fun answering - though strictly speaking, as we produce 51 Directs a year, the anniversary was actually a fortnite ago!
And while we're here, I'll end with a quick note on availability of DF Direct Weekly! There's early access to the show every Saturday for supporters, along with clean, ad-free video and audio downloads - plus a supporter-only ad-free RSS feed for your podcast client. The show's also available on all major podcasting platforms and YouTube of course, not to mention the Eurogamer in-house player! A bit of 'pro-tip' here: there's a good chance that the version embedded on this page will have considerably fewer ads than the YouTube version...