Save $600 dollars on a prebuilt PC from Newegg with a 3070 Ti, 12th gen i7 and free Samsung monitor
Crack open those eggy banks.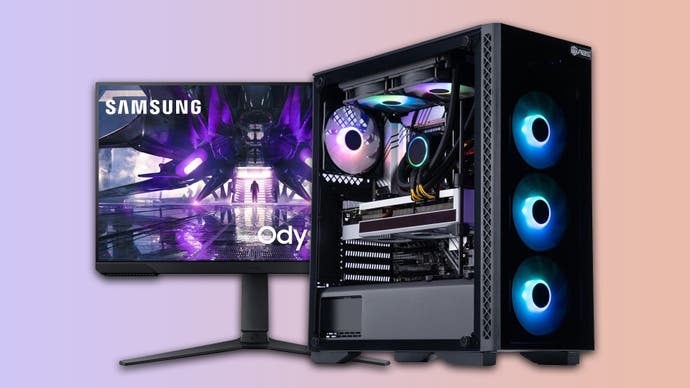 Newegg is currently running a spate of deals across the board, with their prebuilt PC deals ending on May 15th 2022. The best of the bunch comes in the form of their 'ABS Gladiator', which is kitted out with an RTX 3070 Ti, Intel i7 12700KF and 16GB of DDR4 RAM.
The entire kit has been reduced by $600 to $1900 and Newegg is throwing in a free Samsung G3 monitor that has a 144Hz, 1080p panel. Samsung's monitors are always pretty good, with the 24-inch G3 being an excellent entry point or addition to your set-up.
While it's not using the 12th gen Intel's supported DDR5 RAM, as we've seen with the launch of the upgraded RAM, it's still too wildly expensive to really recommend. The need for speed just doesn't justify the hundreds of dollars it requires. So if you're looking at this as a content creation machine on top of your gaming needs, having the DDR4 option is going to be a boon when it comes time to throw in those extra sticks.
However, the i7-12700KF that comes with this PC will shred through whatever you throw at it too. Add on the RTX 3070 Ti, this makes this a pretty great price point for a fairly future proof PC. Even when it looks like that DDR4 RAM is getting on in years, swapping over to a DDR5 supported motherboard means you can bring over all your other components and even past that point, DLSS and FSR super-sampling will absolutely carry you forward.
More Newegg prebuild deals
Newegg also has a couple of other PCs that they've said come with free Samsung monitors, but their website hasn't reflected this. These PCs aren't as well specced out as above, but they do come with RTX 3060s and our much-loved 11400F or for $150 more, the 12th gen upgrade, the 12400F.
These make for excellent entry-level or budget build options, offering 16GB of RAM and surprisingly powerful CPUs, which will be more than enough for any game you're currently playing. The 3060's DLSS support will also assist in bringing you the best gaming experience without having to sacrifice the frames-per-second.
If you're after an AMD system with a bit more power than the two mentioned above, the Skytech Blaze gaming PC with an AMD Ryzen 5 5600X and RTX 3070 is reduced by 49%, bringing it down to a much more reasonable $1550.