Laptop legend: Core i9 12900HK and RTX 3080 Ti tested
Intel and Nvidia's latest hardware in the MSI GE76 Raider.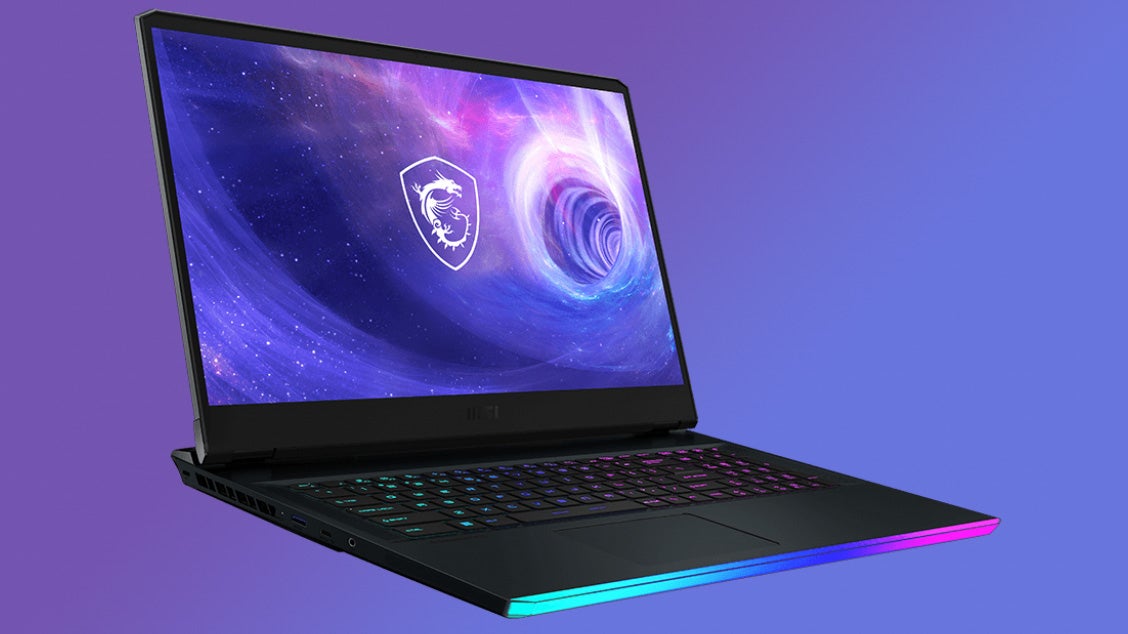 Today is a good day, as we can finally talk about Intel's 12th-gen laptop processors and Nvidia's new RTX 3070 Ti and 3080 Ti Laptop graphics cards. We've been testing the MSI GE76 Raider, a high-spec machine that includes each company's flagship parts for this generation, and the performance on tap is nothing short of incredible. The 12900K and RTX 3080 Ti remain some of the best gaming hardware available in desktop PCs - despite frustrating pricing and availability issues - so it's been fun to see how the mobile versions perform. In this first look, we put the GE76 through its paces against its 2021 counterpart, with both gaming tests and content creation benchmarks.
First, let's briefly introduce you to the star of today's show - the GE76 Raider. It's a tremendously powerful machine, especially in the top spec configuration we're testing today. As well as the Core i9 12900HK and RTX 3080 Ti 175W Laptop GPU, there's 32GB of dual-channel DDR5-4800 RAM, a 17.3-inch 360Hz display and two 1TB PCIe 4.0 SSDs. All of this hardware is housed inside a generously-sized chassis, allowing the components within to stay relatively cool without resorting to jet-grade fan noise. Perhaps unsurprisingly, this chonky machine retails for $4199 when paired with an even fancier 4K 120Hz screen - we presume that the 360Hz option we're testing isn't much cheaper.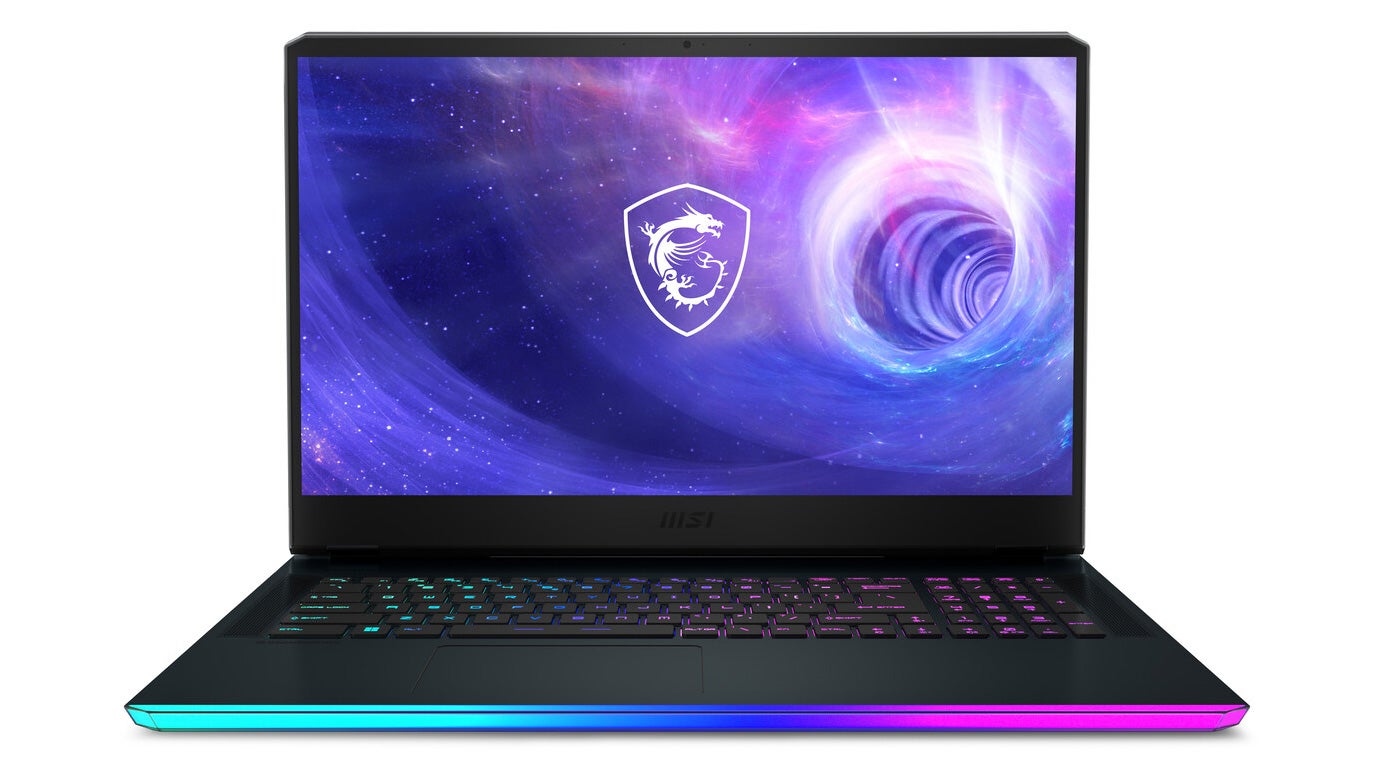 Here are the full specs of our review unit:
Intel Core i9 12900HK 14-core CPU (6P+8E)
Nvidia GeForce RTX 3080 Ti Laptop (175W) graphics card
2x16GB DDR5-4800 RAM
2x 1TB Samsung MZVL22 PCIe 4.0 NVMe SSD
17.3-inch 1080p 360Hz IPS display
99.99Wh battery
Content creation benchmarks
First, let's take a look at how the processor and RAM perform together in two content creation benchmarks - video transcoding in Handbrake and 3D rendering in Cinebench R20.
The GE76 Raider '22 performs extremely well right off the bat, even in its balanced mode, with a single-core Cinebench R20 score of 703 and a multi-core score of 6370. Those are the fastest we've ever recorded for a laptop processor, and is in the same ballpark as the desktop Core i5 12600K. With the MSI 'Extreme Mode' turned on, this is lifted slightly to 715 and 6432.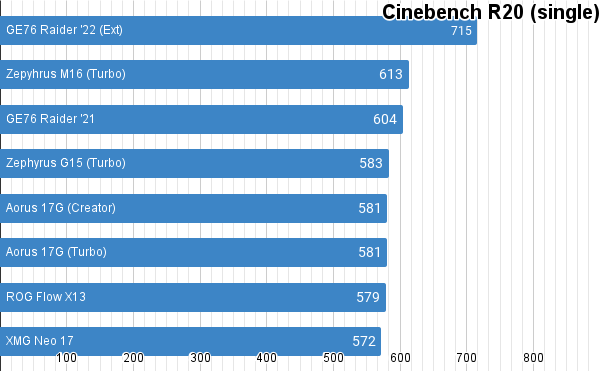 In our video transcode test, we take a piece of Patreon footage and transcode it into H.264 and H.265 (HEVC) formats using Handbrake with a Production Standard CRF 18 setting. Unlike our desktop machines, the GE76 laptops also offer the ability to use Intel's Quick Sync Video (QSV) tech, which utilises the integrated graphics to accelerate the workload. Our stock H.264 and HEVC results are impressive, with the GE76 '22 managing 38.41fps H.264 and 16.38fps H.265 in its Extreme Mode (complete with moderate fan noise). Those are chart-topping results, although the margin is only three percent over the Zephyrus M16 with its Core i9 11900H. With QSV enabled, those frame-rates go up significantly - all the way to 97.53fps for H.264 and 31.56fps for H.265. That's with Extreme mode enabled; with Balanced mode we get a more reasonable (but still impressive) 77.24fps and 51.69fps, respectively.
Next, we'll get to the star of the show: real gaming performance. We've tested the top-spec 2022 GE76 Raider against its 2021 counterpart, so we can get a sense of how much extra performance is unlocked when shifting from the Core i9 11980HK to the 12900HK, as well as the leap from the RTX 3080 to the RTX 3080 Ti. We've also got results from a selection of other high-end 2021 laptops from Asus and Gigabyte to provide a little bit of extra context. Here's how each machine stacks up, for future reference...
MSI GE76 Raider 2022: Core i9 12900HK + RTX 3080 Ti
MSI GE76 Raider 2021: Core i9 11980HK + RTX 3080
Aorus 17G: Core i7 11800H + RTX 3070
Zephyrus G15: Ryzen 9 5900HS + RTX 3080
Zephyrus M16: Core i9 11900H + RTX 3070
Flow X13: Core i9 5980HS + GTX 1650
Doom Eternal
Our first gaming test is Doom Eternal. If there was a contest for "best looking game that still ran well", I'd definitely give the nod to id Software's latest. That means we can hope for playable frame-rates even at 4K with the level of horsepower we have on tap here, and indeed we get some impressive results even on the Ultra Nightmare preset. At 1440p, the GE76 Raider '22 delivers a stunning 234fps, allowing you to more or less max out a 1440p 240Hz monitor like the popular Samsung Odyssey G7. That's 28 percent faster than our previous best performer in this test, the Zephyrus G15 equipped with an RTX 3080 Laptop graphics card and Ryzen 9 5900HS processor, and 10 percent faster than last year's GE76 Raider with its 3080 and Core i9 11980HK. Compared to our desktop GPU test rig, equipped with a Core i9 10900K and DDR4-3600 RAM, we're looking at slightly better performance than with a desktop RTX 3070 - pretty awesome stuff.
Doom Eternal: Vulkan, Ultra Nightmare, 8x TSSAA
Borderlands 3
Next up is Borderlands 3. This game also comes with an amusingly named highest preset, Bad Ass, which we're using for our testing. The 2022 Raider manages a 78fps average at 1440p - quite comfortably the best result we've recorded for a laptop and again quite close to our desktop Core i9 10900K + RTX 3070 Founders Edition combo. There's a 25 percent uptick in performance over the 2021 Raider, with its RTX 3080 and Core i9 11980HK, which isn't bad given that we're still within the same graphics card generation. Most other 2021 laptops we tested recorded around 50-60fps, while the Flow X13 with its GTX 1650 managed only 15fps. We also tested at 1080p and 4K for the two MSI laptops, where the Raider '22 managed 110fps at 1080p and 43fps at 4K - again, pretty respectable given that we're using the highest quality preset here.
Borderlands 3: Bad Ass, DX12, TAA
Control
Control is a brilliant game that I personally recommend very highly, and it's something of a poster child for ray-traced graphics. Even with RT disabled though, it's a difficult game to run at high settings, especially if you opt not to turn on DLSS. That's what we're doing here, running the game on its High preset with RT and DLSS disabled. The '22 Raider again records the highest score we've seen to date, at 77fps average - a little less than 10 percent faster than its 2021 predecessor. That result isn't quite as good as we saw in our earlier titles, but still puts this laptop between a desktop RTX 3060 Ti and RTX 3070, as paired with our Core i9 10900K GPU test rig. At 1080p, you can enjoy HFR gameplay with an average of nearly 120fps, while at 4K it's a more cinematic 39fps on the new GE76 Raider.
Control RTX
The Corridor of Doom is one of the hardest RT workloads we've discovered so far, making it the perfect time to see how well the Raiders handle 1440p RT gameplay. The new Raider is the only laptop we've tested to get within range of a good VRR screen, with an average of 44fps, some 12 percent faster than the previous-gen Raider. Meanwhile, the Aorus 17G (with Core i7 11800H and RTX 3070) and Asus Zephyrus M16 (with Core i9 11900H and RTX 3070) turn in average frame-rates of 30fps, give or take a frame per second.
Control: DX12, High, High RT, TAA
Shadow of the Tomb Raider
Shadow of the Tomb Raider is our final game for today, a three-part benchmark that offers a stern challenge even to desktop GPUs. The Core i9 12900K and RTX 3080 Ti combine to great effect here, turning in even a 4K result above 60fps. At 1440p, the MSI laptop hits an average of 120fps, incredibly impressive given that we're not even using DLSS here. That's 12 percent faster than last year's Raider, and 31 percent faster than the impressive XMG Neo 17 we tested last year as well.
Shadow of the Tomb Raider: Highest, DX12, TAA
Wrapping up
We've barely scratched the surface in terms of testing Intel's 12th-gen laptop processors and Nvidia's RTX 3080 Ti Laptop graphics, but we'll have to wrap it up there. After our initial investigation, plenty of promise is evident, with the gaming and content creation results each showing eye-popping advantages for the 2022 GE76 Raider over its 2021 counterpart - and indeed, pretty much every other gaming laptop we've ever tested. You are paying a pretty penny for this extremely high-end option, but you're getting levels of performance that were previously only available from the very fastest desktop CPUs and graphics cards just a few years ago.
The GE76 Raider has also been a fun laptop to test over the past couple of days. The light bar across the front looks great, the machine feels reasonably well built and the keyboard is one of the better ones I've used recently. The 360Hz screen doesn't quite get to stretch its legs in AAA games, but I'm looking forward to testing it out in Counter-Strike or Apex Legends if I have time later on. The port selection is also super impressive, with three display ports, power and ethernet around the rear, three full-size USB ports on the sides and more besides. The Raider is a fairly loud laptop when set to its extreme mode, but the balanced mode is much quieter and still performs beyond the capabilities of other machines we've tested at their highest setting which is nice to see.
If you're in the market for a high-end machine, then these options could well be worth the steep price of entry, and we look forward to seeing more comprehensive reviews from other outlets in the coming weeks and months. It'll be particularly fascinating to see how lower-tier 12th-gen CPUs (and the RTX 3070 Ti) fare in more affordable gaming laptops, especially within that $1000 to $2000 zone where most gaming laptop purchases take place.
Will you support the Digital Foundry team?
Digital Foundry specialises in technical analysis of gaming hardware and software, using state-of-the-art capture systems and bespoke software to show you how well games and hardware run, visualising precisely what they're capable of. In order to show you what 4K gaming actually looks like we needed to build our own platform to supply high quality 4K video for offline viewing. So we did.
Our videos are multi-gigabyte files and we've chosen a high quality provider to ensure fast downloads. However, that bandwidth isn't free and so we charge a small monthly subscription fee of £4.50. We think it's a small price to pay for unlimited access to top-tier quality encodes of our content. Thank you.
Support Digital Foundry