Steam Deck's updated specs are promising for gaming performance and storage options
Plus: a new DF Direct special.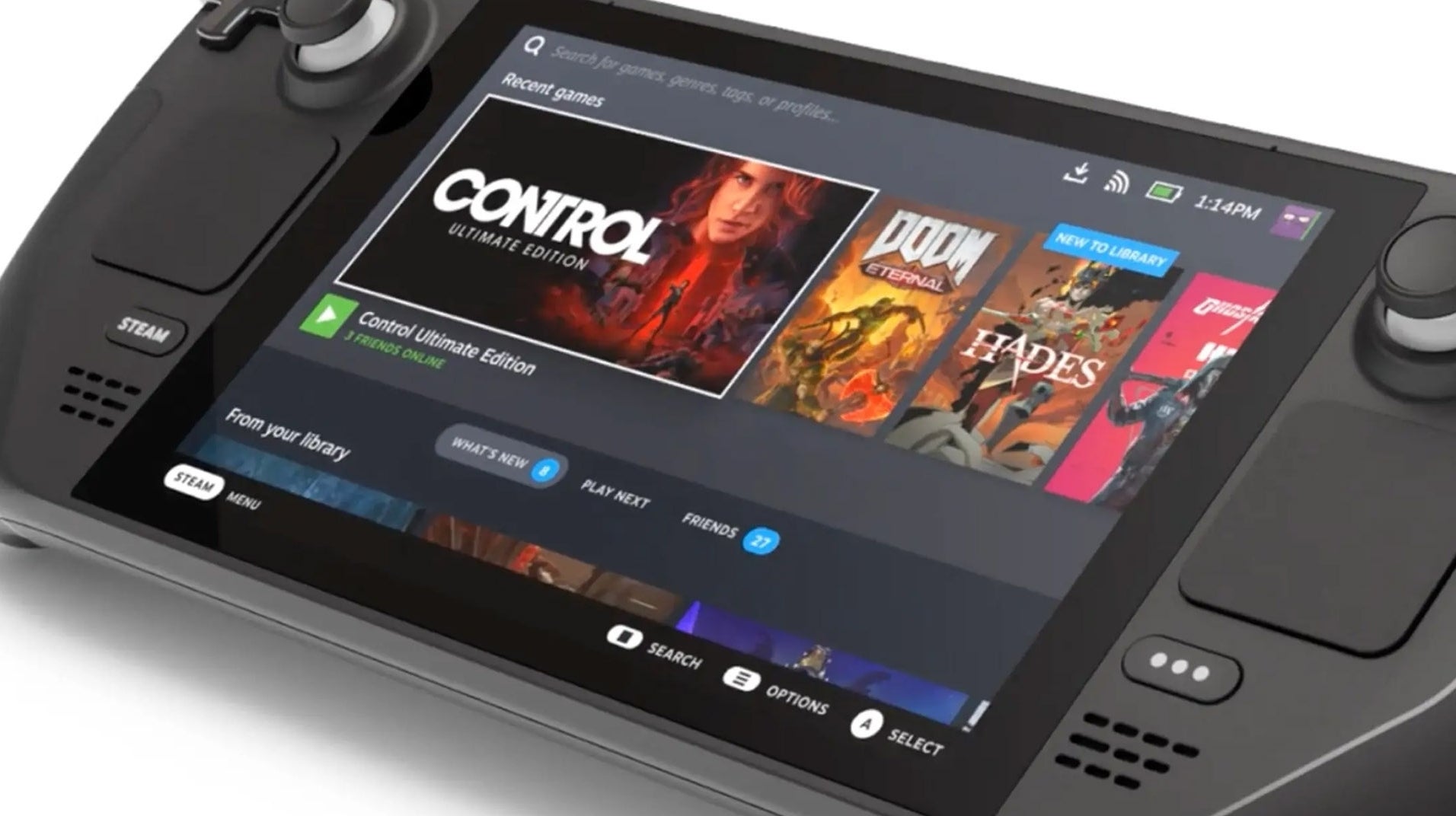 It's been a few days now since the reveal of Valve's Steam Deck. Pre-orders have been taken, sell-outs have happened, but we've still yet to see much about the device beyond some very short snippets of footage from the platform holder, plus some off-screen footage from IGN - we have an idea of what this machine can do, but much of its make-up still remains a mystery. However, some additional details about the device have emerged, and the official tech specs page has been slightly expanded, giving us more good news about the hardware.
At the core of Steam Deck is an AMD processor that has been widely rumoured but with no official confirmation, though some believe it had been cancelled in the meantime. Codenamed 'Van Gogh', specs for the mobile-orientated APU have been known for some time now, verified to a certain extent by disclosures within Linux drivers. At the core of the chip is the Zen 2 architecture in a quad-core configuration, backed by eight RDNA 2 compute units - a match for Steam Deck. However, a long-term issue with AMD's all-in-one chips and their performance has been constraints on memory bandwidth, and the initial specs from Valve only gave hints at what the chip could deliver in this area.
One of two spec points to have been expanded upon since the reveal concerns the AMD processor's memory controllers - the quad channel configuration effectively confirms 88GB/s of bandwidth, and in terms of the balance of GPU compute vs memory throughput, the good news is that Steam Deck is well within the ratios defined by Xbox Series consoles and PlayStation 5 - and the hope is, of course, that the handheld will scale down gracefully from these machines.
In the DF Direct Special we've prepared, we try to set some expectation levels for the Steam Deck, firstly with a tiny little snippet of performance analysis based on Valve's clips - which show Star Wars Jedi: Fallen Order running at between 30-40fps, Doom Eternal running very closed to a locked 60fps and with less demanding games running at the full 60Hz refresh of the inbuilt display. What we've seen so far looks promising - the processor does seem capable of running triple-A games, bolstered no doubt by the 1280x800 resolution. This may be very, very low for a desktop or laptop machine, but it's just fine for a mobile device.
In our video, we also show the Ryzen 9 4900HS APU running key titles shown in the reveal. On the one hand, this is a good yardstick of PC integrated graphics performance in the mobile space. However, despite operating with a sustained 1.8TF of GPU compute, performance is more Xbox One-like in nature than PlayStation 4 (note: this is still a highly impressive achievement for a mobile unit!). In terms of comparisons to Steam Deck, this Renoir-based Ryzen processor is running on a less capable graphics architecture with less memory bandwidth, but has a 35W power budget up against Steam Deck's mere 15W maximum. On the one hand, comparisons with Steam Deck will be tangential - but on the other it demonstrates that console comparisons based on specs may be problematic.
We also need to factor in potential performance limitations imposed by the compatibility layer Steam Deck has, but more pertinently the variable power draw, CPU and GPU clocks. We've had a number of requests to lash up a PC with specs similar to Steam Deck's, based on the amount of GPU and CPU compute available. The problem there is that any such PC set-up cannot replicate the power ceiling of a mobile part that has to work well within a handheld device - put simply, the power limits are as crucial to performance as the rest of the specification.
The other element of the specs that has changed since the initial reveal concerns the storage solution. At its base $399 configuration, Steam Deck ships with a 64GB eMMC NAND storage solution, while more expensive variants offer 256GB and 512GB NVMe solid-state drives. Initially, it wasn't clear if the storage side of the equation was user-upgradable or not - and to be honest, we still don't know for sure. A tweak to the specs page confirms that that m.2 2230 standard socketed SSDs are used, suggesting a user replacement or upgrade path. However, it's clear that this is not the intended route forward, with the MicroSD slot recommended for additional storage - in fact, Valve's Lawrence Yang shared that IGN's experiences with the unit saw all of the games running from SD card.
I'm really looking forward to seeing what happens next with Steam Deck. We now have confirmation from a further IGN video that suspend/resume is implemented - crucial functionality for a mobile device - but I'm eager to see more from the device, plus an indication on strategy from Valve on whether games will ship with Steam Deck-friendly profiles. We'd really like to see optimised 30fps and unlocked frame-rate/60fps settings set-ups, simply because if the PC market is to expand in the way Valve hopes, pick up and play has to work - plus of course, there are profound battery life implications in running games on the unit with fully unlocked frame-rates.
I'm also looking forward to clarification on just how open Steam Deck is in practical terms. Yes, you can install Windows on it - but will Windows drivers be made available for the AMD chipset? Without them, gaming will be impossible. And if SteamOS is the best route forward for Steam Deck, it's going to be intriguing to see just how performant the compatibility layer is for Windows titles (though there are plenty of Stadia native Linux/Vulkan ports that could migrate across nicely to Steam) and whether Epic, Ubisoft, Microsoft and others can tap into that layer, and bring their own storefronts to SteamOS.
For now, the additional details about the device dot the Is and cross the Ts on the core specification and whet the appetite for future disclosures. The stage is set for a device that does stand a good chance of being able to successfully deliver the length and breadth of the Steam library in a new form factor - and potentially to a new audience, given time. However, the scale of the task in making PC gaming work in a console-like form factor, while retaining the open nature and tweakability that makes PC such a joy can't be understated. Mobile-like suspend/resume - crucial for a handheld has now been revealed, but it'll be fascinating to see how Valve intends to tackle the larger challenges, and just how much more we'll get to see of the hardware pre-launch.
Will you support the Digital Foundry team?
Digital Foundry specialises in technical analysis of gaming hardware and software, using state-of-the-art capture systems and bespoke software to show you how well games and hardware run, visualising precisely what they're capable of. In order to show you what 4K gaming actually looks like we needed to build our own platform to supply high quality 4K video for offline viewing. So we did.
Our videos are multi-gigabyte files and we've chosen a high quality provider to ensure fast downloads. However, that bandwidth isn't free and so we charge a small monthly subscription fee of £4.50. We think it's a small price to pay for unlimited access to top-tier quality encodes of our content. Thank you.
Support Digital Foundry