Herman Miller x Logitech reviewed: Embody Gaming chair, Nevi desk and Ollin monitor arm
Testing £2,365 worth of esports-grade gaming furniture.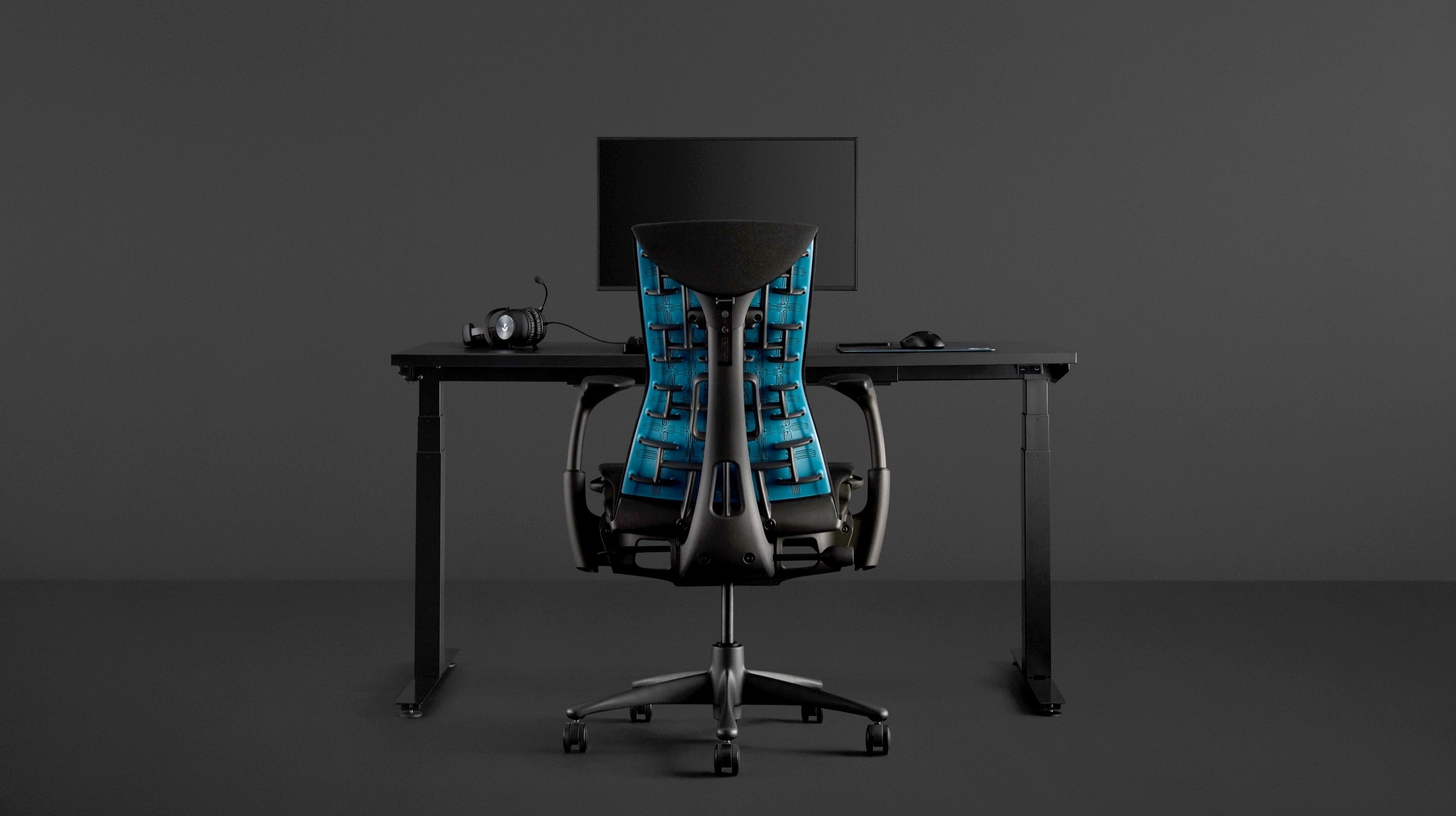 Herman Miller is a legendary name in office chairs, a Silicon Valley staple often brought up as an alternative to any new gaming chair. Last year though, Herman Miller announced it would be making a gaming chair of its own in cooperation with PC peripherals giant Logitech - the Herman Miller x Logitech G Embody Gaming Chair. As you might expect from the brands involved, this is a super-premium option with an eye-watering sticker price of £1195 - and it's just one part of a three-piece set that also includes the £175 Ollin monitor arm and the £995 Nevin Gaming Desk. Is any gaming furniture worth that kind of money? I've been testing out all three elements to find out - and after five months, I'm prepared to deliver a verdict.
Herman Miller x Logitech G Embody Gaming Chair
Let's just say it up front. The Embody Gaming Chair is by far the most comfortable chair I've ever used, particularly for long working or gaming sessions when you're sat down for extended periods. My back feels better supported, my legs don't ache and in general I look a lot more like that perfect posture guy you see in ergonomics infographics. This is largely down to its unique adjustability options, like a pair of handles that let you pull out more material to make the chair deeper, individual controls for adjusting the upper and lower back support and arm rests that can be splayed out or brought close to the body in addition to being pulled up or down.
The back's unique design also contributes, with a central 'spine' attached to 'ribs' that expand or contract to ensure you're always being supported, even if you're sitting unevenly. The chair only reaches to the middle back, so I was initially worried about the lack of head and neck support - especially on a chair at this price point. However, this really hasn't been an issue, and the better posture I seem to be adopting when sitting in the chair has meant that I don't need something to lean back on. I do miss reclining and sinking back in my chair when I'm taking a moment to think about something or reacting to an unexpected kill in CSGO, but if this is better for me then I don't really mind changing my habits. The shorter height also makes this chair cheaper, lighter and easier to fit under a standing desk, so there's some nice synergy with the Nevi here.
Rather than the bucket seat you see on racing-style designs, the Embody is more open on the sides, which together with the half-height back and cooling foam in the base reduces heat buildup. It's not quite as open as a mesh design like a Herman Miller Aeron or an Ikea Markus, but it feels better in warm conditions than pretty much all gaming chairs I've tried.
The only substantive complaint I have in terms of comfort and ergonomics is that I'd like more guidance to be provided on exactly how to set up the chair for the best ergonomics. For example, I can feel a difference when I adjust the lumbar support controls, but I don't know whether I ought to be setting it to something that feels the most comfortable right then and there, or something that might feel uncomfortable initially but be better for me over the long term. This stiff learning curve is something that could put people off, especially if they're more familiar with basic office or gaming chairs with more graspable adjustment options, so better guidance could go a long way here.
Standard gaming chairs tend to trade on their looks, and the Embody is pleasantly counter-culture in this regard. There are no oversized logos or primary colours here, and indeed nothing at all to identify the brand from the front. The colour scheme is neutral, dark matte grey with a few blue accents, and the chair's unique design is only really noticeable from the back. That suits me down to the ground, but some people may prefer a more obvious design they can show off on a Twitch livestream in exchange for their £1495 investment.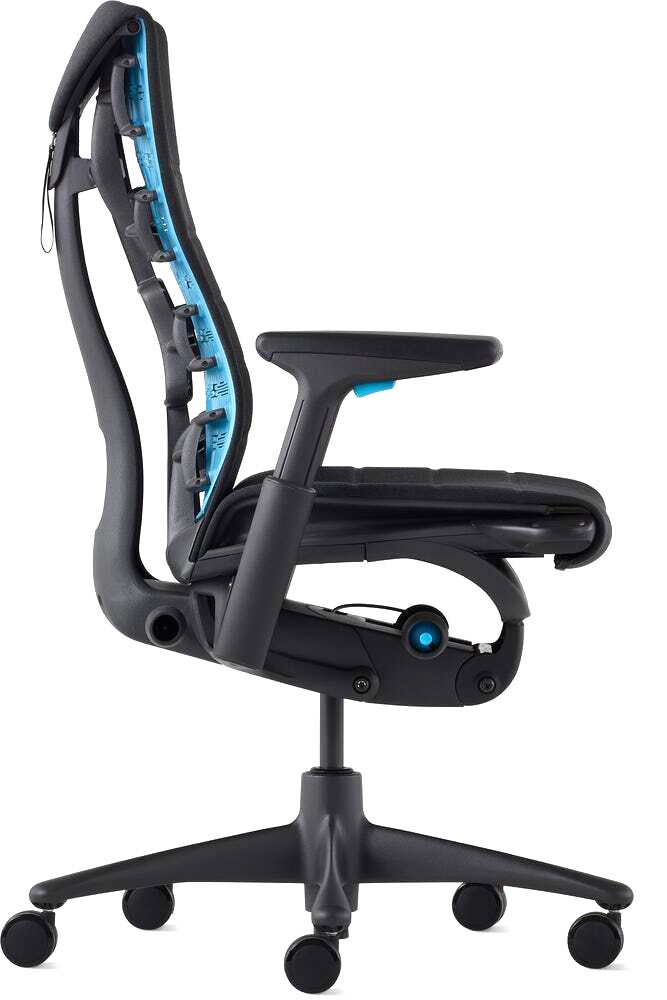 Let's talk about building the chair too. This normally takes an hour or so with a standard gaming chair, requiring the backrest to be bolted into the seat, the wheels inserted to the base and so on. This isn't difficult, but it does mean your first impression of the chair can be one of frustration if the assembly process doesn't go smoothly. Herman Miller neatly sidestepped that issue by delivering the chair fully assembled; the delivery person who brought my unit wheeled it into my house and took away the (hilariously large) box when they left, meaning I didn't have several week's worth of extra cardboard recycling to deal with - always a nice touch.
Finally, the warranty. You get a 12-year warranty for the Embody, meaning you've paid around £125 per year by the time the warranty finally expires. This shows a lot of confidence in the design, and makes that initial outlay feel a little bit more reasonable. The Embody feels like it should survive that period too, as the chair feels brand new even after five months of use, with no degradation to the feeling of the seat, back or other components - a rarity for most of the gaming chairs I've tested.
So based on this chair's excellent comfort, unique ergonomic adjustability and superior build quality, I'm happy to give it a full-throated Digital Foundry recommendation.
The only major concerns I have concern its price and its overall similarity to the cheaper (but still expensive) non-gaming Herman Miller Embody, which may prove a better value if you're not fussed about cooling foam or a more gaming-style aesthetic. There are certainly many other high-end office chairs available that I have not tried, so I'd recommend doing some research into alternatives from the likes of Steelcase, Humanscale and Vitra - to say nothing of Herman Miller's less gaming-focused offerings.
For now though, let's take a look at the two other fruits of the Herman Miller x Logitech partnership - the Nevi sit/stand desk and the Ollin monitor arm. Both are premium options that get a lot right, but there are some flaws to be aware of too.
Herman Miller x Logitech G Nevi Gaming Desk
So: the Nevi Gaming Desk. This is essentially a black version of Herman Miller's standard Nevi office desk, with a unique soft touch matte laminate that promises to hide smudges and resist glare. It's 150x75cm, making it just a touch smaller than Ikea's standard 160x80cm large desk size, and can be set from 65 to 125 centimetres in height using simple up and down touch buttons. The Nevi includes a cable management container on the underside, which can be opened and angled downwards to make routing, plugging and unplugging easier, then locked into place.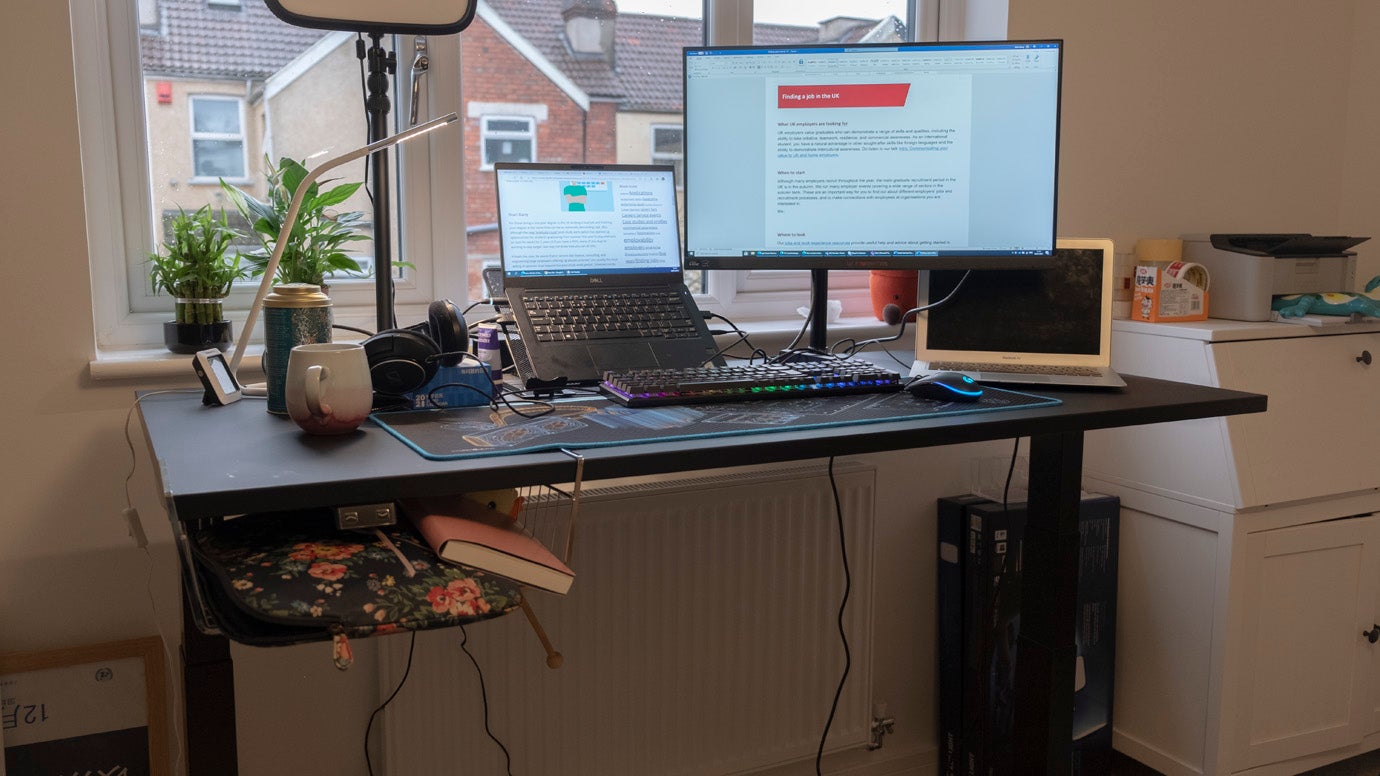 The assembly process took around an hour, thanks to generally well-illustrated instructions and pre-drilled screw holes. You'll need Allen keys (sizes five and eight), a size nine spanner and a magnetic Phillips screwdriver, with the latter being required to install deeply recessed screws without losing them in the metal frame. I moved midway through the review, so I can report that partial disassembly is possible if you don't want to have to go through the full construction process again - just don't let the metal legs fall on you when you remove the tabletop, as I did. (I also needed to reset the desk on this and one other occasion, by holding both buttons for ~10 seconds then lowering the desk to its minimum height before it started working normally again.) In general, if you're comfortable with assembling Ikea-style flat-pack furniture, the Nevi won't present a problem.
So once it's assembled, is it any good? It's definitely up there with some of the best standing desks I've tested in terms of looks and build quality, but there's a little bit of wobble when the desk is at its highest position. It doesn't feel unsafe or unsettling, by any means, but if you're typing with vigour then you can sometimes notice your screen trembling. The cable management area can also be a bit fidgety to open and close, requiring a few attempts to latch properly, but it provides a lot of space for multi-gang extension leads and power bricks which is nice. The soft touch finish and matte black colouring of the worktop is perhaps the Nevi's best feature; it's by far the best-looking standing desk I've seen and feels comfortable to use for typing or gaming.
I've got to shout out the control system too, which is simple but effective. The inclusion of a collision sensor also means that the desk stops if it hits a knee or a bit of furniture, which means the only thing you really have to worry about are cables getting caught - I did ruin a few DisplayPort cables this way, so it's worth keeping your PC on the desk itself so that the only thing you have to watch for are the power cables running from the desk to the wall.

Despite generally being a great standing desk, the Nevi doesn't really compete when it comes to value. I tested two other standing desks over the fast few months which are both considerably cheaper for a similar size: the Ikea Idåsen (£500 for 160x80cm) and the Flexispot EQ4 (£350 for 140x70cm). Remember, the Nevi is £995 for a 150x75cm desk.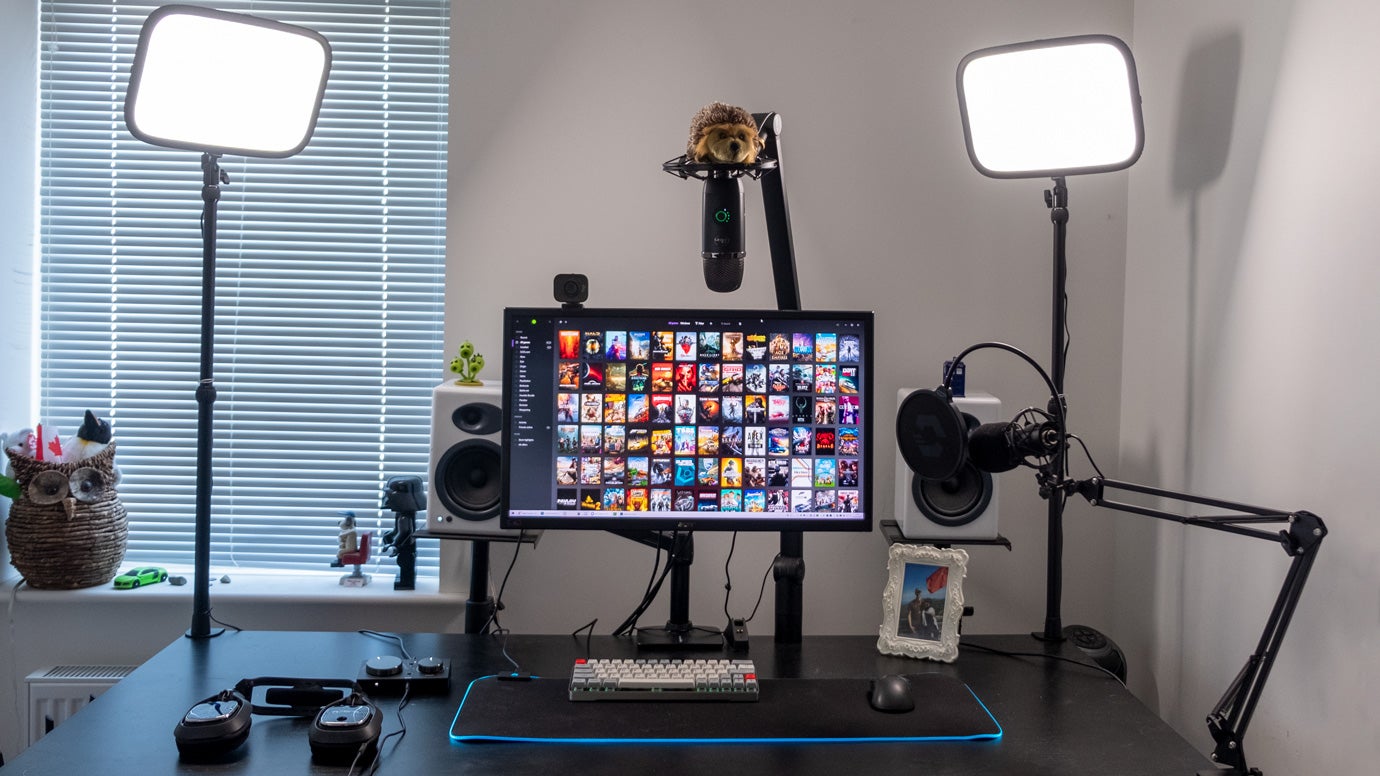 The Idåsen's legs are braced diagonally to the base, granting much better stability when at standing height, and offers app-controlled height adjustment in addition to a simple up/down lever. The Ikea option is also a bit easier to disassemble, as the worktop can be removed completely while the frame remains standing; this means you can disassemble it standing up, whereas the Nevi needs to be inverted before disassembly can commence. However, the Idåsen does have fractionally less height adjustability, with the Nevi capable of dropping two centimetres lower and reaching two centimetres higher at its extremes. The Ikea desk is also doubtlessly constructed of cheaper materials - Ikea are well-known for their efficiency here - but this hasn't affected usability a jot.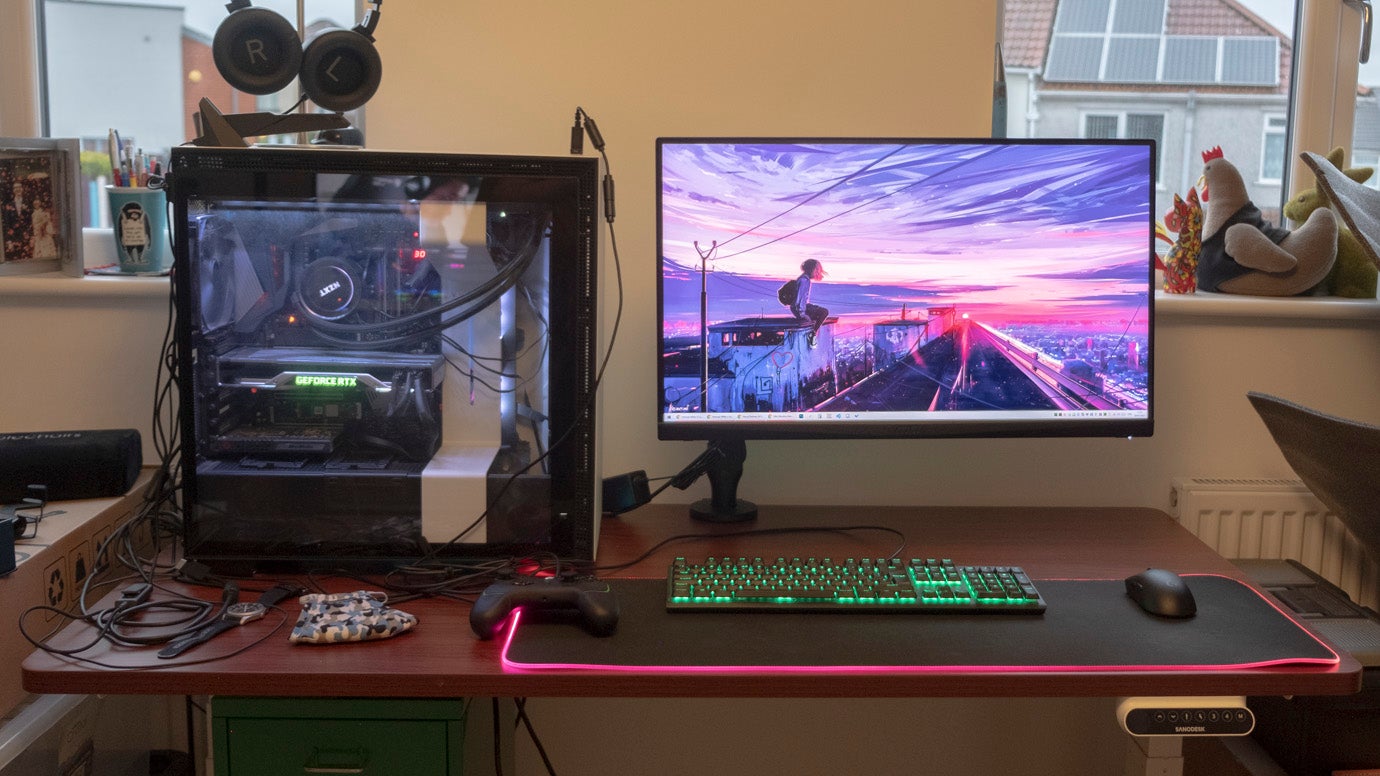 The Flexispot EQ4 is an even cheaper alternative to Ikea's motorised offering, with a more advanced height control system that allows multiple heights to be programmed and recalled using a seven-button and LED screen controller. It's also a bit quicker to assemble, requiring only a screwdriver and a bit of brute force. However, like the Nevi it lacks a bit of stability at standing height, its cables and motors aren't covered by the frame as with the other desks and its motor will very happily propel the desk into solid objects without stopping. Still, given the price differential, these are flaws that you can learn to live with.
Where does that leave the Nevi then? If money is no object and you like the idea of a matching suite of gaming furniture, then it is an excellent desk that plays nicely with the Embody Gaming Chair and the Ollin monitor arm. Having a twelve-year warranty for the worktop and five years for the motorised assembly is also impressive. However, I think most people will be better served by shopping around, with similarly-specced alternatives available at around half the price from both big-box retailers and online sellers.
Herman Miller x Logitech G Ollin Monitor Arm
The Ollin is by far the cheapest element of the ensemble, although at £175 it's still firmly within the premium end of the monitor arm spectrum inhabited by the likes of Ergotron. I've got limited experience with high-end options here - I've been using AmazonBasics arms for years - but I will say that the Ollin doesn't disappoint. It takes around ten minutes to install the monitor onto the VESA mount, clamp the arm onto the desk and then push the monitor onto the mount.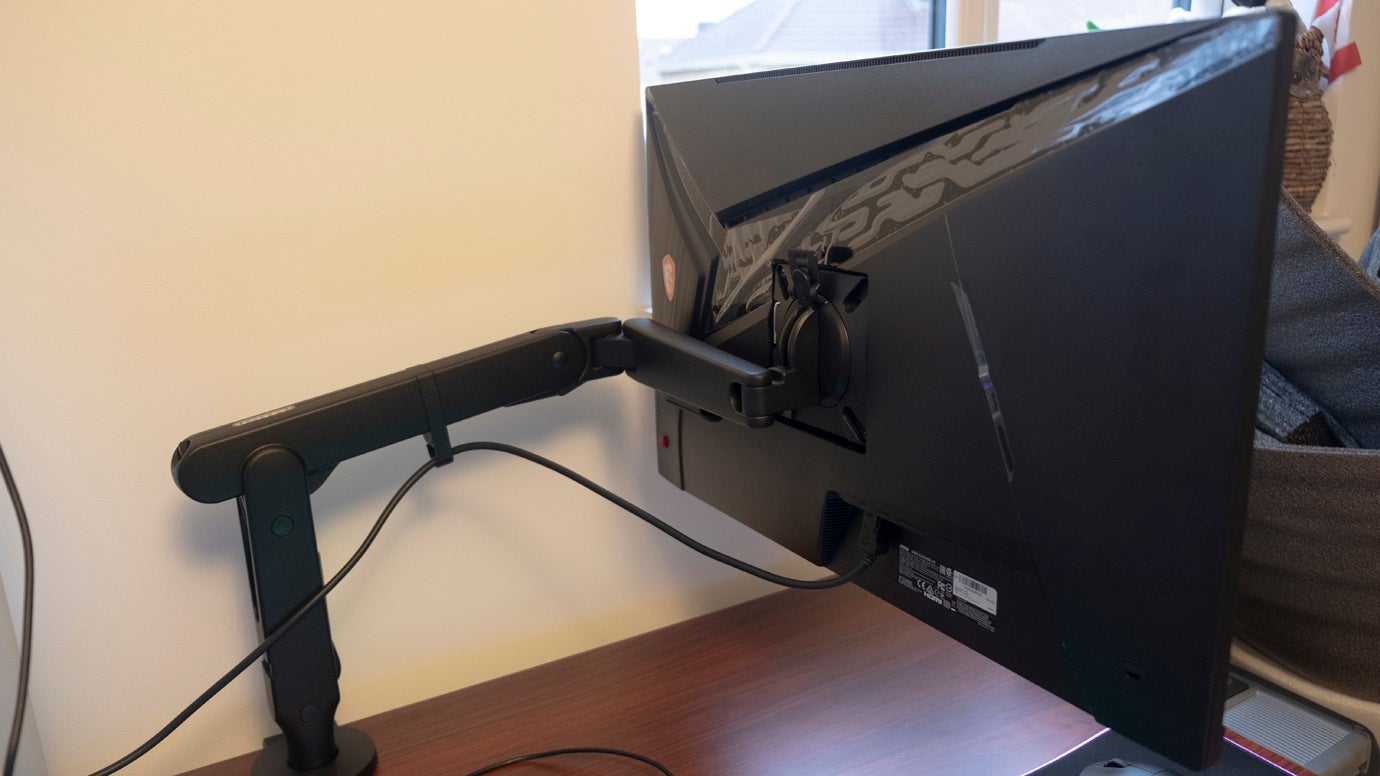 Once installed, even relatively thick and heavy 27-inch monitors can be moved around effortlessly, with the monitor staying in position wherever it's left. Some monitor arms I've used can extend a little further from the base, giving them more flexibility in left-to-right positioning, but the length here is more than sufficient to move the monitor from the wall to right in front of my face for playing CSGO, which is all I really care about. The Ollin looks the part too, with a metal construction and matte black paint job, so it fits in well with the Nevi and the Embody.
Once again, it's not the cheapest option, but it justifies its placement in the upper end of the market and might well be worth a look - particularly if you're already stumping up for a Nevi desk and Embody Gaming chair in your esports-grade gaming space.
Wrapping up
Each of the three pieces of furniture I tested here have their own merits, but how does the set work together?
There's some obvious synergy here - a half-height backrest means that the Embody fits under the Nevi desk when you feel like standing and all come in a matte black colourway - but I get the feeling that Herman Miller and Logitech could have done more here to make the Embody, Nevi and Ollin feel like more cohesive elements from the same set. Perhaps blue accents for the Nevi and Ollin to match the Embody would have been good, but I can understand the decision to keep their look quite neutral as well - as most units sold will probably be used with other furniture from other brands. Even something as simple as adding labels to each point of adjustment (eg seat curvature, monitor height, desk height etc) to aid dialling in that perfect setup would help justify that higher price point and make picking up all three items more desirable.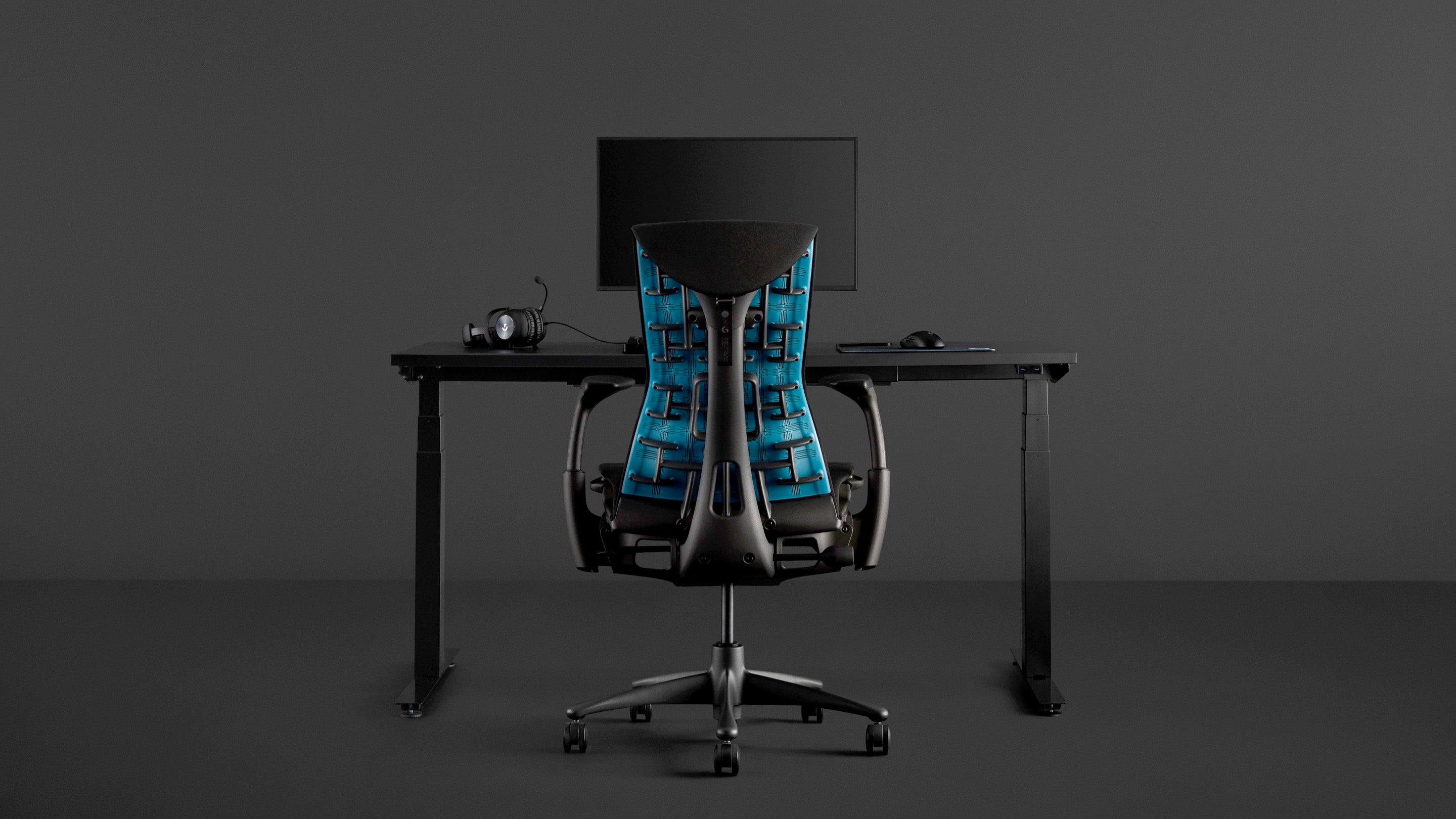 As it stands, the Embody Gaming, Nevi and Ollin are all reasonable high-end options in their respective categories, offering good build quality and sensible designs with no major weaknesses. Of the three, the Embody Gaming definitely makes the strongest case for itself - perhaps unsurprising, given that Herman Miller made their name making chairs rather than desks or monitor arms - with the Ollin in second place and the Nevi in third. From a value perspective, good alternatives exist for all three, so do take heed of our recommendations, read more reviews and do your own research. I'd normally recommend going to a store to try these items, but given the current state of the world you may prefer to take advantage of Herman Miller's 14-day returns policy instead.
I've had a lot of fun testing this kit, and although you may not be mulling a purchase yourself I hope that something in this article proves useful to you. Speaking for myself, having a chance to test these more premium options has given me an appreciation of just how good some cheaper options are for the money, such as the Ikea Markus or the Flexispot EQ4, and what features really elevate a piece of gaming furniture from good to great. It'll be fascinating to test more mainstream kit from here on out with fresh eyes.
Next time, I'll be rounding up the best and weirdest tech I tested in 2020, so stay tuned for that. Until then, keep your stick on the ice - and be sure to ask me awkward questions in the comments if you've got 'em.
Will you support the Digital Foundry team?
Digital Foundry specialises in technical analysis of gaming hardware and software, using state-of-the-art capture systems and bespoke software to show you how well games and hardware run, visualising precisely what they're capable of. In order to show you what 4K gaming actually looks like we needed to build our own platform to supply high quality 4K video for offline viewing. So we did.
Our videos are multi-gigabyte files and we've chosen a high quality provider to ensure fast downloads. However, that bandwidth isn't free and so we charge a small monthly subscription fee of £4.50. We think it's a small price to pay for unlimited access to top-tier quality encodes of our content. Thank you.
Support Digital Foundry