Asus TUF A15 laptop review: AMD's Ryzen 4000 is a groundbreaking mobile CPU
Premium performance at a mid-range price-point.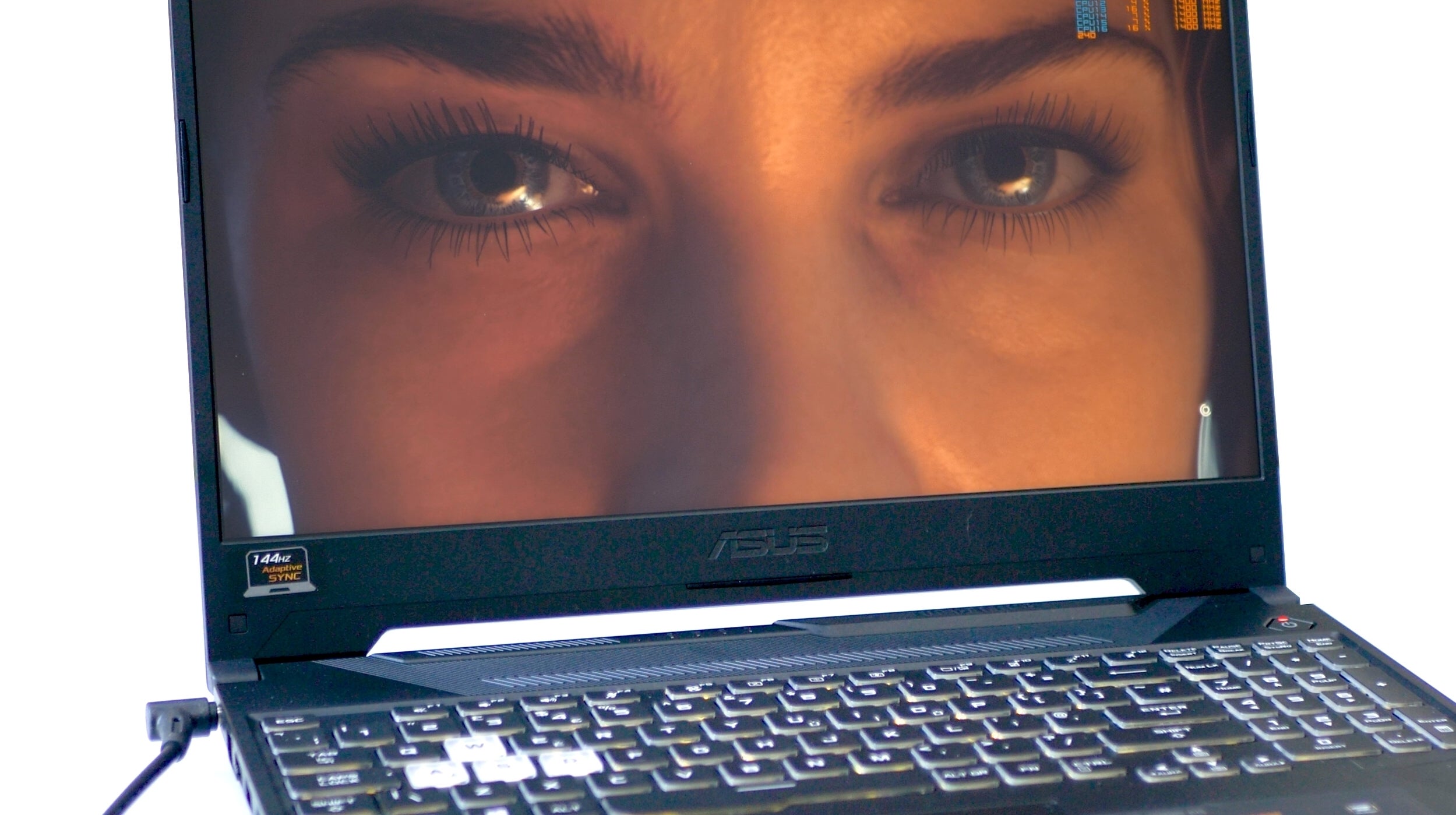 With its Ryzen 3000 desktop line, AMD delivered more cores, more performance and more value - closing the gap with Intel in benchmarks and gaming and essentially delivering a great product at a great price point. Ryzen 4000 does much the same thing, but with a twist. This isn't a new Zen architecture or a bump to the existing desktop chips. Instead, AMD has refactored the existing Zen 2 core into a new all-in-one processor APU with Vega graphics. The processor is codenamed Renoir and to cut straight to the chase, it's a gamechanger.
We're reviewing Ryzen 4000 - or more specifically the Ryzen 7 4800H - within the brand new Asus TUF A15 laptop,and it's remarkable in that you're getting this eight core, 16 thread Ryzen chip in a very good notebook that's got a base price of just £999/$999. For that you're getting a 144Hz 15.4-inch screen with adaptive sync, a GTX 1660 Ti discrete GPU, 16GB of 3200MHz DDR4 in the all-important dual channel configuration - and the spec is complete with a 512GB SSD. The version Asus sent us is even better, in that the specification is upgraded to an RTX 2060 with a 1TB SSD. You do pay a £300/$300 premium for that, but I'd consider it worth the extra money.
The TUF A15 clearly isn't an ultra premium notebook, but that's not its intended market. It's not 'thin and light' as such, there's no edgeless display, and you won't be using the screen for precise, accurate photography or video editing. You do get an adaptive sync-compatible, 144Hz screen but colour reproduction isn't amazing and motion handling is far from best in class. But remember that you're still getting a remarkable spec for the money and the point is that where the product has been compromised, the nips and tucks are not really that much of an issue if gaming is the focus. It's no ultrabook, but hardly is it a hulking behemoth. It's not super portable at 2.3kg, but it doesn't massively weigh down your backpack. While the screen isn't amazing, VRR gaming at max settings from anything between 80fps to 120fps definitely is. Even the RGB-enabled keyboard and trackpad are absolutely fine.
But it's Ryzen 4000 we're here to look at primarily, and as is often the case, multiple products are derived from the single Renoir design with H, HS and U designations. At the top of the pile sit the H chips, which use the highest possible 45W TDP, followed by the HS chips which aim to deliver similar performance with a tighter 35W TDP. For ultrabooks and similar form factors, the U chips aim to deliver maximum performance from a relatively minuscule 15-25W power window. Our review processor is the Ryzen 7 4800H. It retains all eight cores and 16 threads, it has the tiniest of clock speed reductions vs the top-end Ryzen 9 4900H and its only other spec cutback comes from the integrated Vega graphics, where you lose a single compute unit and 150MHz of GPU core clock.
| | CPU Cores/ Threads | CPU Base Clock | CPU Boost Clock | GPU CUs | GPU Clock |
| --- | --- | --- | --- | --- | --- |
| Ryzen 9 4900H | 8/16 | 3.3GHz | 4.4GHz | 8 | 1750MHz |
| Ryzen 7 4800H | 8/16 | 2.9GHz | 4.2GHz | 7 | 1600MHz |
| Ryzen 5 4600H | 6/12 | 3.0GHz | 4.0GHz | 6 | 1500MHz |
Note: The H processors from AMD have a 45W TDP. HS versions are also available. Typically, you lose a small amount of frequency in exchange for a reduced 35W TDP.
Ryzen 7 4800H isn't the 'full-fat experience' then, but within this product, it's highly unlikely you'd be able to tell - and the value story is phenomenal. Eight cores and 16 threads is Intel's top-end territory in the mobile space and AMD is bringing the same configuration - and usually more performance - to the mid-range space. This is hugely significant stuff, especially as the benchmark numbers essentially suggest that you're getting the lion's share of Ryzen 3000 desktop performance, albeit with some caveats. Cinebench R20 seems to be the benchmark that AMD lives and dies by, and as you can see here single core power is within a stone's throw of the Ryzen 5 3600X and not that far behind the 3700X. Multithreaded results see it surpass Ryzen 5 3600X, Ryzen 7 2700X, i7 9700K and i5 9600K.
One thing to point out here is that these desktop results are running with faster 3600MHz DDR4 memory which will push up their scores - and in that respect, this makes Ryzen 4000 look even better. What I also find interesting here is that my Ryzen 7 4800H scores here are basically on par with the Ryzen 9 single-core performance from AMD's Renoir review guide, and we lose less than 100 points in multi-core.
Cinebench does flatter to deceive in some respects, and as a representative real world workload, we like use the h.264 and HEVC encoding via Handbrake, transcoding a Rise of the Tomb Raider 4K comparison video - and this is where we encountered our only anomaly during testing. In both tests, the 4800H suddenly becomes the slowest Ryzen of the lot, though it's still faster at h264 encoding than the Core i5 9600K. The results should actually be better than this and this brings me to my only real criticism of this product.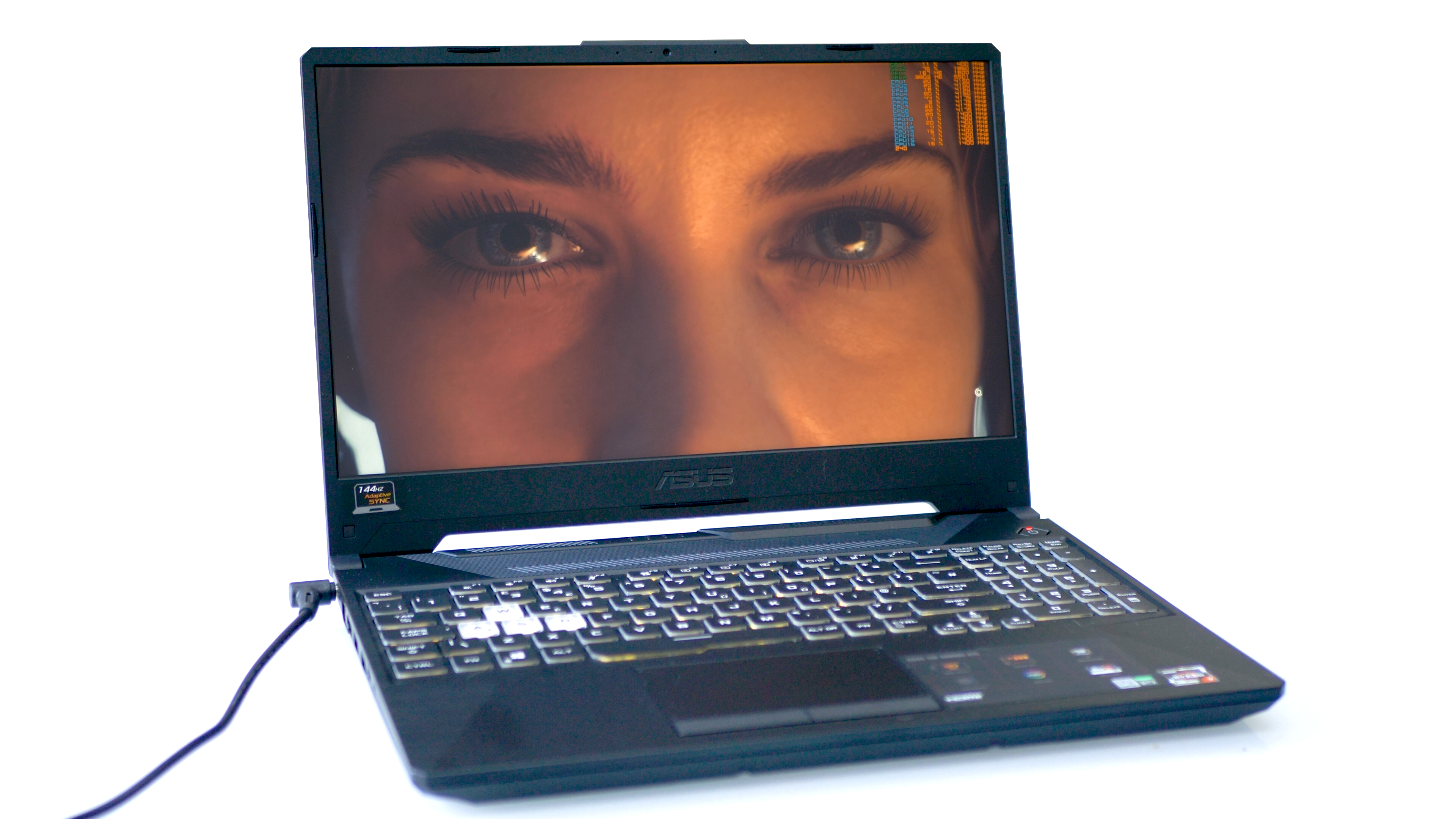 | | Ryzen 7 4800H | Ryzen 7 3700X | Ryzen 5 3600X | Ryzen 7 2700X | Core i9 9900K | Core i7 9700K | Core i5 9600K |
| --- | --- | --- | --- | --- | --- | --- | --- |
| Cinebench R20 1T | 478 | 494 | 490 | 408 | 520 | 486 | 450 |
| Cinebench R20 MT | 4102 | 4730 | 3705 | 3865 | 5090 | 3759 | 2603 |
| Handbrake h.264 | 24.85fps | 35.05fps | 27.54fps | 27.31fps | 37.87fps | 28.77fps | 20.70fps |
| Handbrake HEVC | 7.08fps | 14.67fps | 11.81fps | 10.04fps | 16.22fps | 13.12fps | 9.46fps |
Essentially, when you start video encoding, you get some tremendous clocks from the processor but we hit a point where suddenly it just throttles down to 3.2GHz for the rest of the duration - and it's not clear why. The obvious conclusion is that the chip is throttling back owing to overheating but the core doesn't exceed 80 degrees Celsius and the fans actually slow down because in this throttled back state, there's less cooling work required, with temperatures slipping into the mid 60s. It seems that after prolonged maximum effort, the processor decides to drop into a lower power mode. I didn't observe this in gaming, I should add, but it's curious behaviour nonetheless - and I'd like to run this test again on another Ryzen 4000 product.
So just how good is Ryzen 4000 for gaming? While this part does use the Zen 2 core, there are some profound changes in its migration from desktop processor to multi-purpose APU. Using the excellent Ryzen 7 3700X as a comparison point, while we retain the same core and thread count, clocks are trimmed back and TDP drops from 65W to 45W. The gigantic 32MB of L3 cache is pruned back to a mere 8MB. We were really keen to see just how close the 4800H could get to the 3700X's gaming performance level, and doing so is challenging.
Our usual way of testing CPU performance in gaming is to pair the processor with a desktop RTX 2080 Ti, and then to run at 1080p to remove the GPU as a bottleneck. This laptop comes with an RTX 2060 though, where you're far less likely to be CPU-limited at 1080p - the GPU will be the limiting factor most of the time. Our solution? We benchmarked the 3D power of the mobile RTX 2060 and found that it's essentially on par with the desktop GTX 1660 Ti. So we compared our 4800H/RTX 2060 mobile combo with the desktop 3700X/1660 Ti, making sure that the 3700X was running with matching 3200MHz DDR4. And to ensure it was CPU performance we were actually testing, both systems were dropped to 720p resolution.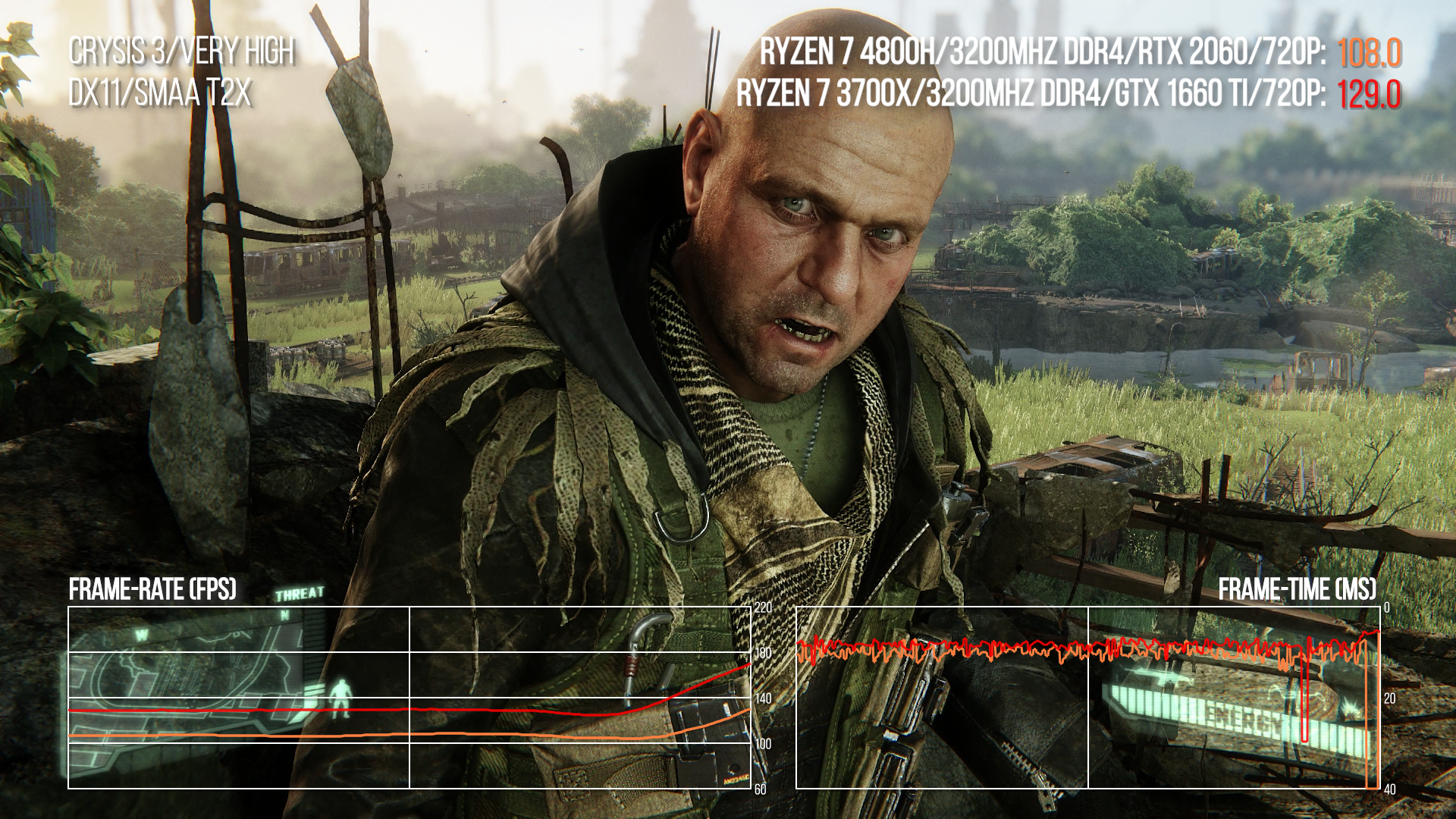 Using Crysis 3 and the Witcher 3 as comparison points, average frame-rates in all cases saw the Ryzen 7 4800H deliver 87 per cent of the overall gaming performance delivered by the Ryzen 7 3700X. Bearing in mind the massively reduced cache, the tighter power limits and inevitably lower clocks, this is an impressive feat. By comparing these CPU-limited 720p measurements to standard 1080p results, we can effectively compare CPU and GPU limits in our test cases and there's typically a 10 per cent difference, suggesting a well balanced machine.
A mildly tweaked Crysis 3 - seven years on, still a tremendous workout - delivers 80-120fps at 1080p and looks great on the adaptive sync screen. There are similar results in Shadow of the Tomb Raider too, running flat-out at its 'highest' quality preset. The mobile RTX 2060 is clearly less capable than its desktop equivalent, but thanks to DLSS 2.0 support, you can still run Wolfenstein: Youngblood with ray tracing features at 90-110fps. Remedy's Control with the full RTX feature set is one of the heaviest workouts in PC gaming, but this laptop still delivers 50-90fps, only dropping to 40fps in the most insanely packed scenes. And of course, there's nothing stopping you disengaging ray tracing and using DLSS 2.0 to push standard rasterisation performance higher.
It's a good gaming package, but really, it's the Ryzen 7 4800H that delivers here. It's fascinating to see a mid-range laptop packing CPU power that, by and large, out-performs the Core i9 9980HK in the Dell XPS 15 we have in the Digital Foundry office. AMD's new Renoir chip also includes an integrated Vega graphics core, which we were curious to look at. Not every Ryzen 4000 notebook will include a dedicated GPU, so in those scenarios, integrated graphics is the only route forward. With a 3DMark Time Spy score of just 1074 points up against the 6010 from the RTX 2060 mobile processor, obviously you're going to need to pick your battles - but you can still do some cool things with it.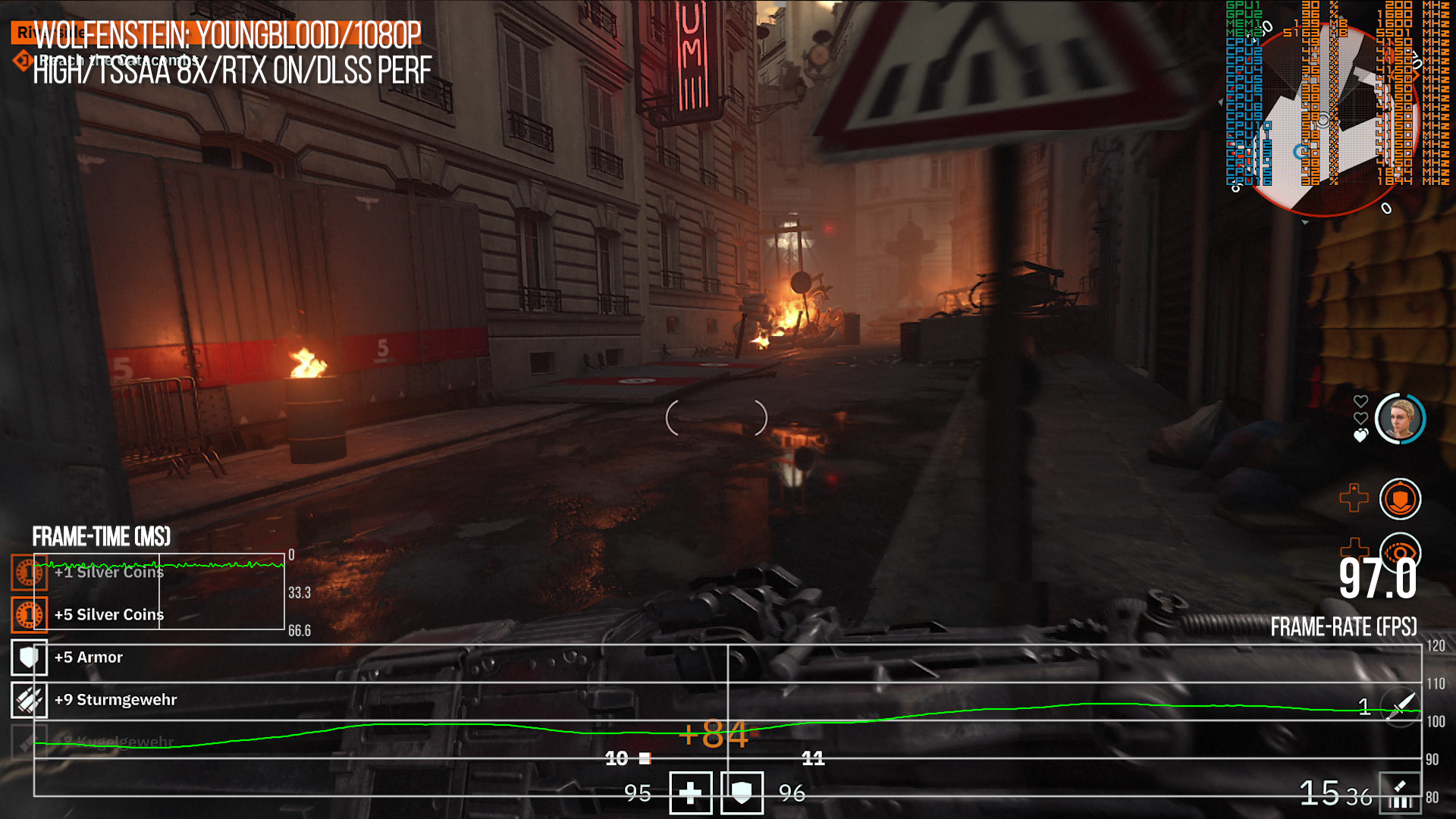 I ran The Witcher 3 at medium settings at 1600x900 and frame-rates were mostly in 30-40fps territory, though bandwidth-sapping effects could see performance drop into the high 20s. I also tested one of the most optimal PC titles of recent times: Doom Eternal. Dynamic resolution is enabled by default, and on medium settings at 1080p, frame-rates were mostly between 40-60fps with some dips beneath. Dropping to 900p tightened the window to 50-60fps while 720p got us to a mostly locked 60fps. It's 900p that seems to offer the best level of consistency vs detail, and the adaptive sync screen helps a lot here.
Doom Eternal's extensive performance overlay also yielded some extra information - firstly, that the iGPU can reserve up to 8GB of system memory for graphics, which is an upgrade over what we've seen in prior AMD APUs and very definitely a good thing. However, the driver is identified as 'AMD proprietary' and on boot, the game actually asked us to upgrade it as it was seemingly out of date. The problem was, AMD's auto-updater wouldn't do so. It would be nice to see integrated graphics fully included in driver updates. The bottom line though is that Ryzen 4000's integrated graphics aren't bad - indeed, we could be looking at best-in-class stuff here, especially for a laptop part.
Ultimately, it's difficult not to like the Asus TUF A15 because at its primary price-points, you're getting a hell of a lot of parts and performance contained in an agreeable - though not spectacular - form factor. What you're also getting is desktop-class gaming and productivity performance from the Ryzen 7 4800H, which is easily the most impressive notebook CPU we've been hands-on with. Over and above performance, thermals and power efficiency are excellent: yes, the TUF A15 ships with a 90WHr battery, but you do actually get all-day battery life on more general tasks, and this makes the machine very easy to live with.
Can it get any better than this? We're tempted to say 'yes' owing to the existence of another Asus laptop - the Zephrus G14, which is available with the Ryzen 9 4900HS and RTX 2060, miraculously cramming all of that technology into a 14-inch laptop. It aims to cover the premium end of the market that the TUF A15 bypasses - but obviously, with a significant extra cost. It has a reputation as the flagship laptop for Ryzen 4000 and we'll be doing our best to get a closer look at it as soon as we can.
Will you support the Digital Foundry team?
Digital Foundry specialises in technical analysis of gaming hardware and software, using state-of-the-art capture systems and bespoke software to show you how well games and hardware run, visualising precisely what they're capable of. In order to show you what 4K gaming actually looks like we needed to build our own platform to supply high quality 4K video for offline viewing. So we did.
Our videos are multi-gigabyte files and we've chosen a high quality provider to ensure fast downloads. However, that bandwidth isn't free and so we charge a small monthly subscription fee of £4.50. We think it's a small price to pay for unlimited access to top-tier quality encodes of our content. Thank you.
Support Digital Foundry