AMD RX 6800 and 6800 XT review: Big Navi means AMD is finally competitive
Two of the Red Team's strongest graphics cards in years.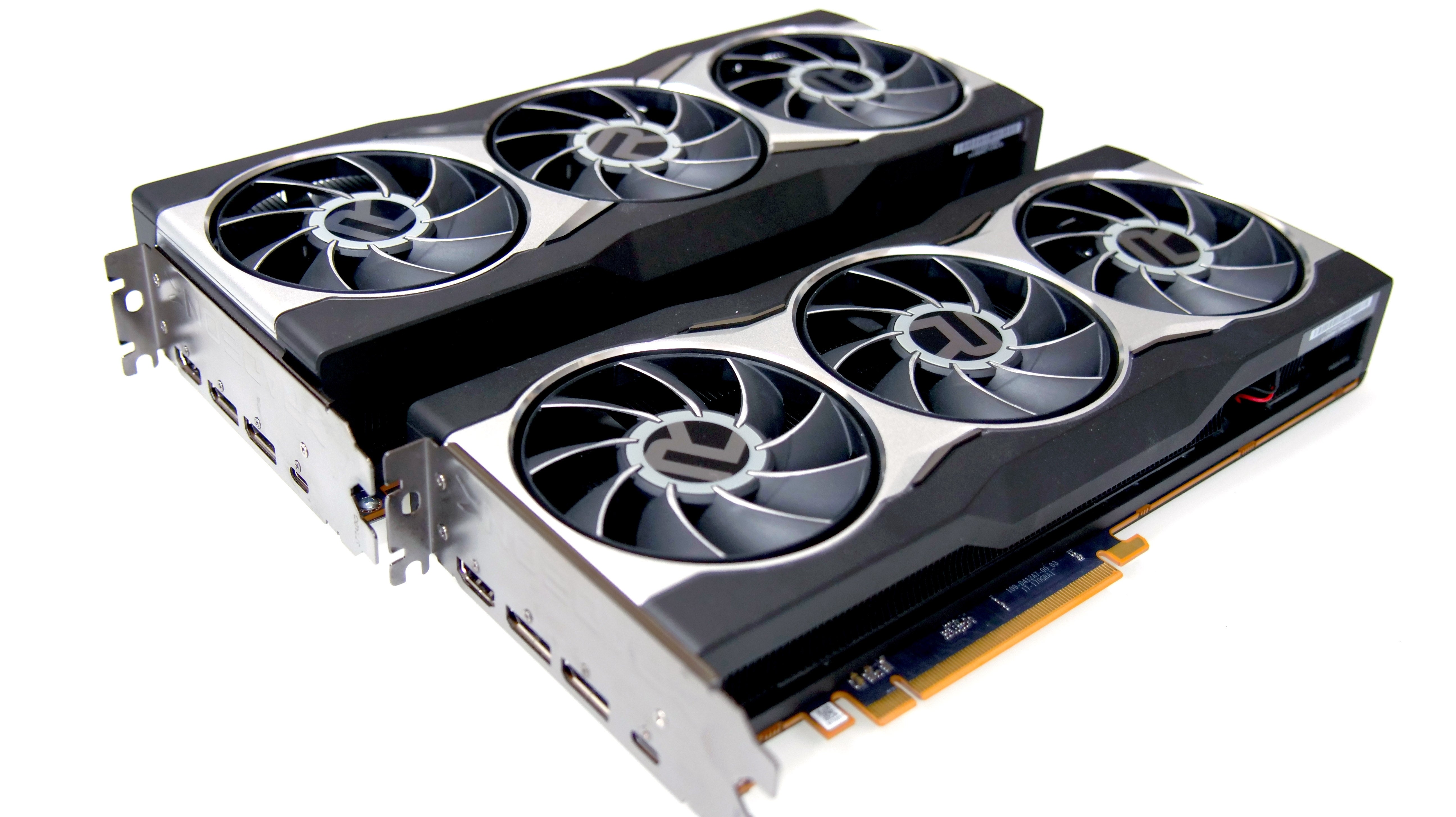 Welcome to the Red Team. That's the message that first greets you when you lift the lid on one of AMD's new Radeon 6000 series graphics cards, and it's fitting - after all, AMD's fans are some of the most die-hard in gaming, and these 'Big Navi' GPUs have been anticipated with almost messianic fervour by the community at large. Thankfully, all of that positive, memeable energy has found a worthy target in the RX 6800 and RX 6800 XT, two of the strongest creations by AMD's Radeon graphics team in some time.
Before we discuss how well these cards perform in a wide selection of games - and don't worry, there will be plenty of that - let's briefly set some expectations. At $580 (£530) and $650 (£600), respectively, the RX 6800 and RX 6800 XT slot in above the $500 (£450) RTX 3070 and below the $700 (£650) RTX 3080. That suggests we'll see an RTX 3070-beating performance out of the RX 6800, while the RX 6800 will do well to draw with the higher-priced Nvidia card. More importantly, it also means that AMD is finally competing at the high end of the graphics market once again, something the company hasn't done since the ill-fated Radeon 7 almost two years ago - and something it hasn't done successfully for many more years than that.
As well as much improved out-and-out performance, these Big Navi cards also mark the PC debut of AMD's RDNA2 architecture, which also forms the basis of both the PlayStation 5 and Xbox Series X|S consoles. Like those next-gen machines, the RX 6000 series supports hardware-accelerated ray tracing, finally ending Nvidia's RT monopoly, plus a raft of other DirectX 12 Ultimate features like DirectStorage, variable rate shading and mesh shaders that can boost performance in myriad ways. And speaking of performance boosting, AMD's engineers have also added features like 'Smart Memory Access', 'Rage Mode' overclocking and an 'Infinity Cache' that should all conspire to push these cards to their limits.
From this bewildering description alone you can see that there's plenty to cover here, so let's get started with a closer look at each of these cards - how are they built, how does the hardware stack up and how does it tie into the new features on offer here?
| AMD GPU Specs | CUs | Boost Clock | VRAM | Mem Interface | TDP | Price |
| --- | --- | --- | --- | --- | --- | --- |
| RX 6900 XT | 80 | 2250MHz | 16GB GDDR6 | 256-bit + 128MB IC | 300W | $999 |
| RX 6800 XT | 72 | 2250MHz | 16GB GDDR6 | 256-bit + 128MB IC | 300W | $649 |
| RX 6800 | 60 | 2105MHz | 16GB GDDR6 | 256-bit + 128MB IC | 250W | $579 |
| RX 5700 XT | 40 | 1905MHz | 8GB GDDR6 | 256-bit | 225W | $399 |
| RX 5700 | 36 | 1725MHz | 8GB GDDR6 | 256-bit | 180W | $349 |
| RX 5600 XT | 36 | 1560MHz | 6GB GDDR6 | 192-bit | 150W | $279 |
| RX 5500 XT | 22 | 1845MHz | 8GB GDDR6 | 128-bit | 130W | $199 |
While specs sheets can be a bit boring, looking at this one tells you quite a lot this time around. While AMD are operating with the same 7nm TSMC process as the original 'Little' Navi design, their new architecture manages to wring out a whole lot more performance. This is driven by substantially higher clock speeds across the board and a larger complement of more individually performant compute units. There's also dedicated ray tracing hardware backed into each CU, which is ten times faster at calculating ray intersections than a purely software approach - and it'll be fascinating to see how it compares with Nvidia's second-generation RT hardware.
These compute improvements are backed with an innovative new memory solution. By pairing the 16GB of GDDR6 video memory with a 128MB cache, similar in design to the L3 cache found on AMD's Ryzen processors, AMD are able to achieve some blistering results from the card's relatively pedestrian 256-bit bus - in their slides, the system provides 2.17x the bandwidth you'd expect from a standard 256-bit interface. This boost in memory bandwidth helps offset the greater compute unit (CU) count and higher clock frequencies, while keeping power consumption under control. It's a clever move that means that Nvidia's advantage from its early adoption of (expensive) GDDR6X memory on the RTX 3080 is at least partially ameliorated. It also means that AMD can afford to offer 16GB of VRAM on both models, something that will no doubt salve the nerves of gamers worried about running out of video memory with a raft of next-generation games in the pipeline. This 16GB of VRAM can also be accessed easily on Ryzen 5000 systems by AMD's Smart Access Memory tech, a performance-enhancing feature we'll cover in greater depth on page six of this review.
That just about wraps up the architectural improvements inside, so what about the industrial design outside?
While custom RX 6800 and RX 6800 XT cards will be produced by a wide range of AMD partners, today's review centres on AMD's reference models. While these GPUs are set to retail at the base RRP of each card - $580 for the RX 6800 and $650 for the RX 6800 XT - they feel like anything but entry-level designs, with an impressive three-fan axial cooler, plenty of metal fins to dissipate heat and a more complex aluminium shroud than the boxy Radeon 7. Overall, AMD's Radeon 6000 cards are weighty and feel very well constructed, with no give or flex evident anywhere. The vanilla RX 6800 feels particularly dense, with a more compact two-slot design, while the 2.5-slot design of the RX 6800 XT provides more room for the higher-powered card to breathe. Both designs are the same length and height, at 267mm (10.5") long by 120mm (4.7") high, so they should fit into any standard ATX case without issues.
These designs are a huge step forward from the blower-style RX 5700 series cards, and should perform much better in standard PC cases with adequate airflow. I particularly enjoyed the zero RPM fan mode, which seems to engage from around 52 degrees celsius and cuts the fans entirely for utter silence during normal everyday computing tasks. This is far from the first GPU to support such a feature of course, but it is rare to see it on a first-party design and it speaks to the quality of AMD's cooling solution that it's even practical to include. Throughout my testing, the cards ran quiet, with the 'balanced' power profile we used for testing capping the fan speed at just 50 per cent of their ~2000RPM maximum. We'll leave it to the Buildzoids and Gamers Nexuses of the world to do a deeper dive into the internals, but the 15 power phases and 14-layer PCB sure sound impressive - and we'll take a closer look at power usage later on this very page.
In terms of ports, we're looking at a slightly different outfit as Nvidia's RTX 30-series cards: one HDMI 2.1 port (perfect for those next-gen 4K 120Hz or 8K 60Hz TVs you might have picked up to use with a new console) plus two DisplayPort 1.4 ports and one USB-C port (which of course can be used as a third DisplayPort, HDMI or even DVI-D with the right adapter). As with the Nvidia cards, AV1 decoding is included which should allow sites like Netflix and Twitch to stream high-quality, high frame-rate video content to you while requiring significantly lower bandwidth than current codecs. Finally, the card is PCIe 4.0 compatible but works just fine in PCIe 3.0 slots too. For power, you get two eight-pin inputs on either card, with AMD recommending a 650W PSU for the 6800 and a 750W PSU for the 6800 XT - quite reasonable for mid-range to high-end graphics hardware.
To get a better judgement of Big Navi's power efficiency while gaming, we used Nvidia's (agnostic) PCAT system - an interposer board that sits between the graphics card and its power inputs to measure actual power consumption. When twinned with in-game performance metrics, like frame-rate and frame-time, we can calculate exactly how many watts are required to render each frame, and thereby get a measure of real-world efficiency. AMD cite a 54 per cent improvement in performance per watt between RDNA and RDNA2, so is that borne out by testing? And how does Nvidia's Ampere architecture, our current efficiency champion, compare?
| Joules Per Frame | RX 6800 XT | RX 6800 | RTX 3080 FE | RTX 3070 FE | RTX 2070 | RX 5700XT |
| --- | --- | --- | --- | --- | --- | --- |
| Death Stranding | 2.933 | 2.644 | 3.349 | 2.915 | 3.651 | 3.846 |
| Percentage Diff | 110.9% | 100% | 126.6% | 110.2% | 138.1% | 145.5% |
| Joules Per Frame | RX 6800 XT | RX 6800 | RTX 3080 FE | RTX 3070 FE | RTX 2070 | RX 5700XT |
| --- | --- | --- | --- | --- | --- | --- |
| Gears 5 | 4.384 | 3.792 | 4.156 | 3.603 | 4.734 | 5.403 |
| Percentage Diff | 121.7% | 105.2% | 115.3% | 100% | 131.4% | 150.0% |
We see that in Death Stranding, AMD's RDNA2 architecture is slightly more efficient than Nvidia's Ampere, and significantly better than first-gen RDNA (represented by the RX 5700 XT), coming close to AMD's claimed efficiency gains. However, this game is very kind to AMD hardware, so what about a more balanced option?
In Gears 5, the 3070 provides better competition against the RX 6800 and proves to be the slightly more efficient card, although the margin is just five per cent in Nvidia's favour. Clearly, both new architectures are significantly more power-efficient than their predecessors, which speaks to the engineering that has gone into each option.
Interestingly, the RX 6800 XT requires between 15 and 20 per cent more joules per frame in the two games we tested, so the more compact 6800 is definitely the series leader in terms of power efficiency. We saw a similar margin between the 3070 and 3080, so this is hardly unexpected.
With our brief power testing concluded, it's time to move onto the game benchmarks. You'll see a few new titles here if you've not checked out our RTX 30-series reviews yet, as well as a new test platform. If you have read those reviews - thank you! - then feel free to skip to the next page as there's nothing new here.
We tested AMD's Ryzen 3950X as a candidate for our GPU test bench build, as this allows access to the full PCIe 4.0 bandwidth supported by AMD's 6000 series and Nvidia's 30-series, but we eventually settled on an Intel Core i9 10900K for our test system, replacing the Core i7 8700K we used for our prior generation tests. Though the Intel system is technically constrained to PCIe 3.0 bandwidth, thus potentially limiting performance in GPU-bound scenarios, we still got higher 4K frame-rates with the Intel chip than with the fastest Ryzen processor available at the time. The Intel system showed a more significant frame-rate lead at 1080p and 1440p, thus making it our best bet for avoiding CPU bottlenecking as much as possible to allow different graphics cards to differentiate themselves. We'll consider Ryzen 5000 or its successors the next time we update our test bench, but for now it makes sense to stick with it so we don't have to retest dozens of graphics cards in the most busy period of the year (and during a new console cycle).
To ensure our results are comparable, the Core i9 10900K is locked to a 5GHz all-core frequency and cooled by a 240mm Alpacool Eisbaer Aurora AiO which keeps the overclocked system at around 75C under full load. The 10900K is backed by an Asus Maximus 12 Extreme Z490 motherboard and two 8GB sticks of G.Skill Trident Z Royal 3600MHz CL16. Our games are run from a capacious 2TB Samsung 970 Evo Plus NVMe drive provided by Box. The whole rig is powered by a 850W gold-rated Gamer Storm power supply.
Now that you're familiar with our test bed and have a good overview of the cards themselves, let's get into some gaming tests to see how they perform.
AMD Radeon RX 6800 and RX 6800 XT Analysis
Will you support the Digital Foundry team?
Digital Foundry specialises in technical analysis of gaming hardware and software, using state-of-the-art capture systems and bespoke software to show you how well games and hardware run, visualising precisely what they're capable of. In order to show you what 4K gaming actually looks like we needed to build our own platform to supply high quality 4K video for offline viewing. So we did.
Our videos are multi-gigabyte files and we've chosen a high quality provider to ensure fast downloads. However, that bandwidth isn't free and so we charge a small monthly subscription fee of £4.50. We think it's a small price to pay for unlimited access to top-tier quality encodes of our content. Thank you.
Support Digital Foundry