Get a 27-inch 1440p 144Hz gaming monitor for £240 today
The best price on this spec we've seen since Black Friday 2019.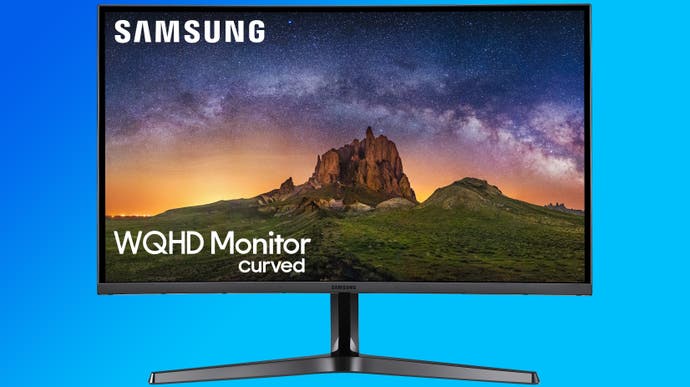 A trio of gaming monitors are part of a massive Samsung sale on Amazon UK today, including a 27-inch 2560x1440 144Hz model for only £240. That's the same price that we saw during last Black Friday, and it's a heck of a deal. Here's what you need to know.
The first monitor in question is the Samsung LC27JG50, a model built around a curved 27-inch VA panel. That provides excellent contrast - at the expense of viewing angles - and reasonable pixel response times. The 1440p resolution and 144Hz refresh rate mean that this monitor sits right in the current sweet spot for PC gaming, with more pixels delivered to your eyeballs more quickly than on a standard 1080p 60Hz display. If you've not tried a high refresh rate display yet, this is an excellent introduction at its reduced price of £240, down from £300.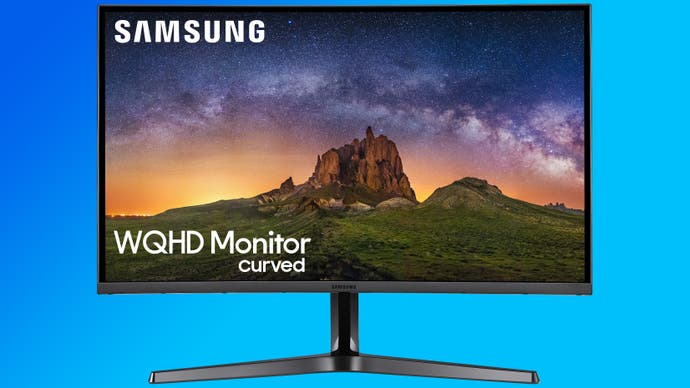 There's also a 32-inch model of the same monitor, the Samsung LC32JG50, which costs only a touch more. It's £270 in today's sale, down from £335. You'd normally expect to pay a lot more for upgrading from 27 to 32 inches, so it's well worth the extra money if you prefer larger displays.
While the LC27JG50 and LC32JG50 are impressive monitors for the money, they do have a few traits that might not be to everyone's liking. For one, these are curved screens, and some people do prefer a traditional flat panel instead. More importantly, these monitors lack G-Sync or FreeSync support, which can be nice to have - especially when running games at lower frame-rates. The stand is also a bit mediocre, not allowing for much adjustment. You could pick up a cheap VESA mount, but there's another option too.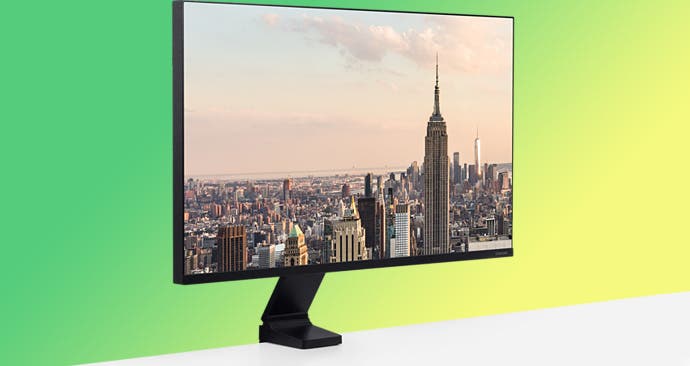 The Samsung Space S27R75 is a 27-inch monitor that solves all three issues, and it also happens to be discounted in today's Amazon sale. It's down to £260 from £340, a savings of £80, and it looks pretty neat too. The unusual name comes from its unique stand, which allows the monitor to be pushed back to sit flush against a wall - ideal for smaller spaces. As well as the nifty stand, The Space monitor uses a 27-inch flat VA panel and supports FreeSync, allowing for smooth and tear-free gaming without the traditional input lag of software v-sync. Otherwise, the core specs are the same, including that 1440p resolution and 144Hz refresh rate, so it's a good choice for gaming - and a great one at this sale price.
Oh, and it's worth noting that the Samsung sale we've picked these monitors from also includes a bunch of other tech - so if you fancy a smartphone, tablet, laptop or microwave, do take a look at the full Samsung sale on Amazon and see what's occurring.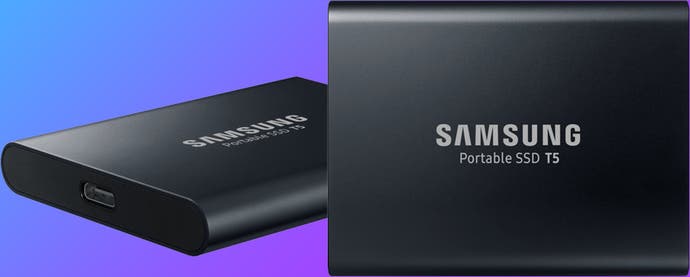 Of particular note is the Samsung T5, an external SSD ideal for gaming on PC or consoles. That's down to £126 for a 1TB model (from £190) or £259 for a 2TB model (from £291).
In any case, I hope these recommendations were helpful and stay tuned for more deals as we discover them! As always, you can follow @dealsfoundry on Twitter for early warnings of deals - sometimes things sell out before we've had a chance to write them up for the site, so this is a good way to make sure you don't miss out.