Get discounted Micro SD cards, fast NVMe SSDs and external hard drives in today's Amazon sale
Historic low prices on DF-approved kit from WD and SanDisk.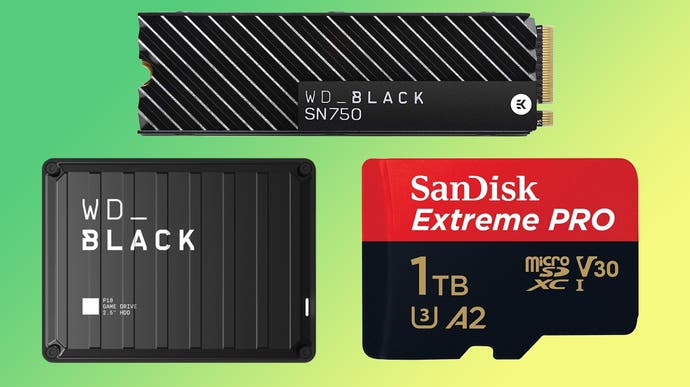 SanDisk Micro SD cards and WD hard drives are made by the same company, so it's perhaps no surprise that both are discounted in today's Amazon tech deals. The promotion includes some historic low prices on a range of memory cards and external hard drives, as well as better-than-usual deals on high speed NVMe SSDs. If you're thinking of adding more storage space to your game console, back up your video files or upgrade your PC, this might be a good day to do it.
The entire sale page is a bit confusing, with little rhyme or reason to the placement of each item, so we've broken down the offerings into a few easy categories and written a few words about what we'd recommend from each section. Here are the highlights!
Memory cards

It's a good time to upgrade your storage, with some excellent deals on high capacity SanDisk Ultra 256GB and 512GB memory cards. These are perfect for adding tons of space to the Nintendo Switch, and also work great in anything that takes Micro SD or full-size SD cards: dash cams, action cams, regular cameras, smartphones, tablets and so on. There are also discounted SanDisk Extreme Pro memory cards, which offer higher transfer rates - perfect for dealing with 4K video and other large files. There's even a 1TB (!) card which offers an incredible amount of storage space for such a tiny form factor - so if you buy this one, don't lose it!
Full size SD cards and Compact Flash cards are also included in the sale, so take a look at the full sale page here.
External hard drives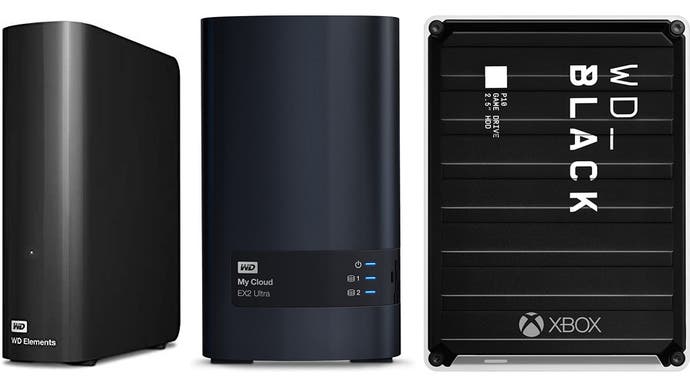 External hard drives are the second big star of the show, with some rather excellent prices on the super-durable WD Black Game Drive 3TB. This is the Xbox variant, meaning it comes with two months of Xbox Game Pass Ultimate for PC and Xbox One, but the drive can also be used with PS4, Mac and Linux systems without any issues. Elsewhere, you've got a 12TB external drive ideal for archiving data and a My Cloud 6TB NAS.
NVMe SSDs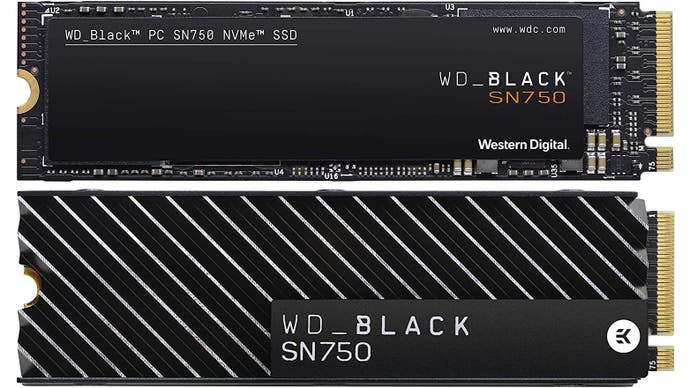 Let's finish up with NVMe SSDs. These super-fast drives are ideal for recent laptops and desktops, especially for content creators dealing with high definition videos or photos. You'll need an M.2 slot with NVMe support for these to work, so if you're not sure then just Google for the name of your laptop or desktop motherboard plus the keyword "NVMe" to see if it's supported - or post in the comments below and we'll try to help out!
The SN750 is one of our favourite options here, and it's discounted today in a range of sizes from 250GB to 2TB. Normally you'd pay significantly more to buy these drives with an included heat sink, but today these versions cost just a few quid extra. If you plan to use these drives in a desktop PC, then we'd definitely recommend going for the heatsink version to make sure you're getting the best possible sustained performance.
So, there you have it. These were the highlights, but remember you can find the full page of deals here.
That's all we have time for now today, but stay tuned for more tech deals as we find them. For early warnings, consider following @DealsFoundry on Twitter.