Dell XPS 13 2-in-1 7390 review: can an ultrabook run the Crysis Trilogy at 60fps?
Intel's Ice Lake processor and Iris Plus graphics take on a legendary stress test.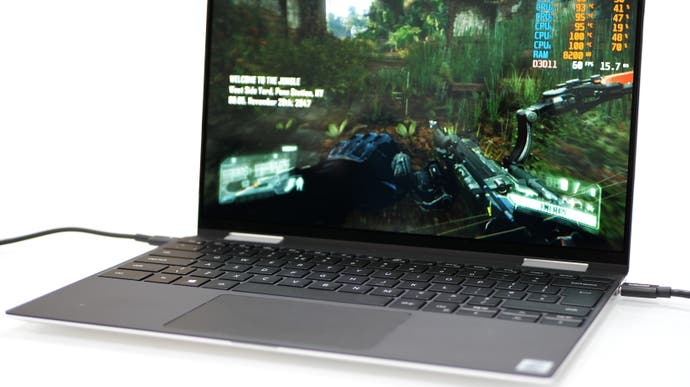 In terms of build quality, materials, workmanship, ergonomics and display quality, Dell's latest XPS 13 2-in-1 convertible is one of the best laptops I've ever used. It's not just a laptop though - the design allows for the unit to transform seamlessly into a jumbo touchscreen tablet, or it can rest in an inverted-V shape for presentations or media viewing. Performance-wise, it's powered by the Core i7 1065G7, the latest 10nm Ice Lake processor from Intel, delivering quad-core/octo-thread CPU power backed by Iris Plus graphics. This is the strongest integrated graphics Intel has ever delivered, and I set out to put it to the test with a time-honoured stress test. Can it run Crysis? Or more specifically, can it run the entire Crysis Trilogy - at 60fps, no less?
I also wanted to put the Ice Lake CPU architecture through its paces too, separate and distinct from the Iris Plus component. After all, this is the first truly new mainstream Intel processor architecture we've had since the debut of sixth-gen Core, codenamed Skylake, way back in 2015. To do this, I planned to hook up the XPS to a Thunderbolt 3 external GPU. But before we dive more deeply into the performance side of things, Dell's precision engineering deserves some focus.
Yes, it's a convertible, delivering an ultra-thin form factor, something the XPS pulls off beautifully. The screen is effectively without any bezels, lowering the size of the overall footprint, while in terms of thickness, it's around half an inch. At less than three pounds or around 1.3 kilos. There are two key compromises to this form factor. First of all, the ports selection is poor. You get two USB-Cs - one either side. At least they are both enabled for Thunderbolt 3 support, they can both charge the unit and/or run a display. There's a microSD slot too on the XPS, but the reality is that meaningful connectivity is going to require a hub of some description.
The XPS is frankly beautiful and that's backed up by an exceptional display. Full HD and 4K touchscreens are available, and I opted for the latter (yes, I did order and pay for this unit myself). The screen itself has a 16:10 aspect ratio, which I personally prefer for productivity, web browsing and more up against a standard widescreen display. This means that the '4K' screen actually delivers a 3840x2400 resolution, and it's HDR-capable too. Peak brightness apparently tops out at 400 nits, meaning that SDR can look a bit dim if you enable high dynamic range, but you do get a pretty convincing effect with HDR content.
Everything about the look and feel of the XPS 2-in-1 7390 is a home run, but my primary focus is the performance of Ice Lake. The idea of a quad-core Intel CPU in this small form factor is pretty compelling and if you pluck a benchmark out of thin air to get some kind of idea of what this thing can do, the results are very impressive. On a Cinebench R15 single-thread run, the Core i7 1065G7 seemingly outperforms a Core i7 4790K at stock speeds, and while it loses pace in multithreaded performance, 86 per cent of its performance level is an exceptional result for a thin-and-light notebook.
However, actually tapping into this performance level isn't as simple as I thought it would be. Out of the box, my Cinebench score was a mere 330 - just 46 per cent of the fully unlocked 773 score that impressed me so much. All-core turbo was limited to just 1.6GHz or thereabouts - and this presents a bit of a problem for me. I bought the XPS to replace a 2015 Retina MacBook Pro, which scores just a touch under the Ice Lake result, meaning that my apples-to-apples performance upgrade was initially far less than I expected. Unleashing Ice Lake's full power requires a trip to Dell's thermal management menu, swapping out the default 'optimised' setting for the delicious-sounding 'ultra performance'. The improvement to CPU power is remarkable, but as we shall discover, it comes at a cost.
| | Cinebench R15 1T | Cinebench R15 MT |
| --- | --- | --- |
| Core i7 1065G7 | 185 | 773 |
| Core i7 4790K | 181 | 894 |
But let's skip to the main event: can it run Crysis? Intel's new Iris Plus integrated graphics combines 64 execution units with 3733MHz LPDDR4X memory meaning that we get a potent iGPU solution with as much memory bandwidth as possible from today's laptop technology to deliver the best results. The only thing standing in our way is the fact that it's running in an ultra slim-and-light convertible form factor, meaning that thermal management will hold back the full potential of the silicon. But the fact is that the entire Crysis Trilogy does run at reasonable frame-rates, and as for 60fps? Well, two games out of three isn't bad.
In reverse order, Crysis 3 still mangles the very best of modern gaming hardware, but at its lower, more modest presets, it's surprisingly scalable. At 1440x900 with a 30fps cap engaged via Riva Tuner Statistics Server, I could run smoothly with high quality textures and medium settings. In fact, some of the advanced graphics presets could even shift to high quality with only minor fluctuations under the target frame-rate. But 60fps? It's a push, but it's doable, and it's remarkable to see it play out on an ultrabook. The XPS's 13-inch screen is tolerant to low resolutions and it did require setting up a custom 1024x640 resolution.
However, beyond the obvious reduction in image quality, the compromises are just too punishing. Running in ultra performance mode, the Ice Lake CPU pushes way beyond the capabilities of the cooling solutions and temperatures regularly sit in the 80 to 90 Celsius range, with one core even hitting 100c. Not good. In a warmer room, this translates into unwelcome performance drops, but the problem can be mitigated owing to a 48Hz support option for the display - presumably included for smooth 24fps media playback. At this point, engaging v-sync turns a 60fps target into a 48fps target and the XPS played nicely here, and still looked and felt far superior to a locked 30.
With these results in hand, I expected an easier ride with Crysis 2 and that's what I got. A game that was actually really well optimised in its day should run without too much in the way of issues on a brand new 2019 laptop, and that's exactly what happened. I mean, back in the day, 720p60 on Nvidia's classic GeForce 8800GT was doable, and to begin with, I found that 1920x1200 at 30fps was reasonably attainable, though 1440x900 is again the sweet spot. Again, as long as the ambient temperatures remained cool, 60fps was also attainable and sustainable: 1280x800 at high settings (remember that Crysis 2's high is essentially low!) did the trick and played beautifully. But in a warmer room, again, we lost some performance. In using ultra performance mode, there's the sense that you're on a knife edge - and I think a 30fps or 48fps cap may make a ton of sense on a lot of games - the silicon gets more breathing room and won't be pushed too hard.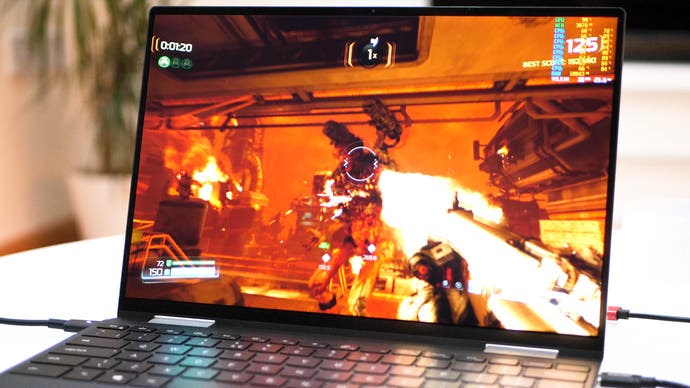 Buoyed with success on Crysis 2 and its sequel, I went into the original Crysis with some trepidation. Yes it will use four threads on a quad-core processor, it just won't do it particularly well. Crysis hails from an era where the developer bet the farm on CPU frequencies going higher, as opposed to spreading out workloads across more cores - something Crytek championed in its subsequent games. But I suspect that it's the reliance on a single core that makes getting a decent experience on the first Crysis such a challenge. 1920x1200 at medium settings at locked 30fps wasn't attainable - enemy encounters will trigger performance dips, stutter that played out even more blatantly when running the game at 1280x800 at a target 60fps. This game still looks amazing in places and seeing it play out on a low-power laptop is quite an experience - but the key difference here is that I had a lot of fun with Crysis 2 and 3 on the XPS, but the battle to get decent performance on the OG game didn't really pay off and I found the experience frustrating.
But looking across the three games, this is a great turn-out for an ultrabook running on integrated graphics. Beyond my Crysis fetish, I ran Destiny 2 at 1440x900 on medium settings at close to a locked 30fps, with the Witcher 3 at 720p/medium again at 30fps. This isn't high-end gaming, but as a value-added extra for an ultrabook designed for very different use-case scenarios, I thought it performed admirably. And it's the intended use-case scenarios that are the key here. From what I gather, ultrabooks aren't really designed for sustained processor utilisation. There's a thermal budget that allow for relatively high clocks, but only for a small period of time before the processor throttles back to the thermal limits of the surrounding design.
High intensity tasks like video encoding can be hived off to bespoke silicon within the SoC that performs a similar task at a fraction of the power budget. All of which may explain why my XPS would top out at just 1.6GHz on all cores out of the box. In ultra performance mode, I had a decent run of sustained activity at a highly impressive 3.3GHz, before dropping back to 3.0GHz, then later on down to 2.4GHz. And ultimately, that's why I realised that this machine wasn't for me and returned it.
Ashes of the Singularity CPU Test - RTX 2080 Ti eGPU
Crysis 3: Very High, SMAA T2X - RTX 2080 Ti eGPU
Gaming CPU tests on the external Thunderbolt 3 GPU chassis demonstrated the issue. I hooked up the Ice Lake CPU to an RTX 2080 Ti, allowing the new quad-core architecture to really stretch its legs. We've got some results below which really require looking at frame-rates and frame-times in context. Starting with the classic Ashes of the Singularity CPU test, we're looking at a multi-core focused test that initially sees the Core i7 1065G7 deliver performance very close to the Core i7 3770K and not too far off the 4790K, both running at stock speeds. However, the Ashes CPU test is three minutes long - and as the bench plays out, the disparity between Ice Lake and the other desktop chips becomes more and more apparent, presenting a big gap in performance by the time the sequence completes
Ashes is a massively multithreaded CPU bench, so I also tried something a little different - our classic Crysis 3 CPU bench, but this was carried out directly after running the Ashes test, so we can assume that the Ice Lake chip has had minimal time to cool down. Clocks drop accordingly and the 3770K and 4790K maintain a pretty consistent advantage - you get around 88 per cent of a 3770K's performance and 78 per cent of a 4790K. Core utilisation is less intense than Ashes, explaining the closer results. However, I'd be willing to bet that with a better cooling solution, the results would be closer still. And I do think we need to step back a little when viewing these results and remember that we're talking about an ultrabook 2-in-1 facing off against very power-hungry desktop CPUs, paired with far larger, more effective cooling solutions.
In short, real world gaming isn't really a good match for the way ultrabooks are designed to work - shorter, less sustained workloads will operate at higher clocks and provide a snappier experience while tasks that soak all cores will throttle back significantly. Engaging ultra performance mode unlocks more of Ice Lake's potential, but I did find that the constant battle between performance and thermal management could even result in some stutter in Windows 10, and the fan noise was not good at all. I pushed the Dell XPS 13 2-in-1 into very uncomfortable places, with workloads an ultrabook isn't really designed for, and understandably, it didn't really work out - but that's not the end of the Ice Lake story.
There's much more to come from Intel's new 10nm chip. Ice Lake notebooks with a 25W TDP are happening, notebooks with better coolers are coming, and even products that pair Ice Lake with discrete GPUs are en route. This is pretty cool actually, because it means that the CPU need to compete with GPU for bandwidth, opening the door to better performance. I'm eyeing the new Razer Blade Stealth as it combines a 25W Ice Lake i7 with GTX 1650 in a more traditional ultrabook chassis. That's not to say that the XPS is a write-off - far from it. With some careful tweaking, the XPS can produce very decent results on a range of games that an integrated graphics solution has, historically, had no business to run. As a nice bonus beyond its primary purpose, gaming on the XPS 13 can be fun but if you're after a fire-and-forget mobile gaming solution that requires little to no tweaking, other options are worth considering.