AMD cuts Radeon 5700 series graphics card prices two days before launch
Team Red's reaction to Nvidia Super: "We embrace competition."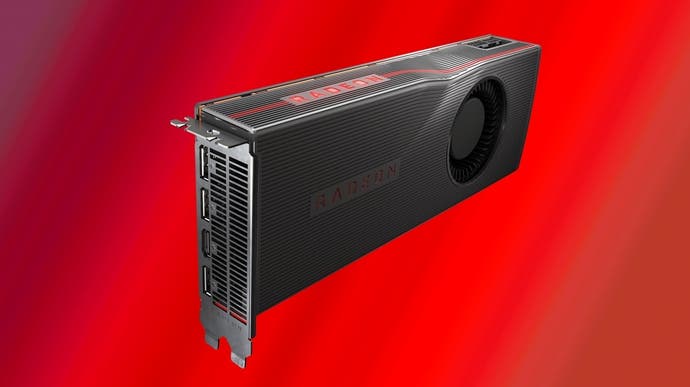 Two days before the launch of its long-awaited Navi graphics cards, AMD has announced a price drop for both of its new GPUs. The RX 5700 drops $30, from $379 to $349, while the RX 5700 XT becomes $50 cheaper, from $449 to $399. We expect similar reductions for UK and EU prices, but AMD hasn't revealed these yet.
"AMD is focused on providing gamers with amazing experiences and access to the very best gaming technology at attractive price points," Team Red says. "As you have seen, competition is heating up in the GPU market. We embrace competition, which drives innovation to the benefit of gamers. In that spirit, we are updating the pricing of our Radeon RX 5700 Series graphics cards."
Put simply: Nvidia brought forward reviews of its impressive RTX 2060 Super and RTX 2070 Super and AMD decided to cut prices in response. The $399 RTX 2060 Super and $499 2070 Super go on sale on July 9th, accompanied by a price cut to $349 for the existing RTX 2060, with the RTX 2080 Super to arrive later in the month. The new Super cards offer significantly better performance than the original RTX 2060 and 2070 cards, with RRPs close to Navi's old price-points. You can see how the price cuts affect the competitive landscape below - AMD is still pitching the RX 5700 against the older RTX 2060, while the RX 5700 XT takes on RTX 2060 Super.
AMD Radeon
Nvidia GeForce
Suggested Prices
Radeon RX 5700
RTX 2060 FE
$349
Radeon RX 5700 XT
RTX 2060 Super
$399
RTX 2070 FE (discontinued)
RTX 2070 Super
$499
Radeon 7
RTX 2080 FE
RTX 2080 Super (July 23rd)
$699
RTX 2080 Ti FE
$1199
With these new price brackets, AMD has been able to place its new graphics cards more competitively - the RX 5700 should be a faster performer than the RTX 2060 at $349, while the RX 5700 XT should move ahead of the RTX 2060 Super at $399. The RTX 2070 Super offers strong performance too, but it's $100 more than the XT. Of course, Nvidia has unique selling points of its own: the RTX cards ship with ray tracing acceleration, variable rate shading and other forward-looking technological features not found in the Navi architecture.
No shift on prices has been revealed for the existing Radeon 7, but the upcoming RTX 2080 Super should move comfortably ahead of that. AMD's top-end consumer card is already under pressure, with the RX 2070 Super just a few percentage points slower - while being $200 cheaper.
Interestingly, members of the /r/AMD subreddit have suggested that the pre-launch price drop was premeditated rather than a reaction to Nvidia's Super cards, pointing to a July 4th tweet (at 7:07 CEST) from AMD Radeon general manager Scott Herkelman:
Either way, in the wake of negative reaction to Navi's initial pricing, plus the strength of Nvidia's Super performance, this is clear a step in the right direction from AMD that may help the company regain some momentum and set the tone going into this all-important 7/7 launch window. We'll be polishing off our RX 5700/ 5700 XT review over the weekend, ready for the Sunday embargo - look out for it.