Project Athena detailed: Intel's ambitious push for laptop innovation
Here's the 2019 spec, plus info on Intel's unusual testing process.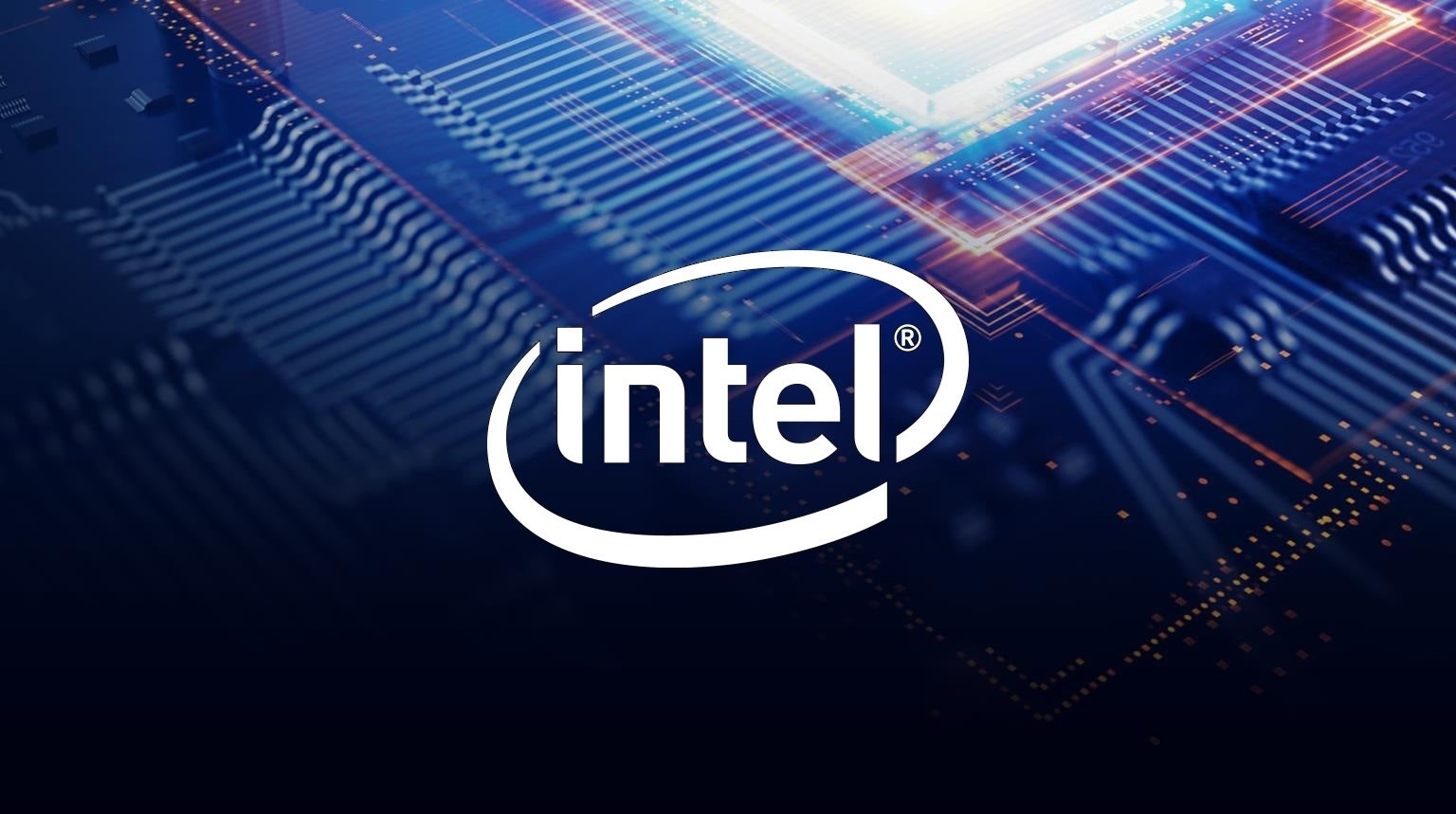 Intel formally unveiled its next-generation 10th-generation Ice Lake processors in Taiwan today, but its second announcement at the Computex trade show is arguably more important. Project Athena is a new take on the Ultrabook initiative of 2011, designed to push high-end laptop computers into new levels of performance, battery life and usability - as measured in real world conditions. Project Athena was first announced at CES earlier this year, but now we're getting the first real details about about how these laptops are graded, how standards will evolve over time and when the first models will be released.
First of all, it's worth mentioning how Project Athena works. Basically, Intel gives laptop makers a specification to hit and help from its engineers to get there, with the promise of putting their marketing might behind any laptops that make the grade. With Ultrabooks, the industry was able to put a convincing amount of performance into a very slim form factor, allowing Windows laptops to compete against the dominant MacBook Pro models of the era. Project Athena is intended to work similarly, but it has a broader mandate to improve the user experience.
That means that the Project Athena specification is complex. Rather than just requiring laptops of a certain thickness to hit a reasonable battery life target, the standard touches on areas like performance, responsiveness, AI, connectivity, design and security features too. Interestingly, it's also somewhat platform agnostic, and Intel plans to validate both Windows 10 and Chrome OS devices under the programme.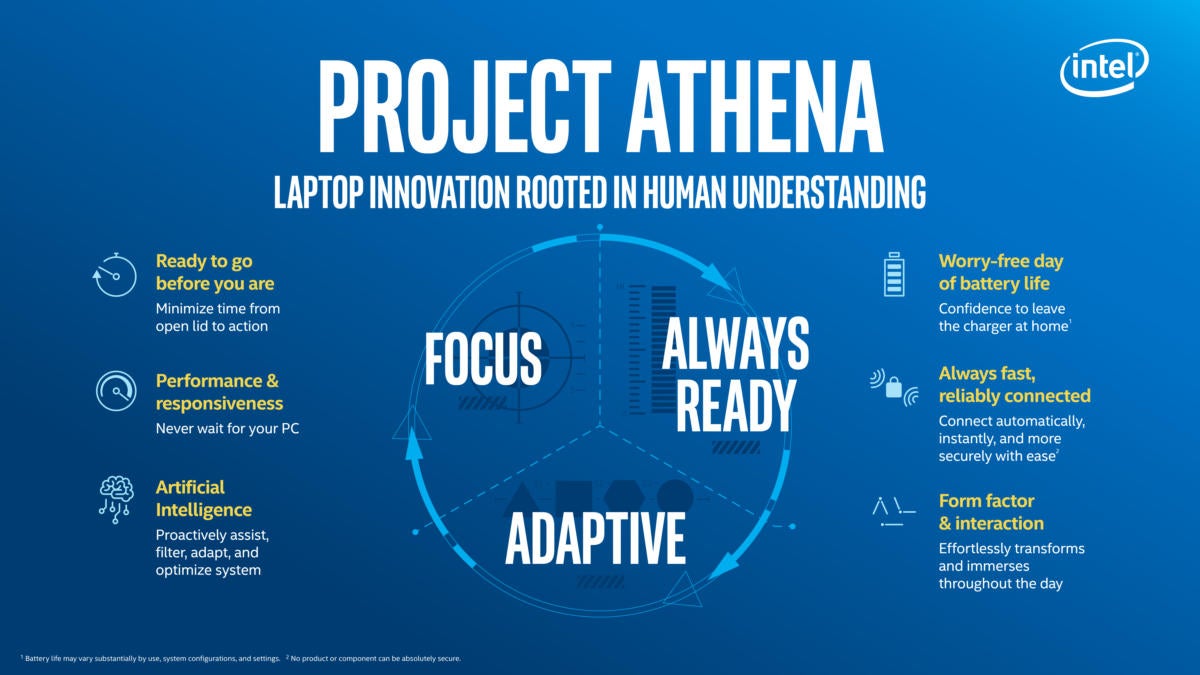 Intel carries out its testing in a novel way. Rather than judging battery life under ideal conditions - with nothing running in the background, brightness turned way down and a power-saving battery plan engaged - Intel tests laptops as they come from the manufacturer with default settings, the screen set to a healthy 250 nits of brightness, connected to Wi-Fi and all automatically started background apps running. Similarly, performance metrics are run with the machine unplugged from the wall, as Intel says this is when most users care most about responsiveness. If Intel sticks to its guns on this, battery life estimates promulgated by laptop makers could actually start to mean something - and they'll be incentivised from installing a lot of bloatware too.
So what exactly is required by the Project Athena specification? In terms of hardware, Intel is looking for a 10th-generation Core i5 or i7 processor, at least 8GB of dual-channel RAM and a 256GB or bigger NVMe solid state drive (with an option for an Intel Optane drive). These components should ensure 'consistent responsiveness on battery'. Thunderbolt 3 and Wi-Fi 6 Gig+ are also required, with an option for LTE or 5G connectivity on some models. Discrete graphics aren't required, with Intel preferring Project Athena laptops to use its surprisingly capable Iris Plus integrated graphics instead.
In terms of longevity, the 2019 spec demands 16 hours or more of local video playback and at least nine hours of wireless web browsing. Fast charging is also key, with a requirement to deliver four hours of battery life in 30 minutes of charging.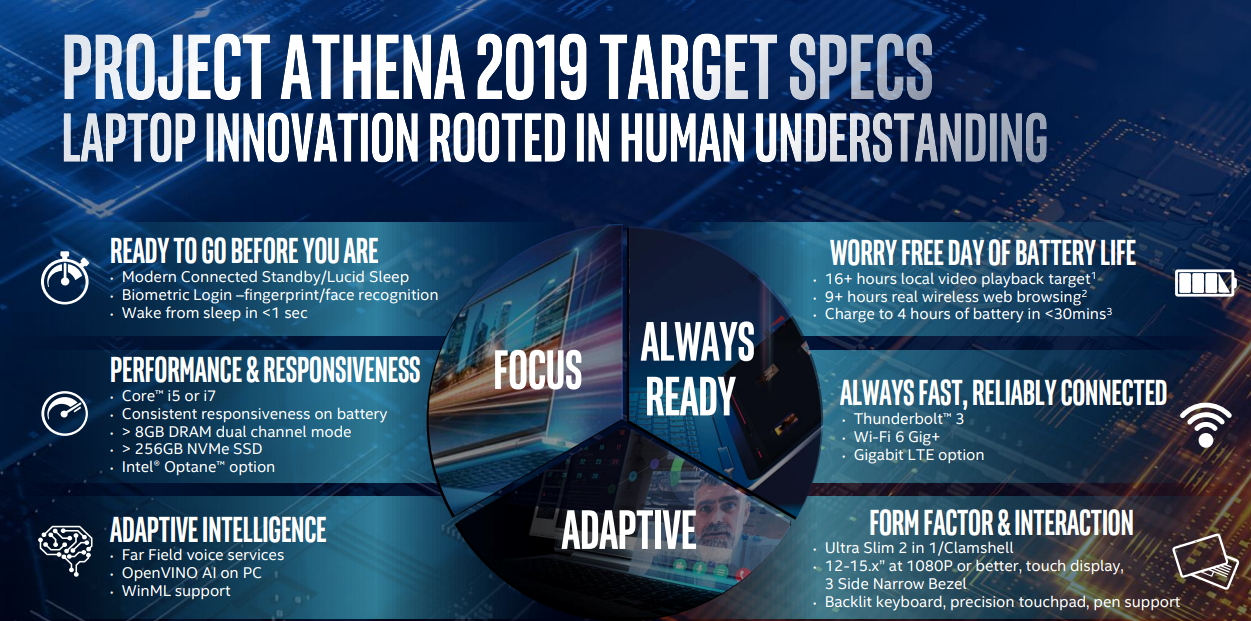 There are relatively few strict design requirements, but modern narrow-bezel displays and an ultra-slim 2-in-1 or clamshell form factor are mentioned. However, Intel executives did stress that they are open to novel form factors, like foldables, for future iterations of the Project Athena standard. Input options should be up to snuff too, with a backlit keyboard, precision touchpad and pen support all required by the standard.
The final piece of the puzzle are features, with Intel requiring Modern Connected Standby (called Lucid Sleep on Chrome OS), a biometric login option and the ability to wake from sleep in less than a second. AI features like Far Field voice services, WinML support and OpenVINO are also included; the latter two of which should add new capabilities to Project Athena machines like quickly de-blurring images or applying filters to videos.
Intel is working with major laptop manufacturers like HP, Dell and Asus to ensure their new products are able to reach Project Athena standards, with Intel engineers taking part in the design and testing process. Some parts of the standard are self-certified by manufacturers, with Intel engineers running a battery of tests to complete the certification process.
Running tests with background tasks and accessing live websites means that repeatability takes a hit, so to ensure each laptop gets a fair shake, testing looks at 80th percentile results after a large number of long runs are completed. For example, responsiveness tests include ten tasks in Microsoft Office 365, four browser page loads and a browser video load, while battery life tasks include live web browsing in Chrome and local HD video playback with Wi-Fi disabled at 150 nits (mimicking the conditions of an international flight).
During our briefing, Intel repeatedly emphasised that Athena is a multi-year mission that will be updated periodically, with the company intending to set tough but achievable goals for laptop makers to achieve each year. As well as existing requirements becoming more challenging, new metrics like gaming performance or 5G connectivity could be added in the future. Plans are being made for the next three to five years, so expect Project Athena to persist for at least that long.
And now for those all-important questions: how many Project Athena laptops are there and when will they be released? We don't have an exact release date from Intel or its partners, but the first models will arrive in time for the holiday season this year. There should be about a dozen devices that make the cut, but with testing still ongoing we won't know the exact count or which manufacturers are taking part until later this year. However, the initial Project Athena announcement included all of the big names you could think of: Acer, Asus, Dell, Google, HP, Lenovo, Microsoft, Samsung and Xiaomi. Most if not all of these devices will be high-end halo products, but there's room for budget and mid-range Project Athena laptops in the future.
Project Athena feels like a sensible iteration from Intel, and with a new focus on realistic testing, it could make a bigger difference to end users than even the Ultrabook programme achieved. Considered together with the improvements that Intel has made with their 10th-generation processors and 11th-generation integrated graphics, 2019 could be a very good year for laptops.
We attended a press event at Intel's San Jose offices to see Project Athena. Intel paid for travel, food and accommodation.
Will you support the Digital Foundry team?
Digital Foundry specialises in technical analysis of gaming hardware and software, using state-of-the-art capture systems and bespoke software to show you how well games and hardware run, visualising precisely what they're capable of. In order to show you what 4K gaming actually looks like we needed to build our own platform to supply high quality 4K video for offline viewing. So we did.
Our videos are multi-gigabyte files and we've chosen a high quality provider to ensure fast downloads. However, that bandwidth isn't free and so we charge a small monthly subscription fee of £4.50. We think it's a small price to pay for unlimited access to top-tier quality encodes of our content. Thank you.
Support Digital Foundry