Intel's Core i7 with Radeon RX Vega graphics: full specs revealed
A full gaming PC in a miniature chassis revealed with laptops to follow.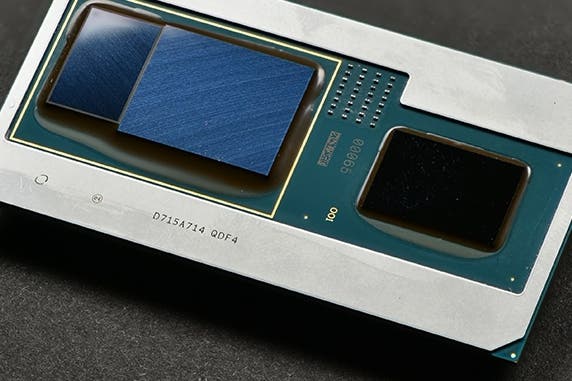 Intel has revealed full specifications and product details for its upcoming Core i7 G products shipping with Radeon RX Vega graphics - the fruits of an unprecedented collaboration between Chipzilla and its arch-rival, AMD. A total of five different SKUs are in the offing, with spec and power differentials that target a range of notebook segments and the desktop market. At the heart of each product is a quad-core Intel processor paired with RX Vega M graphics offering between 2.6 to 3.7 teraflops of peak GPU power, combined with 4GB of HBM2 memory.
While five different versions of the new product are arriving, they are all based on the same core silicon with CPU clock-speed tweaks and adjustments to the speed, compute unit complement and memory bandwidth of the Radeon GPU. 100W and 65W power envelopes are the main differentiating factors here, where we should expect the former to run on larger 17-inch notebooks and desktops, with the latter skewed towards smaller laptop designs. In the run-up to the official reveal, there has been speculation that Intel would offer socketed versions of these Core i7 G processors so users could build their own systems. However, everything revealed today uses a BGA set-up, meaning that the chips are soldered onto supplied mainboards in ready-made machines.
The CPU side of the equation features a four-core, eight-thread design, offering single-core speeds of up to 4.2GHz in the flagship Core i7 8809G. There are four i7s in the line-up and one i5, yet all retain hyper-threading, with the i5 cut back in terms of clocks and L3 cache only. Although dubbed as an eighth-gen Core product, DDR4 memory bandwidth on all processors is limited to 2400MHz - very similar to the seventh-gen Kaby Lake. Base and boost clocks have been revealed, but in line with recent Intel spec reveals, the all-important all-core turbo speed for each product remains unknown for now (and may explain the difference between the i7 8706G and the 8705G, which look identical otherwise).
While the CPU side of things is mostly a known quantity, it's the Radeon RX Vega aspect of the spec that proves most fascinating. As leaked benchmarks revealed a while back, the AMD semi-custom GPU offers 24 compute units in its top-end Radeon RX Vega M GH graphics configuration, with a peak 3.7 teraflops of power. Meanwhile, clocks are shaved on the 65W Vega M GL offerings, and the CU count drops to 20, reducing throughput to 2.6 teraflops. 4GB of HBM2 is supplied as standard on all versions, with a 12.5 per cent reduction in memory bandwidth on the GL versions.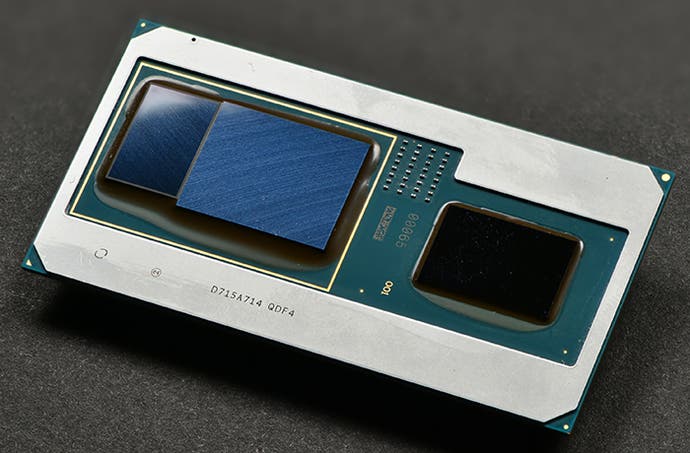 | | Core i7 8809G | Core i7 8709G | Core i7 8706G | Core i7 8705G | Core i3 8305G |
| --- | --- | --- | --- | --- | --- |
| Max Turbo | 4.2GHz | 4.1GHz | 4.1GHz | 4.1GHz | 3.8GHz |
| Base Clock | 3.1GHz | 3.1GHz | 3.1GHz | 3.1GHz | 2.8GHz |
| Cores/Threads | 4/8 | 4/8 | 4/8 | 4/8 | 4/8 |
| Cache | 8MB | 8MB | 8MB | 8MB | 6MB |
| Radeon Graphics | RX Vega M GH | RX Vega M GH | RX Vega M GL | RX Vega M GL | RX Vega M GL |
| CUs/Shaders | 24/1536 | 24/1536 | 20/1280 | 20/1280 | 20/1280 |
| Base/Boost GPU Clocks | 1063/1190MHz | 1063/1190MHz | 931/1011MHz | 931/1011MHz | 931/1011MHz |
| Peak Compute | Up to 3.7TF | Up to 3.7TF | Up to 2.6TF | Up to 2.6TF | Up to 2.6TF |
| ROPs | 64 | 64 | 32 | 32 | 32 |
| HBM2 Bandwidth | 204.8GB/s | 204.8GB/s | 179.2GBs/ | 179.2GBs/ | 179.2GBs/ |
| Target TDP | 100W | 100W | 65W | 65W | 65W |
In terms of comparison points, Intel reckons that the cut-down 65W Vega M GL models are 10 to 40 per cent faster than an i7 7700HQ paired with a GTX 1050, with the 100W Vega M GH SKUs about seven to 13 per cent faster than a Max-Q, laptop-orientated version of the GTX 1060. It's impressive on paper, but the suggestion here is that the more capable GH is effectively offering ballpark RX 470 performance with less memory bandwidth, a big reduction in compute power and a vast decrease in power consumption. There's little indication of how Intel has achieved this miracle, aside from mention of a dynamic power management system that offers performance increases or efficiency savings, but lacks detail on how this is actually achieved.
Intel does say that the more powerful GH part is validated for VR and mixed reality applications, which should - in theory - mean that we're getting a general level of performance in line with Radeon R9 290 and GeForce GTX 970, the entry-level spec requirement for VR gaming. The firm also says that the new offering is optimal for 1080p60 gaming, which again, brings us to a performance level in common with those older parts. This is something that only independent benchmarks will confirm.
In terms of real-world applications for the new processors, expect to see notebook reveals at CES imminently, but for now the focus is on the new eighth-gen NUC (Next Unit of Computing). This mini-desktop PC will be available with the 65W Core i7 8705G with Radeon Vega M GL graphics, along with the more interesting Core i7 8809G option. As well as featuring the full Vega M GH and a faster CPU, this more capable SKU allows for user overclocking for the processor, the HBM2 memory and the Radeon GPU.
Supporting Thunderbolt 3 over USB-C, Displayport 1.3, dual HDMI 2.0a outputs and even RGB lighting, the new NUC - codenamed Hades Canyon - looks like a fascinating product. Storage is taken care of via two M.2 SSD ports (with RAID NVMe support), while general system RAM supports up to 32GB via dual-channel DDR4. Measuring 221x142x39mm, in theory, we're looking at a 1080p60 games machine contained in a 1.2 litre form factor.
The big question concerns price. The multi-die, low profile set-up allows for much tighter integration, but the EMIB interconnect, multiple processors and expensive HBM2 memory isn't going to be cheap to produce, and price-points of $799 and $999 have been mooted - and that's before SODIMMs and SSDs are added to the mix. If the new Intel processors with Radeon graphics offer something new and exciting, the bottom line is that we should expect a price premium to accommodate that.
More to the point, we've got to wonder why this product is coming to market at all. We're talking about a massive investment in technology from Intel, along with what is going to be a complex licensing arrangement with AMD. On top of that, there's a maintenance aspect as well: Intel is talking about day zero game driver support for this product, which is a significant investment itself (Intel says it's taking care of the software here, but it would make sense to integrate AMD's Vega-specific game optimisations).
Intel has been known for creating specific, bespoke parts to service the needs of Apple - one of its closest partners, so perhaps there's more to the Eighth Gen Core/Vega M story than we know right now. Certainly, some aspects of the Radeon GPU spec are mysterious - specifically, pairing 24 compute units with 64 ROPs in a memory arrangement that means that those render back-ends will be mostly dormant.
Perhaps the groundwork is being laid here for Intel's upcoming discrete graphics solutions and a more aggressive approach to the gaming market, but regardless, in the here and now, the new processors are fascinating and we look forward to testing the NUC offering in particular, closer to its Spring 2018 release date.