Microsoft Classic Intellimouse review - now hardware is getting the remastering treatment
A 15-year-old design gets brand new innards - but can it compete with modern mice?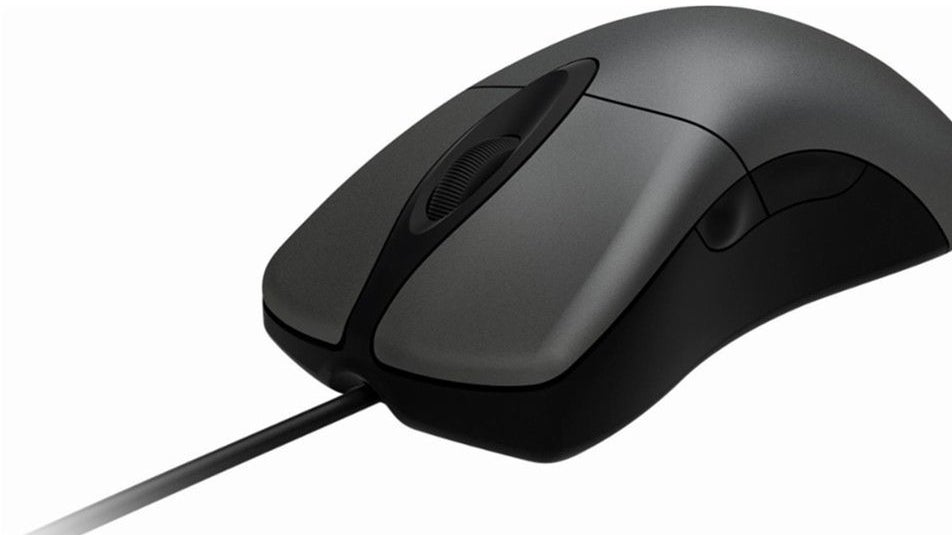 Microsoft just released the Classic Intellimouse, a thoroughly modern gaming mouse with a stylish white LED tail light and an advanced BlueTrack sensor that works on glass. However, some of you might notice that this 'new' mouse looks pretty familiar - and that's because the Classic is essentially a hardware 'remaster' of the 2003 Intellimouse Explorer 3.0.
Remaking hardware is arguably harder than remastering a classic game at a higher resolution, so it's generally reserved for only the most iconic products, like the Roland TR-808 drum machine or the IBM Model M keyboard. So, what makes the Intellimouse so special that it deserves to be remade 15 years after the fact?
When the original Intellimouse Explorer was released around the turn of the millennium, it was something of a revelation. Instead using a ball that needed constant cleaning, it had an optical sensor that guaranteed accurate tracking at all times. Instead of an awkward box or lozenge shape, it had an ergonomic design sculpted to your hand.
Its left and right mouse buttons had satisfying clicky and durable Omron switches, its side buttons made navigating the web easier and its scroll wheel had discrete steps that made it easy to go through long documents. The Intellimouse even looked cool, with an eye-catching red tail light that made it immediately recognisable among a sea of dirty beige computers and peripherals.
Solid performance, advanced features and cool looks made the Intellimouse a big hit. Office users loved the extra buttons and dependable scroll wheel, while gamers loved the precise optical sensor and comfortable shape. In 2003, Microsoft followed-up the original Intellimouse Optical with an even better version, the Intellimouse Explorer 3.0, and sold tons of them. Even now, fifteen years later, original Intellimouse models are still prized by collectors, with surviving examples costing upwards of $100 in online auctions.
As well as selling well, the Intellimouse also proved to be an influential piece of design. The ergonomic shape influenced many later mice, particularly gaming-focused models. The Razer Deathadder, Steelseries Rival, Zowie EC2-A and many others owe their streamlined designs to the trailblazing Intellimouse.
Other Intellimouse features have also gone mainstream. Optical sensors with minimal acceleration or other processing used at low dpi settings have become ever-popular in this era of esports, although laser mice did enjoy a surge of popularity in the late 2000s and remain a viable alternative. Similarly, back and forward buttons are now commonplace on all but the cheapest gaming rodents, and wired connectivity remains the most popular option - despite a late challenge from low-latency, wirelessly recharged mice from Logitech and others.
While the Intellimouse Explorer is a very old mouse indeed, its design and features are much closer to modern mice than its contemporaries. That meant that Microsoft didn't need to make many major changes in designing the new Classic Intellimouse, with the lion's share of the 'remastering' occurring inside.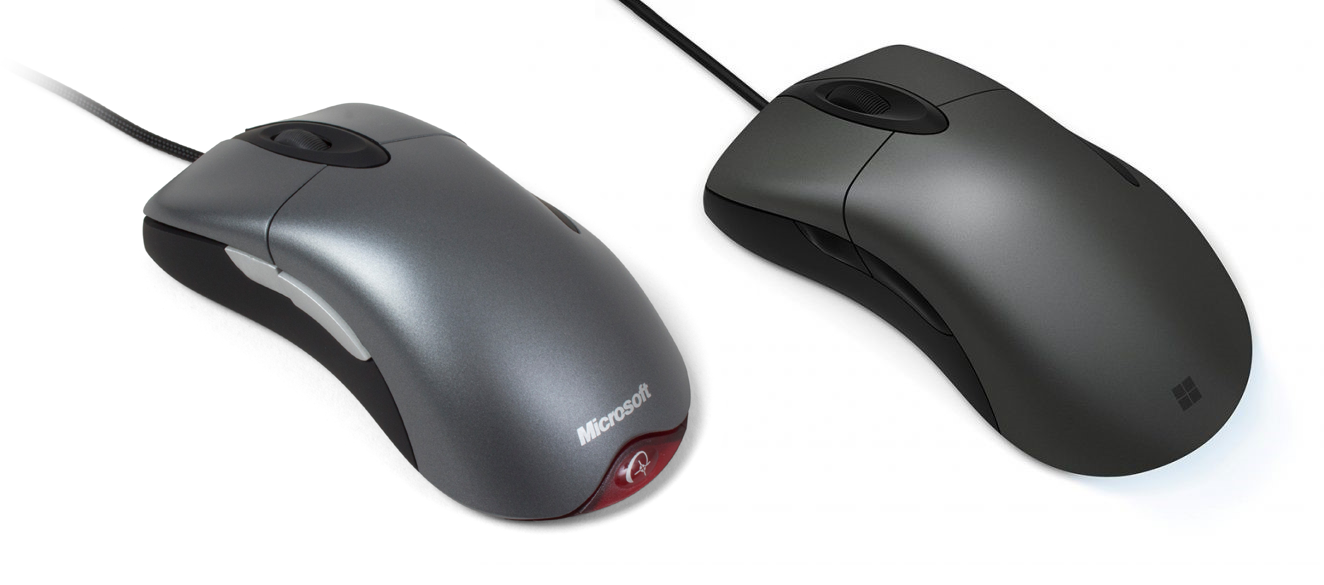 The Classic's body is almost exactly the same size and shape as its predecessor, with a comfortable 69mm span that should suit most hands. There are some cosmetic changes that bring the mouse into the modern era though, with cleaner lines and a simpler industrial design than its predecessor. The distinctive red tail light of the original mice has been also been updated, with a white diffuse glow that disappears when the mouse is lifted.
The buttons of the mouse have thankfully remained intact, with the same 70-gram Omron switches on the Classic as on the 2003 model. The scroll wheel remains a highlight, with discrete steps that provide more tactile and aural feedback than most gaming mice on the market. However, it doesn't compare to the utility of Logitech's dual-mode designs, which allow you to swap instantly between a stepped and smooth-spinning scroll wheel.
The mouse has two buttons on the left-hand side, like the Intellimouse Explorer 3.0 rather than the one-per-side design of the original Explorer. The bump on the smaller side button makes it easy to find by touch, and both side buttons use long-lasting Kailh switches. However, while the shell and buttons remain almost identical 15 years on, the all-important sensor and logic board have been replaced with entirely new components in the Classic.
The legendary MLT04 400dpi sensor from the original Intellimouse models is replaced with a Pixart PAW3808EK BlueTrack sensor, configurable between 400 and 3200dpi. This new sensor doesn't have a perfect reputation - some early users reported tracking issues during fast flicks at low dpi settings - but I didn't experience any issues in my own two weeks of games testing at 400dpi. Switching off between the Classic Intellimouse and a SteelSeries Rival 600, I didn't notice any difference in accuracy for tracking and flicks alike.
The Classic's sensor also works on glass and other tricky surfaces, something the earlier Intellimouse wasn't capable of. It also supports a 1000Hz polling rate, which previously required manual overclocking to achieve. These internal changes may not tempt OG Intellimouse fans, but they do make the mouse much more palatable to a modern audience.
Microsoft's device design director, Simon Dearsley, had this to say about the choice of sensor:
"We've tried to balance the tracking performance of the BlueTrack sensor across gaming, office and CAD applications for this generation of the Classic Intellimouse. A high performance sensor optimized for gaming would solve some of these very gaming specific scenarios, but would compromise others. We think the balance that we've struck with the Classic Intellimouse lets us create a great all round mouse at a very affordable pricepoint."

The Classic's software experience is also comprehensive, with the ability to remap buttons to macros, Windows shortcuts or even game-specific moves (like a quick 180-degree turn or a low-sensitivity 'sniper' mode) on a per-game basis. However, if you don't wish to configure the mouse's button assignments or dpi settings, the Classic will work just fine out of the box.
Thanks to Microsoft's internal upgrades and the return of its long-favoured design, the Classic contends well with better-known gaming mice at its £40 ($40) price point like the SteelSeries Rival 100, Razer Deathadder or Logitech G402. It also stands out by virtue of its minimalist design, given the current trend towards over-the-top RGB gaming peripherals. While some might prefer a wireless model or a more mainstream optical sensor offered by these gaming brands, the Classic proves that the original Intellimouse was ahead of its time and that the core fundamentals still hold up, integrating well with more advanced innards.
Another reason that the Intellimouse was remastered may be because it was special to Microsoft as a company. It was released in an era where rapid technological development and a nascent gaming industry created some of the best PC franchises and Microsoft played a very active role: creating Windows, operating game studios and developing peripherals like the Intellimouse. Sadly, that closeness was lost when Microsoft shifted their focus to the Xbox and saddled PC gamers with the disastrous Games For Windows programme. The relationship between Microsoft and PC gamers has been strained ever since, not helped by more recent Windows Store issues which range from corrupted downloads to inept curation.
With that in mind, the remastered Classic Intellimouse could almost be viewed as something like an olive branch to the PC gaming community - and if Microsoft is sincere about its PC gaming focus, this could be the start of something special.
Will you support the Digital Foundry team?
Digital Foundry specialises in technical analysis of gaming hardware and software, using state-of-the-art capture systems and bespoke software to show you how well games and hardware run, visualising precisely what they're capable of. In order to show you what 4K gaming actually looks like we needed to build our own platform to supply high quality 4K video for offline viewing. So we did.
Our videos are multi-gigabyte files and we've chosen a high quality provider to ensure fast downloads. However, that bandwidth isn't free and so we charge a small monthly subscription fee of £4.50. We think it's a small price to pay for unlimited access to top-tier quality encodes of our content. Thank you.
Support Digital Foundry