How to triple your Switch battery life for under £20
The best value, biggest capacity and smallest USB portable chargers tested.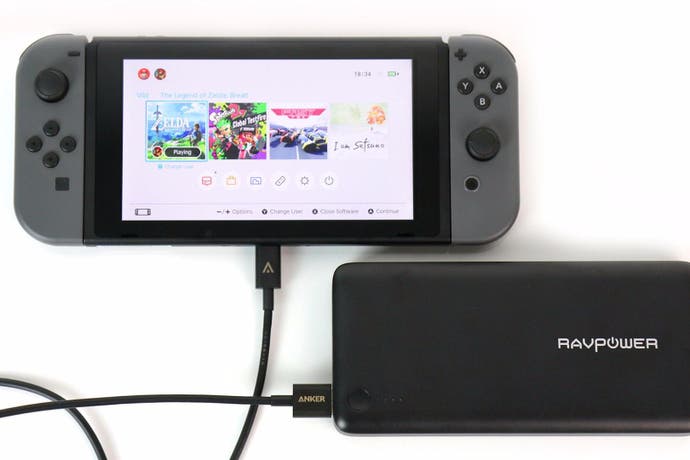 It may be the most powerful gaming handheld ever made, but Switch's peak battery life of three hours while running Zelda Breath of the Wild - or two hours 37 minutes at maximum brightness - is the price we pay for this level of fidelity. Thankfully, there are plenty of inexpensive options for extending a play session on the go. Nintendo's use of the USB-C standard opens the door to a range of external batteries, where even a £19 power costing can triple your overall game time.
In our Nintendo Switch hardware review, we tried a cheap GYMLE portable charger rated at 10,000mAh, but found gameplay in Zelda extended only by four hours, 13 minutes at max brightness. Conversion efficiency isn't great on this model, but it's an example of how expectations need to be managed when it comes to claims about battery capacity. Virtually all mobile devices use 5v, whereas portable charger ratings are based on just 3.7v. The bottom line is this: if you get 70 per cent of the advertised capacity, you're doing well.
The GYMLE results still fell short and we believed that we could do much better - and we have, across a trio of use-case scenarios. We targeted three specific categories: the smallest and lightest power bank, the best value in terms of battery life vs cost and finally, the maximum battery life we could get from a product that still offered reasonable value - we set a maximum price of £50 here.
In order to ensure consistent testing across all three products, we played The Legend of Zelda: Breath of the Wild at max brightness with 50 per cent volume and with WiFi enabled. Time will tell if more demanding games arrive that push battery life more comprehensively, but as this is the game of the moment, with longevity in line with Nintendo's own estimates, we thought it the best subject for our tests. We automated the test to a certain degree, moving to the same spot on the cliffs outside the Temple of Resurrection. Here, to avoid automatic screen dimming when the console is left idle, we pan the camera around slowly, using a wire to tilt the Switch's right analogue stick.
While docked, Switch hits a peak power draw of 16 watts during this opening cliff-side scene, so we can assume power draw is also at a high point in its 720p handheld mode. Elsewhere, you may get longer battery life in less complex areas, like shrines - but our tests show this as a more typical scenario for draining the battery. So let's begin our recommendations.
The best 'small and light' portable charger: Anker Powercore 10,000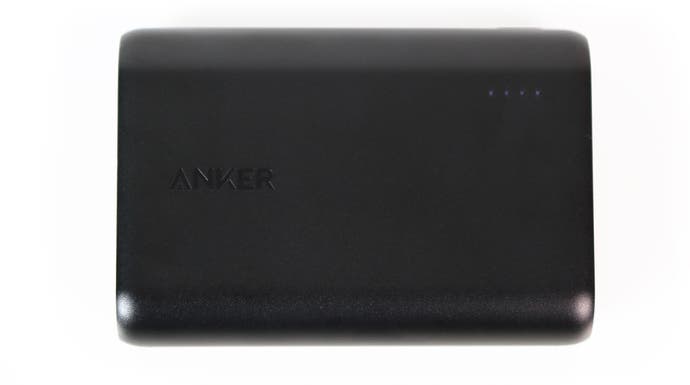 Capacity: 10,000mAh/36Wh
Dimensions: 9.2 x 6.0 x 2.2cm
Weight: 180g
Input: MicroUSB (5V/2A)
Output: USB (5V/2.5A)
A quality brand, and a remarkably small piece of kit. The Anker Powercore 10,000 is a more practical portable solution, with its length and breadth at credit card dimensions and a depth of just 2cm. Despite these slight dimensions, it's still rated at 10,000mAh and weighs in at 180g. If you're looking for a charger that offers reasonable battery life in a tiny form-factor, this is a clear recommendation at £20/$24. Connectivity is a weak point: it's limited to just a standard USB rated at 2.5amps for output, though for the purposes of charging Switch, this more than does the job.
Despite having the same storage capacity as the GYLME unit we tested, longevity is way, way ahead in practise. In Zelda, we're looking at precisely five hours of extra Switch gameplay at max brightness. This is the time it takes before the Anker's LEDs blinker out, at which point the handheld's integrated 4310mAh battery kicks in - where of course you're entitled to another three hours of play. As a maximum brightness test, at 50 per cent volume and with WiFi enabled, it's a very decent showing for plane flights.
The Anker can be pushed to even better results on 50 per cent brightness. Keeping WiFi enabled, simply dimming the screen to the halfway point gets us to five hours fifty minutes. In short, keep your display brightness in check and you're looking at a total of nine hours' play. Overall it's a solid fit for a highly convenient way to extend your Switch play time: it works as a pocket-sized backup, and crucially, has enough amperage to charge the device while also playing intensive games. However, if you have more space to spare and don't mind a bit more weight, there are other options you may like to consider.
The best value portable charger: Lumsing Glory P2 Plus 15,000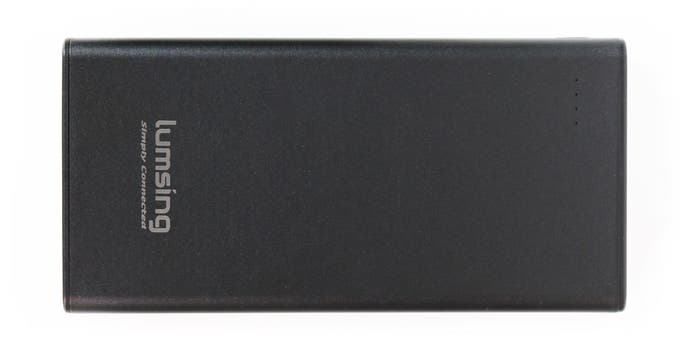 Capacity: 15,000mAh/75Wh
Dimensions: 15.8 x 7.8 x 2.0cm
Weight: 354g
Input: MicroUSB 5V/2.1A
Outputs: Smart USB (5V/2.4A), Quick Charge USB 2.0/3.0 (5V 3.1A, 12V 1.5A), USB Type-C (5V 2.1A)
A popular option online, the Lumsing model is a large 15,000mAh power bank that costs less than the Anker, costing £19/$22. At almost double the length of the Anker though, and with a 354g weight that exceeds the Switch itself, this one is clearly meant for the longer trip. In terms of sheer value on paper, it hits a sweet spot between price and capacity, though we went in skeptical that it could truly give out 50 per cent more battery life (spoiler: it can't). The ability to charge three devices at once is a big plus here at least, and with options for up to 3.1amps via the Quick Charge USB 3.0 port too, it doubles up well for mobile phone use.
Looking at its performance with Switch, once again using our Zelda stress test at max brightness, the result comes in at six hours, 20 minutes for the Lumsing. Despite the larger 15,000mAh capacity, the disappointment here is it's only 25 per cent more than the Anker Powercore's results at 10,000mAh. The turnout isn't bad given it's marginally cheaper than the Anker anyway, and in this sense, still represents the best value power bank for minutes per pound/dollar.
Backing that up is the fact a medium brightness test comes in at seven hours 22 minutes. Add the Switch's own battery life to that and you're looking at an excess of ten hours overall - arguably longer than you'll realistically need. The trade-off here is in the size and weight, where the Lumsing is a considerably bulkier unit to carry around. In fact, it comes closer to the larger capacity RavPower 26,800 power bank in size, an option we cover below. At the very least, the Lumsing's range of outputs gives it impressive flexibility for the price, including a USB-C and two regular USBs - and of course, it pushes a strong battery life given its low cost too. All told, an easy pick for the value category.
The best high capacity portable charger: RAVPower 26,800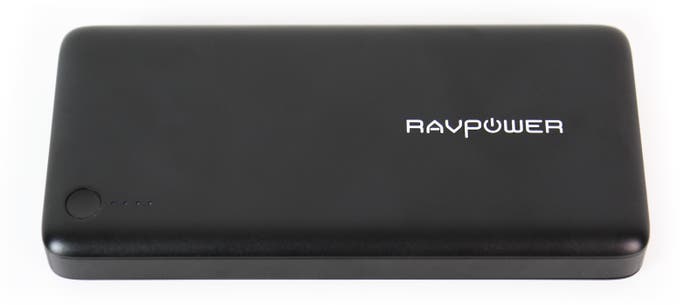 Capacity: 26800mAh/99Wh
Dimensions: 17.3 x 8.1 x 2.3cm
Weight: 456g
Input: MicroUSB (5V/2A), USB Type C (5V/3A)
Output: Smart USB (5V/2.4A), USB Type C(5V/3A)
Going all out for the longest battery life possible for reasonable money, we have the RavPower 26,800mAh portable battery. It's one of the largest power banks available, and despite being almost double the capacity of the Lumsing 15,000, it's only longer by just over a centimetre. The big differentiator for the RavPower is its price: at £36/$50 you're paying a premium in order to have a no-compromise solution to recharging the Switch on the go. The good news? Battery life tests show this larger capacity battery actually does translate to far longer Switch playing times.
From this external battery alone you'll get 10 hours and 20 minutes on max brightness, again with volume at 50 per cent and WiFi enabled. Meanwhile, a medium brightness test puts the RAVPower at 12 hours total - again without even starting to leech off the Switch's own battery. Short of a trip to Australia, it's unlikely you'll ever need an external battery with this much juice. As long as you're happy to carry an extra 456 gram brick, this gives the Nintendo's handheld all the power it'll need on the move, and then some.
Much like the competition at the moment, the RAVPower 26800 offers a USB-C connector, in this case able to both charge and output power. Unlike the Lumsing however, we're limited to a lesser two outputs to charge simultaneously (at a peak 2.4 amps each), though for most uses this will be plenty. It's easily the most comprehensive solution to charging the Switch, and suitably takes the top spot as the highest capacity power bank out there - though you do pay almost double the price of the Anker and Lumsing for that convenience.
Power banks head-to-head and battery life tips
Overall, the results here are much more encouraging than the GMYLE we tested at the handheld's launch. For our uses, the Anker Powerbank 10,000 stands out as the most practical option given its size, while being no slouch in battery performance. The low price of the Lumsing Glory P2 Plus makes it a tough one to beat at just under £20 though, and of course, the RavPower 26,800 model takes a deserved award for longest lifespan. For all three, while efficiency is always lower than what's stated, the reality of practical play time is still very good.
A few points bear mention, ahead of buying a power bank for the Switch. Firstly, you don't need a USB-C port on the external battery itself to make this work. A regular USB port with 2.1 amps output minimum will do the job, though much less is likely to not charge as the Switch as fast as it depletes. Additionally, you will need to buy a USB-C to regular USB cable separately in most cases - the RavPower is the only power bank here to include this. Alternatively, a straight USB-C to USB-C cable will obviously do the job too. Typically, when you pay a portable charger, you'll only get a micro-USB cable to recharge the power bank, but no way to interface with the Switch itself. Fortunately, if you've bought a Switch Pro controller, you get a perfectly serviceable cable in the box - though otherwise it's a small extra expense.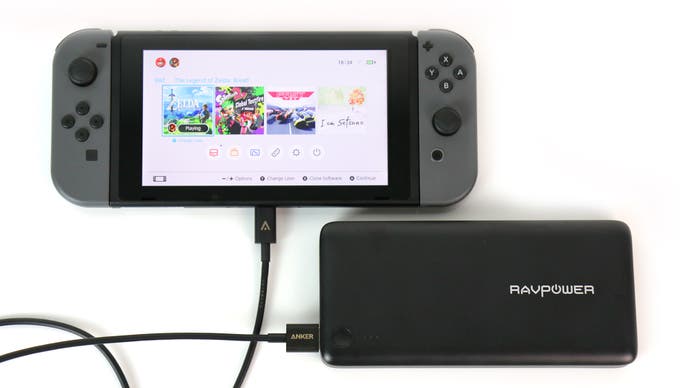 | | Switch Battery | Anker P'core 10,000 | Lumsing Glory P2 15,000 | RavPower 26,800 |
| --- | --- | --- | --- | --- |
| 50% Brightness, 50% Volume, WiFi Enabled | 3:03 | +5:49 | +7:22 | +12:02 |
| 100% Brightness, 50% Volume, WiFi Enabled | 2:37 | +5:00 | +6:20 | +10:20 |
Another question to answer: can these power banks recharge Switch while being drained, even if very slowly? We're happy to say the Anker, Lumsing, and the RavPower here don't just break even on the battery usage needed to run Zelda, but exceed it. So for example, if the Switch is at 50 per cent battery, all of these power banks will very slowly increase charge on the console while connected. Even in intensive areas, they supply enough power to run the game, and gradually top up the battery.
Provided you're running from a minimum of a 2.1A USB port as mentioned, there's enough throughput to achieve this, though expect the charge to be very slow while playing. That said, this is proportionate to rendering load; Switch's battery percentage rises faster in Zelda's less demanding interior areas for example, like shrines. So yes, all power banks here not only keep the hardware juiced, but there's a surplus of power that means they recharge the console while playing.
In terms of extending battery life as much as possible, there's not much the user can do aside from playing a less demanding title or adjusting the screen brightness. On the latter point, we can offer the following statistic - turning the Switch display's brightness down from maximum to 50 per cent offers up a 16.6 per cent increase in battery life. However, beyond that, the law of diminishing returns kicks in. Playing Switch with the display set to minimum brightness only increases play time by 17.8 per cent. That's a scant three-minute gain on the Switch's internal battery life.
Overall, while Switch's base battery life is best described as adequate, it's good to know that there are a range of third party offerings available that can effectively solve the portable play time issue. Our initial tests with the GYMLE may have proved unimpressive, but power banks like the Anker, Lumsing and RavPower clearly deliver the goods. All have unique pros and cons, but in each case they succeed in squeezing an impressive lifespan on the move while playing a demanding Switch title. Just remember to keep your external charger topped up - one thing that's common to every power bank we tested was the extended time needed to recharge them.