How does Tekken 7 scale across PS4, Xbox One and PC?
And what's in it for PS4 Pro owners?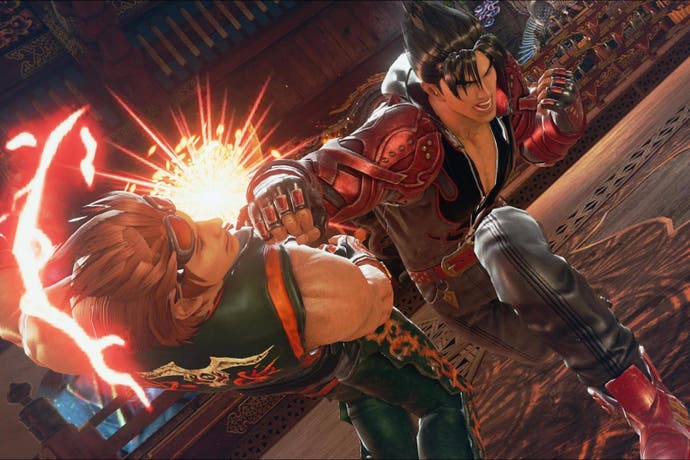 Tekken 7 launched yesterday, though it's worth stressing its original debut was in 2015, on Namco's PC-based System ES3 arcade board in Japan. It demonstrated very quickly the successes of moving away from the Tekken series' proprietary engine, this time daring to make the shift to the increasingly popular Unreal Engine 4. In the years between, tweaks to visuals and gameplay have stacked up, and what we have now with the PS4, PC and Xbox One is the most up-to-date iteration of the game yet - albeit with sizeable graphical differences between them.
Namco's move to Unreal Engine is hardly unprecedented. In this generation, it's seen a huge rise in interest from Japanese developers, particularly in fighting games. Tekken 7 joins the likes of Street Fighter 5, another title that uses its advanced shader toolset, post-effects pipeline, and physics on character hair and clothes. Impressively, even recent Unreal Engine 3 fighters turn in entirely different results using related technology - from the cel-shaded style of Guilty Gear Xrd, to Injustice 2 with its push for realistic facial animations. But whether it's Unreal Engine 3 or 4, clearly that flexibility attracts attention from developers. Just as crucially though, all four fighters have one major thing in common: a successful lock at 60 frames per second.
The move to UE4 opens the door to cutting edge visuals in Tekken 7, and the very latest physically-based rendering techniques. Series staples like Kazuya and Heihachi get a clear mark-up in shader complexity for skin and clothes. Intro sequences and the new Rage Art moves also use Unreal 4's bokeh depth of field and bloom - adding spectacle to cutscenes, though dialled back for gameplay. Most obviously though, hit impacts between characters now produce an excess of effects we just didn't have before. We've come a long way from the low resolution alpha - small puffs of fire - used in Tekken Tag 2 or Tekken 6. Now a hit produces an maelstrom of different effects - particles, shaders and flat textures. And simply put, a lot more of them.
Which brings us back to the big question; which version of Tekken 7 looks best? Well, the main dividing point is resolution, where further pixel counts have confirmed a 1536x864 - lower than the 900p we initially reported. Now for context, 864p is only really a four per cent drop on each axis from 900p, so it's not a huge downgrade from that standard. Even so the end result is still scaled, producing a blurrier image than say, Street Fighter 5's full 1080p on the same hardware. It's at least aided by anti-aliasing, equivalent to the high preset used on PC, to leave a usually clean image - but it's fair to say treatment isn't consistent, with some edges still showing stair-step artefacts. Thankfully, this dip in resolution does at least provide that all-important 60fps lock for Sony's base hardware.
For those looking for a true full HD release, PS4 Pro delivers the goods, handing in 1080p plus improved effects work from the range of presets otherwise only available to PC owners. Texture filtering is upgraded across the board, but it also appears that Tekken 7 can adjust the quality of its post-process pipeline dynamically in order to keep its 60fps lock. We noticed improved lighting in like-for-like scenarios captured on base and then Pro, for example. But curiously, when we switch to an online match, capturing both PS4 and Pro in the same game, the enhancements disappear - you get exactly the same presentation.
Having a dynamic setup in place makes any firm comparison between versions tricky. But one thing is certain: on the console front, PS4 Pro taps into higher quality texture filtering and post-effects where and when it can, while PS4 is otherwise identical to it in most other respects - though running at 864p. In motion, it's only really the resolution differential that sticks out, but evidently, PS4 Pro is pushing better effects whenever it can afford it. And what's more, once again you still get a solid 60fps line all the way through battle.
Xbox One proves to be the most fascinating version of all. It's at the back of the pack in terms of resolution, operating at just 1280x720. It's a clear cut-back from the PS4, though at least with the same anti-aliasing method. Now we've seen 720p games on the machine before, but it's not too often we also see a reduction in effects as well. Compared to a regular PS4, Xbox One pares back texture filtering quite visibly, though again it's worth stressing the textures are present on Xbox One if you move closer to the area in question.
But a more major cutback is in post-effects. While shadow quality and most other settings are identical to PS4 and Pro, the fact is that ambient occlusion is radically stripped back on Xbox One - almost to invisibility in some cases. This goes for both cutscenes and gameplay, leaving Xbox One missing a key visual feature present on all other platforms. Microsoft's machine also completely drops bokeh depth of field. Now, unlike ambient occlusion, this post effect is only used during cutscenes before a match, and during Rage Arts. Fortunately, this doesn't affect gameplay, and clearly all these decisions are made to keep Xbox One tightly locked at 60fps. But on top of the 720p presentation it's a harsh turnout for this version. There are also small compromises in cutscenes and Rage Arts sequences, where Namco adjusts to an adaptive v-sync, with visible screen-tearing as a result - though gameplay is locked.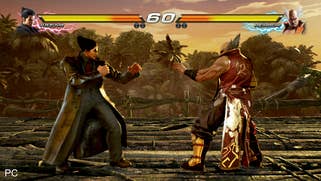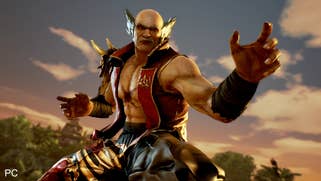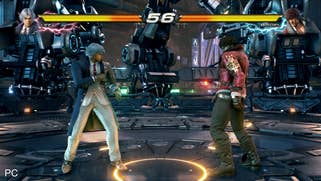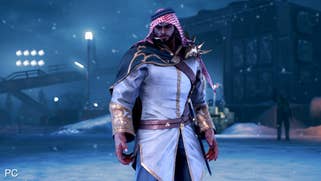 There are no such worries with the PC game, where GTX 970 and GTX 1060 can run this game at max settings at 1080p. You can even push this card to 1440p, but cutscenes start dropping frames to 40fps - and the only way to hold that resolution is to toggle on the dynamic settings option, which automatically pares back visuals based on load. We cut dynamic settings off for our tests, but in general gameplay we'd recommend turning it on. Even for 1080p users, you may get more satisfying results overall by downscaling from 1440p. As things stand, PC's key advantages are, again, focused primarily on better texture filtering and enhanced post-processing, just like PS4 Pro.
It's worth noting that ultra-level post-processing may actually be worth skipping. You get a nice enhanced bloom effect on ultra, but you are also given a chromatic aberration filter stacked on top of the other effects, essentially distorting the edges of the screen. It's overkill and overlaps the characters themselves, causing an ugly blur across the action. Our advice? Keep post-processing on high for a clearer image all-round.
The final big advantage to PC is in loading times. Tekken 7's move to Unreal Engine 4 has had a nasty side-effect on loading, and even switching between menu options incurs a few seconds wait. It's frustrating to navigate the front end as a result, but actually loading into a match is a real test of patience on console.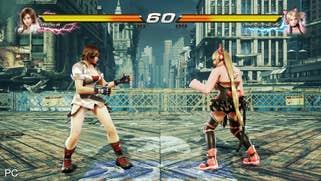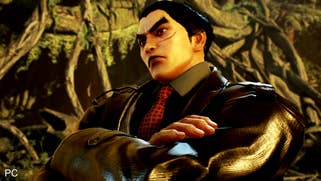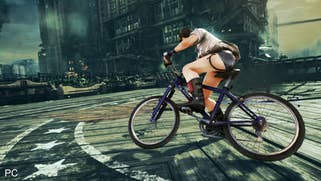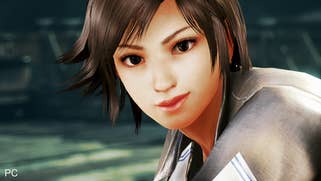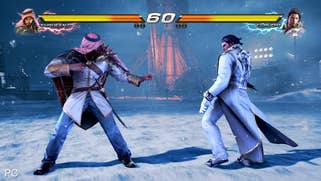 Using versus mode to load into the Jungle Outpost stage, the outcome is predictably in PC's favour, but not by as much as you'd think bearing in mind we were using an SSD. At 15 seconds, it's a decent saving over the 21 we get on PS4, which surprisingly comes ahead of PS4 Pro's 24 second wait in this case. But it's Xbox One that's especially shocking - at almost double the wait of either Sony machine, at 40 seconds. Really, none of this is helped by stuttering on the loading screen animations as you wait. It detracts from the polish of the package, and even on PC, waiting this long just to get into a fight is surprising.
Taken as a whole, Tekken 7 is an ambitious revamp of the Tekken series. However, it does have a few shortfalls. Across all consoles, resolutions are much lower than we've come to expect for a fighting game - especially next to the likes of Injustice 2 or Street Fighter 5, which run at 1080p on PS4. In its favour though is the push for more effects, physics and a heavier post-process pipeline than Tekken 6, and an aesthetic push towards something different; a grittier, more cinematic take on Namco's universe.
Visual differences aside, every version is still hugely playable. Even with the glaring cutbacks on Xbox One, Namco 100 per cent makes the right call by honing in on 60fps for every platform. And there is a fascinating wrinkle here - Xbox One may have a crucial input lag advantage over PS4. To be clear, for a 60fps title, it's rather high on all systems, but noted latency analyst Nigel Woodall pegs PS4 Tekken 7 input lag (tested at both 720p and 1080p output) at 120ms, while Xbox One is 104ms - one frame faster, essentially. Results can vary, but based on Nigel's video evidence, it certainly looks like an overall faster response from the Microsoft platform. PC results are to follow and should prove fascinating.
But as things stand, Tekken 7 is a beautiful fighting that scales relatively well across the range of available platforms. Equally it's great to see a fully featured PC version available at launch, deploying the full force of Unreal Engine while retaining a console-level dynamic settings management system. The gameplay experience is solid on all systems, but PS4 offers significant visual upgrades over Xbox One, while Pro adds resolution and filtering enhancements. For those looking for the most visually rich Tekken 7 experience? PC is the way to go.