Sony Platinum Wireless Headset review
A new dimension in gaming surround sound?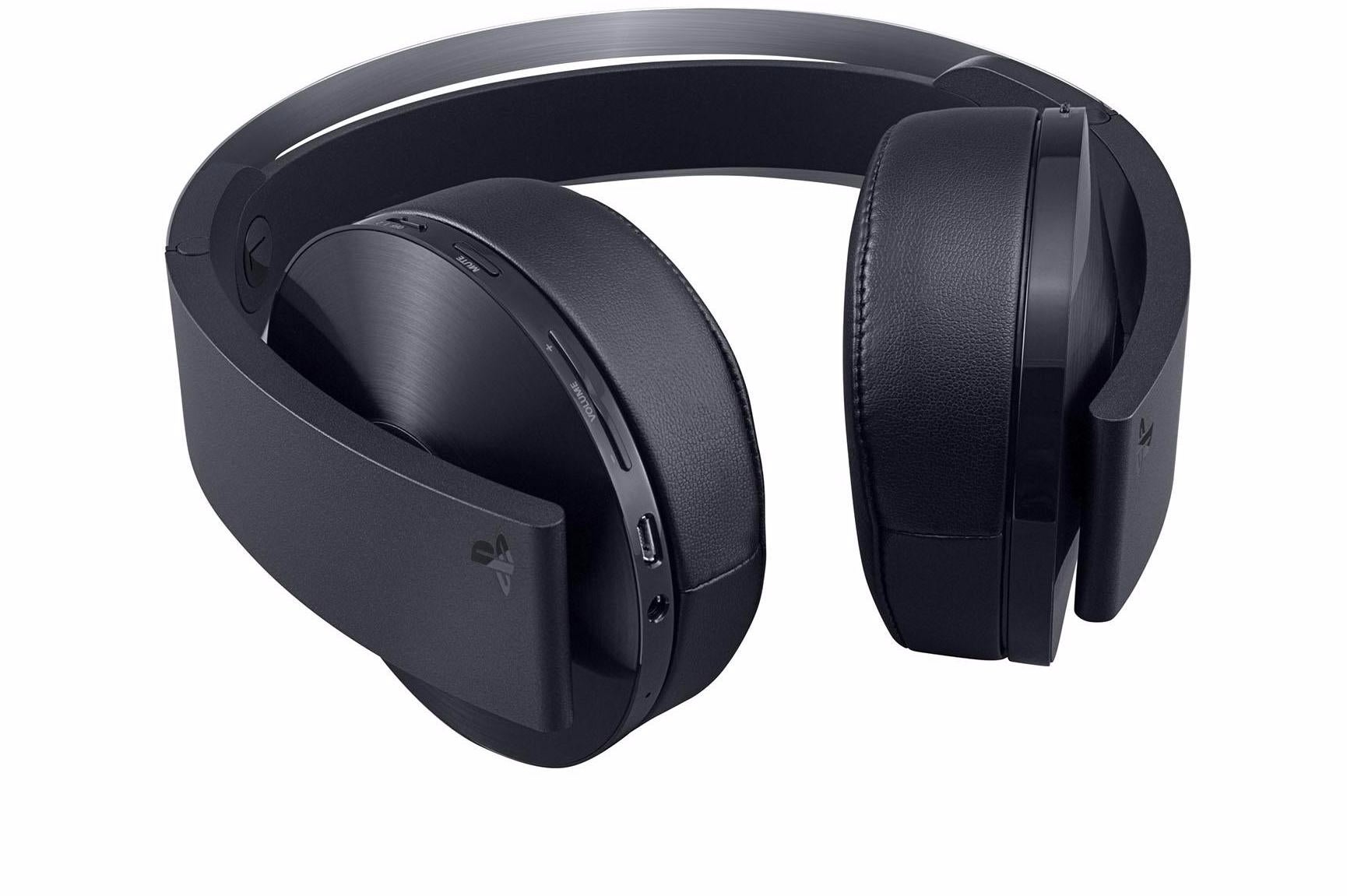 Sony's new Platinum Headset is the new upgrade to the excellent Wireless Headset 2.0 released three years ago, known as the 'Gold' headset in North America. The new offering is an accomplished piece of hardware based on more robust build materials, notably featuring higher quality 50mm speaker drivers, along with a unique 3D 'object-based' surround sound mode. But these enhancements come at a price - at around £130/$160, the new headset is over twice the price of the original, but the increase in quality is palpable.
Let's start with what's in the box. With the headset you get a wireless USB adapter, a micro-USB charging cable, a 3.5mm audio cable, and a carrying pouch. Setup from there is simple; you plug that USB adapter into your PS4, switch the headset on from the left cup, and the two pair automatically. This adapter is key to using the headset wirelessly, and even works on PC with no hassle - once you plug the adapter in, all drivers install immediately. As another bonus, you can wire the headset to mobile phones using the audio cable. This switches the headphones off completely, avoiding any of use the inbuilt rechargeable battery, and disabling the buttons. It basically turns into a regular, passive pair of headphones, but audio quality still holds up very nicely.
First impressions wearing the Platinum headset are favourable. It's a sturdier, more angular design than Sony's last model, this time using metal for the headband rather than light plastics - albeit with a rubber support to cushion your head. We've used the older headset for years without any issue, but in theory, the shift to metal here might be the antidote to reports of cracked headbands with the original. As with any piece of hardware though,, it's an area where only prolonged usage over months or years will tell the full story. However, initial thoughts suggest the new headset is otherwise robust, and while on the bulky side, its 318.2g weight isn't an issue for long playing sessions. The earcups also thankfully keep the soft, pleather-like material of the original, meaning heat build-up isn't much of a distraction..
In terms of functionality, most of its controls are on the left cup. This includes an on-off button with two equaliser modes, a volume rocker, a microphone mute button, and another rocker to balance chat and game audio. On the right side is a sole switch to enable 3D audio. So how does it actually sound? Well, the move to a 50mm speaker sticks out immediately: a richer, punchier output that pushes to audibly higher volumes than the Gold headset. These are by no means reference level drivers, and on its standard EQ settings, the bass and higher-end frequencies do sound obviously exaggerated. But it's a huge mark-up in detail compared to the original's, which lacked a little bass while showing a stronger bias to higher-end frequencies.
Of course, the standout feature is the Platinum headset's new 3D 'object-based' audio, a first in console gaming. The 3D audio concept is an evolution over 7.1 surround sound, addressing the inherent limit of using a setup with fixed speaker positions. To this day, 7.1 relies on seven audio channels at a level height, combining to create a sense of width and depth. But what's always been missing is a true, practical illustration of height, where 3D audio tracks sound above and below a player. For a living room setup, that means planting tilted, speakers to project sound up to the ceiling. But on Sony's Platinum headset, all 3D audio is simulated using virtual sound processing instead - in the same way the Gold/Wireless Headset 2.0 could produce a virtual 7.1.
It goes without saying, Uncharted 4's use of this tech is particularly effective. Seeing as the game's action plays out at different heights, 3D audio gets a great workout - a practical way to pick out enemies in complex, tall levels. With 3D enabled, you hear echoes reverberate up and down the Prison map's cells for example, and the same goes for standing underneath waterfalls on the Sunken Ruins map. It does exactly what it says on the tin, creating a sense that you're positioned at the centre of a cube filled with sound, rather than a flat, horizontal plane. It sounds natural to the point where only by switching back to regular 7.1, using the in-game audio menus, did we realise just how much the new 3D technology adds.
The one odd aspect of 3D audio is that anything in the centre of the mix, like Nathan Drake's dialogue, sounds excessively loud at first. It's almost as if the noise is coming from inside your head, rather than in front of you, where it logically should be. We also suspect headphones with a wider soundstage - ones that aren't closed-cup as is the case here - could convey that sense of space a little more effectively. In general though, 3D audio's benefits over a 7.1 mix is as clear as day on the Platinum headset, especially moving from the virtual surround of Sony's last effort.
The bad news? At launch, PS4's support for 3D audio is limited to just Uncharted 4. It's down to each developer to patch in the object-based audio, and leaves us with only one compatible title for review here. Later in 2017, games like Day's Gone, MLB The Show 17 and Uncharted: The Lost Legacy are set to join that list, but we hope that's not the end of it. Those itching to get their first sample of 3D audio will be well served if they enjoy Naughty Dog's games, but beyond that, early adopters should manage their expectations - the only upgrade for unsupported titles will come from the improved speaker quality.
With regards to battery life, expect a good eight hours at a high volume, with 3D audio enabled. It's roughly par for course for over-ear wireless headphones with larger drivers, but thankfully a full USB recharge only takes a couple of hours. As a neat bonus, a headphone companion app is also available on the PlayStation store, letting you adjust EQ settings as you please, uploaded wirelessly to one of two memory slots on the headset. You even have game-specific modes made by developers - though again, the range is sorely limited right now.
Sony Platinum Wireless Headset - the Digital Foundry verdict
Overall, for looks, comfort, and crucially the quality of sound, this is another very solid effort from Sony. The Platinum headset's only outstanding fault right now is the fact its main selling point is 3D audio, where support is surprisingly thin on the ground. Of course, that will change down the line but we do wonder how difficult it is to add support to PS4 titles, and whether third party publishers have much incentive to make use of the new hardware. As things stand for most games, the main benefit of paying extra for this headset will be in its higher-grade speakers and upgraded build quality.
Much like the 'Gold' Wireless Headset 2.0, being a first party product also gives the Platinum headset several benefits. For one, HUD icons for battery status, microphone mute, and the surround sound mode in use are all integrated into the PS4 front-end (displaying next to the controller battery icon). It's a luxury third parties can't tap into, where most rely instead on LED flashes on the headset to gauge battery life. It gives it an edge, and likewise for the simplicity of setup - a wireless USB dongle is all you need, rather than routing to an external processing unit via an optical cable.
It's an approach that keeps compatibility with the newer PS4 Slim, where optical-based headsets aren't an option. As a successor to the Gold headset though, many qualities carry straight over here; the light build, the soft pleather ear-cups, and generally strong battery life all make a return. The only slight gripe is the increased bulk of the unit, but this is a knock on effect of a larger battery and broader speaker drivers.
At double the price, the Platinum headset's main advantage is in its richer audio quality, and the prospect of 3D audio taking flight. The general quality of materials is a step up, but the preceding Gold model still holds its weight for the price, often appearing on sale for as low as £50. If you're in the market for new PS4 headphones, and fancy future-proofing yourself for 3D audio, the newer set is an easy one to recommend. Even if you're willing to gamble against 3D support taking off, it's still competitive with the many high-quality competing headsets out there.