SFANS portable dock for Nintendo Switch review
Smaller, cheaper, better?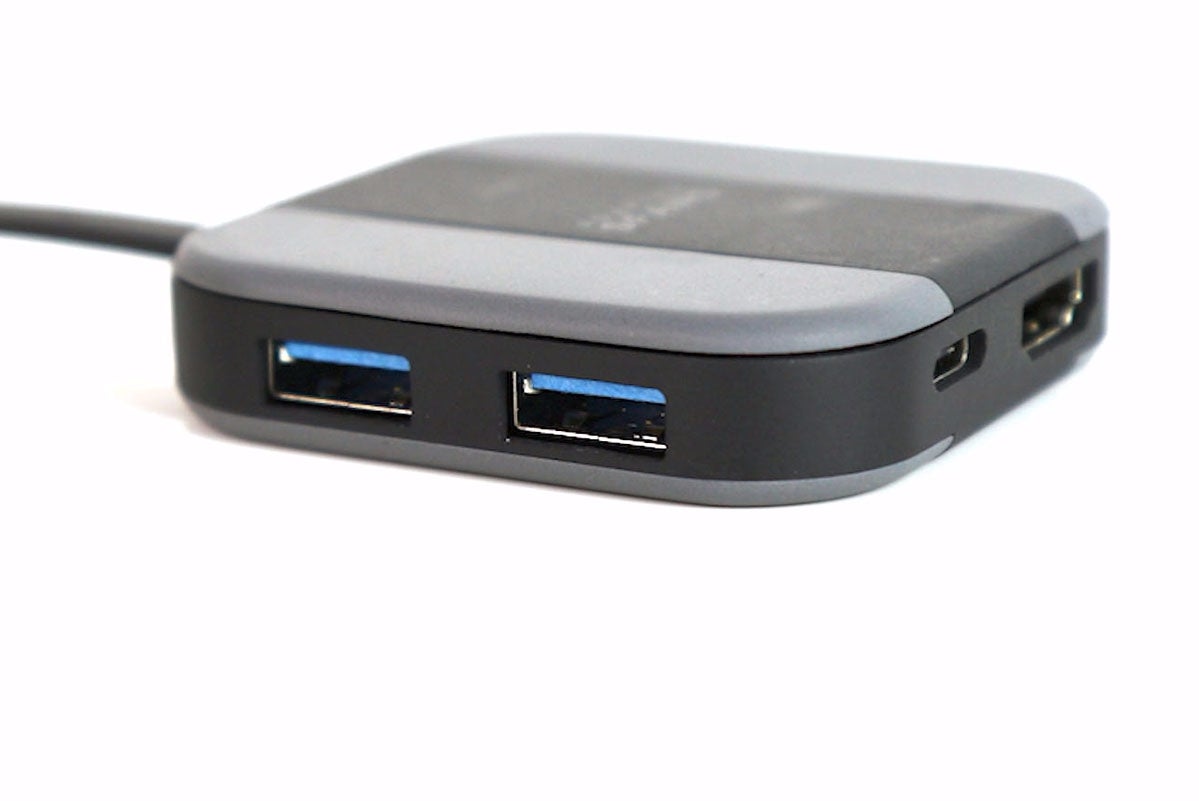 Nintendo's Switch is a console of two halves: tablet and dock, a unique combination designed to service the platform holder's hybrid gaming dream. The unit itself is well-designed with high levels of workmanship, but the dock? It's a bit of a clunker - it does the job, but it's big, bulky and constructed from mediocre materials. It's also dogged by controversy, with reports of scratched screens and warped Switch casing owing to poor heat dissipation. The question is, can third parties produce something better?
We're about to find out as it seems that the digital handshake between console and dock has been cloned, opening the doors to a range of replacement hardware. Noted third party peripherals manufacturer Nyko has its own mini-dock solution on the way, but first out of the gate is SFANS with its own diminutive interface: way smaller, more portable and styled more in keeping with the console itself - and cheaper too.
The SFANS adapter is available as a pre-order for $60 on Indiegogo, and we decided to take a look at it - principally because it's the first fully working dock replacement solution we've come across. It replicates the core functions of Nintendo's device to a tee, but without the bulk and with zero chance of console warping or a scratched screen. Of course, it uses the same cables as the official dock too, with the AC adapter again giving the Switch juice to run at its higher GPU and memory clocks. In terms of function and performance, it really is a perfect match for the standard dock - it's just a whole lot smaller.
Its tiny dimensions are clearly its primary benefit. It's easily pocketable, very light and with a stylish two-tone grey and black design that's more in keeping with the Switch itself, arguably more so than the official dock. A short USB-C cable is fixed to one side, but really there's not much more to it; the rest of the device is taken up by ports. Here we see some curious changes from Nintendo's official spec - the original's dual USB 2.0 ports are replaced with twin USB 3.1s (whether you actually get full bandwidth remains to be seen) while the standard dock's USB 3.1 port gets upgraded to two USB Type-C ports. It's an interesting departure from the original line-up of connections, perhaps attributable to the origins of the chipset SFANS is using here.
At a very basic level, the SFANS dock works exactly as you would like. For taking your Switch over to a friends' house, or for big-screen Switch gaming in a hotel while travelling, this device is absolutely ideal - the only downside coming from the amount of cables going to and from the dock. In this sense, the SFANS advantage is strictly form-factor in nature. As things stand, it's more the convenience of not having to untangle your own Switch dock at home to take HDTV gaming with you. It's a secondary option: simple to pack, easy to carry, and cabling is less involved than slotting everything behind the cover of the official Switch dock. And at $60 it does undercut the difficult-to-stomach pricing of Nintendo's solution.
There is a downside to SFANS' approach though. Yes, it costs less and has a host of advantages. But ultimately SFANS is an adapter, not a dock, and that's a key distinction to make. Simply put, there's nowhere to slot the Switch tablet itself, and inevitably, you end up laying it flat on the table next to it - and this isn't conducive to good airflow, as there are two vents on the rear of the unit. To work around this, a stand is clearly required, and this is supplied as part of a pricier SFANS bundle. The stand is an adequate, if basic solution; a plastic frame offering three angles to rest the tablet, factoring in Switch's awkward USB-C placement at the bottom. It does the job, but it starts to add to the bulk when taking the adapter on the go. Collapse the stand down and it's still thinner than travelling with an official dock, but the upgrade is less impressive, and it takes the price-point closer to Nintendo's official solution.
But the point is that the SFANS works and it is just the first of a new wave of third party docks on the way - all of which begs the question, how did this happen and why are we seeing multiple products? It's understood that the SFANS uses a 'CF001' chipset, with even cheaper adapters circulating in China. Apparently, the chipset is a clone of the silicon found in Samsung's DEX Station, a dock made to let Galaxy S8 phones work in a PC mode on the big screen.
But there's a wrinkle to this narrative - we connected a DEX station to the Switch via a USB-C extension cable and found that it didn't work at all. Meanwhile, the same cable worked just fine with the SFANS adapter. Also, connecting the SFANS to a Galaxy S8 simply produces a video output - not the full DEX desktop. The good news is that the SFANS adapter clearly does more than just work as a Switch dock replacement - it should work just fine on any device capable of running video over USB-C, but Galaxy S8 owners looking to double this up as a full-on DEX station replacement will be disappointed.
Regardless, controversy is surrounding the pricing of the SFANS, bearing in mind some of the rock bottom price-points suggested for other Chinese products. Our take? Processors and chipsets getting repurposed for different markets at different price-points is nothing new. You either buy into the SFANS knowing that it works just fine, or you take a punt on another device - the choice is yours. Given time, there should be plenty of options, after all. The bottom line? More dock alternatives are coming to the market and that can only be a good thing. Our only concern is that Nintendo might consider using a firmware update to block these devices - it's unlikely, but not completely beyond the realms of possibility.
As for the SFANS, fundamentally, it does everything you would expect from a replacement dock - it just does it in a much smaller form-factor. If you're looking for an easy way to take the full-fat Switch experience with you, without having to rip out your existing dock set-up, this is very definitely one way forward.
Will you support the Digital Foundry team?
Digital Foundry specialises in technical analysis of gaming hardware and software, using state-of-the-art capture systems and bespoke software to show you how well games and hardware run, visualising precisely what they're capable of. In order to show you what 4K gaming actually looks like we needed to build our own platform to supply high quality 4K video for offline viewing. So we did.
Our videos are multi-gigabyte files and we've chosen a high quality provider to ensure fast downloads. However, that bandwidth isn't free and so we charge a small monthly subscription fee of £4.50. We think it's a small price to pay for unlimited access to top-tier quality encodes of our content. Thank you.
Support Digital Foundry