Tritton Katana HD wireless headset review
Uncompressed 7.1 audio over HDMI finally hits gaming headsets. Is the upgrade worthwhile?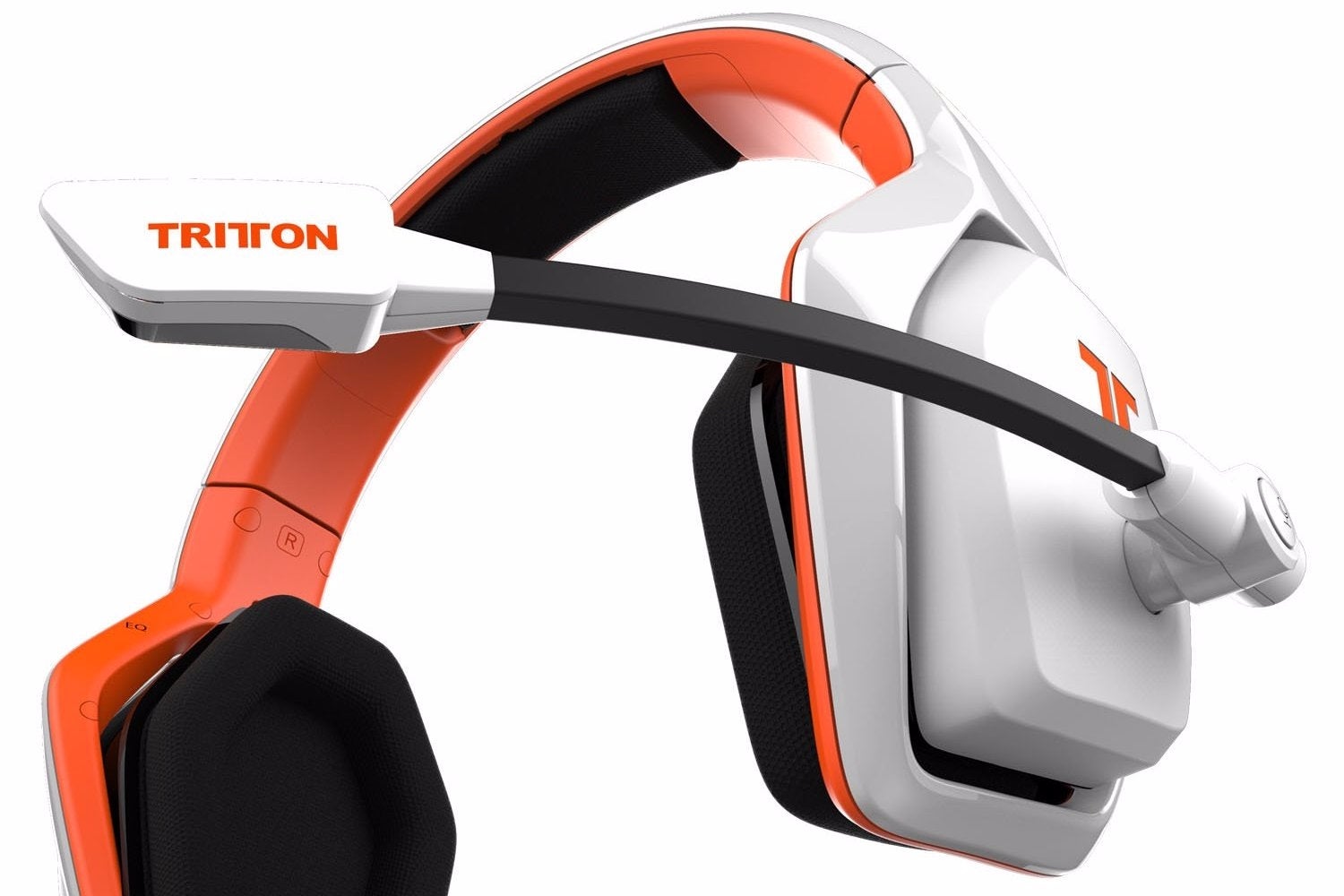 Surround sound gaming headsets are nothing new, and the feature sets often look very similar. Support for multiple platforms is the norm, along with Dolby Digital and DTS support to get an authentic multi-channel experience - without the need for several speakers to be placed around the room.
The new Katana HD from Tritton stands out from the crowd as the first gaming headset we've encountered that supports uncompressed surround sound via HDMI. This allows for the playback of the highest quality audio streams from games and Blu-ray movies, whereas other gaming headsets are limited to compressed digital audio via optical.
Boasting DTX Headphone X technology, the Katana HD features two 50mm drivers, but uses proprietary software to simulate 7.1 surround sound in a 3D space. Essentially, we're looking at a stereo set-up that uses clever algorithms to simulate the placement of various audio channels without the need for separate drivers. It's a common solution that usually delivers a faithful impression of multi-channel audio and the Katana HD makes use of a DTS-designed implementation.
But how much of an improvement does the Katana HD deliver over optical-based gaming headsets? And does DTS Headphone X make a big difference in how well surround sound is delivered?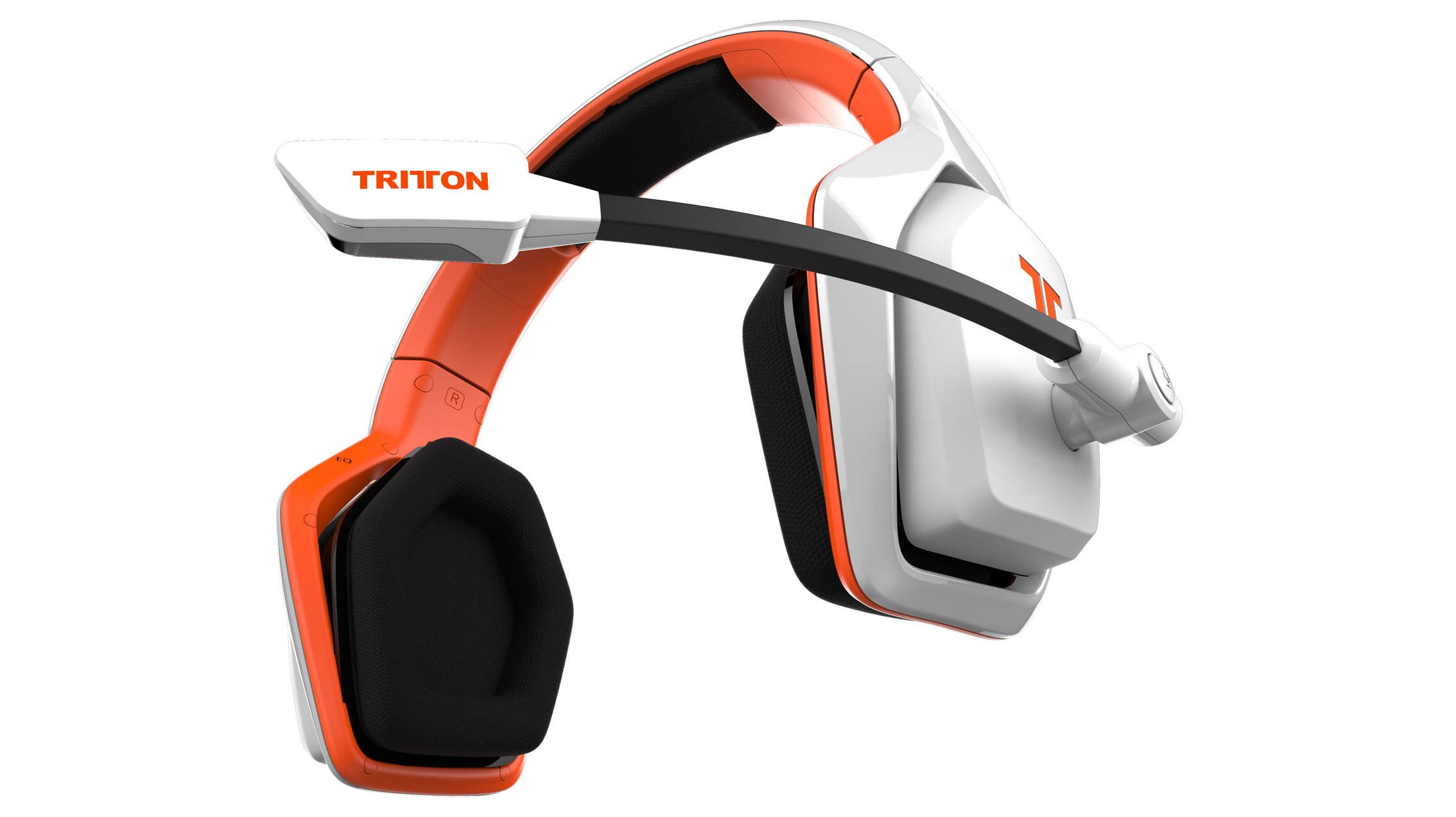 Build quality and options
On first impressions, there's little to separate the Katana HD from previous Tritton headsets. The same core design and aesthetics are here, with similar build quality and a combination of plastic and rubberised components. The headphones feel solid, though the EQ and volume controls feel cheaper and less sturdy. The earphones feature a closed cup design to help low-end response while eliminating noise leakage. Meanwhile, EQ, volume controls and the on/off buttons are also located in similar positions too, so anyone with previous Tritton headsets will feel at home here.
However, there are a few welcome improvements. The addition of a padded cushion on the bridge is a nice tweak, helping to better diffuse the weight across your head and thus making Katana HD reasonably comfortable to wear for extended periods. The headset is still pretty weighty though, inducing fatigue after a several hours' continuous use. The Katana HD is also wireless and is charged up via a USB cable with the battery built into the headset. Compared to many other headsets, there's no need to swap out batteries when one dies, but the downside is that you need to be hard-wired to a nearby device when charging for a few hours.
A breakout box is used to connect the headset to consoles, PCs, and other devices. This features HDMI input and output ports, a 3.5mm stereo line-in jack, and a micro USB port. The HDMI in and USB ports are colour coded for easy set-up, while the power button is found on the top of the unit. There's no need for a separate PSU either, as the unit takes power from the USB connection. The Katana HD syncs to this breakout box automatically after both units are turned on, and set-up only takes a few minutes.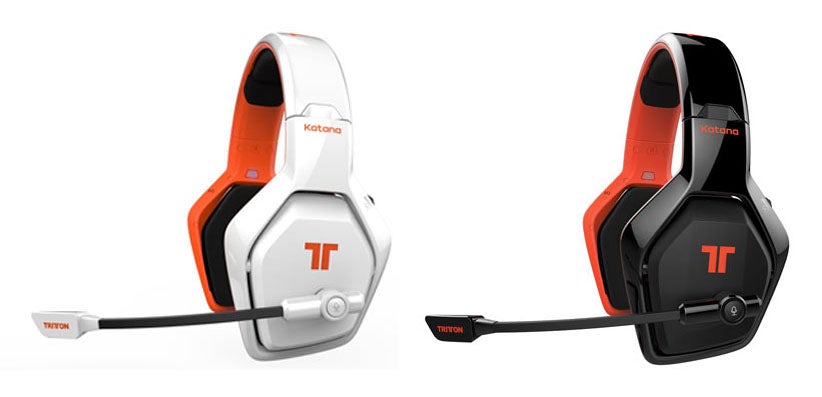 Surround experience
There are two EQ presets that alter the way in which the audio is delivered. Game mode reduces the size of the soundstage in order to bring effects and dialogue closer to the player, creating a more bombastic feel when playing first-person shooters and other action titles, but at the expense of establishing a large three-dimensional space. Meanwhile, movie mode presents the soundtrack as intended. The soundstage is wider with more depth and the audio experience feels a little more realistic here.
Sound quality is similar to previous Tritton headsets, with the Katana HD voiced in a way that puts more emphasis on effects work in games like Call of Duty and Battlefield, rather than trying to achieve a completely neutral response. This makes the Katana HD a decent pairing when playing online shooters and action games as gunshots and ambient effects remain clear. Elements such as debris shattering across the environment feature a good degree of directionality and clearly pan across the soundstage as we move the camera around 360 degrees. Likewise, voices and other effects are mostly accurately positioned with what is happening on screen.
DTS Headphone X does a great job of simulating a true multi-channel experience, and this translates over to Blu-ray movies too. Combat scenes from Battle: Los Angeles show off the accuracy of effects placement and reasonably centralised dialogue within the audio presentation. Switching off the surround mode on the Katana HD and outputting stereo from both PS4 and Xbox One, the difference is immediately obvious - there's is a lot more impact and three-dimensionality to the soundstage. It doesn't fully deliver the same experience as a dedicated home cinema speaker system though, with vocal and effects from the center channel often sounding like they are coming from inside your head, rather than in front of you.
At lower to moderate volume levels, there's a sense that the Katana HD replicates many of the nuances found in surround mixes quite well. However, the low-end feels lacking, featuring more of a softer, tone compared to when playing at fairly loud volumes. Explosions and bass-heavy moments still have a degree of impact, but the low-end only developers a clearer 'crunch' when playing loud. Sound quality is also less defined than on more expensive enthusiast headsets, and is more comparable to mid-range PC speakers by the likes of Logitech than lower end AV gear. This means that we aren't hearing high quality audio mixes at their best, although we easily get a more immersive experience over a standard stereo presentation.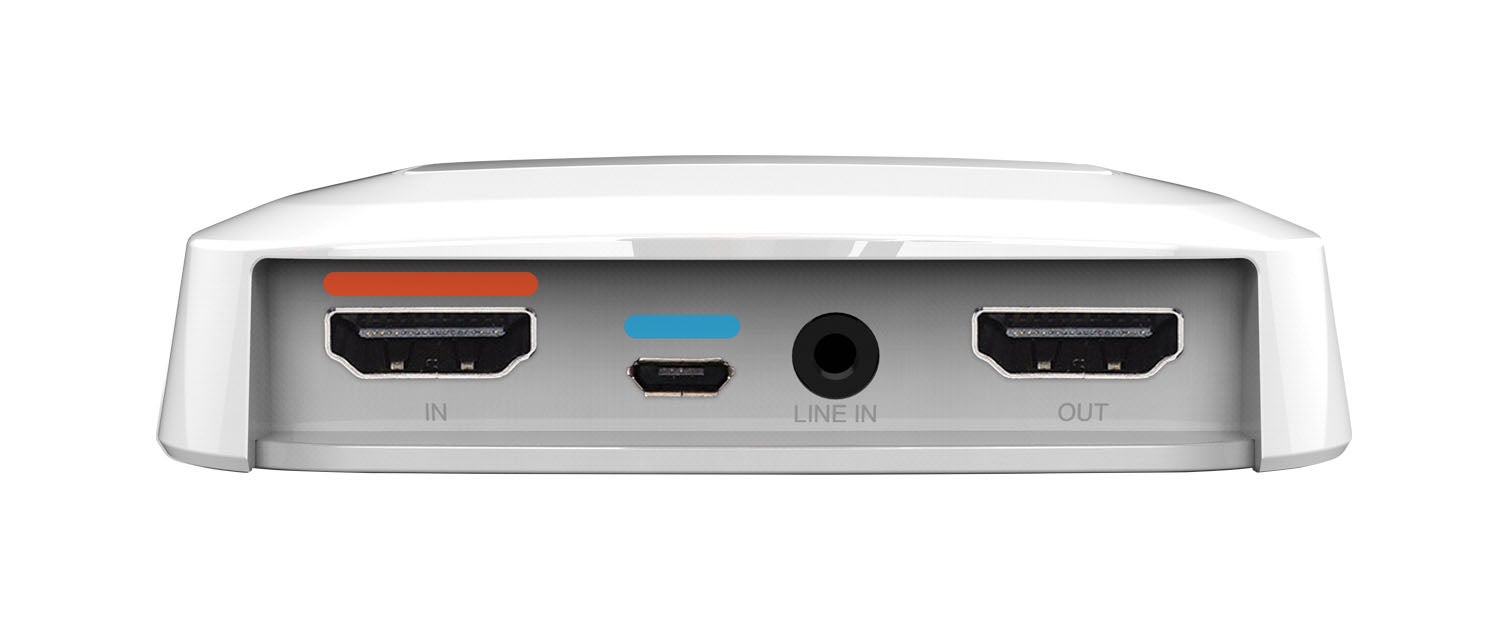 Support for uncompressed audio over HDMI is a key selling point, but the upgrade here with the Katana HD is actually fairly subtle. Moving from Dolby Digital to LPCM produces a touch more pronounced low end and slightly clearer audio across the range, but there's also a sense that the drivers simply aren't capable of achieving the kind of clarity and reproduction to really take full advantage of the format. Blu-rays tend to benefit more than games here, with effects work being more consistent in terms of quality.
Ultimately, gaining more a noticeable upgrade in sound quality from uncompressed sources will require much higher quality headphones capable of delivering a clearer and more neutral presentation. The main benefit of HDMI audio is support for most of the latest audio formats via linear PCM and devices that don't have an optical output.
Stereo to 7.1 conversion
DTS Headphone X can also take a 2.0 mix and convert this into multi-channel audio, getting more out of material that features surround sound encoded via phase shifts in a basic stereo mix. The idea here is that the algorithm extracts discrete channels from the mix before placing them in a 3D space in order to deliver something that has all the core elements of a true multi-channel mix. It also tries to extract multi-channel info from 2.0 sources with no surround data encoded - something that Dolby Pro-Logic 2 excels at, but other implementations often struggle to get right.
When playing back stereo material with surround information, DTS Headphone X generally does a solid job of recreating multi-channel audio, although low-end impact is less pronounced and vocals sometimes sound a little echoey. However, for the most part we actually get directional audio that is a real cut-above standard stereo playback. Standard two-channel audio without any surround information embedded fares less well: there's less directionality, and it often feels like we are listening to a fuller stereo presentation than a soundtrack up-mixed to 7.1. This is one area where DTS Headphone X falls short of what Dolby Pro-Logic 2 achieves across all sources, though results vary depending on the material used.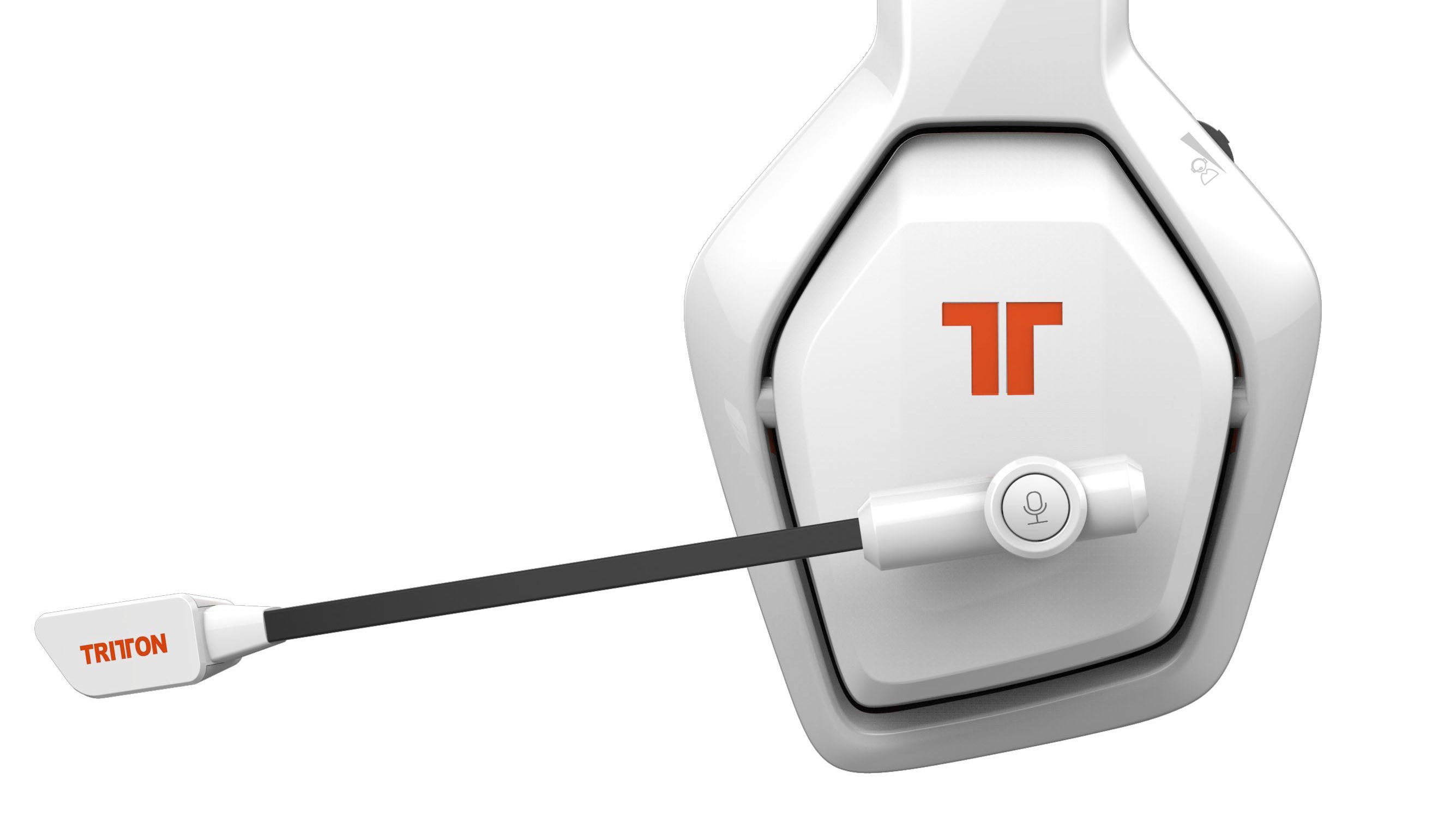 Katana HD PC compatibility
The Katana HD also works with PC via HDMI, USB and the 3.5mm line-in jack, though true surround sound is only possible through HDMI. Of course, you can use DTS Headphone X to convert stereo to simulated multi-channel audio, though results vary between USB and HDMI inputs, with neither offering up the same experience as PS4 and Xbox One.
When using HDMI audio we found a distinct echo across voices when playing back movie trailers and gaming via PC, while spatial effects were somewhat limited. For example, explosions and ambient sounds failed to wrap around us in the way they do in a real 7.1 soundtrack, while vocals no longer remained present in the middle of the soundstage. Performance using USB gave us a fuller sound without the echoing effect in vocals, although it still didn't approach the same simulated surround experience on consoles when playing back stereo content.
Another snag is that we found it impossible to adjust the volume of the Katana HD using Windows when using a USB connection. Instead we had to use the volume control on the headset itself, though the adjustable increments are quite coarse making it difficult to achieve an ideal volume level. Thankfully, we had no such issues when using HDMI, where we could change the volume using both Windows and the controls on the headset for more granular adjustment.
It's also worth mentioning that you can output audio and video separately via two HDMI outputs on the graphics card. One sends video to the display, while the other sends audio to the headset, with the GPU working in multi-monitor mode when using this configuration.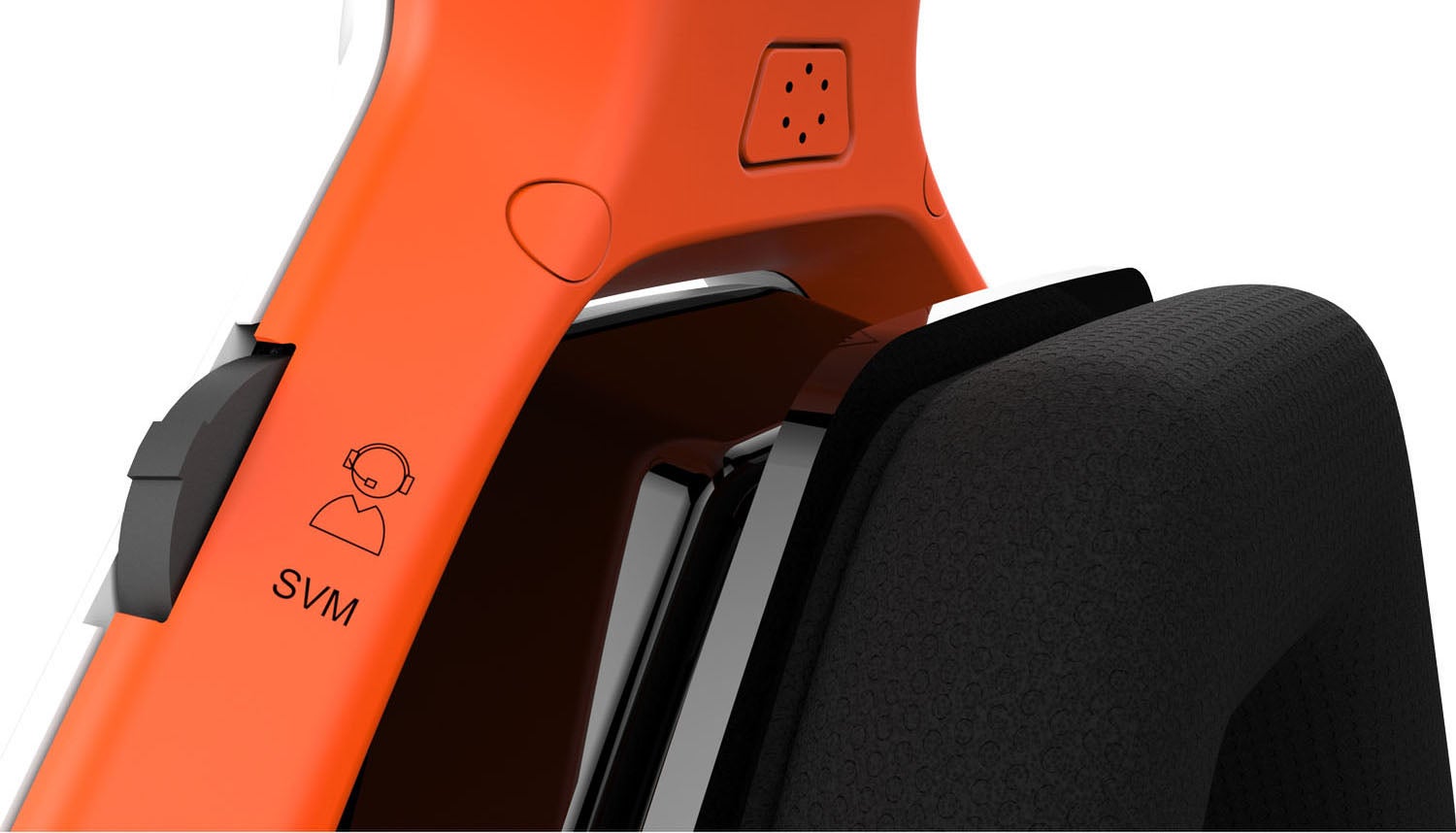 Tritton Katana HD Wireless Headset - the Digital Foundry verdict
The Katana HD won't rival enthusiast AV headphones or a decent set of speakers for sound quality, but arguably this headset isn't aimed at the kind of audience that demands exacting audio quality standards. As such, the move from lossy digital audio to uncompreseed sound over HDMI doesn't quite have the extra layer of clarity one might expect when playing back high quality soundtracks mastered in the latest audio formats. However, there is still a mild improvement over compressed digital sound, even if it isn't a dramatic difference. Really, the main selling point of having HDMI audio comes with a certain degree of future-proofing, along with compatibility with devices that don't support optical connections.
DTS Headphone X also works well in replicating the feel of true multi-channel set-up, with a good amount of positional detail and lower-end slam when volume levels aren't turned down too low. It isn't a revolutionary upgrade from other methods of simulating actual surround sound using just two drivers, though there are times when we get a more three-dimensional soundstage that can be hard to achieve. It's surprising that the technology hasn't filtered down into more products as it really does work well.
When placed up against similarly priced Tritton alternatives, the Katana HD offers up a higher quality experience with the added benefit of support for some of the latest surround sound audio standards. The lack of an optical input is slightly disappointing here, limiting compatibility with older consoles, especially considering that line-in and USB audio support is catered for. However, last and current-gen consoles, PCs, and Blu-ray players are covered, and this is the hardware most likely most likely to be paired with this headset.
Overall, the Katana HD provides a solid multi-channel experience that is a clear leap beyond basic stereo headsets, though for the price point (around £120), there are more neutral sounding headphones available - but none that come with HDMI audio support. For a product boasting game-changing features the results aren't as dramatic or impressive as one might hope for, but users of previous Tritton headsets will feel right at home here.
Will you support the Digital Foundry team?
Digital Foundry specialises in technical analysis of gaming hardware and software, using state-of-the-art capture systems and bespoke software to show you how well games and hardware run, visualising precisely what they're capable of. In order to show you what 4K gaming actually looks like we needed to build our own platform to supply high quality 4K video for offline viewing. So we did.
Our videos are multi-gigabyte files and we've chosen a high quality provider to ensure fast downloads. However, that bandwidth isn't free and so we charge a small monthly subscription fee of £4.50. We think it's a small price to pay for unlimited access to top-tier quality encodes of our content. Thank you.
Support Digital Foundry