Linx 8 review - exploring the sub-£100 Windows tablet experience
What happened when Digital Foundry bought a £50 tablet in the Christmas sales.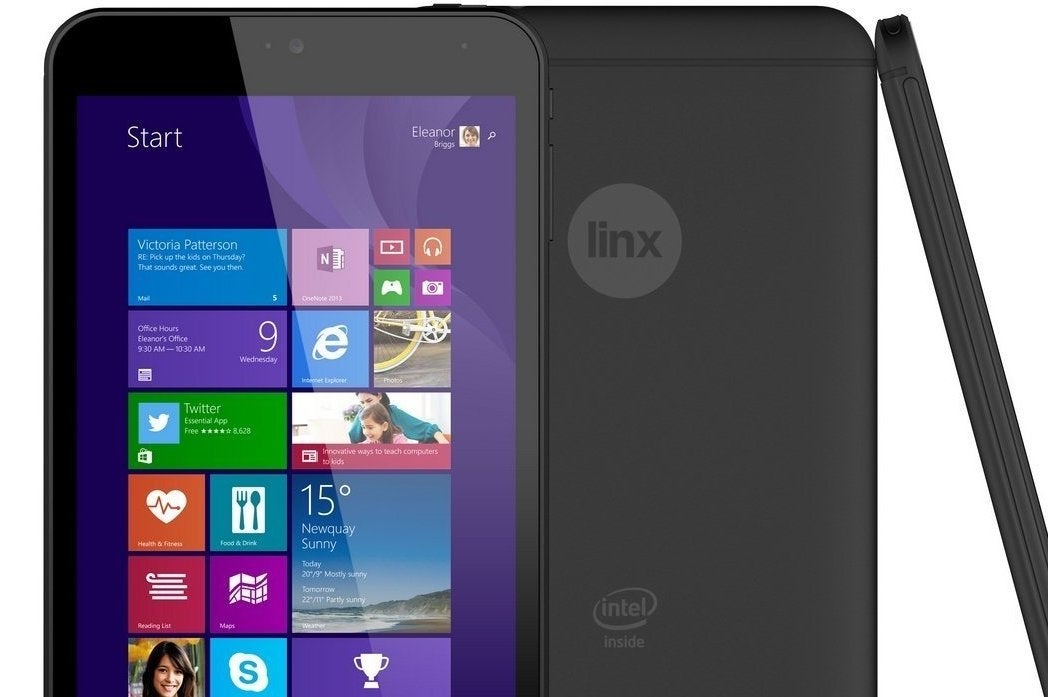 HP Stream 7, Linx 7, Tesco Connect 7, Nextbook 8, Toshiba Encore Mini - there are doubtless many more. In fact, you can't fail to have noticed the new wave of cheap Windows 8.1 tablets hitting the market at unbelievable sub-£100/sub-$120 price-points, armed with frankly incredible - and mostly uniform - specs. We're talking quad-core Intel mobile processors, IPS screens, 32GB of storage, along with USB, micro SD and HDMI ports. The icing on the cake? They're running Windows 8.1 proper, meaning you get the standard Metro tablet experience along with full access to decades' worth of PC programs - with a full year's subscription to Microsoft Office 365 often thrown into the bargain too.
We've been intrigued by these products for some months now, subconsciously filing them into the 'too good to be true' category, expecting some kind of killer limitation that makes these bargain devices a write-off. On the face of it, the inclusion of just 1GB of DDR3 RAM is the most obvious spec limitation. Windows 8.1 thrives on as much memory as you give it, and even entry-level devices include 2GB as standard, with 4GB perceived as the bare minimum for a decent experience.
Pre-Christmas, there were many compelling deals for these entry-level Windows tablets but none could compare with Staples' offering - we picked up an eight-inch Linx 8 for just £49.99. A "too good to be true" deal had evolved into a total no-brainer, worth checking out even if the device itself turned out to be less than ideal.
As it happens, to say we were impressed is an understatement. The truth is that the experience offered by our ultra-low budget device is exceptionally good to the point where even at its usual £80-£100 price-point, the Linx 8 is a highly compelling proposition. Initial impressions are certainly positive: removing the tablet from its packaging reveals a solid, well-built device that's light and easy to hold owing to a Nexus 7-style rubberised plastic rear. While screen resolution is limited to 1280x800, the lesser than stellar pixel count works fine on an eight-inch display, with a five-point multi-touch that feels slick and responsive. Overall, it may lack iPad-style premium materials, but it feels a step beyond the cheapest Android tablets, a state of affairs that only gets better once you're propelled into Microsoft's tablet UI.
Order the Linx 8 from Amazon with free shipping
Stick within Metro and it's unlikely that you'll encounter any issues with the 1GB hardware limitation - Internet Explorer 11 (quite possibly the best mobile browser around) is fast and fluid, even on complex pages, with multiple tabs in play. It's particularly good on video playback, where IE11 runs YouTube 1080p60 video more smoothly than the MacBook Air this review was written on, whether we're running Safari or Chrome. The Metro UI itself is attractive, logical, slick and smooth, with some lovely features (the news collation app in particular stands out) and while the lack of apps in the Windows Store is legend, often you find you don't need them - unlike other tablets, Internet Explorer integrates full Adobe Flash.
In terms of raw power, the Intel Bay Trail processor found in the Linx 8 may not compare with the latest and greatest from Nvidia, Qualcomm and Apple, but in terms of CPU power at least, it's certainly capable. The quality of the overall user experience is enormously improved over Microsoft's own Tegra 3-powered Surface RT, falling more closely into line with the Tegra 4 Surface 2. Benchmark-wise, CPU and GPU capabilities seem to fall between the iPad 4 and the first iPad Air - more than enough power to get the job done in most scenarios. In our iPad Air 2 review we noted that the mobile processing arms race is moving at a far faster pace than the demands of the tasks placed on smartphones and tablets. The sub-£100 Windows tablets may not be state-of-the-art, but overall they remain competitive, both in terms of CPU power and graphics capabilities. On top of that, as an OS, Windows has a proven track record in scaling nicely across multiple cores so while the Bay Trail processor might have relatively weak per-core performance, at least you know that the OS will tap into the full power of the chip - something that can't be so readily said for Android devices.
Intel Bay Trail's ability to remain competitive in the mobile space is only bolstered by its performance in gaming. Hydro Thunder Hurricane runs at native resolution (unlike the 576p Surface RT showing) and hands in 30-60fps performance, Halo Spartan Assault offers a similar performance profile, while Rayman Jungle Run looks beautiful and runs almost perfectly at full frame-rate. Overall, memory limitations are not a problem at all in the Metro interface, mobile games run really well, the browsing experience is second to none - and at this point, our £49.99 investment in this device is looking like the bargain of the decade. Even at its standard £80-£100 price-point, the Linx 8 is still a massively compelling device, and that's before we've dipped into the piece de resistance - the fact that this is essentially a completely contained, battery-powered, all-in-one Windows PC capable of running a multitude of legacy apps.
| | Linx 8 | Nexus 7 2013 | iPad 2/mini | iPad 4 | iPad Air | iPad Air 2 | Shield Tablet | Surface Pro 2 |
| --- | --- | --- | --- | --- | --- | --- | --- | --- |
| Geekbench Single-Core | 791 | 627 | 251 | 774 | 1465 | 1819 | 1123 | 2504 |
| Geekbench Multi-Core | 2196 | 2008 | 430 | 1408 | 2656 | 4510 | 3479 | 4762 |
| 3DMark Graphics | 14696 | 10341 | 2625 | 11725 | 20001 | 31771 | 35433 | 47841 |
| 3DMark Physics | 14607 | 11569 | 2870 | 8502 | 8368 | 10371 | 20250 | 30343 |
| 3DMark IceStorm Unlimited | 14676 | 10558 | 2676 | 10814 | 15280 | 21776 | 30372 | 42324 |
| GFXBench T-Rex | 16.0FPS | 15.0FPS | 3.5FPS | 16.5FPS | 28.3FPS | 70.5FPS | 64.4FPS | 63.0FPS |
Click the desktop tile on the Metro interface and you're transported to the standard, traditional Windows interface, where you can use the Linx 8 exactly as you would any other kind of PC. All that's required is a USB OTG cable (or better yet, a multi-USB hub). Keep an eye on eBay auctions and you can pick up this essential cable for mere pennies - we picked up one for just 18p delivered. As the Linx is essentially a standard PC running full Windows, any USB 1.1/2.0 device works once the driver is installed, while many USB 3.0 add-ons should work just fine too, just at reduced speeds. Keyboards, mice, printers, storage - virtually everything is compatible. There's no need to buy additional dongles to connect to a display either - the majority of the sub-£100 Windows tablets come with micro-HDMI outputs, with super-cheap cables available on eBay in the £2 to £4 range.
Onboard storage is generous too. There's a Toshiba 32GB eMMC NAND chip inside our tablet, leaving us with 20.1GB of useable space. That's far more space than you'll get with many premium tablets but it still wasn't quite enough for our testing. This is where the onboard micro SD slot came in handy - we added an additional 64GB for £17.99. Performance here isn't stellar (we measure 20MB/s read, 13MB/s write - though mileage will vary depending on the card you buy) but it's more than enough for the lighter tasks we're likely to use a tablet for, and perfectly fine as a form of mass storage.
The real question is just how useful is the addition of desktop access on a tablet? There is touch support, but it's not great - especially with the standard icon and button size on an eight-inch screen. This is where TouchMousePointer comes in handy. Install it, click the 'long touch = right click' option, engage full-screen mode and the entire touchscreen is transformed into a touchpad, making navigation so much easier. Nothing will replace a keyboard for typing, but Microsoft's touchscreen version gets the job done.
If there's one way to trump Google Play and the iTunes App Store, it's the ability to run any PC program on your tablet. There's a multitude of examples here, but emulation and media playback are two potential applications where a Windows tablet should be in a class of its own. In terms of media playback in particular, the Metro interface does now support MKV files, but should you run into the lack of DTS audio decoding, there's nothing to stop you simply downloading something like Media Player Classic HC, and running your media from there.
Exploring desktop mode inevitablys bring you up against the limitations of the hardware - not just the 1GB of RAM, but also the processor too. Office 365 works well, even some light Photoshop work on 1080p images wasn't too problematic, but intense applications such as the older 32-bit capable versions of Premiere Pro proved too much for the tablet to handle - slowed down to a crawl as the tablet ran out of RAM, hitting the page file hard.
Gaming within the desktop environment is also intriguing in that there's nothing to stop you installing Steam and accessing your games library there. The Bay Trail processor effectively features a one-quarter sized, downclocked version of the Intel integrated graphics tech found in its last-gen Ivy Bridge desktop CPUs: good for stuff like video decode, but not exactly a gaming powerhouse. We've looked at Bay Trail's PC gaming credentials before when we looked at the Asus Transformer T100 convertible, finding that the GPU power on offer was good enough for older titles like Half-Life 2 and more modern indie titles.
With the Linx 8 and its entry-level Bay Trail chip running at lower clock-speeds with reduced RAM, we still get similar performance, but there's the sense that we're on less stable ground here than we were with the T100. You can ramp up Half-Life 2 to max settings and happily run it at 1280x800 native resolution, and while you're north of 30fps for the vast majority of the time, heavy alpha and physics see frame-rate plummet even more than it did on the Asus device. Fez also runs faster than 30fps for much of the time, but it's the dips to the low-20s that you'll feel most.
Perhaps the problem here is just as much about bandwidth as it is about available RAM. The 2GB Bay Trail tablets don't just feature more memory, they have potentially double the bandwidth. PC gaming on Bay Trail is all about adjusting for the bottlenecks, and access to single-channel levels of bandwidth simply adds another to the list. If you're looking to test the limits of the Bay Trail chip, 2GB really is of crucial importance - in which case you'll need to up your budget and/or find a higher-spec refurb of something a bit more meaty, like the Dell Venue Pro 8.
The bottom line? The Linx's access to full Windows opens up a huge wealth of benefits enjoyed by no other tablet, but we are essentially looking at an overall power-level on par with a ten-year-old desktop PC. Expectations need to be managed, with the performance level on offer here equivalent to an entry-level laptop - good for browsing, light gaming and non-intensive productivity, but if you're looking for a mobile powerhouse, look elsewhere and be prepared to spend a lot more money. Personally, we'd keep a look out for stock clearance deals on the Surface Pro 2.
Linx 8 - the sub-£100 Windows tablet experience: the Digital Foundry verdict
It's difficult not to have a soft spot for a fully featured Windows device that set us back just £50 - albeit as a one-off sale deal. Even closer to its advertised price-point, it's still astonishing value, especially bearing in mind the Office 365 Personal subscription (which also includes 60 free Skype minutes per month plus 1TB of OneDrive space). In terms of the tablet's build quality, the compromises have been made in the right places and do not intrude too much on the user experience: screen quality is decent, while the inclusion of USB, HDMI and micro SD ports is superb for an entry-level device. Windows 8.1 has evolved into a fine tablet OS with the modern interface working beautifully here, and the Linx 8 ticks almost all the relevant boxes as a fine content consumption device.
The only drawback? Well, the onboard 4000mAh battery is rated for five to seven hours of use, but gaming or intense CPU use can see that reduce significantly. Standby battery life isn't great either, with 12 hours of sleep mode taking anything up to 20 per cent of the battery. These entry-level tablets do seem to have other issues that recur across different devices too - specifically backplate flex and interference on audio via headphone jacks. These seem to crop up on a number of the seven-inch tablets with the audio interference issue noted on the HP Stream 7, the Linx 7 and the Tesco Connect 7, but we can confirm that neither of these issues impacts the higher-spec Linx 8.
In summary, there's a lot to love here. In our iPad Air 2 and Shield Tablet reviews we noted two astonishing pieces of technology, held back by the lack of game-changing applications. Processors are getting faster and faster, but the core challenges facing the tablet - principally rendering web-pages and media playback - aren't evolving at anything like the same level of pace. These entry-level Windows tablets have the specs to deliver a good experience in these areas, while the desktop mode and legacy Windows software and hardware support gives these tablets a degree of flexibility and productivity that Android and iOS will find hard to match.
Will you support the Digital Foundry team?
Digital Foundry specialises in technical analysis of gaming hardware and software, using state-of-the-art capture systems and bespoke software to show you how well games and hardware run, visualising precisely what they're capable of. In order to show you what 4K gaming actually looks like we needed to build our own platform to supply high quality 4K video for offline viewing. So we did.
Our videos are multi-gigabyte files and we've chosen a high quality provider to ensure fast downloads. However, that bandwidth isn't free and so we charge a small monthly subscription fee of £4.50. We think it's a small price to pay for unlimited access to top-tier quality encodes of our content. Thank you.
Support Digital Foundry