Nvidia Shield: micro-console, set-top box or something more?
Last-gen-beating performance, cutting-edge 4K media support and 1080p60 high-end PC cloud streaming. DF has first impressions.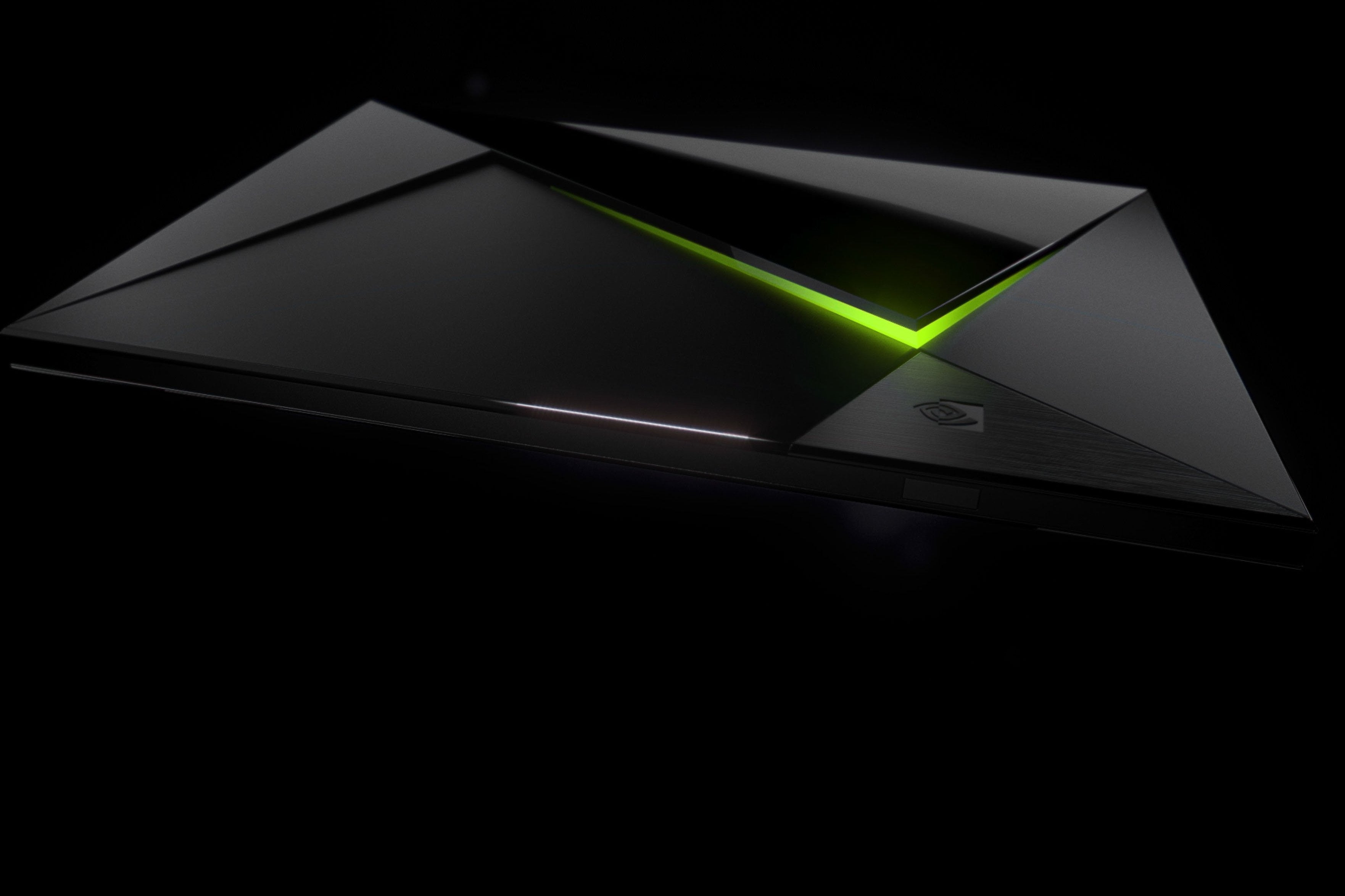 At its 'Made to Game' media event in San Francisco, Nvidia revealed Shield - its debut home console that takes the form of a set-top box based on the new Android TV operating system, supporting 4K media playback at 60fps. New titles revealed for the unit include Android ports of Borderlands: The Pre-Sequel, Doom 3 BFG Edition, Metal Gear Rising: Revengeance - and even Crysis 3. On top of that, the Shield console also supports 1080p60 cloud streaming of high-end PC games via Nvidia's GeForce GRID services.
The Shield itself is a curious, angular device hewn from aluminium, and roughly the size of an eight-inch tablet in terms of length and width - a wedge-like construction making it somewhat deeper in order to house the cooling assembly. IO options are impressive - there's support for 2.4GHz and 5GHz WiFi, Bluetooth 4.1, gigabit Ethernet, HDMI 2.0 and two USB 3.0 ports. It's powered via micro-USB, and also features a micro SD slot capable of supporting 128GB cards. WiFi Direct functionality gives Shield a low latency link with the existing game controller, which is included in the package. Based on the Tegra X1 processor, the processor features ARM Cortex A57 and A53 cores in a 4+4 configuration, along with a GPU based on the Maxwell architecture with 256 CUDA cores. System power draw is in the five to 20 watt range, making it even more efficient than the 30 watt Wii U and in the same ballpark as the far less capable Ouya.
Nvidia's presentation kicked off with CEO Jen-Hsun Huang revealing that he would be announcing three major new innovations in smart TV, game console and supercomputer technology. As it happened, he was talking about one actual product - the game machine - that dovetails into the other innovations. A demo of the Android TV OS followed, showing how you could watch a movie, pause and bring up context-sensitive information on the film, including actors in the current frame. From there, you can bring up bios, trailers and access other movies featuring the stars via Google Play. As it's using the Google interface, everything is voice-activated, either through the Shield controller or through the optional media remote.

Leveraging the capabilities of the Tegra X1 processor, Nvidia demonstrated 10-bit 4K content decoding at 60fps fully in hardware, via the new HEVC h.265 video standard. The VP9 video standard is also supported, which should open the door to more 4K content via YouTube.
Moving into the games console portion of the presentation, Gearbox overlord Randy Pitchford revealed that Gearbox had handed over the entire Borderlands: The Pre-Sequel source code to Nvidia, who ported over the game to run on the Shield micro-console's Android OS. The game demo looked feature-complete in comparison to the Xbox 360 and PS3 versions, but frame-rate was somewhat variable. That was no problem at all for Doom 3 BFG Edition, announced by id software studio director Tim Willits, revealing a short demo that ran at 60Hz and looked really impressive. Also making an appearance was a Shield port of the well-received third-person puzzler, The Talos Principle - visually impressive, but a little choppy in motion.
Rounding off the Android games presentation, Crytek's Cevat Yerli arrived, showing Crysis 3 multiplayer running on the Shield console. The small demo we got was very soft, suggesting some measure of upscaling; frame-rate was again variable, but what was interesting was the revelation that the port is running on the latest version of CryEngine. While the Shield game is obviously unlikely to match the full-fat PC experience, the utilisation of the revised version of the engine may well see the game look somewhat different to the console and PC editions currently available, featuring updated effects. Crysis - and indeed all of the Android titles revealed at the event - are still in development, so there is scope for performance boosts before the May launch (indeed, Randy Pitchford mentioned that frame-rates should improve on Borderlands, in particular).

The presentation concluded with a demonstration of Nvidia's supercomputer announcement, specifically a full roll-out for GeForce GRID. The service is currently available in the form of a beta for owners of Nvidia's existing Shield mobile devices, but the firm feels that the time is right to push the service - and to charge for it. There'll be a subscription-based 720p service, offering 'all you can eat' access to a group of titles, plus a premium tier with 1080p60 support. In addition to that, users will be offered the chance to buy full games, with The Witcher 3, Metal Gear Solid 5: The Phantom Pain and Batman: Arkham Knight confirmed in the line-up. The former two games were shown streaming via the GRID system during the presentation.
In essence, the GRID service comes across very much like a next-gen OnLive, albeit without some of the neater features such as spectator viewing. The effectiveness of a cloud gaming service is defined by lag and image quality; an on-screen graphic revealed that Nvidia is targeting 150ms end-to-end latency, including the lag from the display. By and large, this is consistent with the kind of experience we've had from the current 720p beta on the Shield Tablet, which is easily the most responsive cloud gaming system we've played to date. Image quality at the Nvidia presentation was sensational - almost suspiciously good, in fact, as there was no real sign of compression artefacts whatsoever on the mammoth projection screen in the auditorium. However, talking to Nvidia staff after the event, to see the 1080p60 stream at its best, you'll need a substantial 15-30mbps of bandwidth, which explains the pristine quality of the image. If you can't sustain that, you'll drop down to 720p quality.
The GRID side of the Shield proposition is intriguing - on the one hand, it is following the same kind of business model that failed to gain traction with OnLive, but on the other hand, what we saw by and large delivers on a promise that OnLive failed to live up to - a true high-end PC experience operating on an inexpensive platform that you wouldn't need to upgrade. Nvidia displayed a slide suggesting that GRID has around five teraflops of GPU power, over twice that of the most powerful gaming console on the market right now (PlayStation 4, at 1.84TF) - but the question is whether that's 5TF for the entire server spread amongst multiple players, or per session. The results we saw on select titles certainly seemed to suggest the former.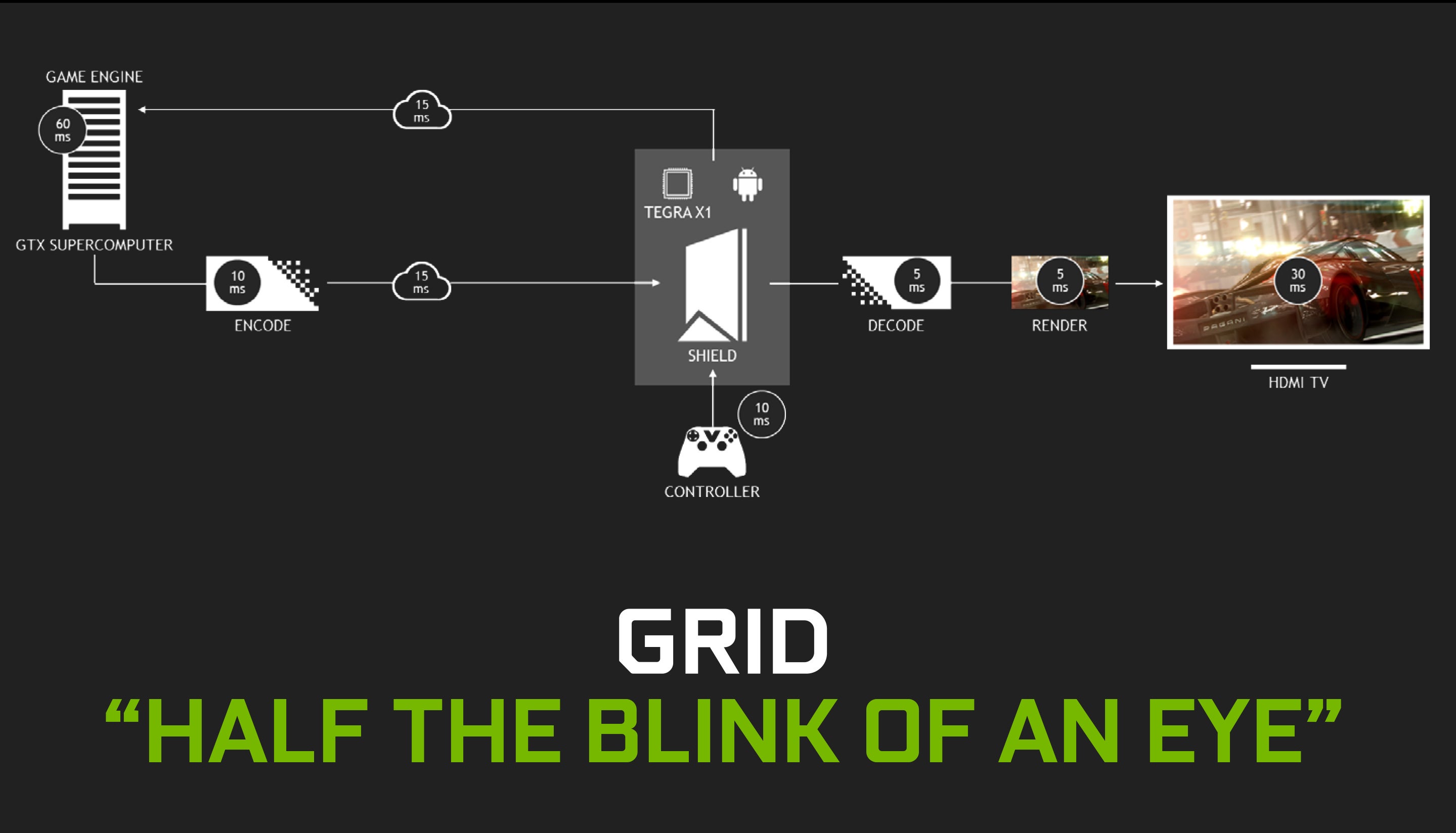 CD Projekt RED demoed the Witcher 3 running on high settings, and while frame-rate wasn't sustaining 60fps during Jen-Hsun Huang's presentation, the after-event demo we saw was clearly hitting the target and looked excellent in motion. Again, similar to OnLive, Nvidia pushed the line that you'd be playing the game while others were still downloading it, suggesting that loading times on the cloud service would be around one minute. In the age of the 50GB download, that may well have value - and this is one area where Nvidia has its work cut out. The GRID interface suggested that full-price games would be charged accordingly - so $59.99 for The Witcher 3 or Batman: Arkham Knight, for example, and $19.99 for Metal Gear Solid 5: Ground Zeroes. Effectively, Nvidia is asking us to lock into its ecosystem at full price in exchange for a quality of service which, in the demos we saw at least, is significantly ahead of the current wave of consoles.
Overall, it was an intriguing pitch, with strengths and weaknesses. Media functionality via the Android TV OS looks intuitive and easy to use, the hardware support for cutting-edge 4K formats looks second-to-none, while GRID could be compelling - the ability to run PC games at 1080p60 with rich quality settings on a $200 console is a unique proposition, as long as the lag is not intrusive. It's certainly moved a latency analysis of the current beta service much further up our list of priorities, but based on our initial experience (which tied in closely with Nvidia's realistic metrics) we would hope to see 60fps gameplay matched with 30fps console-style gameplay latencies. If it passes muster as a consistent, quality experience comparable with gaming locally, it could indeed by the Netflix of gaming that Nvidia clearly wants it to be.
It's the Android gaming side of the equation where Shield has it all to prove. Doom 3 BFG Edition looked impressive, and a step beyond the Xbox 360 and PS3 versions, but other titles - while promising - lacked a little polish in their current preproduction forms. The arrival of games like Crysis 3 and Borderlands: The Pre-Sequel is a serious statement of intent from Nvidia, but the kind of gamer likely to want those titles is perhaps more likely to be swayed towards the current-gen consoles. Then again, GRID access could be the game-changer with real core appeal. We'll have a full review of Shield closer to its release in May.
The Shield console debuted at Nvidia's 'Made to Game' conference in San Francisco, which we attended. Nvidia paid for travel and accommodation.
Will you support the Digital Foundry team?
Digital Foundry specialises in technical analysis of gaming hardware and software, using state-of-the-art capture systems and bespoke software to show you how well games and hardware run, visualising precisely what they're capable of. In order to show you what 4K gaming actually looks like we needed to build our own platform to supply high quality 4K video for offline viewing. So we did.
Our videos are multi-gigabyte files and we've chosen a high quality provider to ensure fast downloads. However, that bandwidth isn't free and so we charge a small monthly subscription fee of £4.50. We think it's a small price to pay for unlimited access to top-tier quality encodes of our content. Thank you.
Support Digital Foundry