Spec Analysis: iPad Air 2 vs Google Nexus 9
The next generation of tablet technology.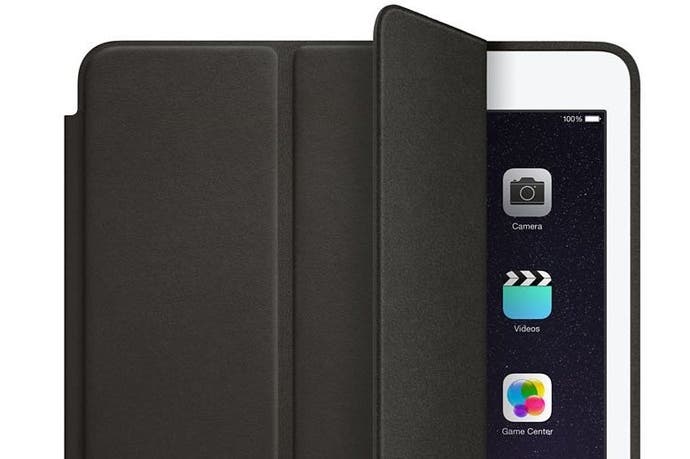 Apple unveiled its brand new iPad tablet line-up last week, revealing a new iPad Air featuring an even thinner chassis, TouchID login, plus a new 20nm A8X processor. Benchmarks and specs are thin on the ground, but Apple promises a 40 per cent boost to CPU power and a whopping 2.5x increase to graphics power - a potent combination. Meanwhile, 24 hours earlier, Google had debuted its new Nexus 9 tablet - powered by a new 64-bit Tegra K1 processor. Apple has traditionally dominated the mobile specs war, but this time it faces its sternest challenge yet.
At this point in time the Nexus 9 isn't available, but we know a lot about the new Google tablet's capabilities thanks to our existing knowledge of the Tegra K1's formidable GPU component and some preliminary CPU benchmarks. Against that, an iPad Air 2 arrived at the office this morning, so we can run some initial benchmarks to give us some idea of how potent Apple's new A8X processor actually is. Out of the box, the big surprise with the new iPad Air is that the A8X has a tri-core CPU set-up, with three of its custom Cyclone cores operating at 1.5GHz.
But more important than the specs and the benchmarks are the possibilities these new technologies offer to game-makers. Regular Digital Foundry readers will know that the GPU component of Tegra K1 brings mobile gaming very close to the standards established by the graphics hardware found in Xbox 360 and PlayStation 3. Initial benchmark results suggest the GPU component in the iPad Air 2 is capable of handing in similar overall performance.
With Tegra K1's GPU power a known quantity, it's actually the CPU aspect of the new 64-bit chip that is the big unknown. The existing 32-bit offering uses a quad-core set-up featuring the ARM Cortex A15, along with a fifth core utilised for low-power operations. The so-called 'Denver' core is actually an all-new architecture developed by Nvidia that is rumoured to translate ARM code into its own native language on the fly, storing it in large caches for blistering performance.
It's a 64-bit chip that follows Apple's philosophy of delivering outstanding IPC (instructions per clock), concentrating more power in fewer cores, as opposed to the quad and even octo-core arrangements that dominate the high-end Android landscape. Android itself has proven a capable performer on high-power dual-core processors before - the Moto X a significant case in point - and hopes are high that the emphasis on IPC will pay off handsomely with the Denver architecture. It's interesting to note that Half-Life 2 on Tegra K1 still features some crippling frame-rate drops, comparable in places to Tegra 4 - we suspect that it's one example where a stronger focus on single-core performance will result in significantly improved gameplay.
Available benchmarks - such as they are - are mouthwatering. GeekBench 3 scores for the Nexus 9 featuring the Denver technology can be compared directly with the quad-core ARM Cortex-A15s found in the 32-bit Tegra K1. We see a modest reduction in multi-core performance in the region of five per cent, but the single-core increase is gargantuan - it's a good 68 per cent higher. The Denver core also handily beats the CPU power of the A8 processor found in the iPhone 6 and 6 Plus, and even inches ahead of the single-core performance of the A8X (though the tri-core arrangement blitzes Denver in multi-core benches).
However, it's interesting to note that the 3DMark CPU scores for the iPad Air 2 are very, very low. It turns out that Apple's Cyclone architecture is great for some tasks but poor in others, as Futuremark has explained previously. We're curious to see if Nvidia's Denver tech has similar limitations, but the key takeaway is that while Geekbench 3 scores suggest the A8X is faster than the first-gen Intel Core architecture found in the 2011 version of the Apple MacBook Air, the reality outside of select benchmarks may be very different.
| | Shield Tablet (32-bit) | Nexus 9 (64-bit) | iPad Air 2 | MS Surface Pro 2 | Razer Edge |
| --- | --- | --- | --- | --- | --- |
| Geekbench Single-Core | 1123 | 1913 | 1819 | 2504 | 2440 |
| Geekbench Multi-Core | 3479 | 3252 | 4510 | 4762 | 4994 |
| 3DMark Graphics | 35433 | ? | 31771 | 47841 | 56247 |
| 3DMark Physics | 20250 | ? | 10371 | 30343 | 33704 |
| 3DMark IceStorm Unlimited | 30372 | ? | 21776 | 42324 | 48968 |
| GFXBench T-Rex | 64.4FPS | ? | 70.5FPS | 63.0FPS | 96.0FPS |
| GFXBench Manhattan | 31.0FPS | ? | 32.6FPS | - | - |
As it is, while the overall philosophy for fewer but faster CPU cores is similar between the 64-bit Tegra K1 and Apple's A8X, actual execution is very different. Nvidia's approach is to go for raw processing speed - the Denver core is clocked at 2.5GHz. The A8X CPU cores run at relatively modest speeds - 1.5GHz, to be precise. Apple's approach is to physically dedicate more transistors to the CPU, as opposed to clocking the cores higher, with even more CPU area taken up by the third core.
That leads us on to a crucial technological difference between the processors in the Nexus 9 and iPad Air 2 - the fabrication technology. We strongly suspect both chips are manufactured by the same company, TMSC, but Tegra K1 is a 28nm chip, while the A8X is using a next-gen 20nm process. This gives Apple the luxury of cramming more transistors into the same area of silicon - indeed, theoretically, we're looking at anything up to 2x as many. Apple has said that the A8 found in the iPhone 6 is a two-billion transistor chip, while the A8X ups that by 50 per cent. To put it into perspective, the Intel Core i7-4790K - pretty much the best quad-core desktop CPU you can buy right now, fabricated at 22nm - features just 1.4 billion transistors. Tegra K1's transistor count is unknown, but it's likely to be a lot less, so the notion that it is competitive with the A8X at all is quite remarkable.
It'll be interesting to compare battery life, however. Apple is intent on maintaining its current iPad battery life profile, which typically sees average use of 10 hours per charge, reducing to around six hours in heavy 3D applications. The 32-bit Tegra K1 in the Shield Tablet - when pushed to its limits graphically - can see battery life drop to just to just three hours. The Nexus 9 is a larger device, meaning it contains a bigger battery (6700 mAh vs 5197mAh), but it also has to service a much larger Retina-style screen. Right now, the capacity of the iPad Air 2's battery is unknown, but again, Apple's projections for battery life are usually pretty accurate.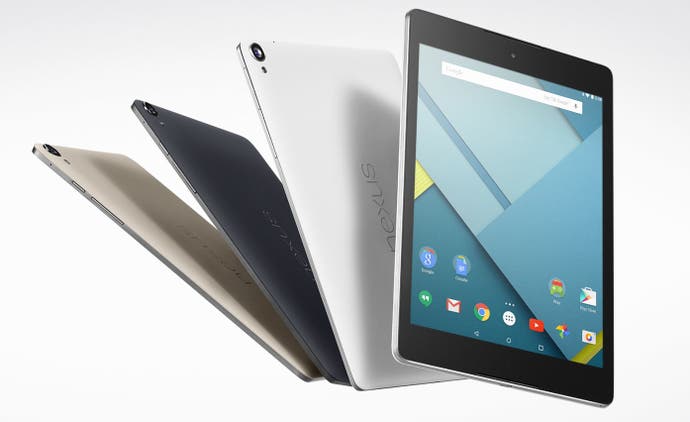 | | Nexus 9 | iPad Air 2 |
| --- | --- | --- |
| CPU | Dual-core 'Denver' at 2.5GHz | Tri-core 'Cyclone' at 1.5GHz |
| GPU | Kepler K1 | PowerVR GX6650 (unconfirmed) |
| Memory | 2GB DDR3 | 2GB DDR3 |
| Display | 8.9-inch IPS (2048x1536, 281ppi) | 9.7-inch IPS (2048x1536, 264ppi) |
| Dimensions/Weight | 228.2 x 153.7 x 7.9mm/436g | 240 x 169.5 x 6.1mm/444g |
| Storage Variants | 16GB/32GB | 16GB/64GB/128GB |
| Cameras | 8mp rear camera, 1.6mp front camera, LED flash | 8mp rear camera, 1.3mp front camera, slow-mo, burst mode |
In terms of form factor, it looks as though Apple retains the edge. While the Nexus 9 is a touch lighter, the new iPad is just 6.1mm thick, vs the 7.9mm of Google's new offering. It's interesting to note that both devices utilise a 4:3 aspect ratio display, with the same pixel count. The iPad Air 2 features a new anti-reflective coating on its screen, which should make the device easier to use outdoors. What's clear is that both are built from quality materials, which may explain why the Nexus 9 is no longer quite as cheap as its predecessors, although it's still significantly cheaper than its iOS competition (£319 vs £399 for the base 16GB model). Unfortunately, it appears that the Nexus 9 has no MicroSD expansion option.
It will be a fascinating exercise to compare these two tablets once they are released. Traditionally, Apple has commanded a clear advantage over the Android competition in terms of build quality and performance. We suspect the gap closes significantly this time around, but the real battle both of these tablets face isn't really the competition - more the general apathy surrounding tablets. Apple's presentation last week was kind of strange. Tablets are entertainment and media consumption devices, but the live demos targeted the iPad almost as a PC replacement, with GPU-accelerated video editing and image manipulation showcased in its live demos. We saw no gaming applications whatsoever that took advantage of the A8X. Meanwhile, we can't help but think that for all its power, Tegra K1 - be it 32-bit or 64-bit - remains under-utilised, with only a tiny handful of titles tapping into the gaming power on offer.
But the key thing is that Nexus 9 and iPad Air 2 are both powerful devices, with graphics power approximate to the last-gen consoles, backed up by impressive CPU components. Given the right care and attention, this new wave of hardware could revolutionise mobile gaming and perhaps revitalise the flagging tablet market - accomplished ports of last-gen titles could run on both tablets, while modern multi-platform engines should also perform well. The question is whether this cutting-edge kit will get the attention it deserves, because high-end hardware requires a little more coding TLC to get the best out of it, and certainly some hands-on testing with BioShock, Modern Combat 5 and Asphalt 8 suggests the 2.5x GPU boost offered by the iPad Air 2 isn't translating into the much smoother frame-rates we might hope for just yet - a similar situation to our tests of library Android titles on the Tegra K1-powered Nvidia Shield Tablet.
We'll have our iPad Air 2 review on the site soon, and hope to look at the Nexus 9 closer to its November release.