Dicebreaker Recommends: Skulk Hollow, board gaming's answer to Shadow of the Colossus
A beast for the eyes.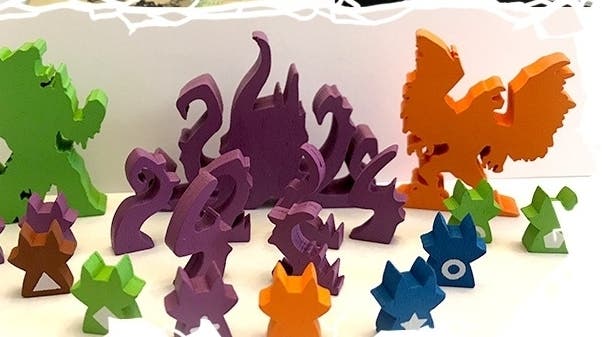 Dicebreaker is Eurogamer's newest sister site, a hub for all things tabletop gaming: board games, card games, pen-and-paper roleplaying, miniatures and more. The Dicebreaker YouTube channel launched recently, with a website to follow soon. Dicebreaker Recommends is a new regular Eurogamer column from the team, introducing us to a must-play game from the realm of the physical.
---
Of all the experiences worth emulating within a board game, the thrill of clasping onto a giant electric squid with knife and guile is definitely one of the rarest. That is, until now.
Enter Skulk Hollow: a two-player tactical card game, in which both players duke it out until death. It's a cardboard beat-em'-up of epic proportions, pitting lovely foxes against vast beasts.
On one side, you've got the Forest Guardians. These ferocious elementals are gigantic creatures in the style of Shadow of the Colossus, but lurid and distinctly less melancholy.
Monster-wise, you can be gigantic worm, bear, bird or electric squid monster. These beefy behemoths get special abilities ranging from heals and laser eyes to tentacle horrors that spring out of the earth.
Alternatively, you can play the Foxen clans. These 'smallfolk' heroes are fighting to take down that big bad guardian and protect their home. Fighters of mouse, fox, bear and hare will shoot, stab and grab on for dear life. Each clan also has its own hero, busy leading those tiny warriors to their bucolic doom.
The battle itself takes place in Skulk Hollow, a pristine forest location lovingly drawn out on a central player map. As you play, you'll fill this map with the most delightful meeples you've ever seen - all soft-hued pointy ear and tentacle.
It's also on this board that the smallfolk clans and the behemoths do their deadly dance.
Each turn, you'll decide where to move them, then select from your cards whether to attack or power up. Perhaps you'll head straight on in there, climbing that beast like a tree and getting a crucial stab in. Only, the Guardian might then rile up and hurl you furiously across the forest.
You might instead be cautious, lining up your smallfolk around the behemoth, shooting and sliding, aiming for its nastiest parts. Backing away from hammer and tentacle and stomping feet. Searching for one weakness waiting in that blocky, lashing monolith.
Or maybe you'll bide your time, accumulate the glitzy power tokens and get ready for your big move. You'll take that damage; watch as your smallfolk get torn up on the wayside. But you've got something big and bad planned that'll tilt the the forest to your advantage.
And, as the Guardian, well, that's a different experience entirely. The sense of power is palpable. Your moves are godly. The earth trembles at your feet. I'd recommend it.
The visual style in Skulk Hollow is not far off the Dragon's Lair illustrations of Don Bluth, all handsome foxes and maddened gods. It's cute and totally epic. The game is also super thematic, but in a way that isn't arduous; there are no mighty tomes to read aloud, and no extensive mechanical setup. Yet somehow, story-wise, you can't help but feel the terrifying plight of your miniscule plucky heroes, and the ancient grandeur of the guardians.
For ages 8+ and coming in around 40 minutes a match, Skulk Hollow is a fabulous one to play with your own smallfolk, or anyone looking for a quick-fire battler.
Although it's small in scope, it pulls the whole thing off with an epic panache that is equal parts charming, challenging - and foxin' fun.