World's first open source controller hits Kickstarter
iControlPad 2 features analogue/digital control plus full QWERTY keyboard.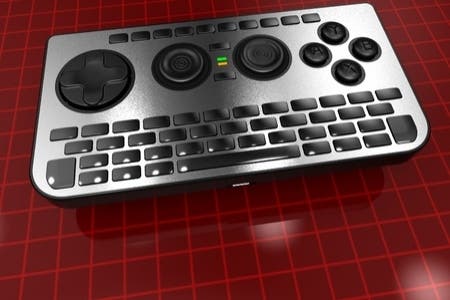 The makers of the Pandora open source handheld and the original iControlPad have taken to Kickstarter to reveal their brand new product - an open source controller that should work with virtually any device supporting USB or Bluetooth.
Around the same size as an iPhone 4, iControlPad 2 integrates digital d-pad, dual analogue controllers, four face buttons, start, select and two shoulder buttons along with a full QWERTY keyboard. Its bundled software allows users to map the functions onto touch-screen virtual d-pads, and even includes mouse emulation too.
Designed primarily to overcome the problematic lack of physical controls on mobile hardware (the device itself comes with a bracket to latch onto most smartphones and tablets), iControlPad 2 actually goes significantly beyond this - being completely open source, the community can rewrite its core software to support virtually any device that comes to market.
Applications go beyond gaming too: the integrated keyboard and mouse emulation suggest it could be a useful addition to the Raspberry Pi, and the same functions make it ideal for getting the most from productivity software on mobile devices, or for accessing desktop PCs remotely on tablets and smartphones. The device itself runs from its own rechargeable battery, which has a 12-14-hour battery life.
At the time of writing, the iControlPad 2 Kickstarter has managed to attract $40,000 of support with 26 days to go, the project having a $150,000 goal. A Christmas release date is being suggested, should the project reach its funding target.