HTC One X Review
Digital Foundry goes hands-on with the first quad core Android smartphone.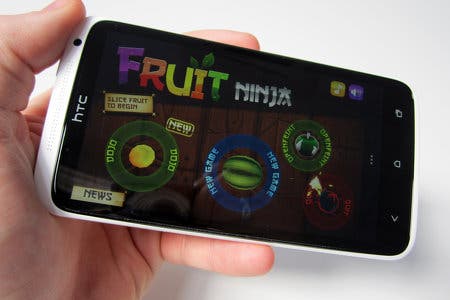 It was all going so well for HTC. Having helped Google make its Android dream a reality with the appropriately named HTC Dream (the first mobile to feature the friendly green robot), the Taiwanese company enjoyed a string of hardware hits - such as the HTC Hero and HTC Desire - which saw it assume pole position in a rapidly expanding marketplace. Then Samsung happened.
The Galaxy S became a million-seller and HTC's challenge faltered. 2011's phone releases only provided disappointment, and the company has recently gone as far as to admit that "our product offering...could have been better", after posting its biggest profit fall in a decade. Clearly, it's going to take something special to dig HTC out of this particular rut, and if you're going to use one word to sum up the One X, 'special' is a pretty apt choice - thanks in no small part to the introduction of NVIDIA's quad core Tegra 3 processor.
Having sampled the blistering speed and responsiveness of the Asus Transformer Prime, it's relatively easy to be seduced by the power of quad core technology. While most dual core devices offer more than enough processing muscle for everyday use, there's always that desire to have as much capability under the hood as is possible. As one of the first ever quad core phones, the HTC One X represents a significant forward-step in the world of mobile technology.
Simply put, the 1.5GHz Tegra 3 chipset is a beast: the One X barely stuttered when dealing with tasks that would bring other Android handsets to their knees. Multi-tasking is swift, 3D games run silky-smooth and HD video playback is entirely stutter-free.
We wouldn't want you to just take our word for it, though. When put through the usual benchmark tests, the One X smoked the competition with truly startling regularity. Quadrant rates HTC's phone above the likes of the Galaxy Nexus and Samsung Galaxy S2 (hardly a shock when you consider both are dual core handsets), and even places it above the mighty Transformer Prime.
AnTuTu offers similar results, although it still has Asus' tablet sitting pretty at the top of the pile. The One X is without a doubt the most technically adept phone that money can buy right now - but such astonishing power comes at a considerable cost.
With Great Power There Must Also Come... Poor Battery Life?
Smart phones have always struggled when it comes to battery stamina; the days when your trusty Nokia could last for a week on a single charge are long gone. However, even to seasoned Android veterans that are accustomed to having their phones tethered to a wall socket at least once a day, the HTC One X's appetite for juice is alarming.
As you might expect, the first day we spent in the company of the phone was focused largely on playing games, watching movies, surfing the web and generally putting the device through its paces as emphatically as possible. We managed to completely discharge the battery in around two and a half hours. This isn't typical usage of course, and we did have the brightness ramped up to maximum. Still, it serves as a worrying indication of the phone's ravenous power consumption. Even when we reverted to a less demanding usage pattern, the One X was gasping for a refill after around ten hours.
The Tegra 3 chipset is based around a 'four plus one' arrangement, with a single companion-core present to take the workload off the more power-hungry quartet. In reality, this setup didn't seem to really converse any battery power - although it's hard to be certain of which activities are taxing the quad cores, and which are being handled by the solitary one.
Another worrying side-effect of the One X's raw power is overheating; after just five minutes of playing Grand Theft Auto 3, we noticed that the back of the phone became incredibly hot - certainly more so than other Android devices we've used, such as the Galaxy Nexus and Xperia S. If nothing else, quad core phones are going to make excellent portable heaters - at least until the architecture is scaled down onto smaller production processes (Tegra 3 utilises a 40nm process, with next-gen mobile chips slated for 28nm/32nm).
"The 1.5GHz Tegra 3 chipset is a beast: the One X barely stuttered when dealing with tasks that would bring other handsets to their knees."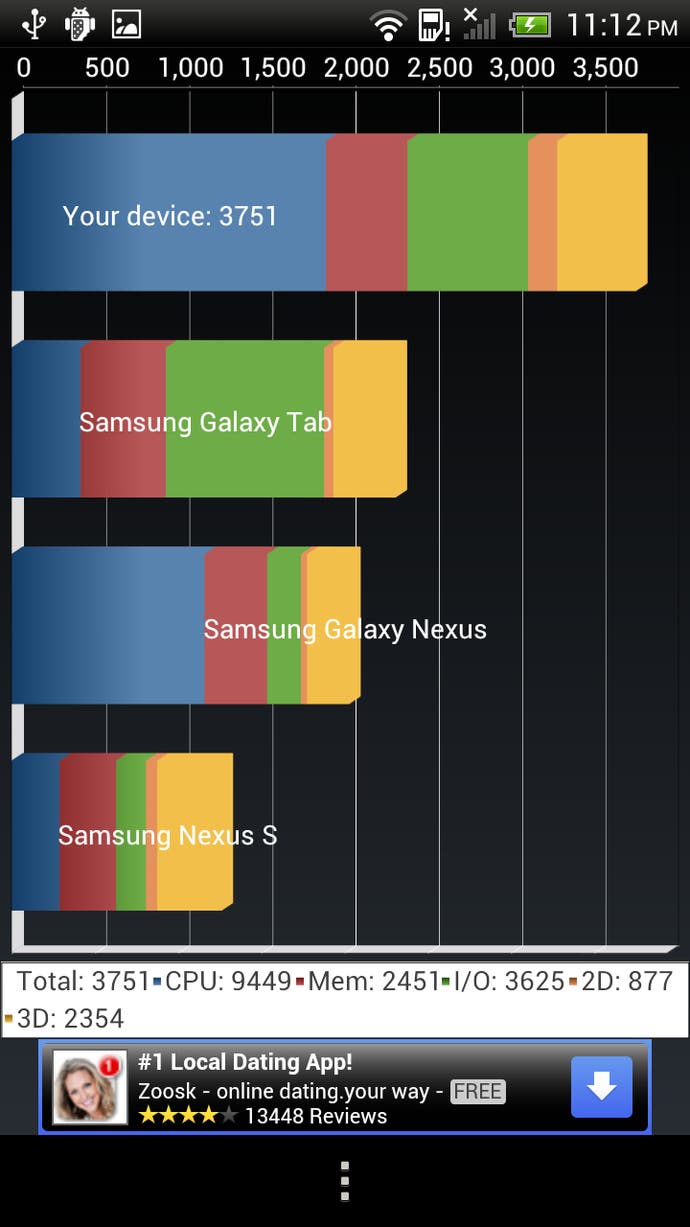 Android 4.0 Meets Sense 4.0
HTC's Sense user interface was arguably the first of its kind to illustrate to smartphone users that their handsets could offer so much more than dull, grid-based menus and static widgets. Bursting with animation and blessed with some truly gorgeous design, Sense played a huge role in helping HTC to gain a massive slice of the Android market. However, recent versions of the UI have started to buckle under the weight of new features, and the intuitive feel that was present in the beginning has slowly been lost.
HTC has responded by streamlining version 4.0 of Sense, while at the same time making a concerted effort to incorporate the new features of Ice Cream Sandwich - the very latest version of Google's Android OS. You'll find the gimmicky-yet-cool Face Unlock feature, which allows you to gain access to your device using nothing but your fizzog. There's also a neat data counter built directly into the OS itself, so you can see how many megabytes you're consuming on a daily basis, and set limits to ensure you don't run over your contract allowance.
By far the most significant change in Android 4.0 is the removal of the 'Menu' and 'Search' buttons. In their place lies a single multitasking button, which opens up a separate list of all the apps you currently have running. You can long-press and swipe these out to close them down and improve performance, although it has to be said that this is rarely necessary, thanks to the brute force of the monstrous quad core CPU.
While Sense 4.0 is definitely a step in the right direction after the rather muddled version 3, it's still a good deal more complicated than the 'stock' Android experience provided by the Galaxy Nexus. It's worth remembering that the more customised an Android UI skin is, the longer it takes the manufacturer of that skin to upgrade it when a new version of Android is released. If you want to keep abreast of the latest developments in Google's mobile ecosystem, you might be better off with a stock handset like the aforementioned Nexus.
"The more customised an Android UI skin is, the longer it takes to upgrade when a new version of Android is released. A stock handset like the Galaxy Nexus may be preferable for swifter OS updates."
Designed for Desire
HTC's 2011 phones were hardly ugly ducklings, but they failed to get the pulse racing in the same manner as their rivals. The One X is a different story: the smooth polycarbonate body grants a lightweight yet durable exterior, and the Gorilla Glass display runs almost edge-to-edge vertically, making for a device that arguably looks just as attractive switched off as it does switched on.
Although the One X is roughly the same size as other large-screen Android phones, its overall weight of 130 grams is surprisingly dainty. The lack of a user-serviceable battery no doubt has some part to play in this, along with the absence of microSD storage support. You've given 32GB of space to play with; beyond that you'll need to make use of Google's cloud storage options or the popular Dropbox service.
Another space-saving move is the inclusion of a Micro SIM slot, which is popped open using a small metal tool included in the box. The Micro SIM is a long way off being an industry standard, but with Apple and Sony also supporting it, you're likely to see more phones taking this route in the future - for better or for worse.
In terms of screen quality, HTC has made an interesting choice for its latest flagship handset. Within the mobile world, a debate is currently raging as to which screen type provides the best image. Samsung's Super AMOLED technology - as seen in its own range of phones, as well as the Sony PlayStation Vita - delivers astonishingly sharp contrast and deep, bold blacks. Its Achilles' heel is inaccurate colour replication. The One X is packing the big rival to AMOLED: a second generation Super LCD. While it can't boast the same depth of contrast, colours are generally more faithful. We're also pleased to report that viewing angles on the One X's display are excellent.
With a high definition resolution of 720x1280 and a pixel density of 312ppi, The One X offers a considerable step up from the iPhone 4S' famous Retina screen. Almost every activity is enriched by that gigantic 4.7-inch display, from browsing the web to flipping through family photos. Of course, such a prestigious panel also adds to the One X's battery woes, and the fact that the default brightness setting is around 50% proves that HTC is aware of this problem. Having said that, even at half power, the screen has plenty of visual punch.
"Titles like Grand Theft Auto 3, Fruit Ninja and Muffin Knight look amazing, but games designed to take advantage of NVIDIA's new quad core CPU boast even more striking visuals."
Guaranteed Gaming Greatness
It goes without saying that the HTC One X provides a peerless platform for all your Android gaming needs. Able to handle both 2D and 3D experiences without even breaking a sweat, the Tegra 3 chipset - with its GeForce graphics processor - delivers impeccable performance.
Titles like Grand Theft Auto 3, Fruit Ninja and Muffin Knight look amazing, but games designed to take advantage of NVIDIA's new quad core CPU boast even more striking visuals. Third-person blaster Shadowgun looks every inch a modern-day home console release (complete with shaven-headed space marine, naturally), and factors in impressive water and particle effects.
Of course, playing a lot of these games on a touch-screen is less than ideal, but thankfully Android 4.0 supports both Bluetooth and USB pads. If you've got the correct adapter and spare Xbox 360 controller, then you can turn the One X into a portable console. Hook up to the TV using the HDMI-out capability and things become even more impressive.
Camera Capabilities
We could count on the fingers of one hand the number of times we've been genuinely impressed by the capabilities of your average mobile phone camera. The impossibly thin frames of modern handsets leave little room for high-tech optics, and the end result is usually snappers which get the job done, but don't take your breath away.
The eight megapixel camera on the One X is an exception. It offers stunning image capture and a surfeit of features, including Instagram-style filters, panoramic shooting, High Dynamic Range imaging and even a mode where you hold down the shutter to take a series of shots, and then pick out which one you think is best. The One X also earns points for boasting superlative HD video capture up to 1080p resolution. You can even snap still images during recording.
"Right now, the One X has few serious rivals. It's blessed with a gorgeous screen as well as an attractive design, and it houses a terrifying amount of power within that svelte and lightweight frame."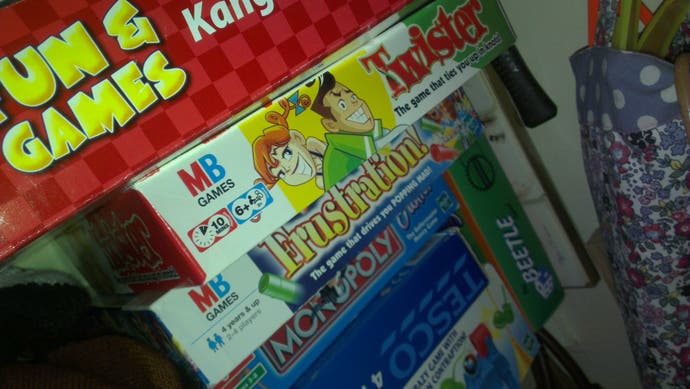 HTC One X: The Digital Foundry Verdict
It's hard to believe that less than twelve months ago, the mobile arena was still reeling from the introduction of dual core phones. Now that quad core power is with us, it's hard to envisage what to expect from the next generation of mobile hardware. While the iPhone's development is carefully managed by Apple, the Android sector of the market is essentially made up of warring factions, each trying to out-quaff the other with new tech and features. While the One X is unquestionably the most impressive device of its type right now, you can bet that in less than six months it will have been gobbled up by an even bigger fish.
That's the future though, and as of right now, the One X has few serious rivals. It's blessed with a gorgeous screen as well as an attractive design, and it houses a terrifying amount of power within that svelte and lightweight frame. Its biggest failing is the inability to provide an adequate level of stamina to see the average user through an entire day before charging is required, but those of you who cannot bear to have anything but the most advanced tech in your trouser pocket will almost certainly forgive this failing.