Deus Ex returns… in a Final Fantasy mobile game
I never asked for this.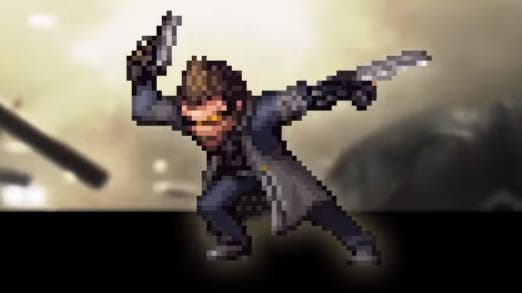 Deus Ex has risen from the dead - in a Final Fantasy mobile game.
The cyberpunk series lies dormant after Mankind Divided flopped back in 2016, and while it doesn't look like Square Enix is ready to return to the series in a meaningful way any time soon, it has launched a crossover with mobile game Final Fantasy Brave Exvius. Yay?
Deus Ex star Adam Jensen and "other augmented heroes" are in the game now until 5th September. You can join Task Force 29 and fight the Mechanical Ogre raid boss. Villain Viktor Marchenko is in there alongside neuroplastic surgeon Vaclav Koller and hacker Frank Pritchard via a featured summon.
The video below shows off how the characters look in Brave Exvius. Aren't they cute!
Brave Exvius is no stranger to crossovers. Nier Automata characters appeared in the game, as did pop star Ariana Grande. So Adam Jensen and co's arrival doesn't come as much of a surprise, given they also belong to corporate overlord Square Enix.
The whole thing reminds me how much I enjoyed the last two Deus Ex games. Here's hoping a brand new Deus Ex is cooking - the next generation of consoles are certainly asking for it.