Get this 12TB WD External Hard Drive for only £180 this Cyber Monday
Plus 66% off Xbox Game Pass for PC with each purchase.
Amazon has kicked off Cyber Monday with a huge number of deals, including deep discounts on storage and peripherals.
If Black Friday didn't have enough to offer you in the way of external hard drives, then we hope this Cyber Monday offering will tick your boxes. The WD Elements 12TB Desktop external hard drive is going for just £179.99, which is great value for money if you're shopping for a large amount of archival storage.
This external drive offers reliable, high-capacity storage with relatively fast data transfers, allowing you to store hundreds if not thousands of videos, photos, audio, and games.
If you do, for whatever reason, need more than 12TB of storage, for £30 more you can buy 14TB of storage capacity instead in the same drive enclosure.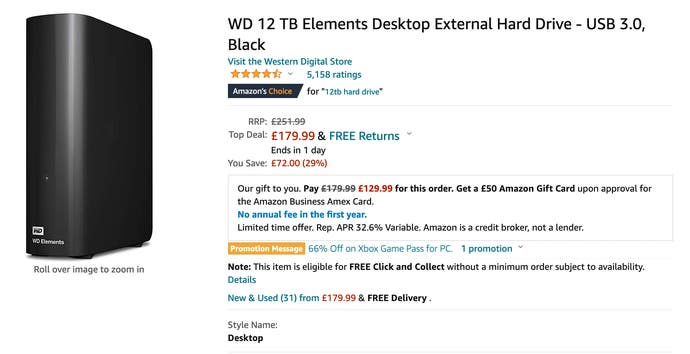 Additionally, if you purchase one of these drives, Amazon will send you a discount code for 66% off a 3-month subscription to Xbox Game Pass for PC, which means you can subscribe for just £5.44.
While I wouldn't recommend running modern games directly from this drive, it certainly should be sufficient for older titles or to archive games on your Xbox Series X/S (although the PlayStation 5 does support this feature, the console only works with drives up to 8TB).
If you looking to expand your PC's storage to play games, I recommend having a look at our SSD deals hub for high-speed storage. PlayStation 5 owners can also check out Digital Foundry's guide of the best SSDs for the console.
Digital Foundry has also compiled a list of all the best Cyber Monday PC deals, including monitors, motherboards, SSDs and other gaming peripherals such as keyboards, mice and headsets. Whether you're after new PC products for yourself or as a gift, Will Judd has, as always, showcased a broad range of excellent discounts on hardware with the best value for money.
---
That's all for now. Be sure to follow @Jelly Deals on Twitter to stay up to date with new Black Friday deals.