CPL Holland UK Qualifier Coverage
Article - full coverage of the UK qualifier for the CPL Holland Quake 3 tournament
Index Pre-Event Build-Up 2 Introduction The Competitors Early Rounds 3 Third Round - Highs & Lows Quarter Finals 4 Luke vs Hell - ZTN3Tourney1 Semi Finals 5 Sujoy vs Logan - ZTN3Tourney1 Semi Finals - Losers Bracket 6 Sujoy vs Luke - Q3Tourney2 Finals - Winners Bracket 7 Logan vs Hell - Hub3Tourney1 Finals - Losers Bracket 8 Logan vs Sujoy - Hub3Tourney1 Grand Final 9 Logan vs Hell - ZTN3Tourney1 Wrap Up 10 Sujoy interview 11 Event Overview
Thanks as usual to event organisers The Playing Fields for their assistance.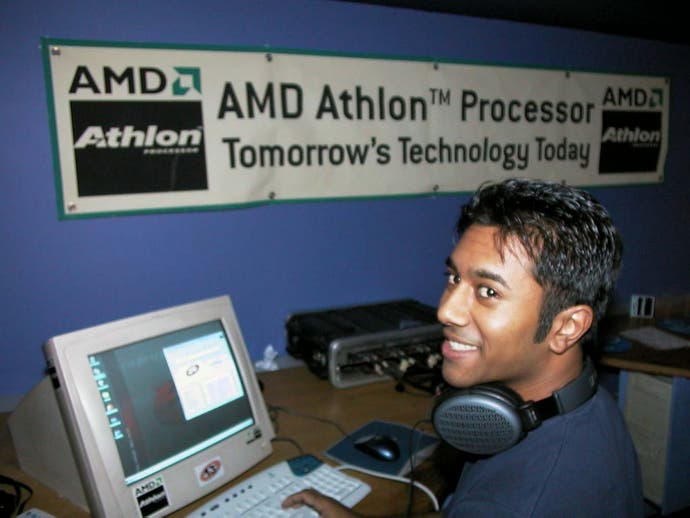 Introduction
Last weekend London's gaming bar The Playing Fields played host to a Counter-Strike competition as part of the build up to CPL-Europe's big tournament in Holland this spring. This time it's the turn of the Quake 3 players to strut their stuff and battle it out for one of three auto-berths to the Dutch tournament.
The winner of the qualifier will get flown out to Amsterdam for an all-expenses paid trip to the tourney, as well as picking up £200 spending money to indulge in some of the local specialities. Probably. As with the last couple of CPL qualifiers to be held at The Playing Fields, this is a "fully professional" event, which means that everyone is guaranteed to walk away with a prize, although for the tail-enders this will barely cover their entry fee and drinks tab. At the sharp end of the field the prizes are rather modest, but certainly better than a kick in the teeth - £150 for second place, £125 for third, and £100 for fourth.
The level of competition here this weekend might not be quite as high as normal, with several well-known players absent. This seems to be partly due to clashes between the CPL Holland event and summer exams - previous winners Blokey and Timber are amongst the missing faces, along with most of 4K. Britain's pro-gaming poster boy Sujoy will be taking part though, the first time he's competed in a regional CPL qualifier as far as we know.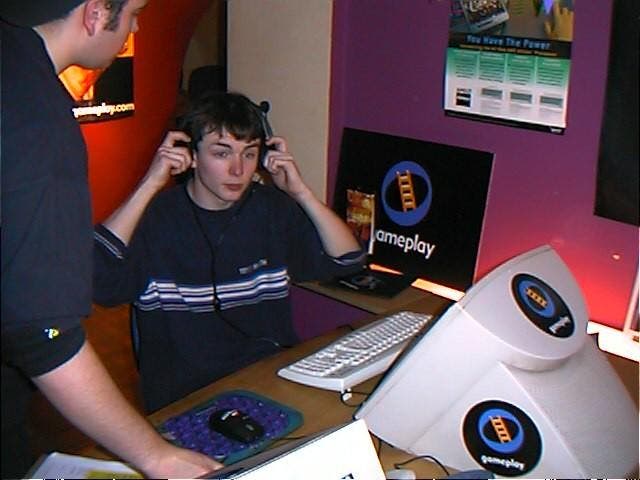 The Competitors
With Blokey and Timber absent the field is a little more open than at most of these events. So who do we think will be taking home the three auto-berths? Sujoy Roy
Sujoy is probably the best known British gamer, certainly outside of his native country, and a former member of Scandinavia's now defunct Clan 9. His performance over the last year has been a bit disappointing though, barely making the top 32 at the Babbages CPL tournament a few months ago, and a sixth place in Singapore his best CPL placing. As a result he isn't the top seed here today, but he should walk off with one of the auto-berths, and he is certainly in with a chance of winning the event. Luke Coulter
Scotland's finest has finished second, third and fifth in the last three CPL qualifiers, making him the top seed for today's tournament and the highest ranking returning player. He was a member of the UK Quake 3 team that beat the French last year, and put in a solid performance last week at the AMD Invitational EU vs US tournament in Maidenhead. With his team mates Blokey and Timber not here, can he pick up the top prize this time round? Logan
Little known Spanish player Logan shocked many by finishing third at the last CPL qualifier in London, and although he did have a relatively easy time in the early stages of the competition while many of Britain's top players knocked each other out in the other half of the bracket, he put up an impressive fight against some of the country's finest. Seeded third today, he could well win one of the auto-berths. The Best Of The Rest
Many of the usual suspects aren't here today, but other players to keep an eye on include UK Team member Mozilla, who has placed in the top 12 at the last two CPL qualifiers. And in a surprise move, John "Gestalt" Bye will be embarrassing himself on behalf of EuroGamer. I expect to be making a speedy departure from the competition within the first couple of rounds...
Update - The seeding rounds are now over, and the first duels will be underway soon. There were no great shocks, apart from Gen who seemed to be playing badly on purpose, coming in last with just four frags in his free-for-all game. After an impressively poor performance in the free-for-all I am now seeded 38th. Out of 44.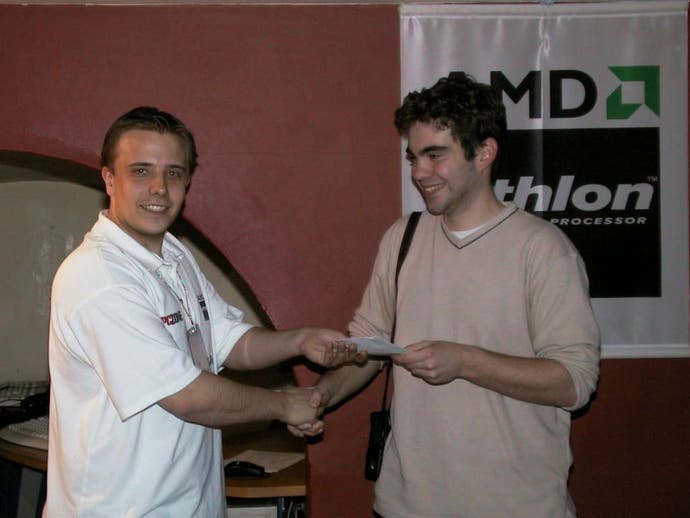 Third Round Highs & Lows
Our first hint that not everything was going to go to plan for the big boys came in round three, as Sujoy seemed to struggle against Mekon on what is usually his favourite map, Q3Tourney2. It was only after half time, with the scores at six a piece, that Sujoy began to pull out any kind of a lead as his shaft came back on form and he got into the swing of things. Mekon chased a little too hard perhaps and came off the worse for wear in the second half of the game, with Sujoy running away to a hefty ten frag lead in the closing stages of the match. Still, the first few minutes had been something of a wake up call for Sujoy, and made it obvious that he wasn't going to be able to waltz through the competition without a fight.
At the other end of the spectrum, one of the least exciting games of the entire event was Elij vs Hell on Hub3Tourney1, a new map which has only recently entered circulation in CPL tournaments and which few players are familiar with. Hell had developed a foolproof strategy for the map though - camp the red armour. During the entire ten minute game he can't have spent more than one minute away from the armour, lurking almost constantly around the ledge that stretches from the upper rocket launcher to the little alcove which leads down to the red armour.
It had taken them seemingly forever to ready up for the match, and when it finally got underway things were hardly thrilling. Hell got a slim lead in the early stages and then did nothing but time the red armour. He also seemed to be having some problems with his mental arithmetic, as he would often drop down to get the red armour and then sit behind it, waiting for a nice round number of seconds to come round on the match timer so that he could add 25 to it and make sure he was back in time for the next spawn. For his part, Elij seemingly made little effort to pull the game back until it was far too late, and at one point the two players didn't even see each other for over a minute, each camping at opposite ends of the map and both refusing to come out to play. Maybe the players here today just haven't worked out strategies for this map yet, or maybe the designer needs to go back to relocate some of the power-ups and weapons. Either way, we saw far too many campish games on this map, and this was quite possibly the worst...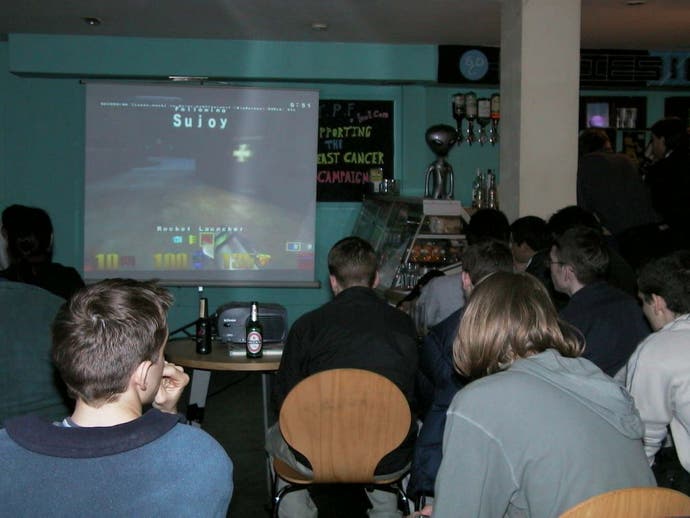 Luke vs Hell - ZTN3Tourney1
Luke got off to a good start, picking up the red armour and following it with a yellow armour and the plasma gun, before meeting a shaft toting Hell in the main hall. Both players pulled back to regroup, and for a while everything was eerily quiet, until two minutes into the game Luke grabbed his first megahealth and finally managed to corner Hell near the grenade launcher ledge. A flurry of rockets made short work of him, and he had soon picked up a second as Hell respawned nearby.
Three minutes in Luke got another megahealth and the red armour, and took full advantage of it to catch Hell and dispatch him with a well-placed rocket. Hell wasn't about to take this lying down though, and fought back hard. When Luke missed his rocket jump to the red armour, Hell closed in to capitalise, chasing him down and killing him and then picking up a second frag almost straight after Luke respawned. With about four minutes gone Hell equalised, blowing the game wide open!
Just past half time Luke managed to get the red armour back and then dropped down to fetch the megahealth. Before long the two players were back for more though, with a close quarters battle in the narrow corridor leaving Hell running for cover, only for Luke to rail him as he retreated. The Scottish player was badly wounded though, and Hell came back fresh from his respawn to finish him off, railing him in the red armour hall, then getting another to go 5 : 4 up!
Luke was on the run now, low on health and losing control of the armour. With just over two minutes left Hell caught up with him near the open teleporter and railed him to go 6 : 4 ahead. Luke managed to grab the next megahealth and then rocket jumped up to the red armour from the lower ledge, but failed to make it count when he found Hell back near the teleporter again, stumbling back through it and having to make do with another megahealth instead of a much needed frag. Luke was charging hard, but Hell was in a strong position and continued to stretch his lead. With a minute left it was 7 : 4, and then Hell shafted Luke on the edge of one of the ledges in the red armour room, Luke falling off and cratering! It was all over now, and the harder Luke tried the harder he was knocked back by the rampaging Hell. Final score, 9 : 3.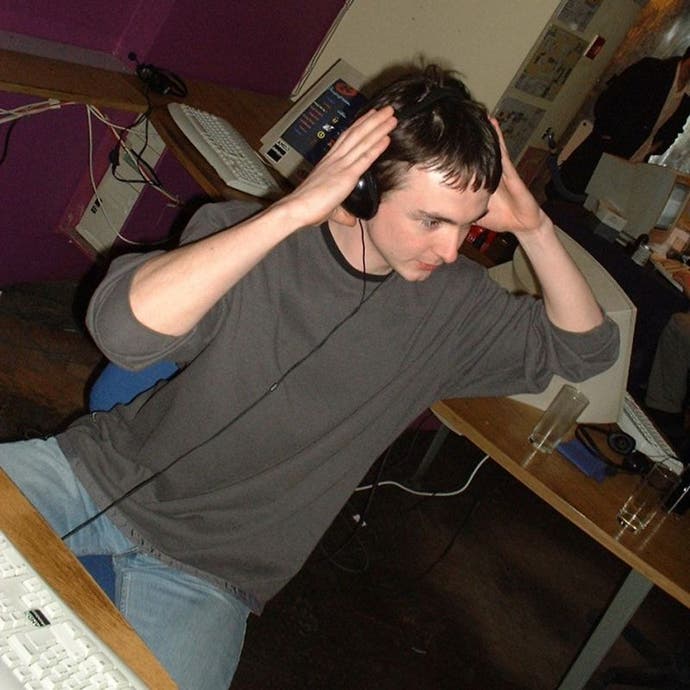 Sujoy vs Logan - ZTN3Tourney1
Sujoy had got off to a good start in what was a slow game initially, going 1 : 0 up by quarter time. He grabbed the next megahealth and red armour and seemed to be in control, with both players seeming cautious. But with four minutes gone things suddenly went pear shaped for Sujoy, as a point blank rocket battle at the megahealth ended in disaster with the splash back from his own rocket finishing him off and returning the score to 0 : 0. Oops.
Logan took full advantage of this slip, taking the lead and forcing Sujoy onto the defensive. With six minutes gone there was another fierce rocket battle at the megahealth, and Logan picked up a second frag. Just half a minute later he had made it three, dropping down from a ledge in the red armour hall and taking on Sujoy in a rocket duel near the entrance to the megahealth corridor. A series of bad spawns left Sujoy in disarray as Logan locked down the level, pulling out a stunning 6 : 0 lead with just two minutes left to play.
Sujoy wasn't giving up, and he managed to claw one back with yet another rocket battle at the megahealth. He was chasing hard now, but a little too hard at times, rocket jumping up to the grenade launcher ledge after Logan and getting knocked back by the Spaniard, who was now 7 : 1 ahead. In the final seconds Sujoy managed to grab another frag, rocketing Logan in the red armour hall, but it was all over now. Logan wins, 7 : 2.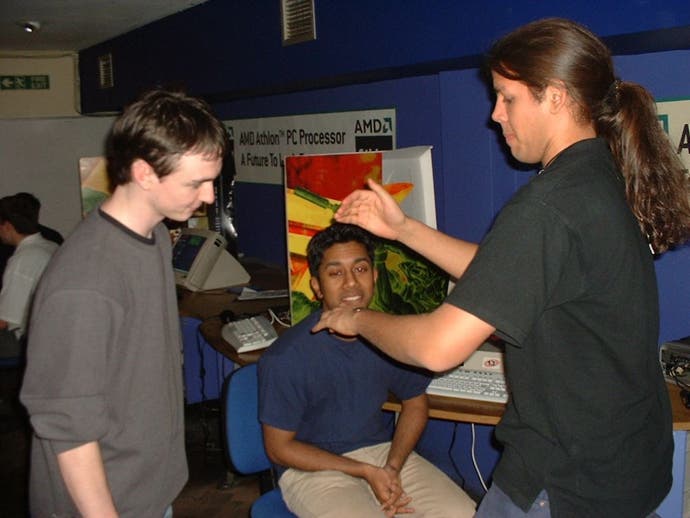 Sujoy vs Luke - Q3Tourney2
Having been unexpectedly knocked down into the loser's bracket by Hell in the quarter finals, Luke had fought back with an easy victory over Devor, who was playing under the name Fatal1ty as a joke. And so Luke earned himself a match against Sujoy to see which of the two top seeds would go through to the losers bracket finals.
Sujoy got a lucky break with the map draw, bringing up the only one of the three maps that he knows inside out - Q3Tourney2. It wasn't long before the two players met, with Sujoy managing to juggle Luke with his rocket blasts on the bridge at the bottom of the level to go ahead. Soon he had picked up a second point courtesy of his lightning gun, but Luke was fighting back. A minute into the game the Scotsman shafted Sujoy, giving him a near-death experience as he scampered away with just seven health. He didn't survive long though, and Luke had soon tracked him down and finished him off. Before long it was all evens again, as Luke equalised with a shaft kill down at the bottom of the level again.
By now it was obvious that even on Sujoy's favourite map the two players were very evenly matched, trading frags throughout the first few minutes of the game, with neither of them able to pull out anything more than a slender lead. Then about four minutes into the game Sujoy went on a rampage, picking up three frags in quick succession. Luke came back at him, only to be hurled into the red mist by a well-placed rocket, and at half time Sujoy was 9 : 4 ahead. It looked like it was all over for Luke, but he kept on fighting and had soon clawed his way back to within a couple of frags of the leader. With four minutes left to play a battle broke out in the pillar room at the top end of the map, with Sujoy shafting Luke only for the Scottish player's dying rocket to take him out too, giving both players a frag and taking the score to 10 : 8.
Once again the two players were matching each other almost frag for frag, with Sujoy getting some incredibly lucky escapes - at one point cheating death with just three health left to his name after a fierce rocket battle in one of the corner rooms near the lightning gun. With just over a minute left the scores were still close, and Sujoy was cautiously clinging on to a three frag lead. He managed to extend that to four, his rocket catching Luke at one of the side entrances to the pillar room, but Luke came right back at him to finish him off, only for Sujoy to respond with another frag of his own. In the end there was nothing Luke could do to overturn Sujoy's lead, and the final score was 16 : 12. A great game.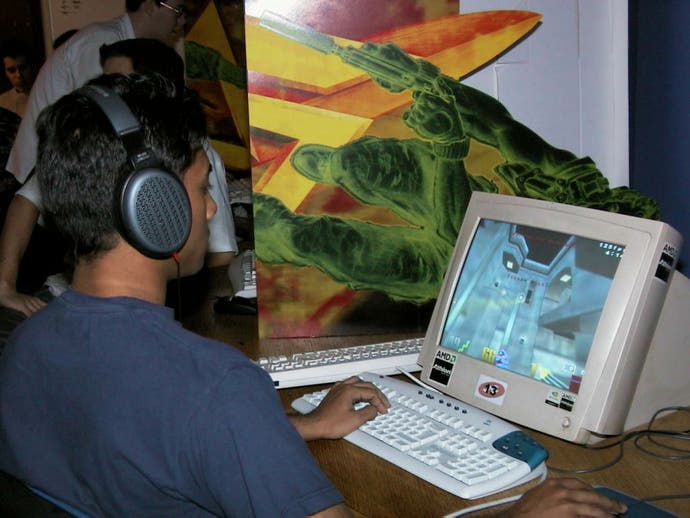 Logan vs Hell - Hub3Tourney1
Meanwhile back in the winners bracket... Hell and Logan had come through the tournament undefeated, beating the likes of Sujoy and Luke in the process. Now they had to go head to head, and the chosen map was Hub3Tourney1. Tents at the ready!
Hell got off to a good start, grabbing the lower rocket launcher and slipping back through the teleporter to strafe jump across to the yellow armour on its corner plinth. Unsurprisingly he then headed for the all-important red armour, sneaking up on Logan around the corner and exchanging some rockets with him before the Spaniard backed off. Hell dropped down into the alcove and waited until the 35th second before picking up the armour, presumably so that he could work out when it would next spawn without needing a calculator. The game soon settled into a rather boring stalemate - at least it was dull to watch from Hell's perspective, as he spent most of his time lurking above the red armour, spamming grenades and rockets into all the entrances that Logan could use to approach him. Neither player could score, and it looked like it was going to be another long, boring campish match.
Logan has some impressive rail skills though, and kept sneaking into Hell's side of the map to fire off a couple of shots at him before being forced to retreat again. But with so much armour cladding Hell's body, he couldn't get a kill however accurate his shooting. At half time there were still no frags. Finally Logan decided on a change of tactics, moving in with rocket launcher and shaft to evict Hell from the red armour. As the armour respawned at the six minute mark Logan made a grab for it and dashed out to take on Hell, finally scoring his first frag of the match. The crowd at the other end of the venue let out a huge cheer!
Sadly Logan lost control of the game at this point, allowing Hell to sneak back in and camp the red armour again. He was at least having to go out and fight Logan now, but he was still timing the armour well and almost always getting back in time to grab it. Then, with just a quarter of the game's ten minutes left to play, Hell managed to pin Logan against the wall with a rocket as the Spanish player made the leap from the teleporter ledge to the yellow armour, pulling the game back to 1 : 1 and making for a tense end to the game.
Logan tooled up and charged back in. With just a minute left he flushed Hell out of his cosy camping spot by the red armour again, only for Hell to grab the armour back soon afterwards. Fifteen seconds from full time there was a vicious little rocket battle around a jump pad, but neither player could make the kill, sending the game into sudden death mode! In a tense game of cat and mouse, the two players finally went all-out after almost a minute of extra time, Hell coming out just ahead in a close range exchange of rockets to take the match 2 : 1. An exciting end to what had looked like being another boring Hub3 match.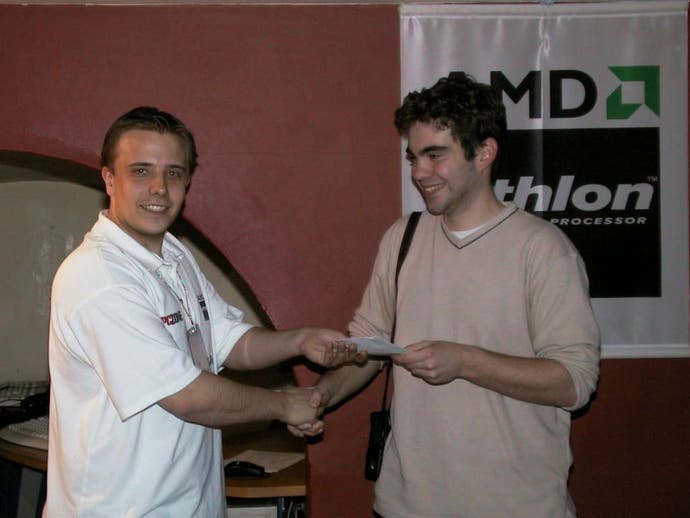 Logan vs Sujoy - Hub3Tourney1
Sujoy made it through to the finals of the losers bracket for one last stab at the title having dispatched Mozilla with a comfortable 18 : 7 victory in the first leg. Now he had to face Logan for the second time to see which of them would go on to fight Hell in the grand final.
Back once again on Hub3Tourney1, Logan must have been having deja vu as Sujoy grabbed the red armour. He had already picked up a railgun by this stage, and after getting the second red armour Sujoy exchanged rails with Logan across almost the entire length on the level. But while Hell had spent most of his game within line of sight of the armour, Sujoy went for a more adventurous approach, going out to fight Logan during the 25 seconds between spawns of the red armour. With ninety seconds gone Sujoy picked up a frag, but he had been badly injured in the fight and Logan moved in to finish him off after respawning, taking the score to 1 : 1.
A minute later Logan picked up his second rocket kill of the match, and then pulled off a lovely rail as Sujoy leapt across to the yellow armour pillar. With three minutes gone Sujoy got another red armour, but Logan seemed to be on top form, getting a clean hit with his rail which sent Sujoy dashing for cover. Then, in an incredible shot, Logan managed to hit Sujoy a second time just a few pixels short of the teleporter he was trying to escape through, prompting to Sujoy to cry out "oh god!" as his corpse fell with its head touching the surface of the teleporter.
By half time Logan was 6 : 1 up, dominating the map with his superb rail aim and picking up a couple of rocket kills for variety. Sujoy was struggling by now, and it was all over bar the shouting. With three minutes left to play he managed to get one back, shafting Logan before making a mad dash for the red armour. Logan was there ahead of him, and Sujoy managed to pick up a second frag as the top players scrambled for the armour. It was too little too late though, with three quarters of the game gone and Logan still 10 : 3 up.
Sujoy managed to pick up one last frag, chasing Logan from the ledge above the red armour to the ground below and on through the center of the map, his lightning gun spraying the Spaniard down all the way. But with just a minute left he was still six frags adrift, and there was no way he could pull back that kind of deficit. Logan secured his victory with a lovely double rail hit and although Sujoy kept on fighting he must have known it was over. In the final seconds Sujoy emerged from a teleporter to discover Logan lurking on the other side with his gauntlet at the ready. The pummel failed to finish off Sujoy, but Sujoy's rocket then did the job for him, blowing both players up in a shower of gibs. A spectacular end to an entertaining match, with the final score 12 : 4 to Logan, proving beyond any doubt that his earlier victory against one of Britain's best known Quakers was no fluke.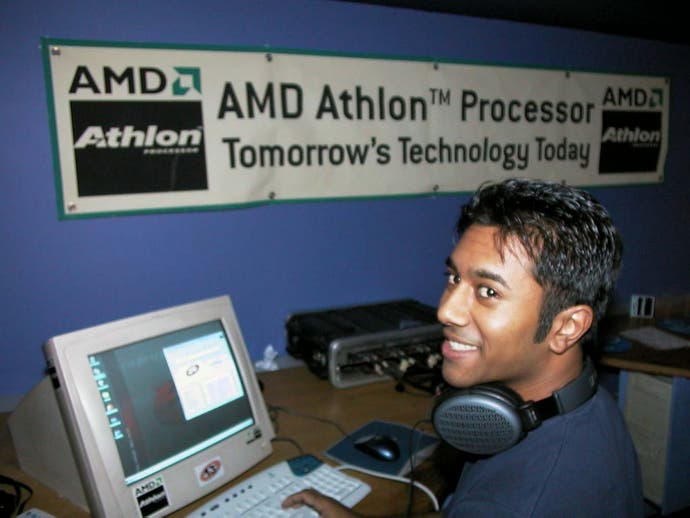 Logan vs Hell - ZTN3Tourney1
And so Logan had to face Hell for a second time, this time on the great Sten "ZTN" Uüsvali's Blood Run map, originally designed for Quakeworld and now adapted for Quake 3 Arena. The battle got off to a good start with a brief mid-air battle in the red armour hall, Hell leaping across to the ledge to grab the armour while Logan flew past from another ledge nearby. Before long the two players were exchanging fire again, this time on the ground near the megahealth. Hell scrambled away with just 14 health, but Logan managed to chase him down and finish the job soon afterwards. Hell was soon back in the action though, and equalised with a rocket strike back at the megahealth again.
For a while everything was fairly quiet, and Hell managed to grab the next red armour and megahealth unopposed as Logan regrouped. Finally the Spanish player popped up at the top ledge in the red armour room, while Hell fired grenades, rockets and rails up at him from the grenade launch ledge at the far end of the room. Neither player could make the kill though, and pulled back to restock. At half time Hell grabbed another red armour and megahealth and chased after Logan, rockets flying. Logan got away, but eventually Hell tracked him down back in the big red armour hall and made it 2 : 1. Hell was controlling the health and armour well again, and Logan was having to fight hard to stay in the game.
A minute later the two players collided in the top corridor, and a fierce close quarters rocket battle ended with Hell pulling out his lead to 3 : 1. He had a lucky escape as he went for the megahealth again soon afterwards though, with Logan's long range rail knocking him down to just eight health as he dashed in from the red armour hall. A few more steps and he was home and dry though, grabbing the power-up and hightailing it down the corridor to escape. Logan's rail work was impressive, but he just couldn't cut through all that armour Hell was hoovering up.
With just over a minute and a half left to play Logan managed to get himself the megahealth, but he was soon under pressure again and Hell managed to finish him off as he went for the red armour, taking his lead to 4 : 1 and securing his victory. Once again the game ended in spectacular style, with a close quarters battle seeing the two players killing each other simultanously to take the score to 5 : 2, but with only half a minute left there was nothing Logan could do to recover. Hell takes first place and a free flight to Amsterdam for the CPL-Holland tournament.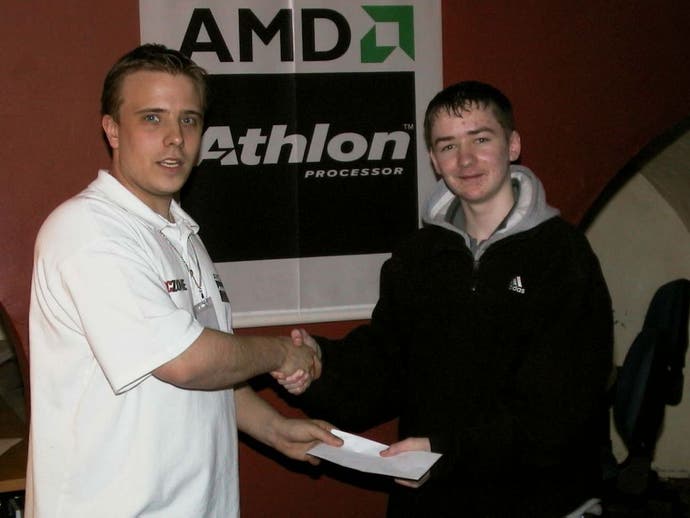 Sujoy Roy
We first caught up with Sujoy early on in the event, before his first game of the afternoon. Of course, the big question was why was he here at all? After all, this is the first time that he's entered a CPL qualifier event. "There haven't been many tournaments recently, so I thought I'd try one of these", he told us. "Plus, you're only seeded in CPL-Europe if you played in the last [tournament], so unless I play here I won't be seeded."
Coming into the event he was seeded second behind Luke, but he didn't seem too confident. When we asked him what he thought his chances were today, he admitted that it was a "tough call, because I haven't played the two maps ZTN3DM1 and Hub3Tourney1; so if I get Q3Tourney2 no problem, but otherwise we'll have to see". His toughest opposition was expected to come from Luke, who was listening in on the interview as we chatted. "Luke's playing well obviously .. because he's sitting right next to me", Sujoy joked. "But he's got a lot of practice from last weekend as well."
Ironically though he didn't see Logan as too much of a threat at the start of the day. "Logan's not on top form actually, so he's been seeded quite high. He's not played much in the last few months. He's still very good, but he's not got Tourney4 to fall back on, so I don't think he'll do so well today."
Things were somewhat different later on though, as we talked to Sujoy soon after the first of his two defeats at the hands of the "not on top form" Spanish player! Even in the third round, playing against the little known Mekon, Sujoy had seemed a bit adrift at first. "I was kind of getting warmed up", he explained. "I'm quite confident on Tourney2, so I always feel like I can pull it back. I think about half way through I got into gear, and it was ok after that."
He wasn't to be so lucky in the semi-finals against Logan though. "He's better than I thought he'd be", Sujoy confessed. "I had the map under control - I had 1 : 0 and I'd been running all the armour for five minutes. I got a bit unlucky I think, because I was coming out [from the megahealth] to rail him at the red armour but he'd already got it and was dropping down as I came out, and it took me too long to switch weapons. He was really good on ZTN - I was hoping for Tourney2 again, but I guess I can't have it every game!"
Next he was to face Luke in the losers bracket. "I'm not too good on ZTN, and I don't think he's practised Hub3Tourney1 much. So I think if we get ZTN I'll have a little disadvantage, if we get Tourney2 I'd hope to win, and Hub could probably go either way."
As it turned out Sujoy got his wish and defeated Luke on Q3Tourney2, only to have to face Logan a second time and being knocked out of the competition, going away with third place.
Event Round-Up
The qualifier threw up a lot of surprises on the day, with Hell stunning everybody by winning the event. His previous form was certainly less than impressive, his best result being a finish in the bottom end of the top 16 at the last qualifier in December. But this weekend he was on top form, beating the likes of Luke and Logan. His playing style on Hub3Tourney1 varied from downright dull to sleep-inducing (Sujoy almost dropped off while watching his third round match again Elij on the big screen in the bar area!), but it's not really fair to blame a player for taking advantage of weaknesses in the design of a map. With any luck Hub3 will be removed from play for future events, or else redesigned to make it harder to win a match by simply camping the red armour. Maybe moving the top rocket launcher away from the red armour area would force players to come out and fight more often?
The other controversy at the event was the seeding system. This time round the top 16 players were seeded in advance to avoid the kind of farce we had at the last qualifier, where an unforseeable fluke result in the free-for-all round left most of the top players placed in the same half of the bracket for the main tournament, resulting in some very good players being knocked out in the early stages. Obviously with many players at the event being little known though, it was impossible to work out seedings for everybody in advance. I know that I only managed to come up with a top five when TPF asked me for suggestions, although they did at least prove to be fairly accurate - four of my five choices finished in the top five, and Hell was the only player whose performance truly surprised me.
Most people seemed satisfied with this system, but Gen took it on himself to try to bring it crashing down by intentionally losing his free-for-all game, finishing with just four frags! The CPL rules clearly state that a player can be disqualified for "throwing a match, halting play without cause, or showing a flagrant lack of effort". Gen was obviously guilty of the first and last of these three offences, but escaped an early exit from the competition. The day after the event he claimed in a messageboard posting that it had been a fair tactic, adding that "FFA is a waste of time" and that it "shouldn't be used as tourney seedings". While we agree that it's perhaps not the perfect system, it is the one that was chosen by the organisers and the one that all of the players signed up for, and what Gen did made a mockery of this. Unfortunately there really isn't any alternative to a seeding round at this stage - there just haven't been enough events to accurately seed an entire field of 64 gamers in advance, especially when some of them have never competed at a qualifier before and we therefore have little idea of who they are or what they can do. Hopefully Gen will behave himself at the next event...
Otherwise the tournament went without a hitch though, finishing more or less on time and with no technical dramas, apart from the inevitable crashes from the buggy GTV spectator software, which is sadly the only system available at the moment for broadcasting Quake 3 matches over the net. Congratulations to the team at TPF on a well-run event, and we're looking forward to seeing CPL-Europe back in London later in the year. Acknowledgements :
Thanks to Ed, Nick and the rest of the team at The Playing Fields for their hospitality, and for several of the photographs used in this write-up.