Children of Morta adds adorable animals to pet in Paws and Claws charity DLC
All proceeds go to Humane Society International.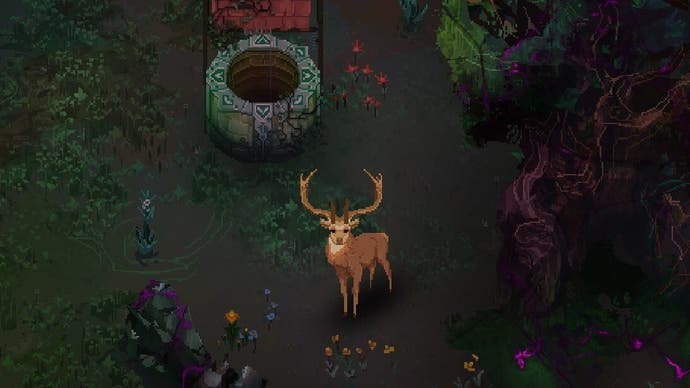 Developer Dead Mage's gorgeous story-driven action-RPG Children of Morta just got a whole lot more cuddly, thanks to its new Paws and Claws paid DLC - which adds a host of animals to pet, with all proceeds going to charity.
Children of Morta follows the tribulations of the Bergson family, custodians of Mount Morta, as they - and players - embark on an evil-thwarting quest that blends fantasy adventure with procedurally generated, rogue-like dungeon-crawling.
Paws and Claws is designed to offer a bit of respite between all the stresses of adventuring, and adds a new Animal Shelter to the family home players are able to return to between jaunts. Here, it's possible to feed and care for a host of animals, including deer, foxes, peacocks, owls, and more, each with their own typically sumptuous animations.
Caring for animals doesn't just serve as stress relief though; feeding them treats found inside dungeon chests helps raise their happiness, which in turns provides a boost for family members - increasing luck, movement speed, XP gain, and more - when they head out adventuring again. As Dead Mage explains in its latest patch notes, Happy animals provide a low boost, Excited animals grant a medium boost, while Overjoyed animals give a high boost.
Paws and Claws is available now on Steam, GOG, PS4, Xbox One, and Switch for around £2.99. All proceeds go to the Humane Society International charity, which, according to its website, "works around the globe to promote the human-animal bond, rescue and protect dogs and cats, improve farm animal welfare, protect wildlife, promote animal-free testing and research, respond to natural disasters and confront cruelty to animals in all of its forms."
The paid DLC is accompanied by a free Treasure Pack update, adding 6 new Divine Graces, 8 new Consumables, and 12 new Divine Relics on all platforms.